When you create your website using WordPress, you choose a Good and Responsive WordPress theme that controls how content is displayed on the site. You try to add Link, contact, Terms & Conditions and Privacy pages of your company's website and Sitemap In Footer,. So that Visitor can easily reach to you.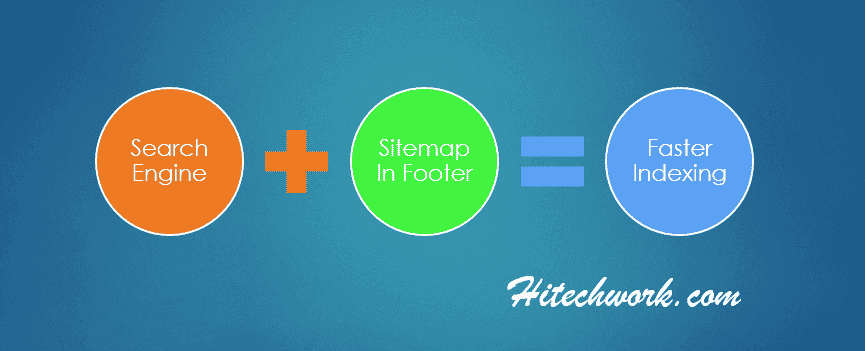 Placing Sitemap in footer also helps search engine to index each post of your website more efficiently. A WordPress theme consists of template files with code that formats the content. Most themes have a template file called footer.php, which defines how the footer is created and stored all the information of footer. You can directly edit footer.php file if you know how to edit CSS. But if you don't know about the CSS then you can do it manually by simply copy paste some link into the footer. This article will ride over you, how you can Use Menus (basic block of footer) and place Hyperlink, Text  and Sitemap in Footer. For Better result, Implement this with the basic setting of WordPress after Installation.
Benefits Of Sitemap in Footer
Placing a sitemap in your footer gives you the opportunity to present every part of your website to visitors as soon as they view any page of the site. This could have some key advantages:
New visitors, visiting the site for the first time will be able to find what they want much faster, without having to use navigation menus
It could have a very positive effect on your bounce rate.
Having the sitemap in the footer as oppose to on an individual page will save your visitors clicks.
When Search engine Bot comes to your site, It first checks the Header and footer section of your site. So it is a better way to help search engine for indexing your site.
Things That Can Do In Footers
How should you design your website footer? Here are ideas and examples, starting with the most common content and features. Scroll down past this list to see our own guidelines and best practices for what to include in a footer design.
Copyright, Privacy Policy, Terms of Use, Contact.
Sitemap, Navigation, Testimonials.
Phone and Fax numbers.
Site Search Tool, Your Mission, Branding.
Social Icons, Social Media Widgets.
Keywords for Search Engine Optimization.
Awards and Certifications, Association Memberships.
How To Use Menus In WordPress
First, you have to learn about how Actually Menus Work. When you understand the function of Menus in WordPress then you can easily Edit the Footer without any Help.
Click on Menus Under Appearance Section. You will  see a window like below.

Here is List of some Menus like  "Affiliate Program, Privacy Policy and Contact Us" that I already created and place in my footer section.

By default, there is a four option in the Menus Section. Page, Post, Custom Links and Categories. You can place this option in the footer according to your choice.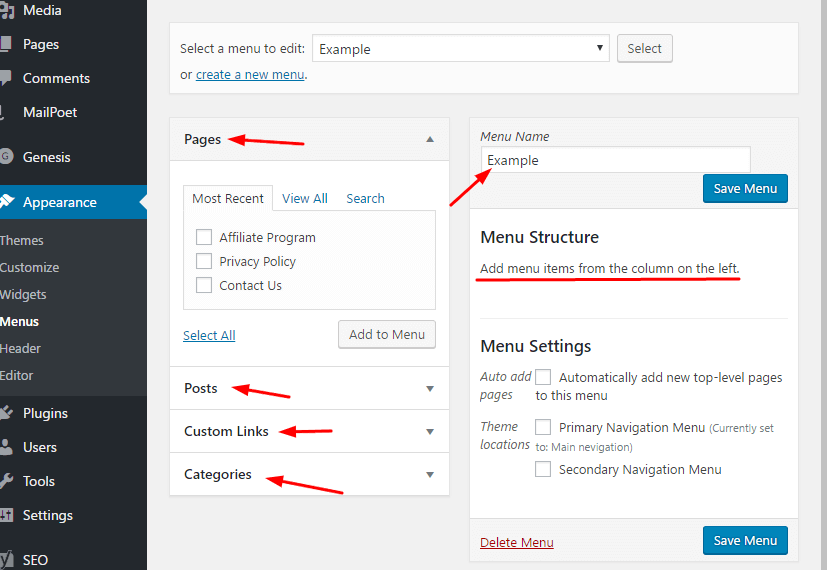 Page Means:- You can place page in footer
Post Means:- You can Place Page in footer
Custom Links Means:- You can also place a custom link in the footer.
Catagories Means:- You can place categories of your Block into Footer.
Click on Create a new Menu and make a name for that Menus. This name helps to differentiate one Menus from other. After Making Menus, Add link, page ,post , whatever you want in Menus and then place it in the footer. You just have to create a menu, add whatever you want and place it in the footer.
How To Place HyperLink Or Text in Footer
As I explain above you have to create menus and add a Link to it. After that go to Custom Link Section and put URL of the page where you want to redirect your visitor. For example, I'm going to redirect my visitor to my facebook site. In short,I'm going to put a facebook link in the footer section.
Copy the link of your facebook Profile and the past into the URL box. Write a name for a link. For example, Facebook and click on add to menu button.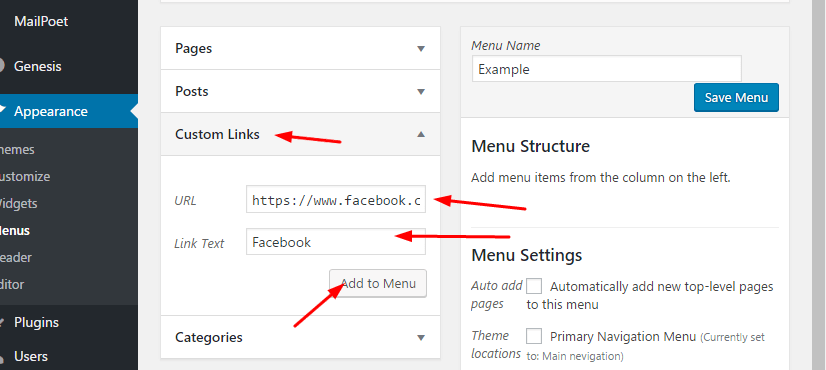 When you click on, Add to menu your link is ready and automatically place toward the right side. In this way, you can create any link according to your need, for place in the footer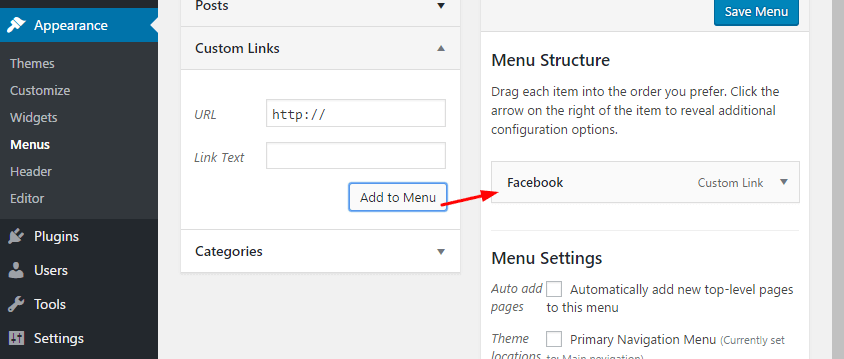 Again click on Appearance and then click on Widget. Just look at below image. In my theme, I have 3 footers, 2 Sider bar, and 1 Top-Bottom Home. This feature depends on the theme. I'm Using EnterPrice Pro theme.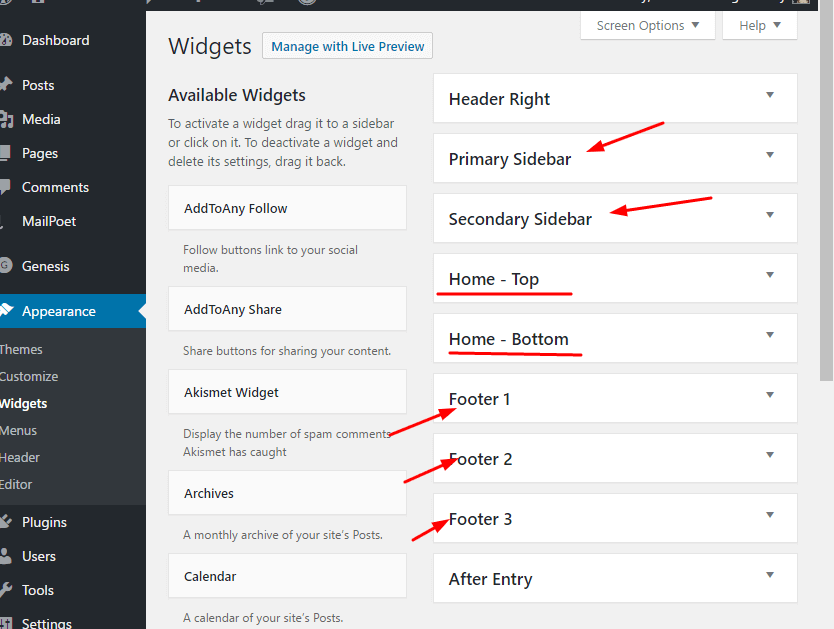 Now find Custom Menu and Drag this box into any one footer according to your choice. When you work with this, you can easily understand what is the function of this different footer.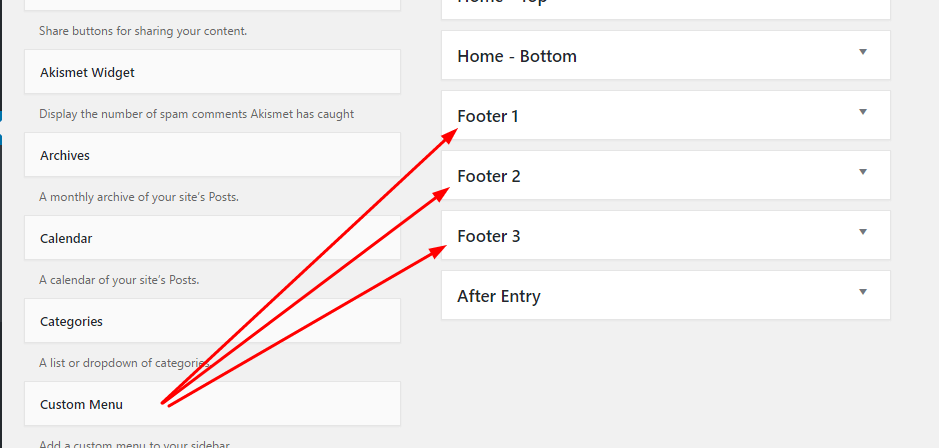 Here I'm dragging this box into Footer 1. Write a title, be sure with the name of the title. Because this title shows in the footer. I make this for facebook so, I write Connect With social Media. Also Select the Menus you create. Here I create Example Menu so, I select Example. Now Click on save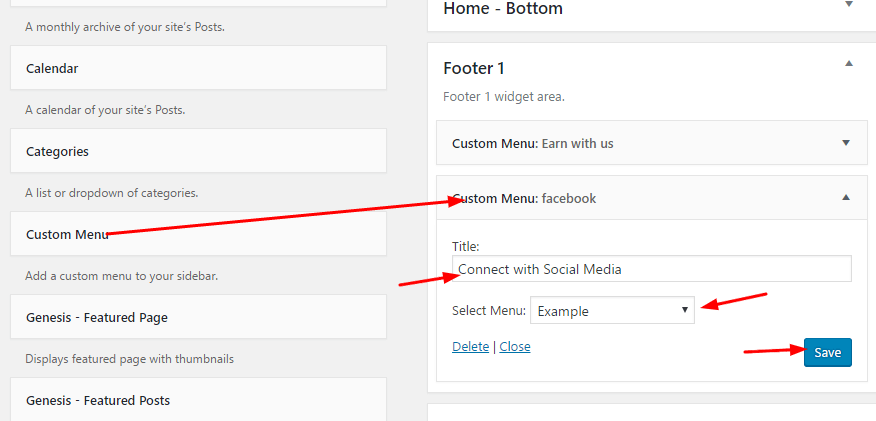 Now go to your website and check your footer you will find a link to Facebook in your footer. You can make necessary change according to your Choice. Now you have an Idea what to do for adding a link in footer.
Add Sitemap Sitemap In Footer
The Sitemap file you place in the Footer is different from XML sitemap file that I already explain in the How to Create Sitemap article. The XML sitemap is for Search engine Bot so that bot can easily index your website. The Sitemap which we place is Footer is consist of all the link of your post.
Log in your WordPress as admin and Go to add Page. Make a list of your all article and wrap then into a link so that visitor can easily go to theirs.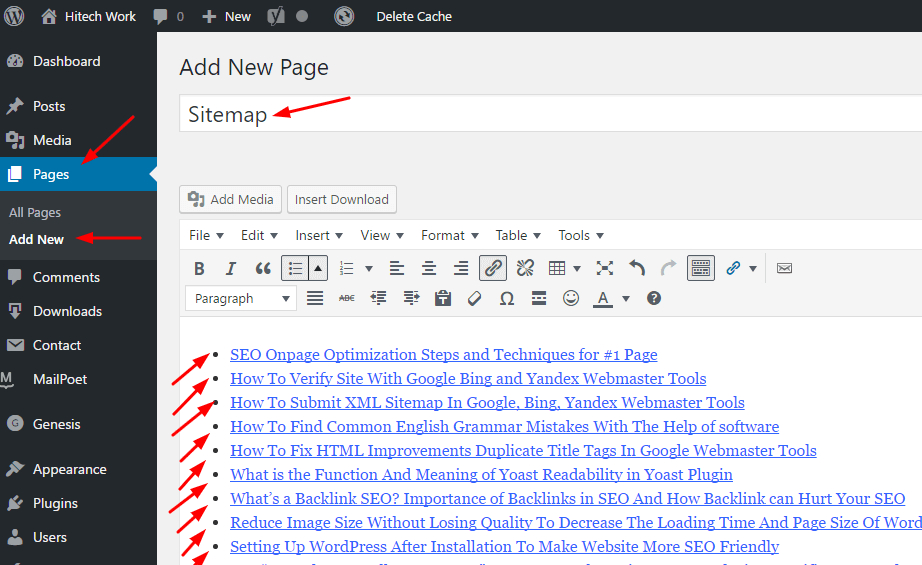 Now Repeat the process how to add Menu and add a page to the menu, save it. Now again go to Widget and place Custom Menu and Select which menu you create for Sitemap and Save it. Your Sitemap in footer is ready to go to your website can check your footer.
Note:- Update your Sitemap in footer . When you update a new post by placing the link in the sitemap( In the page where you already add the link to the post).
Remember to share this post with anyone who might benefit from this information, including your Facebook friends, Twitter followers and members of your Google+ group! And also Support Us By Liking Our Facebook, Twitter, and Google+ Page.
Recommended Post
If you have any suggestion or problem about Sitemap In Footer please feel free to comment below.
I'm Professional Blogger, SEO and Digital marketing expert. I started my blog in 2016 with the aim to share my knowledge and experiences for the people associated with my field as well as for general public.