Hello friends today. I pick a most interesting topic that is google analytics goals and funnel . As from the name Goal, it is clear that you have to select a target and achieve this target and from funnel means to check or filter the visitor. With the help of Goal, after every purchase by the customer you can check the path follow by the customer.
In simple words, if 10,000 visitor come to your website and only one person purchase your product means complete the goal. Before the product sold, if the set the goal on that purchase then you can identify the page where that person land on your website. Which path they follow to reach at product means how many page the crawl and skip to reach at product to complete the sale. If some reason visitor come to your site and find the product but due to some reason they don't make purchase, then Goal tell you is there that visitor click on product or not. Now you have a detail of your customer, identify why your customer not purchase your product. Find the weak point and over come it to increase the sale rate. Now you have a concept, what does Goal can do? Another best example to understand the google analytics goals.
lets start with beginning. Suppose you have to check how may visitor fill "contact form"( that means news latter or subscription). where is it come from, landing page, is it complete the conversion or not etc. So you have to set Goal in google in google analytic. With the help of this data you can check landing page and make it more quality contact page for more attraction. If some one complete the conversion you can also check how many page they scrawl before submit contact from and if they not submit the contact form which page they leave the website.
Now in this article i will focus on some important point of google analytics goals are,
Conversion
Selection of Goal
Benefit of Goal and Funnel
Funnel
how to set Goal
Whats is Conversion?
The process of changing or causing something to change from one form to another. This is the basic definition of the conversion. Now in simple word conversion means complete the hole process.
Example:- You have to purchase Android mobile. You go to google and start searching about it. In this search, you read some article, you skip some article, you visit a lot of site and finally you purchase from some where. The process of you done to purchase the mobile is called conversion and if some reason you not purchase the mobile. That process is not called a conversion because it is incomplete.
Selection of Goal
Every website should have goals i.e. a purpose. Typical examples:
You want users to visit a particular page.
You want users to signup to your newsletter.
You want users to contact you.
You want users to download your mobile app.
Benefit of google 'Goals' in Analytics you will be able to:
Understand the traffic sources that generate more conversions.
Understand the path users follow before converting.
Understand how to improve the conversion process by identifying the pages (or steps) that makes users abandon an action.
Google has a detailed guide about google analytics goals setting and you can also read from google if you want.
Funnel
If you fully understand the concept of goal so there is a no need to search about funnel. In google, funnel means how many peoples complete the conversion and rest of them why skip it. funnel help you to understand at which point conversion break. If you know why it break you can fix it. and increase the rate of conversion.
How to Install Google Analytics on WordPress
There are so many way to install google analytics on WordPress but the best and easy way are,
Go to google and search google analytic account and register with your email account or sign in.
Follow the on-screen instructions and then setup a property. You can also read the Google Setup property.
Now, you will be presented with your tracking id and code. Copy the code and save it somewhere else.
login to your wordpress account and install a plugin called Google Analytics by Yoast.
Click on Analytic and then setting.
Now click on General and enter your UA code (this is your tracking id) in the box as shown below.
click the UNIVERSAL tab and configure the settings as shown below.
Basic Google Analytics Settings
Now that you have setup analytics on your website and before digging into the reports, you need to make the following changes. Reporting time, currency and bot filtering.
Go to google analytics account and click on admin.
click on All website site data or select one account you want to configuare.
Click on view setting and follow the instruction and.
submit some detaile about your site and in last line tick on Bot filtering.
click on save.
Also Read:- Sell Your Services or Product Online And Collect Payment From Customer
Google Analytics Goals Setting In Google Analytic account
Login in google analytic account and after that click on admin
Now click on View tab.
A window open look like (below screen short) and click on goal click on new goal
As shown in figure below (or select other goal you want to make). If you are using it first time than use news latter goal for better understanding the function of Goal in google analytic
Give a name to your goal. Give a unique name or related to goal it help you to identify the goal if you make more than one goal.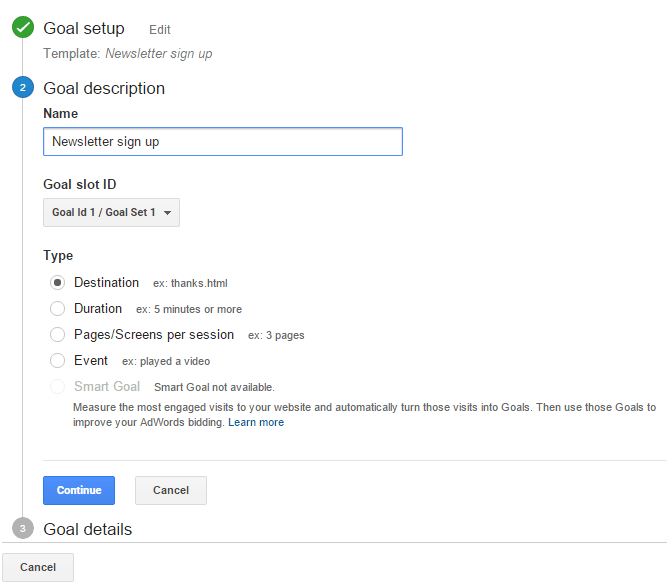 Now fill the last line and click on save. Other two option are use for set amount if you use rather tan news latter.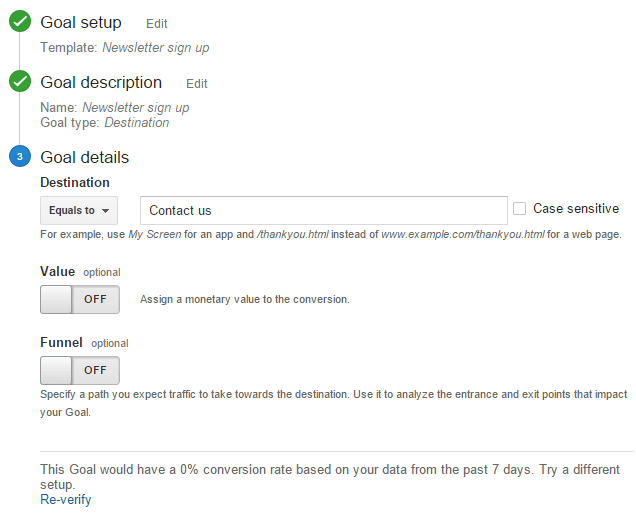 Now your goal is created and you can easily check the everything about specific Goal.
You can also off it if you not won it any more. If you think it is a use full article please share this this your friend.
Also Read:- Mobile Optimization Test To Make Sure That Your Website Fully Mobile Optimizeable To Run Smooth On Mobile
If you have any suggestion and problem about google analytics goals please fell free to comment below
I'm Professional Blogger, SEO and Digital marketing expert. I started my blog in 2016 with the aim to share my knowledge and experiences for the people associated with my field as well as for general public.