When Googlebot crawls your site, it may find some issues with your content like have similar Tittle, URL, Meat Tags. These issues won't prevent your site from appearing in Google search results, but addressing them may help boost your traffic. Let me explain first this briefly then we learn how to fix this html improvements duplicate title tags  and meta Description in google webmaster tools.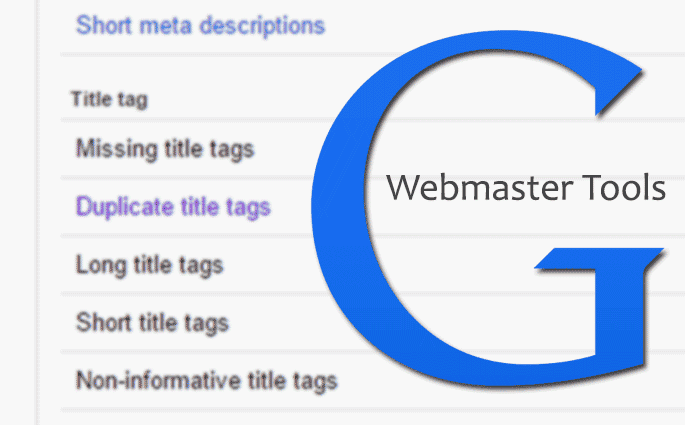 Always and first question is, Why this error generate in the website. These are 7 type of errors. Each error generate due to different reason but the basic reason behind this errors are "Change in the article after publishing it or when we have one article with two address means URL". The most common problem is related to title tags and meta descriptions. If every page on your site has unique and detailed title tags and meta descriptions, you should be fine. At the same time, you also have to make sure your title tags aren't too short or too long. You can read the google guide line about HTMl improvement.
These types of error can be easily find with in the google webmaster tools under section Search Appearance>>HTML improvement. Google webmaster tool have a lot of section which we discuss later in brief.
HTML Improvement
In this section we can check and find the html improvements duplicate title tags, missing tittle tags, long tittle tags, short tittle tags and meta description, long and short meta description error in website. HTML improvement have a two types of error (1) Meta Description and (2) Tittle Tags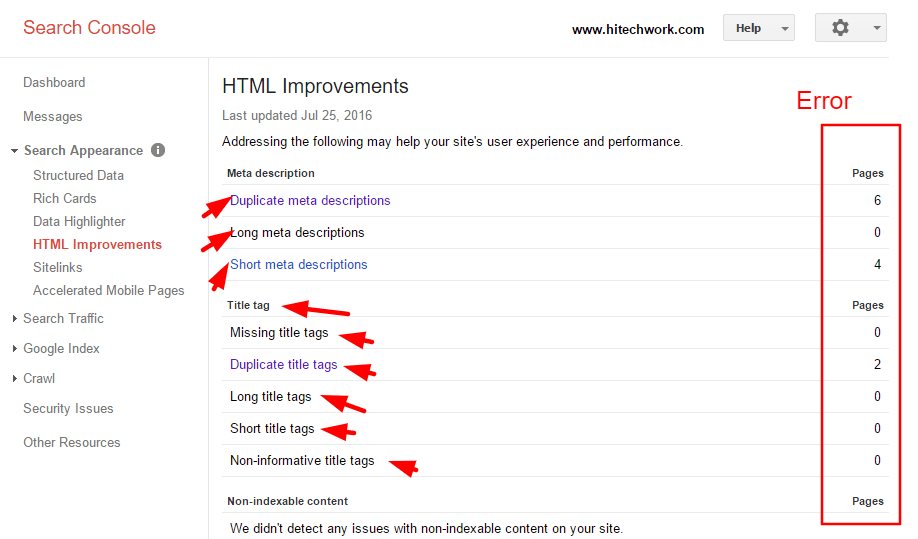 Once you find the error, you can fix it and increase your reputation in google to rank better.

HTML Improvement Duplicate Meta Description
It is a HTML attributes that provide concise explanations of the contents of web pages. Meta descriptions are commonly used on search engine result pages (SERPs) to display preview snippets for a given page. See below screenshot, who are not familiar with the  meta description for little understanding.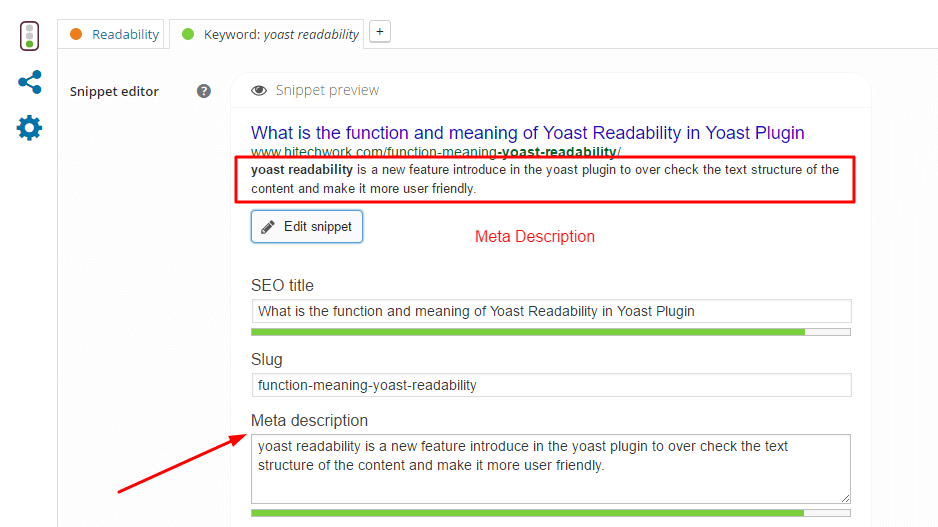 In Meta Description section you can find the following error in website.
Duplicate meta description– If same meta description find in your other post or if you copy the first line of your paragraph in the meta description box.
Long meta description– If your meta description longer then 30 words
Short meta description– If your meta description miss or less than 10 words.
How to fix Meta Description Error
Click on HTML Improvements and then click on the error. In my case, I have 6 error in the duplicate meta descriptions.

After click on it, You will see above screenshot in your webmaster. Again click on any option you will see the link of the two page where you write the same meta description in the meta box. so you have to change the meta description any one of the article to remove this error.

Sometime, when you change the Tittle or URL of the article after its published then google consider it two different article, example;
Before
www.hitechwork.com/2016/04/13/long-tail-keyword-research-focus-keyword-2/
After, i remove the date
www.hitechwork.com/long-tail-keyword-research-focus-keyword-2/

By default in wordpress, if you are using Yoast Plugin then yoast enable indexing of subpages. See below screenshot for understanding subpages;

you can fix this by disable this option in WordPress under Yoast Plugin setting.
Open your WordPress Admin>>SEO>>Tittle&meta. Then click on noindex and save setting. But you have to remove the page those indexed already by removing its url form google,
Similarly, when you found Long or short meta description error just find page in webmaster and change its length.
HTML Improvements Duplicate Title Tags
The title tag is an HTML title element critical to both SEO and user experience that is used to briefly and accurately describes the topic and theme of an online document. Under Title tag you are able to check the following error,
Missing Title– If tittle are missing
Duplicate Title– If same tittle are fond in other post
Long Title– If tittle longer than 60 Charaters
Short Title– If tittle very short
Non index able content– If your content non indexed in google
How to Fix Tittle Tag Error
Click on the error which shows the duplicate title tags error and you will see a screenshot like below.

When we further click on it, two Tittle appear in which one is duplicate of the original. Delete any one or which shows 404 error by adding its url in the remove URL section on webmaster as we do above.

Note:- html improvements duplicate title tags error rise, when you try to change the title of the of the post after published. if you like my post please share with your friends.
If you have any problem or suggestion about html improvements duplicate title tags please feel to to comment below.
I'm Professional Blogger, SEO and Digital marketing expert. I started my blog in 2016 with the aim to share my knowledge and experiences for the people associated with my field as well as for general public.