You know 55.6% out of 100 bloggers does not do anything with category and Tags, and 30.9% blogger who optimizes category they don't know, is it important to add category into a Google Index or not. If not then why, and how to remove WordPress category And Tags from the search engine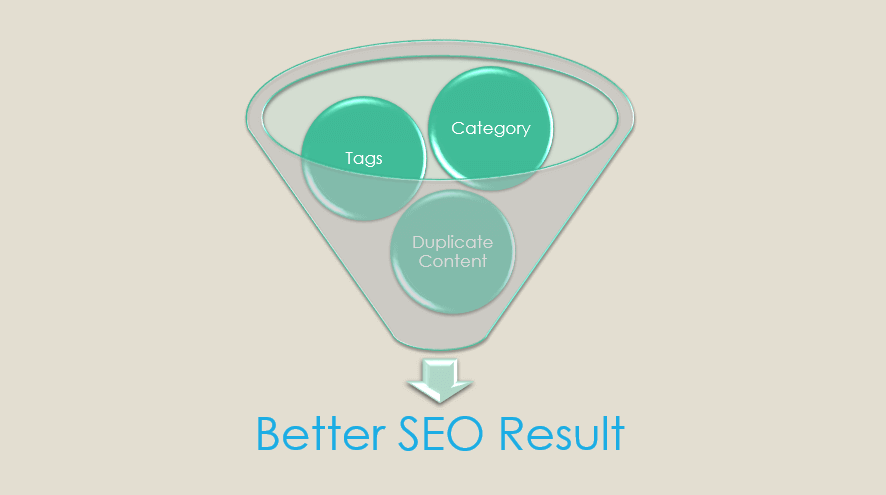 Today in this article. I will cover, is it we have to add the category in a Google Index or not. If not, then why we do not include a category in the search engine. How they affect SEO and how we can over came to this Problem.
Little Introduction To Category
According to the definition" A Category is one of the pre-defined taxonomies in WordPress." It is used to sort and group content into different sections. A website publishing content on a variety of topics can divide their website into sections using categories. In a layman language, we can say a category is a group of Post.

The Taxonomy in WordPress is one of those things that everyone uses, but they do not know that they are using it. WordPress taxonomies are used as a way to group posts and custom post types together. WordPress has two very popular taxonomies that people use on a regular basis: Categories and Tags.
Is It Important To Add Category And Tags In Search Engine
The clear cut answer is No. Let me Explain Why? When I start my blog I also unknown about this problem. After one month blogging when I check index history in google search result by typing command in " site: www.hitechwork.com" in a search box. I was shocked after seeing index result.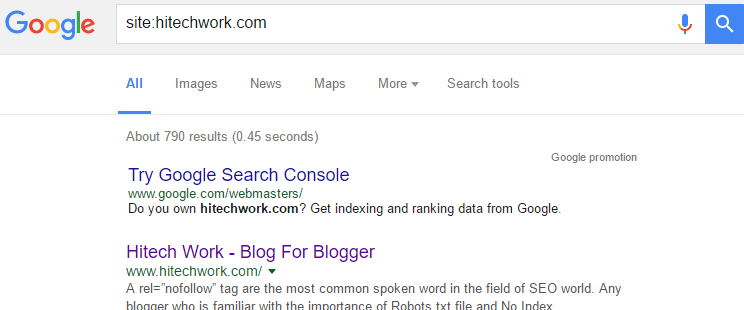 Googlebot index my all tags and categories and in the search result. I post only Nine to Eleven articles but in the search result, there were one hundred Eighty posts indexed. How this possible if my website has only Nine Post and Google Search result show near about 180 posts.
When I recheck all thing and do some search. I found that there is a duplicate content in my website due the tags and Categories.
How Category and Tags Produce Duplicate Content
As we know, for Google www and non-www is totally two different domain. Content which is the same but can be accessed by two different URL is a duplicate content or one content has two copy in the search engine. This could be within your blog or could be on some copy-paste by another blog i.e copy content.
For example, on a poorly optimized WordPress blog, an article can be accessed by:
http://domain.com/category/SEO
http://www.domain.com/Category/SEO
http://domain.com/tag/SEO
http://www.domain.com/tag/SEO
http://www.domain.com/SEO-optimization
http://domain.com/SEO-optimization
http://domain123.com/SEO-post (External website i.e copy content)
So now You have an idea how a one post can be accessed by different URLs. Google don't know which URLs is original so google randomly select one and rank it. Too many duplicate contents mean low authorizes website. so that why you have to Remove WordPress category And Tags, duplicate content for google Index.
Why I Deindex Category And Tage From Google.
Google love the neat and clean website. Think if you are a google and you have to daily filter a URLs which is just duplicate of the other content then how you feel. Similarly, if you provide bad information or unfair information to google not rank your website. But if your provide less and right information to google than google think it is a good High-quality website and reward you by providing organic traffic to your website. So, I Think this information is sufficient to understand why we have to Remove WordPress category And Tags from the Google Index.
Remove WordPress Category And Tags From Search
First, make sure your Robots.txt file is not blocking access to the tags and categories pages. By default WordPress not blocking category and tags. Open your Robots.txt file by typing " www.Domain.com/robots.txt " in Browser bar. Check in your robots.txt file if it has the following code just delete it.
Disallow: /category/
Disallow: /tag/
You can also design WordPress Robots.txt file according to your website. Robots.txt file plays an important role in SEO. They help google search engine how to crawl your website. With the help of robots, you can tell the search engine which part is private and which prat is public.
Now, check what pages of your site are indexed in Google by typing this search operator into Google.
site:domain.com (replace domain.com with your domain)
You can see which page is indexed and how many duplicate are present in it. Count the page, by clicking next and next at the last of the page. Remember how many page are indexed and note down it somewhere. Because when you remove category then you need to check out is it really google deindex my page or not.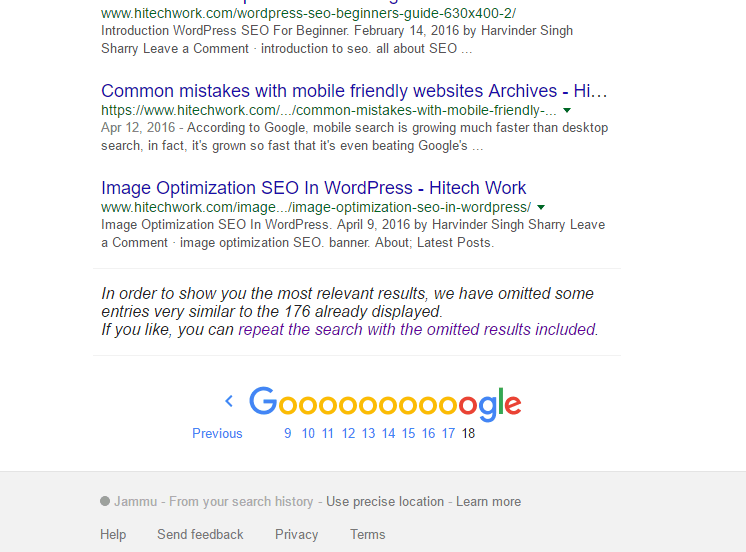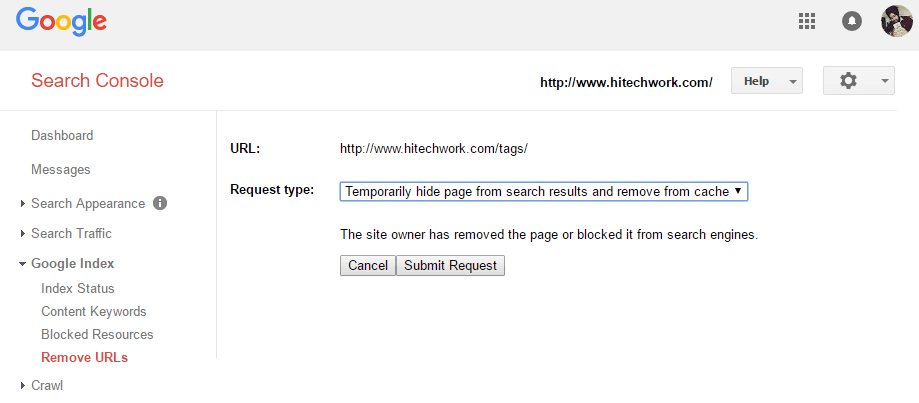 Now usually, our tags and categories pages are seen as a directory from a search engine's point of view.
For example:
domain.com/tag/SEO
doamin.com/tag/WordPress
We can use the directory removal option to Remove WordPress category And Tags from the google Index. Within 24-48 hours, all of your categories and tag pages will be out of Google's index.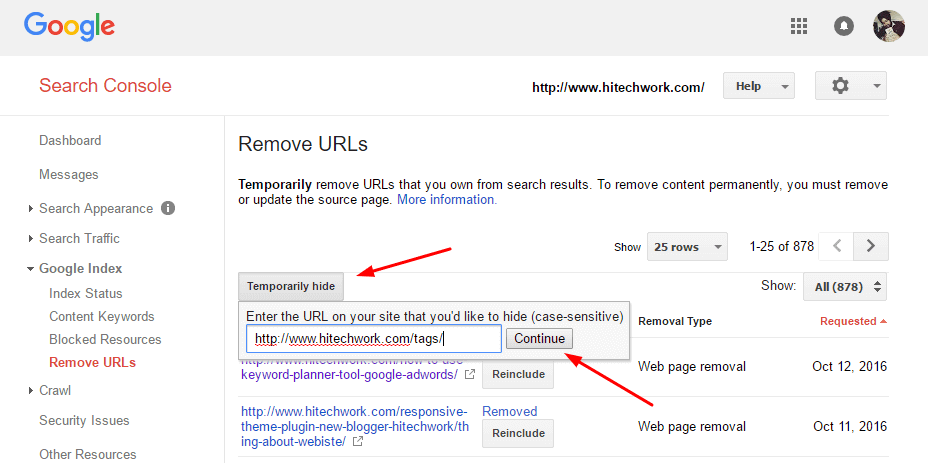 So you need to add www.domain.com/tag/ and;
www.domain.com/category/ and;
select"Temporarily hide directory".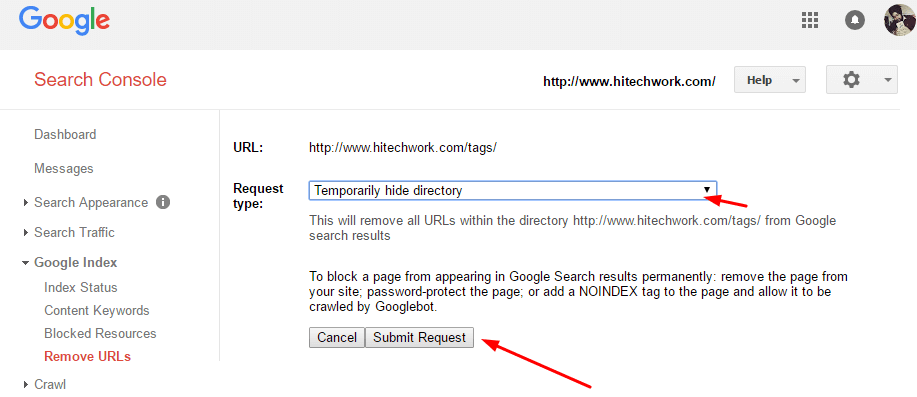 Hit "Submit Request" and now you've Remove WordPress category And Tags from Google's search index.
Stop Search Engine To Reindex Your Category And Tags
Just giving a command to google, Remove WordPress category And Tags that is good. But what happen when google comes to your site and found a sitemap of category and tags. They again index your tags and category. So how you can fix this problem.
Many bloggers Delete the category file from XML Sitemap. That is a big mistake. If you delete the category then google have a less information to index your post. Providing category to search engine means you are providing a path to google for better indexing of your Site.
Then what is the solution to this problem? The answer is, Just add NoIndex but dofallow tag to a category. So that google can crawl your category but not index it. You can learn more about Noindex and nofollow tags in my previous post and how it work.
If you are using Yoast Plugin, Go to SEO >>XML Sitemaps.
Now click on Post Type and Put media out of Sitemap by click on " Not In Sitemap"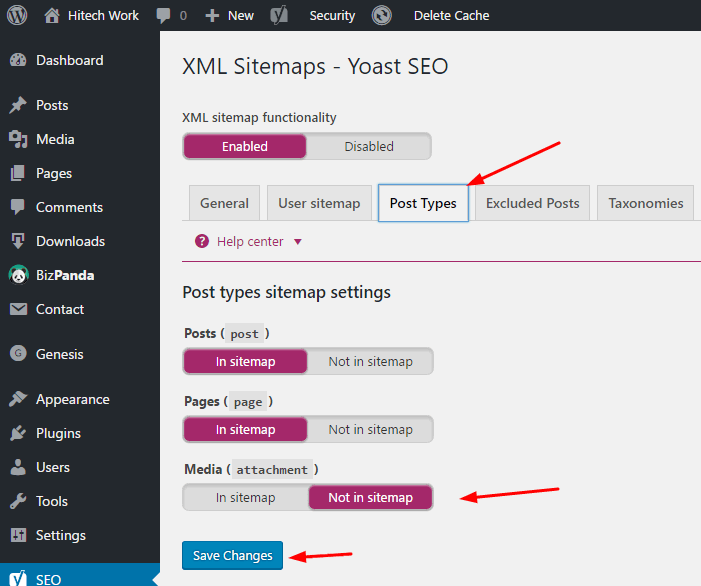 Now click on Taxonomies and follow the screen instruction and save it.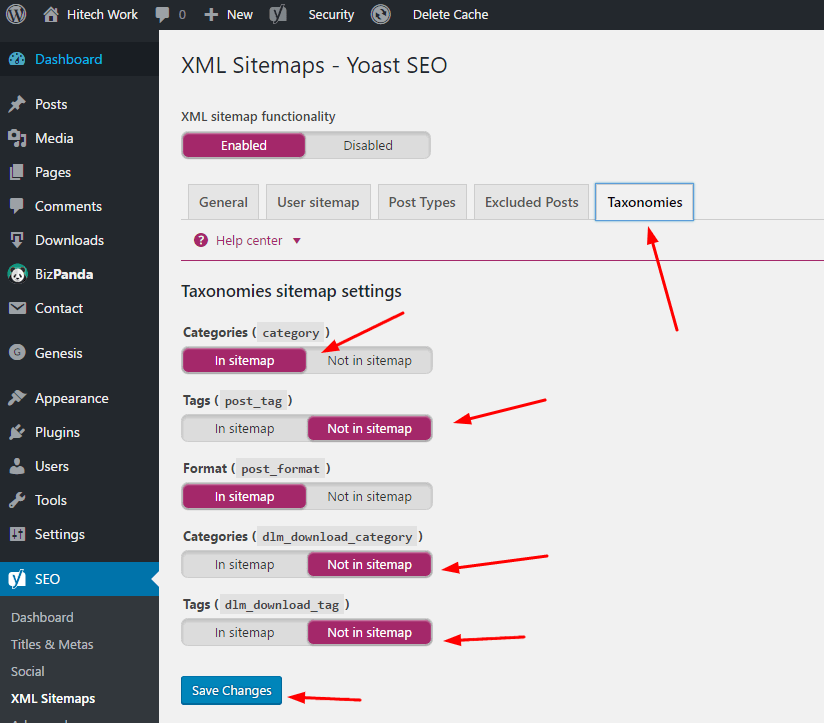 So, this is an only a setting for XML sitemap, which file we have to include and which one is not.
Now Go to Setting SEO>> Title and metas >> Taxonomies and Noindex to the category and tags in Yoast Plugin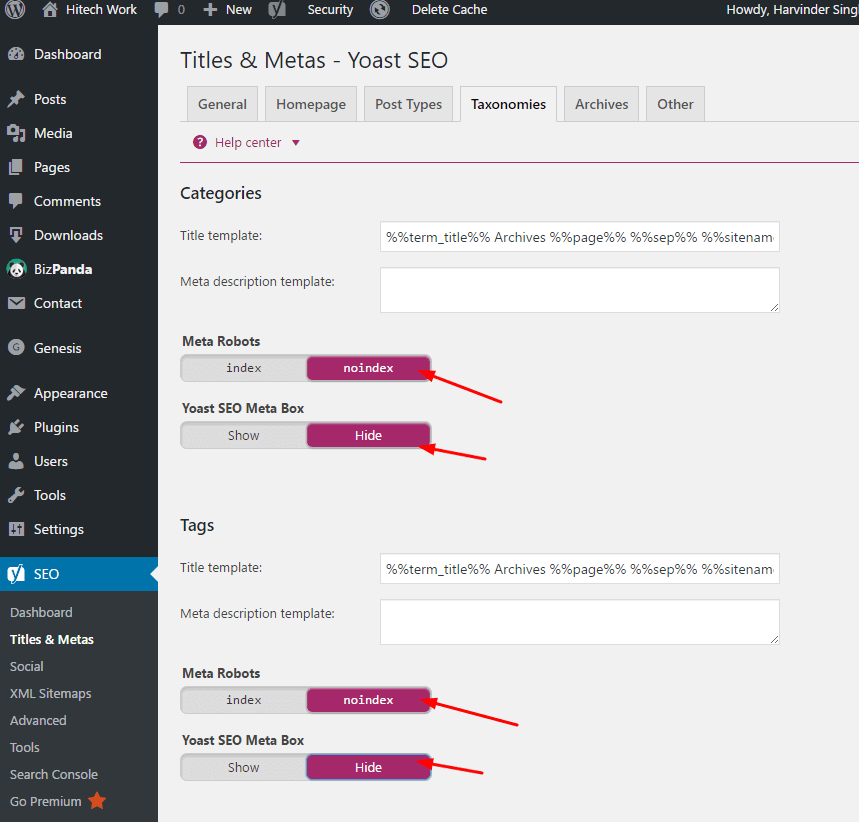 There is a Two more addition setting for the better result is, Archive and Permalink in SEO. Click on Archive and Fallow the setting.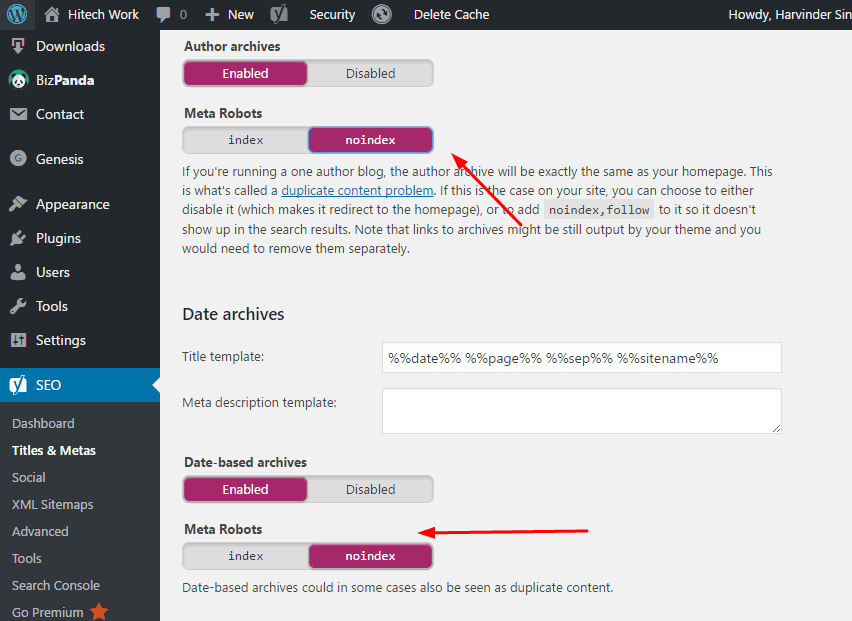 Click On SEO>>Advance>>PermaLink and Follow the step in the screenshot.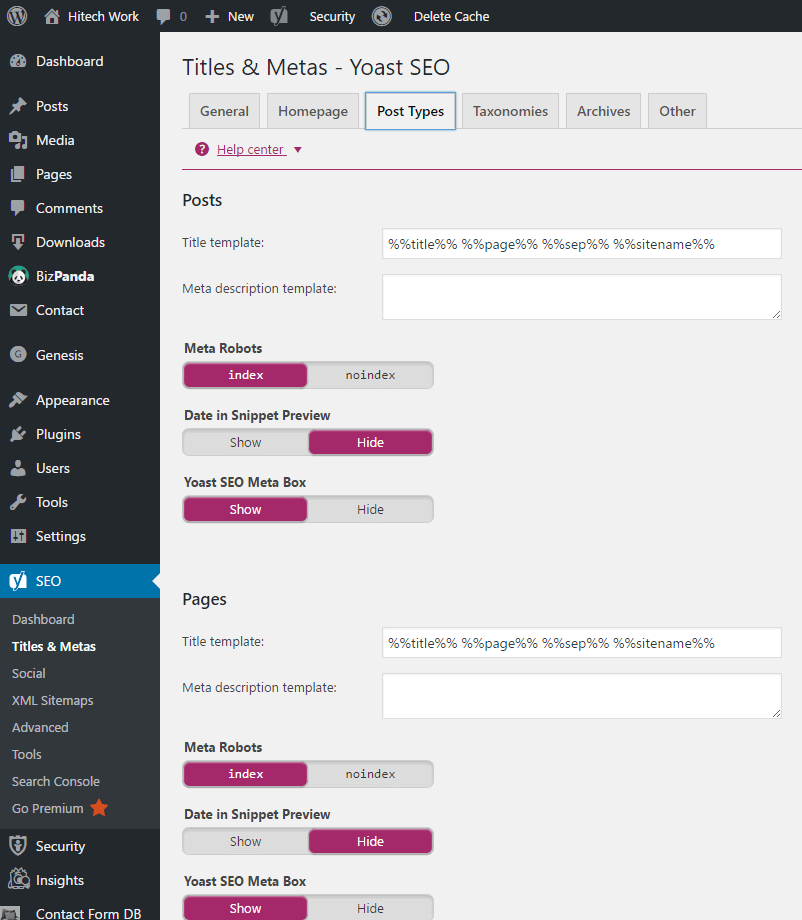 You can also select this option according to your site because all the site is not same. In this way, you can Remove WordPress category And Tags from Google search and Stop Google Boots To reindex Your category And Tags.
Conclusion
This is enough to understand, Why we have not to include Category and tags in the website and how to Remove WordPress category And Tags from the search engine. So this is a little check list to recheck process.
Check Robots.txt file;
Check how many Post are index By typing a command;
Remove Tags from XML Sitemap but not Category;
Add Noindex but Dofollow Tags To Category and Tags;
Add Directory in the Webmaster Tool;
Do some Advance Setting.
Recommended Post
Remember to share this post with anyone who might benefit from this information, including your Facebook friends, Twitter followers and members of your Google+ group! And also Support Us By Liking Our Facebook, Twitter, and Google+ Page.
If you have any suggestion or problem about how to Remove WordPress category And Tags please feel free to comment below.
I'm Professional Blogger, SEO and Digital marketing expert. I started my blog in 2016 with the aim to share my knowledge and experiences for the people associated with my field as well as for general public.