Today is the day of the digital age. We are living in a time with untold possibilities at our fingertips and all we do is complain and moan. How crazy is that! The truth is, the general public do not know how to make money or realize what possibilities there are all around us. That's why I wrote this post looking at ways to sell your services or product (Digital Good) and Receive payment.
To Sell your product online you need three basic things are,
Payment Gateway.
Online store.
Sell Product and Services.
In a digital marketing, the best and easy way to collect payment from the customer is by Paypal. Paypal is the best and easy way to collect payment but unfortunately, in India, you can collect payment but you can not pay through Paypal. So here I find an awesome payment gateway which is free and no need to pay the money from maintenance fee. The lowest service tax i.e 2% on every successful payment. The alternative of Paypal is Instamojo. It is the best payment method in India. No need to do something hard just enter the amount and send that's all. You can easily purchase the product or sell your own product through this services.
Even if you are ready with your product, the biggest challenge is to integrate a payment collection system. Most of us make a mistake by offering net-banking or direct deposit as a payment option, which increases the chances of last minute change of mind. You can set payment option on your own product or services just in one click.
What is Instamojo?
It is a Bangalore-based company that is targeted to selling digital goods & collecting payment online. Instamojo offers various solutions to today's era Entrepreneurs, Solopreneurs & Freelancers.
In simple word, you can use it to sell your services any digital goods & collect payment. What I like most about them is, it takes 5 minutes to get started & in another 5 minutes, you can activate your account. Any Indian seller with a bank account can enroll themselves at Instamojo, and start selling online. Instamojo takes care of payment & delivery of digital goods. In case if you just need to collect payment for your Workshop or an event, you can use Instamojo for that too. This service is used by Bloggers & authors to sell eBooks, designer to sell their designs, musicians to sell their music album, photographers are selling their photos & anything that can be delivered online. Top sellers are using this platform to sell IAS, CAT and other exams coaching materials.
Instamojo started to ease the biggest pain point of all digital entrepreneurs, and with a geographical target (India) in their mind. They have simplified the online commerce for millions of Indians, who just want to sell online & get paid.
Feature of Instamojo:-
Upload the Digital goods, buyer pay via Instamojo payment gateway & everything else including delivery is taken care of Instamojo.
You can also collect payment for physical goods.
All the product page can be SEO optimized along with support for the canonical tag.
Only 1.9% transaction fees.
Instamojo apps (Paid & free) let you add features such as SMS alerts,
There are no setup fees & it takes 5 or maximum 10 minutes to get started.

Google Analytics

integration enabled
You can create a discount code for your product.
You can allocate separate commission for individual affiliates ( Enjoy the power of super affiliate)
Export your Sales & Affiliates. You can import them to your email list for up selling.
Request payment by sending SMS on whats app (Yah! this is for real)
This all feature help you a lot to sell your services or digital good online.
How to Create Your Personal Payment Gateway
Sin Up into

instamojo account

, enter email, password, username, mobile number and Promo Code= SHARRYf125 to create a platform for selling your services and Digital good
Now a new window open. Enter Your Business detail.
After this, enter PAN card number bank account detail to received payment ( find Your Ifcs code).
To finish the account activation process, you need to upload a scanned copy of your PAN card, and any one of these three details from your bank account. You can also upload a photo through a mobile camera.
Latest Bank Statement (Scan/ Photo/ PDF)
Passbook Front Page
Cheque Book Front Page (Canceled cheques not accepted)
Tip: You can open Instamojo site in a mobile browser (Access mobile site here), and use your mobile phone camera to take pictures. Their mobile site is fully functional.
It is available in upper right side corner, click on a trail and then click on Upgrade account and upload your PAN card copy for verification.
Upload your Bank copy
After uploading the document and wait for approval. After one or two days you will get approval and your account is fully activated. If you do not get approval then reapply the with extra detail or extra photo of your bank copy.
How to sell your services and collect payment
Even if you don't have anything to sell a digital product right now, you should go ahead & create an Instamojo account. As after creating an account, you would realize how easy it is to sell online. The best part of Selling is that You have no share your bank account detail with anyone. Just create a link and place it on your website and rest all the work is done by instamojo. The amount is directly sent to your bank account. You do not need to do anything just make the account and forget it.
After making an account on Instamjo, now you have your personal Dashboard to upload Digital good and set payment option on it.
Click on Create Payment link and select what you want to sell service or Digital Goods (product).

Now you can Directly upload your Product on your store or upload on Dropbox ,One Drive , Google Derive etc. I personally recommended, gowith Dropbox account.
Now add Title of your Product and Set Price of the product.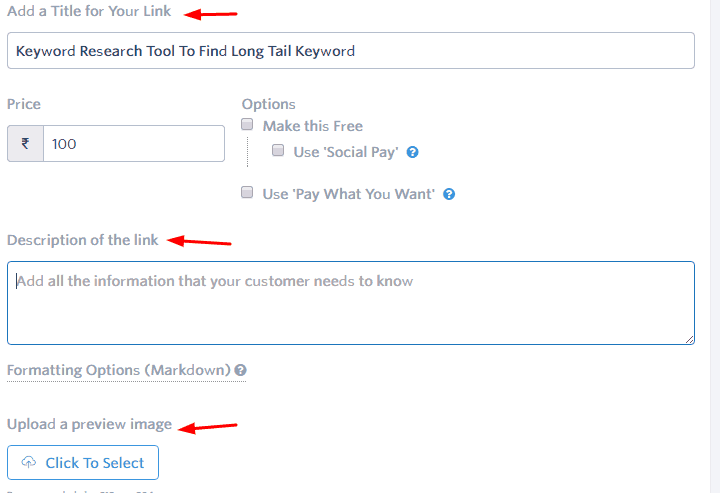 Your Digital good ready to sell it where you want like on social media just copy paste the link.
You can check my Digital good and my online store , where i sell my Digital good
Here, I'm outlining all the process that you need to follow to get started.
Create a Payment Gateway on instamojo
Head over to

Instamojo homepage.

Upload Your Digital Good Or make Service offer.
Share Your Link Where You want.
Start earning money.
Remember to share this post with anyone who might benefit from this information, including your Facebook friends, Twitter followers and members of your Google+ group!
If you have any suggestion or problem to sell your services or Product please feel free to comment below.
I'm Professional Blogger, SEO, and Digital marketing expert. I started my blog in 2016 with the aim to share my knowledge and experiences for the people associated with my field as well as for the general public.
Latest posts by Harvinder Singh Sharry (see all)