What do you do after installing WordPress? This is a common question asked by beginners. In this article, we will show you few most important things you must do after installing WordPress. Obviously not every WordPress blog will be the same but there are some basics setting up WordPress blog after installation that I feel should be done regardless of what kind of blog you're creating.
Here we'll go through few steps that are essential to perform after any WordPress install for blogs of any type.

Setting up WordPress for beginner
When you install WordPress, it's just a stock installation with few stuff like a dummy post, dummy page, and dummy comment. Rest there are many things that you need to do to make it ready for yourself and public. So, let's get started with the setting up WordPress that you need to make,
1.) Delete default Posts and age

When you install WordPress the dummy Post and Sample Page are present in the WordPress for the sake of quick explanation. So that you can use it and easily understand some basic feature of WordPress. This dummy post and Sample page have no required for any purpose. So you can delete it. If you do not delete this Post and Sample Page, then everyone can guess you are new on the internet.
Login to your WordPress dashboard and go to Posts. Select "Hello world" and Trash it.
Go to the page and select "Sample page" and Trash it.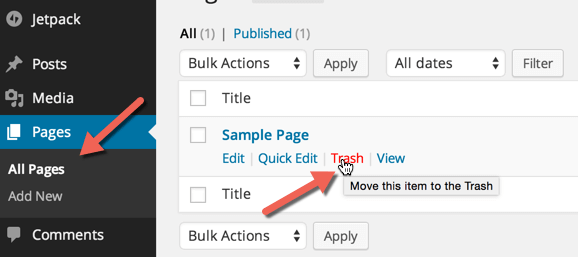 2.) Site Tittle and Tagline
Site Title Must be the name of your website i.e Domain name. But some Blogger Write different name In the Site Title box. This not hurts your SEO but it makes an image on your visitor. 30% Visitor come back to your site by searching the Site Title of your website. If you provide the different name in Site Title then your visitor never come back to your site because they not searching your domain they search Site title. So that is why site Title and Domain name must be same.
Go to General under Setting option.

The Tagline is also a part of setting up WordPress. The tagline is a short description for your blog. Don't write a long line in the Tagline. This is show on your website. Live example of my site Title and Tagline

3.) WWW or Non WWW and Http or Https
www means World Wide Website. You have to select any one format for your website. By default wordpress have non www format. According to your personal choice, is it you want to make it www.example.com or example.com you can select. But is personally recommended to my client go with www. Because according to the trend on internet 80% website start with www format because SEO freindly domain name can easily rank you on Google.
The main difference between Http and Https are,
Http is unsecured and Https is secured. Http is free and Https required SSL certificate. If you just new on internet go with Http because it is easy to use.
Click on General under Setting option in the wordpress.

Enter your domain name according to you choice
For example
http://www.example.com
https://www.example.com
http://example.com
https://example.com
But i recommended go with http://www.example.com
4.) Disable Users Registration
setting up wordpress users registration is important. It's always a good idea to keep your registration open which allow guest posting, but spam registration will be a pain. But, if you are sole writer and don't need people to register, I recommend you to disable the WordPress registration.
Click on General option under Setting.
Note:- If you want to add member in wordpress, then be sure with the role of the member. Because if you make a new member as admin then they can be control every thing on your site. so that is why setting up wordpress user registration is important.
5.) Set your time Zone
Setting up wordpress Time Zone is 2nd important function. There are so many reason to set exact time in wordpress one of it is status update. For example some plugin reset their data after 24 hr so it is compulsory to set date. If you want to get exact reading at exact time then you have to configure the time Zone according to your country.
Note:- Make sure you set up the time zone to your local time, this will make sure your scheduled post will go according to your time zone.
6.)WordPress Discussion settings
This is another section that you should setting up wordpress just after installing. Just follow the screenshot and put the check-mark in front of the field as shown in the screenshot.
Let's take a look at each of these options and what each mean.
Attempt to notify any blogs linked to from the article – This will notify any other wordpress blogs that you link to in an article with a pingback. I recommend you have this checked since pingbacks can send some pretty decent traffic to your blog.
Allow link notifications from other blogs (pingbacks and trackbacks.) – This notifies you if any other wordpress blogs link to you and adds a pingback/trackback to the comments of the article that was linked to. I also recommend you have this checked for the same reason.
Allow people to post comments on the article – This one is totally a personal preference. If you want to allow comments on your blog check it, if not leave it blank. My personal opinion on this is that comments are a large part of what makes blogs great, however, I know of some great blogs that have comments disabled because the author doesn't have time to keep up with them.
Comment author must fill out name and e-mail – I recommend having this checked to reduce the amount of spam you get in your comments.
Users must be registered and logged in to comment – If you have a site where users can register you would probably want this checked to further reduce spam. However, if, like most blogs, you don't offer registration or don't want to require readers to register to comments, leave it unchecked.
Automatically close comments on articles older than _ days – Some bloggers choose to close comments for older posts so that they don't have to keep constantly going back to check for new comments and reply to them. If you want to implement this strategy check this option and set it to the number of days you prefer to leave the commenting open.
Enable threaded (nested) comments — levels deep – Threaded comments are a new feature in WordPress that I haven't had a chance to thoroughly explore. If you want to use nested comments, first you need to make sure your theme supports them, then check this box and set the number to the maximum you want shown on your blog. Any more than the number shown will be hidden and the reader will be given the option to view them.
Break comments into pages with If you have a very active blog and get a lot of comments you will probably want to check this option. Using the default settings, if a post has more than 50 comments, they will be split up on multiple pages with the last page displayed and older comments at the top of each page.
Anyone posts a comment – If you would like to get an email every time someone posts a comment on your blog, check this option. If you have a high traffic blog, you may not want to do this to keep your email down to a minimum.
A comment is held for moderation – If you would like to get an email whenever there is a comment awaiting moderation on your blog, check this option. I recommend checking this one since most people want to get comments moderated as soon as possible.
An administrator must always approve the comment – If you want to have to approve every comment before it goes live, check this option. Some may choose to do this so that they can check for spam or inappropriate comments before they actually show up on the blog.
Comment author must have a previously approved comment – This is the option I have chosen on Arbenting. If the comment author has never replied on my blog before, I have to approve it before it goes live. However, if the comment author already has approved comments on the blog, their comments will post automatically.
7.) Set Up WordPress Permalink
By default WordPress permalink is like http://yourdomain.com/p=123. This permalink is short but not friendly for search engines. you have to make it for both SEO and User friendly.This ensures that your permalink when appearing in the search engine, it will contain some keywords, and your blog posts will rank better in the search engine. You can make your URl SEO friendly in Permalink setting as explain below,
Go to settings and click on Permalink and select the post name and click on save.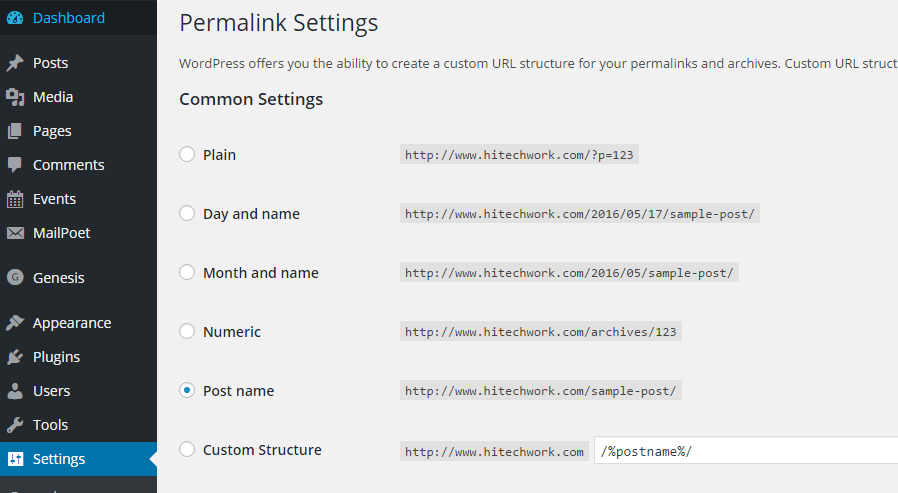 Custom Structure:- Some people choose to add in the category (http://example.com/category/title-of-article) however, if you want to assign multiple categories to a single post, you will have to work out a way to deal with duplicate links. To change your permalink structure choose Custom Structure and paste /%postname%/ in the box. If you want to add the category as well paste in /%category%/%postname%

8.) WordPress Ping List Service
By default WordPress ping only one ping service, you can notify many more services by extending the ping service. If you go with default ping list then maximum search engine never see your article and 50% traffic you loss daily. Here is a list of Ping list service 2016, you just have to copy and past the ping list service into wordpress.
Click on Writing under Setting option.

9.) Delete Unused Themes
Most WordPress users will install and test a few themes before deciding on one that's a keeper. Instead of leaving those unused themes installed, be sure to delete them. Themes even ones that go unused, will need updates.
Leaving them there can create the unnecessary chore of updating them. And not updating them can create a hazard to your sites safety as it can give hackers a way in.
Go to Appearance under dashboard and click on the theme.
Now click on the theme and then click on delete button at the bottom of the theme.
Once you are done setting up WordPress, it's time to install plugins. I have created lists of plugins, and you can read the detail of each plugin and install the one that make more sense to you. If you really like my article, then share with your friends so that other can also take the advantage of this post.
Also Read:- Long Tail Keyword Research To Find Perfect Focus Keyword
If you have any problem or suggestion about setting up wordpress please feel free to comment below.
I'm Professional Blogger, SEO and Digital marketing expert. I started my blog in 2016 with the aim to share my knowledge and experiences for the people associated with my field as well as for general public.