An XML sitemap is not a static file. It changes when we update new post or upload any an image. It is a perfect way to tells the google search engine about your website and latest change on the website by Submit XML Sitemap in Google webmaster Tool and in some other major search engine.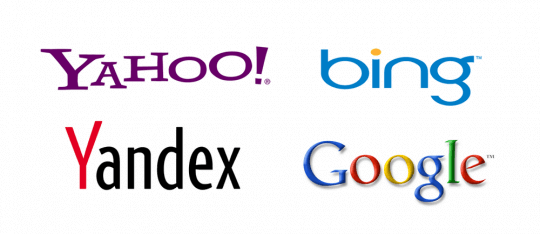 You can Create XML Sitemap as manually or by using the Plugin. But the submission of sitemap in google, Bing and Yandex webmaster tool is same in all case. You don't need a different XML Sitemap for the different search engine.
All the search engine at presently work on the same XML Sitemap. For a normal website, we use an online sitemap generator to create a sitemap file and submit it to webmaster tools. For WordPress blogs, we use plugins that automatically keep updating our sitemap file as we publish the new post. This way, you don't have to resubmit a new sitemap after publishing new articles.
Whenever I talk to newbies who are not aware of how the search engine works, they think that they need to pay Google or other search engines to list their website. This is is not true, of course. You can show your website in a Google search for free. The only thing you need to work on is helping Google to find your blog.
I will not go into detail about How to create an XML sitemap file, as I have already covered it in previous posts. In case you missed it, here is a little important point about XML Sitemap File
What is a sitemap?
A sitemap is an XML file that contains the URLs inside your blog. This file helps crawlers to find all of the URLs of your blog. There are many aspects of your site that a crawler will follow, such as the size of your sitemap and the number of URLs in your sitemap. In short, a sitemap is a complete index of your blog that you want search engine bots to see.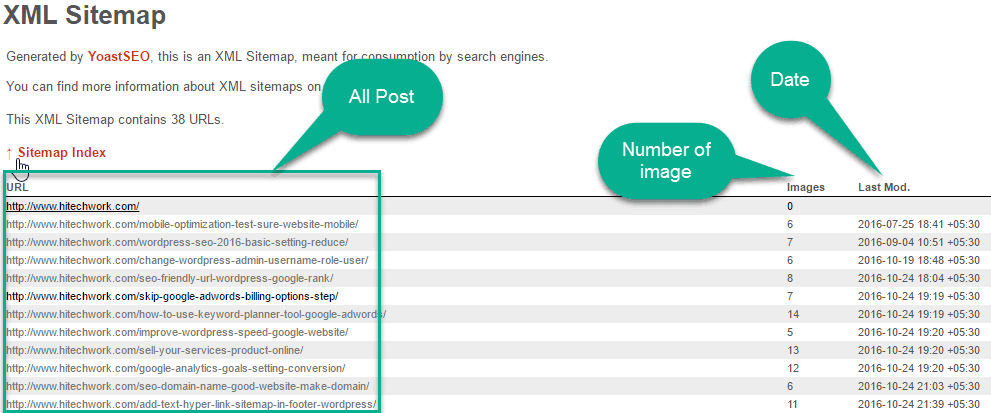 This wiki article on sitemaps will give you more technical and historical details.
Create Sitemap For WordPress Website
Sitemaps can be generated in different ways depending on the platform you are using for your website. For example, WordPress sitemaps can be easily generated using popular SEO plugin call Yoast SEO.
Go to WordPress Dashboard and Click on SEO>>XML Sitemap.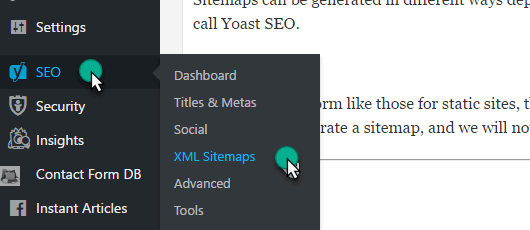 Click on XML Sitemap and You will we redirect to an XML file page of your website.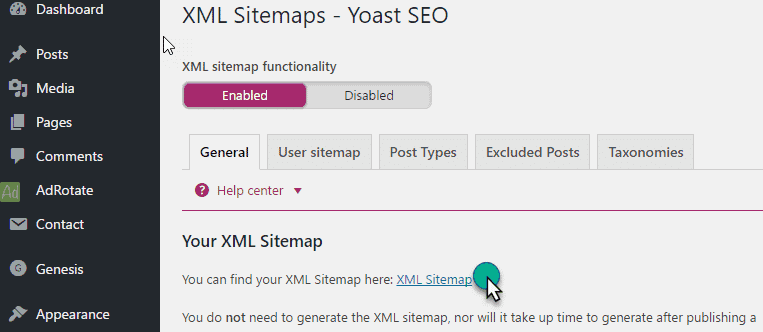 If you are using SEO Yoast Plugin You can check your sitemap file By simply typing command in the browser bar.
http://www.hitechwork.com/sitemap_index.xml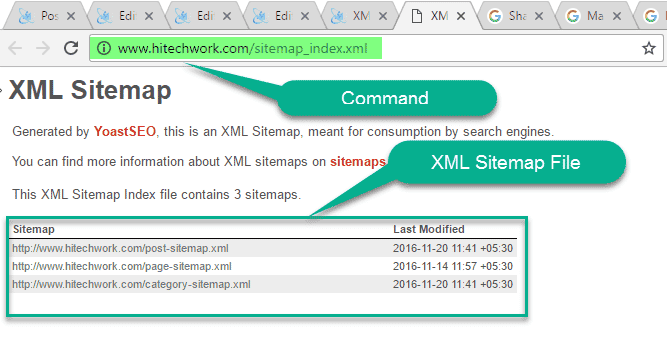 For another platform like those for static sites, there are many online tools and types of offline software which will help with sitemap generation. We will now learn how to submit that sitemap to Google.
Submit XML Sitemap In Google Webmaster Tool
The submission process is very simple. You just have to copy and past the sitemap file into the box one by one and it's done.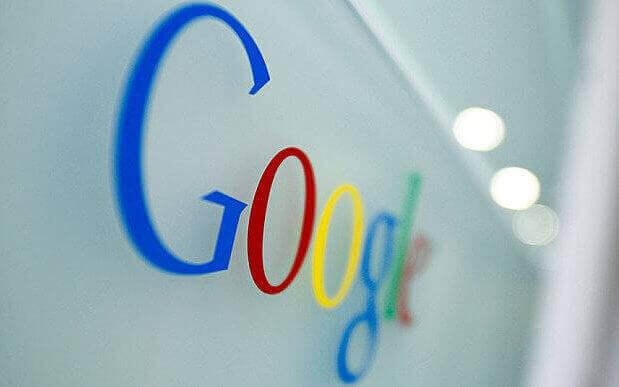 Inside your Google Webmaster Tool dashboard, on the right-hand side, you will see an option called "Sitemaps". Click on "More" to see all submitted sitemaps, or you can submit a new sitemap from there.
Click on Dashboard>>Crawler>>Sitemap.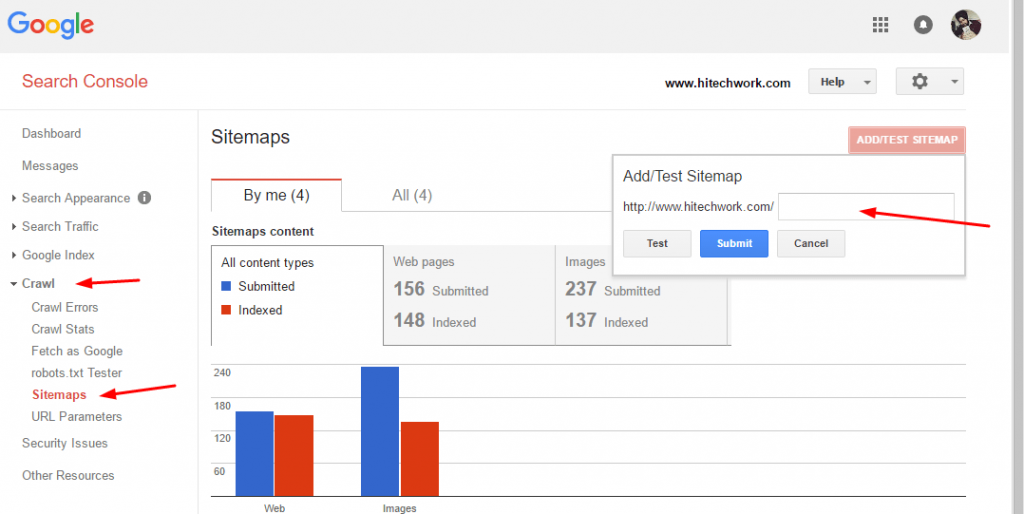 Copy (Just copy the text) the file and paste into the box and hit Submit XML sitemap button.
Note:- In Some Search engine http://www.hitechwork.com/ are already written outside the box. So you don't need to write the same word inside the box as show in below screenshot. But in some Search Engine http://www.hitechwork.com/ is not written, So you have to Past the full text in the box.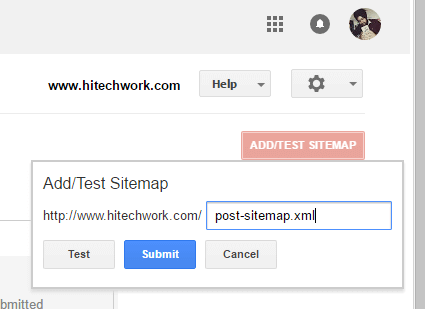 Now copy all the link into the box one by one. If you are submitting a sitemap for a new blog, it might take some time for you to see the index status. With index status on the same page, you can see how many URLs are submitted via sitemap and how many links Google has indexed.
Advacne Sitemap Setting For Faster Indexing Of Website
You can Also tell search engines about your XML sitemaps in three different ways;
Submit a sitemap through the search engine's Webmaster account (as we already done).
Include a line in the

robots.txt

file telling a search engine where the file is.
Place SiteMap In the Footer of website
Ping the search engines.
Include Sitemap In The Robots.Txt File
Adding Sitemap In the Robots.Txt File is important for better indexing because first Google Bots Always check the Robots.txt file and then crawl your site according to the robots file. So adding XML Sitemap in Robots.Txt file is good practice for the website. Write Sitemap: before the Sitemap File and place it in the Robots File. For Example
Sitemap: http://www.yourdomain.com/sitemap.xml
Go to Your Website Dashboard, Click on SEO and then Tool.
Now click on File Editor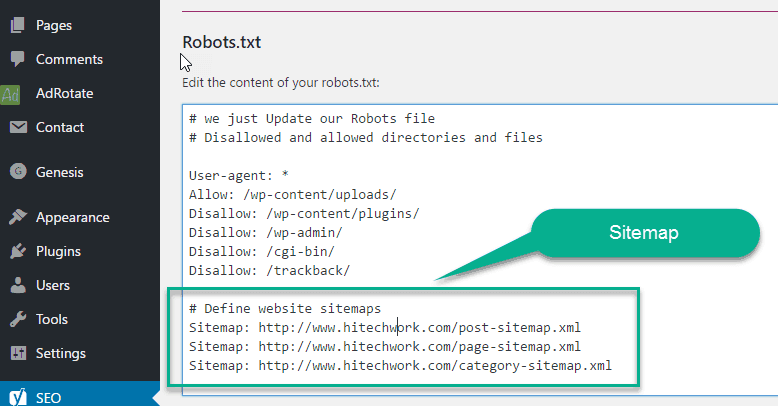 The URL should point to your sitemap, of course. The URL tells the search engines that don't provide a Webmaster account — such as Ask.com — where your sitemap is, so you'll want to do this even though you're submitting your site to the Google and Bing Webmaster account.
Pinging The Search Engine
Pinging a search engine means sending a message to the search engine telling it where a sitemap is, and telling it that the sitemap has changed. As of this writing, you could ping all three of the major systems — Google, Bing, and Ask.com — and some smaller systems, such as didile.com (for your Turkish websites).
You can see this process in action for yourself. Create a sitemap and then change the following URL to show the path to your sitemap:
http://www.google.com/ping?sitemap=http://www.yourdomain.com/sitemap.xml
Copy and paste this URL into a browser and press Enter, and you receive this response from Google:

These are the sitemap submission URLS; put the full URL to your sitemap, including http://, after the = sign:
http://www.google.com/ping?sitemap=
http://www.google.com/webmasters/sitemaps/ping?sitemap=
http://www.bing.com/webmaster/ping.aspx?sitemap=
http://submissions.ask.com/ping?sitemap=
http://www.didikle.com/ping?sitemap=
You can manually ping sites each time the search engine is updated. If you have a programmer build your sitemaps automatically by pulling data from a database, the programmer should add a ping function to ping the search engines each time the sitemap is updated.
Placing Sitemap In Footer
Sitemap Map in the footer also helps your website to better index and fast indexing. The reason is very simple all the search engine land on header and footer first to read the instruction what to do and then move to the next step.

This Sitemap is good for both Visitor and User. User Can easily navigate your site with the help of Footer sitemap.
Note:- Sometime unoptimized category create Duplicate content and reduce the SEO pint of your website. So before Submit XML sitemap in WordPress, Use "Noindex but Dofollow" tag To reduce the Duplicate content issue. If you Already Submitted the category in the webmaster tool then please check and remove category and tag as soon as possible. Otherwise, google will penalize your website.
Submit XML Sitemap In Bing Webmaster Tool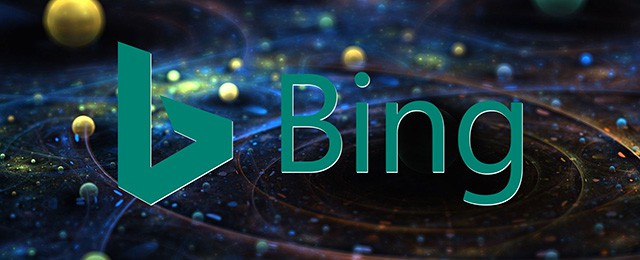 Login your Bing webmaster Toll.
Click on Dashboard>>Congigure my site>>Sitemap.

Copy and paste sitemap file one by one and hit submit button.
Note:- Just copy and past the whole word as it in the box.
Submit XML Sitemap In Yandex Webmaster Tool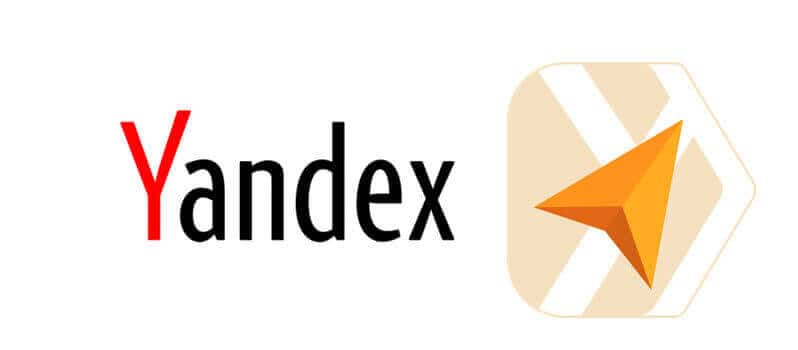 Login in the Yandex webmaster tool.
Click on Dashboard>>Indexing Setting>>Sitemaps.

Copy and past the XML sitemap file in the box and hit ADD button
Once you are finished submitting your blog sitemap to the Google search engine, I suggest you read basic WordPress setting.
Recommended Post
Remember to share this post with anyone who might benefit from this information, including your Facebook friends, Twitter followers and members of your Google+ group! And also Support Us By Liking Our Facebook, Twitter, and Google+ Page.
If you have any suggestion or problem about Submit XML sitemap please feel free to comment below.
I'm Professional Blogger, SEO and Digital marketing expert. I started my blog in 2016 with the aim to share my knowledge and experiences for the people associated with my field as well as for general public.