One of the most powerful Tools a website owner is Google WebMaster Tools. This is a free service that Google offers to help domain owners optimize their sites for search engine rankings as well as detecting issues and unknown errors that may be present on the website.
After making the website, the first and most important step for every blogger is site verification. You have to register your site means verify site with Google, Yandex, and Bing Webmaster Tools so that search engine can Index Your Website and giving you Analytical Information properly for your domain.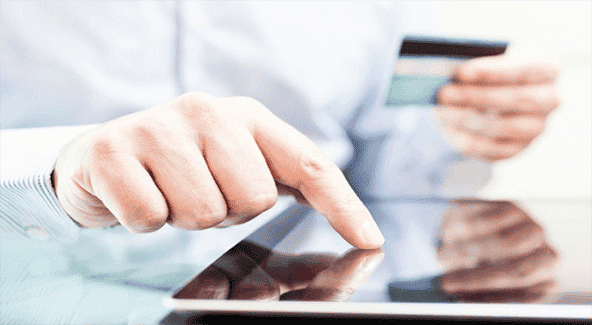 The Site verification is a process in which you will tell the search engine about your website is ready to crawl so that search engine can index your website.  There are serval different method to verify your site with the different search engine like Google, Yandex, Bing etc. I'm here explain the easiest and common method that we often use to Verify Property With Google.
Introduction To Google Webmaster Tools
Google's Webmaster tools is a set of tools offered by Google to give publishers (Site owner) a look at how their website is seen by the search engine. It provides Data and Report that can help you understand how different pages on your site are appearing in Google search results. It shows you the Search Queries that bring traffic to your site and Alert you if your website have a virus, malware or Security issue.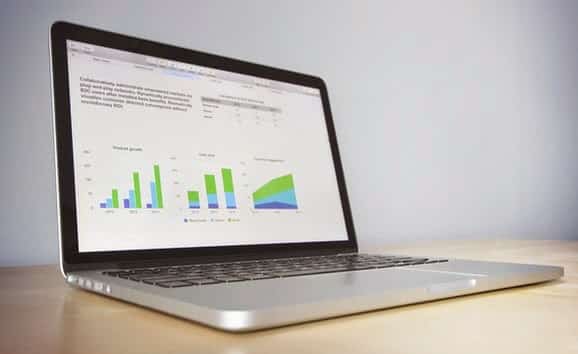 This data can help you to optimize the content or older articles that not performing Good in webmaster, Write new content, and formulate a content strategy for your site. It also allows you to submit XML sitemap of your website in webmaster for better indexing of your site and help Google display the most important content of your website.
Why Should I Verify My Website With Google?
There are so many reason for Verify site with google webmaster tool some of them are given below;
Tell Google when your website changes or updates new post
Remove Site Pages (404 page) from Google Search results
Specify to Google how your website should be indexed
Set a specific geographic region(target country) your website targets
Check the Website performing report in the search engine.
Set Your Preferred URL
You have to set one URL (Your Domain name) for your website, By default, this looks like http://www.example.com in WordPress.  There is four type of website URL are  www and non-www, https and http;
For Example
https://www.hitechwork.com
https://hitechwork.com
http://www.hitechwork.com
http://hitechwork.com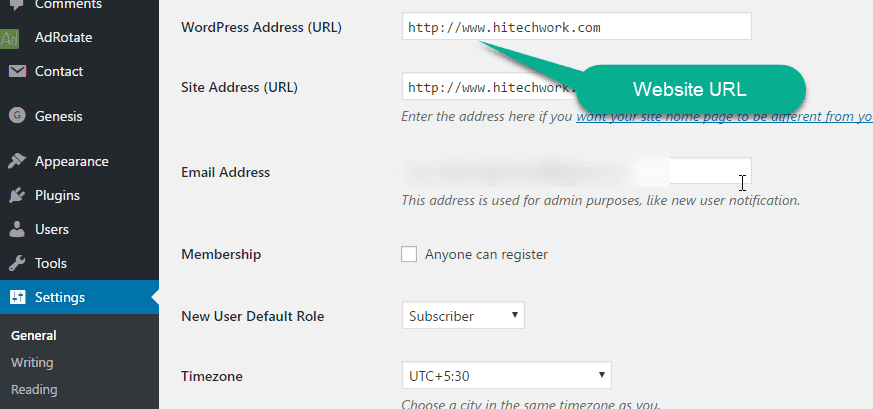 Note: – This is a one time setting after that in future if you change this URL you lose all your Rank in google ( you can use 301 redirects to save it but you still lost social sharing Rank).  So be careful with this, Learn more about SEO friendly URL before making a decision.
Tips: – After selecting Website URL, the check is it working fine or not. Search your website with www or non-www. You will see your website automatically redirect to your preferred URL.
Verify Site With Google webmaster Tool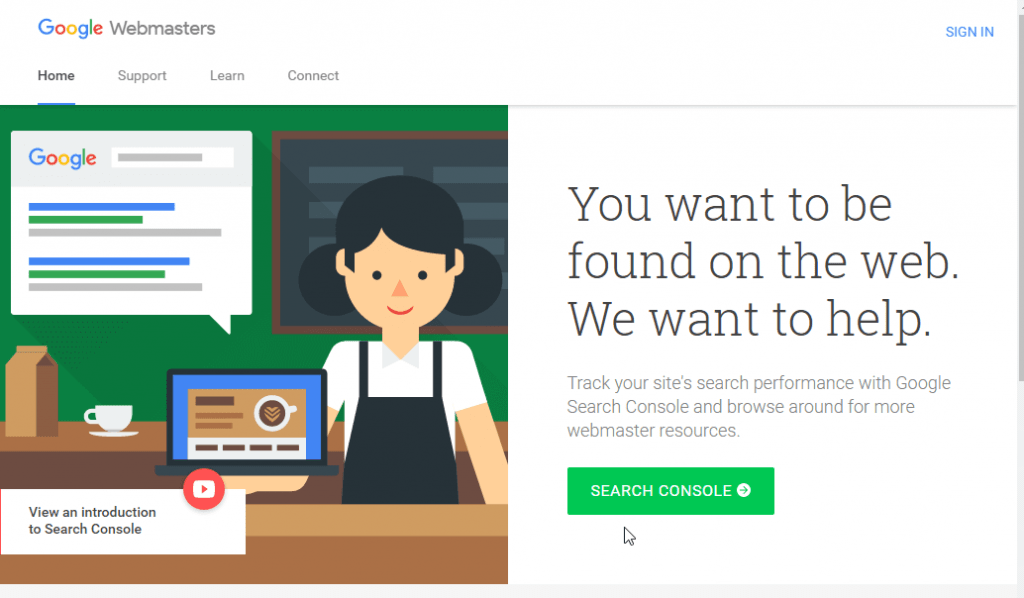 Now, click Add a Property and past the URL of your website.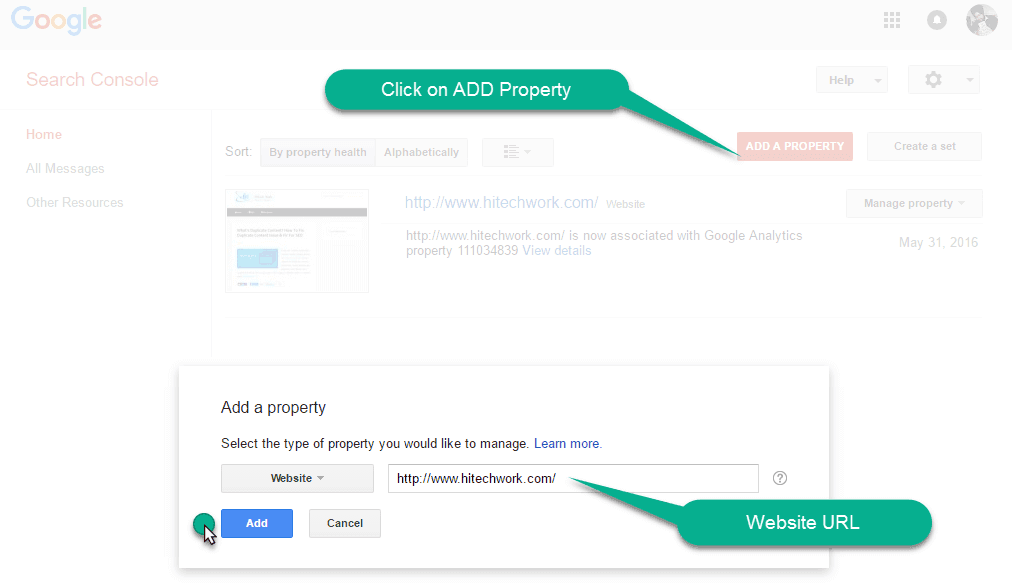 Hit the ADD button. After that, you have to select HTML meta Tag method. This is easiest and common method to verify site with google.
If it is not available then click on the alternative method Tab and select HTML meta tag.
Copy the HTML meta code and save it somewhere.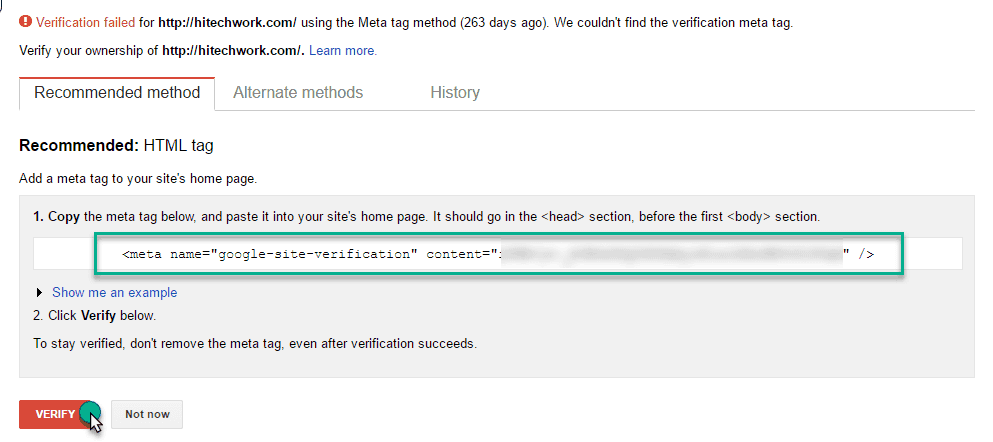 Login your WordPress as Admin. Click on Appearance>>Editer.
Find the Theme Header (header.php).  You can find it on the right-hand side of your theme. If you not able to find the code then read my previous article "add code in the header section of theme"
Note: –  If your are using Genesis theme then you have to click on the genesis and then you will find theme header.php
Try to find the code  </head> option in the theme header and then place the code just above the head as shown in the screenshot.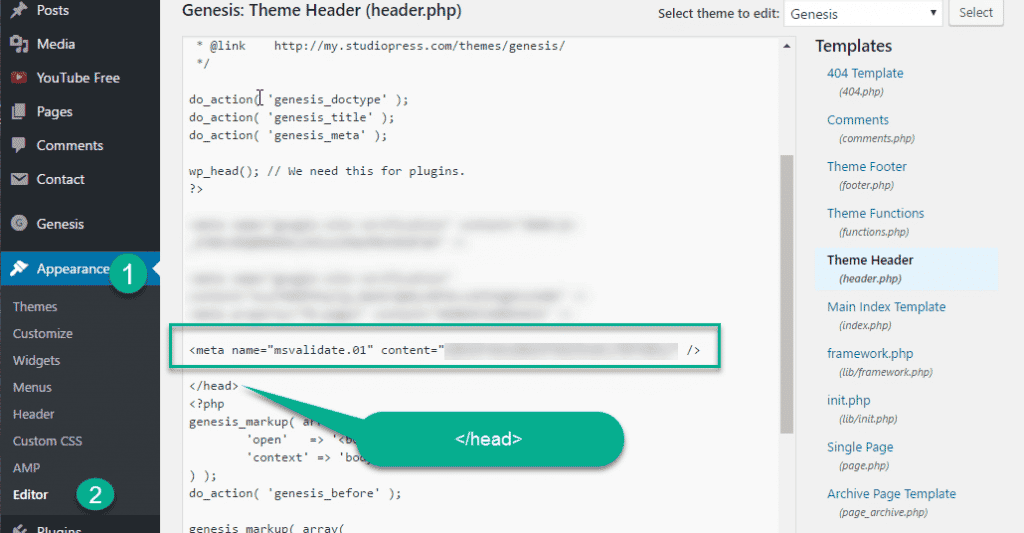 Switch back to Google Search Console (formerly Google Webmaster Tools) and click 'Verify'. You will see a message with congratulations if all the step you did carefully.

In this way, you can verify site with google webmaster Tools.
Give command To Google For Indexing Your Site
After Verify site with Google webmaster tool, Use Fetch as google to tell google your website is ready to index. we'll likely recommend that you follow this process.
Go to webmaster account and click on Crawl>>Fetch as Google.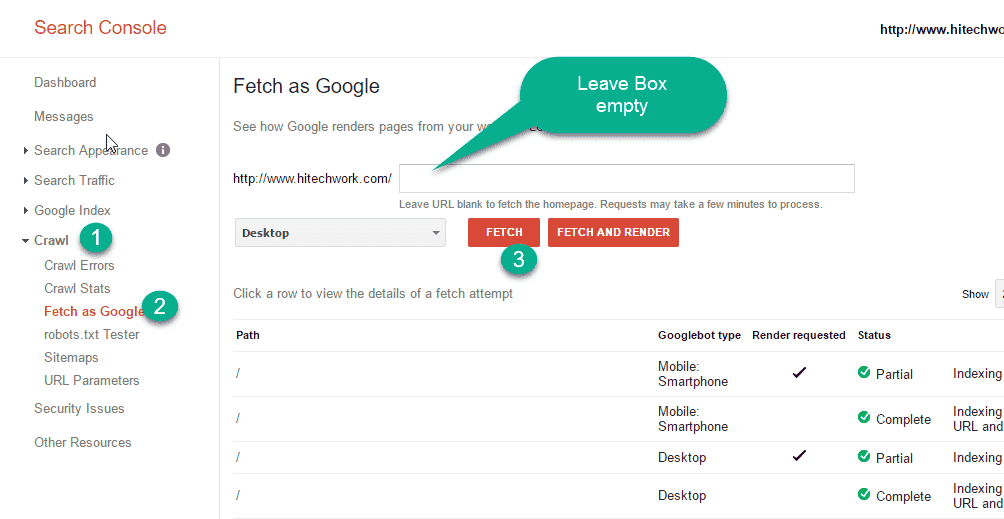 Leave the text box blank and leave Desktop selected in the drop-down menu.
Click Fetch to see the HTTP response Google received from your page and then click on " Request Indexing" to submit.

Check Crawl this URL and its direct links. You can submit up to 10 of requests of this kind per month. Now Click Go.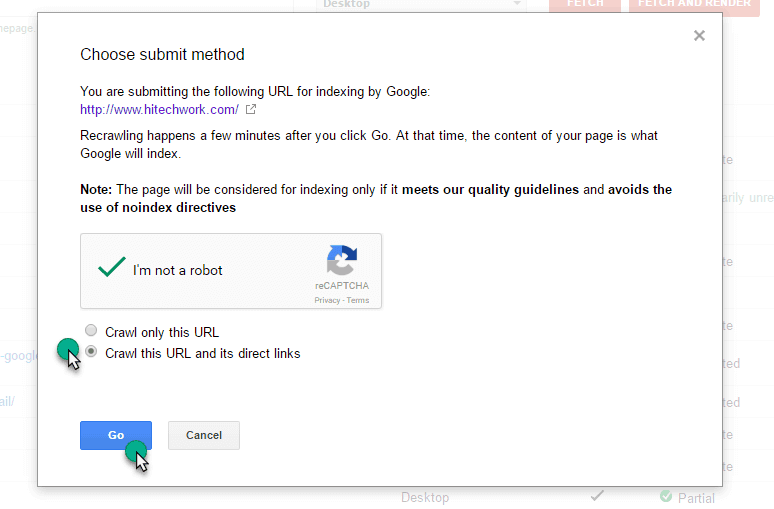 According to Google, "Once you submit your URL, you might need to wait some time for Google to process your request as well as crawl and index the page.
Note: –  Sometimes when we change or update the theme, then site again unverified, So it is a good article to add code in the Yoast Plugin to automatically reverify your site. If you want to use another theme then you have to place the meta code in the header of that theme.
Login your WordPress account as an admin.
Click on SEO under Dashboard. and click on webmaster tools.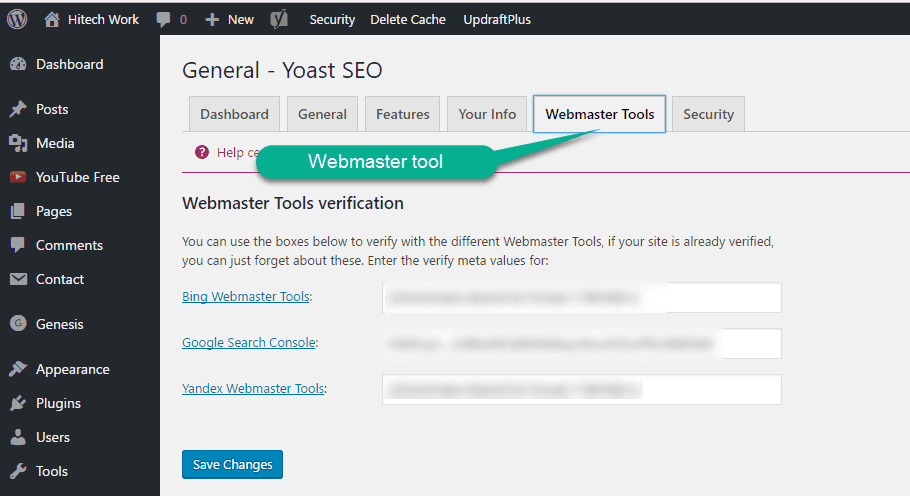 Just copy and the paste the Meta Tag in the box and hit the save change button and verify site with Google webmaster Tool.
Here is a video Tutorial to Verify site with google webmaster tools
Verify your website with Bing webmaster Tool
Search

 

Bing webmaster Tool in google and make an account in it. you can use your Microsoft account to sign in the bing webmaster tool.
Add your website name in the box and hit ADD button.

Copy the Meta tag code and place in the header section of your website as we place for Google Just above the </head>.
Now again come back to the Bing webmaster Tool and hit the button verify.
Verify Your Site with Yandex Webmaster Tool
Search the Yandex webmaster Tool and Login or register with your social network.
Add your website name in the box and hit Submit button.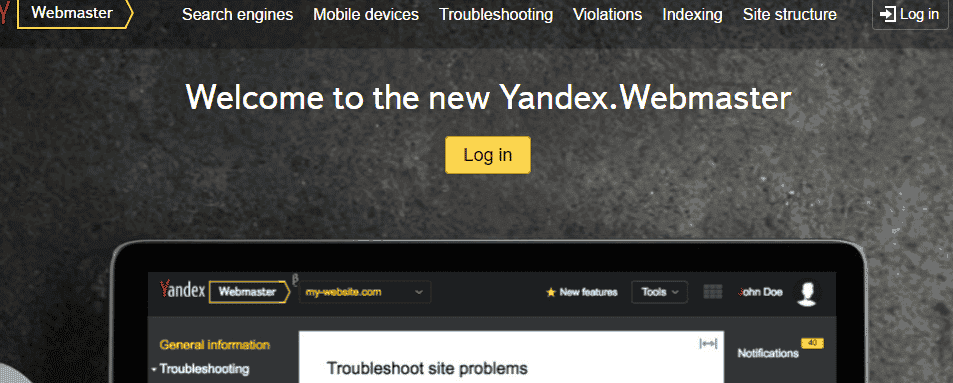 Again copy the code and place in the header section of your theme and verify site with Yandex
Your website is now verified site with Google, Yandex, Bing you can also verify your website with another search engine.
Recommended Post
Once you are verified your Website with Google search engine, then you have to Submit the sitemap in the Webmaster tool for Start indexing of your website.
Remember to share this post with anyone who might benefit from this information, including your Facebook friends, Twitter followers and members of your Google+ group! And also Support Us By Liking Our Facebook, Twitter, and Google+ Page.
If you have any suggestion or problem about verify site with Google please feel free to comment below.
I'm Professional Blogger, SEO and Digital marketing expert. I started my blog in 2016 with the aim to share my knowledge and experiences for the people associated with my field as well as for general public.