In 2011, Google made it clear that content made up a huge chunk of their ranking algorithm. In 2012, Google accented that with a slap to the face for those, who were ignoring the warning set by Panda for SEO optimised content.Since then, multiple updates from the major search engine like Google, Yandex, Bing etc have made changes to how we write content, and that includes over 500 algorithm changes in 2014 alone.

One of the biggest challenges bloggers and content marketers face is writing content that's SEO optimised content for all search engines. In today's article, we'll be talking about how you can write content that will help you rank and make valuable connections that'll take your business to the next level. Here is a list of some important point cover in this article are,
Keyword Phrase or Focus Keyword.
Good Tittle or Social Headlines.
Include the keyword in the URL.
Body of the Post.
Add image.
Use H2 subheading.
Internal And External link.
Meta Description.
Author Name and Bio.
Beautify the txt and mobile friendly.
If you follow the above rule, you can also green all the signal (yoast SEO Plugin) of your post. For better explanation here, I'm taking an example of my old post "Ping list service"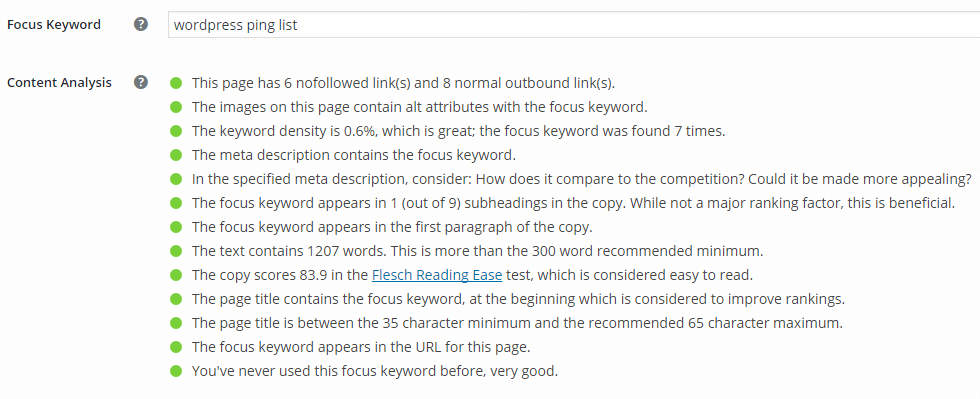 Write SEO Optimised Content In WordPress
All the important point will be studied in this article one by one, So first we study the focus keyword which is called the heart of the article.
1. Keyword Phrase or Focus Keyword
Low competition and Low bid keyword is the best keyword for an article. The keyword is a heart of the article, without good quality keyword your post never ranks in the Google.

Ranking for terms with high search volumes can be tough, especially if your website is new. This is where long-tail keywords come to the rescue. By refining your keywords, you can minimize your competition drastically, as well as boost traffic and conversions. So main and first part of the article is long tail keyword research. Take a time to find long tail keyword and make a post based open the keyword. You can also use google Adwords keyword planner tool to check the competition on the keyword. If you have the good keyword you can easily write SEO optimised content based upon it.
Note:-
The keyword has low competition, Low bid and high search if possible.
The keyword should be the combination of 3 words i.e Head, Body, Tail.
2. Good Title or Social Headlines
The best way to get a lot of traffic through social media is to write Social Headlines. Always keep this in mind that, people are on social media for interesting, unique, entertaining content. They don't want to read something they've read before. They want to read something that gives them that "A HA!" moment. You should be posting to all the social media sites. When you write something for your main page, share it with your Social media platforms. The social networks have grown strong over the last decade, and they prove to be staying around for quite some time longer.
Note:-
Title should contain Focus keyword and aim for 8-12 words. Many blogger say the length of the article should be 60 characters maximum. Thats true but, it is not compulsory to make the length of the Title 60 characters, You can write 50 or 70+ but the when someone search your article, only first 60 characters shown in the front page of the google.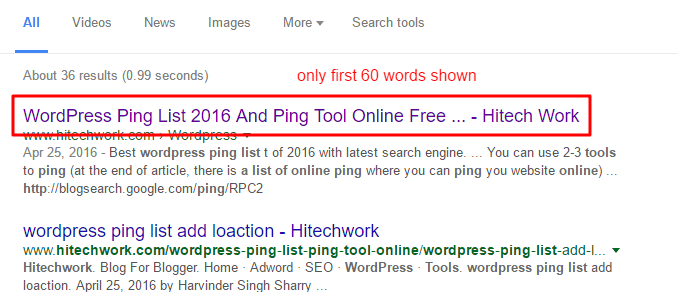 Keyword must be place at the begging of the title. This increase the search ability of the content. This is called SEO onpage Optimisiation. Technique.


3. Include The keyword In the URL
URL is not important for user but it is most important for search engine. Search engine find your article or post with the help of url. URL is the address of your post. Most content management systems (e.g. WordPress) allow you edit the URL of your posts to make it seo optimised content. If you don't know the importance of the SEO friendly URL, I recommended you to read seo friendly article for better understanding.


Note:-
Your permalink structure should be optimized for search engine traffic. Do it by doing some basic setting of wordpress.
Your URL should contain your focus Keyword.
4. Body Of The Post
Body of the post or page must be divided into the 3 main part. First is Begging of the post, second Middle of the post, and last is End of the post. Identify these part and place keyword in it, to make seo optimised content.
Begging of the Post
When crawling a webpage search engines want to find what they are looking for and determine if this is a page to include in their results as fast as possible. Your job is to help them by mentioning your keywords in the first paragraph of your page. You have to place your keyword in the first paragraph of the article before the tag line. you should have to place the keyword between 50 to 100 words of the first paragraph.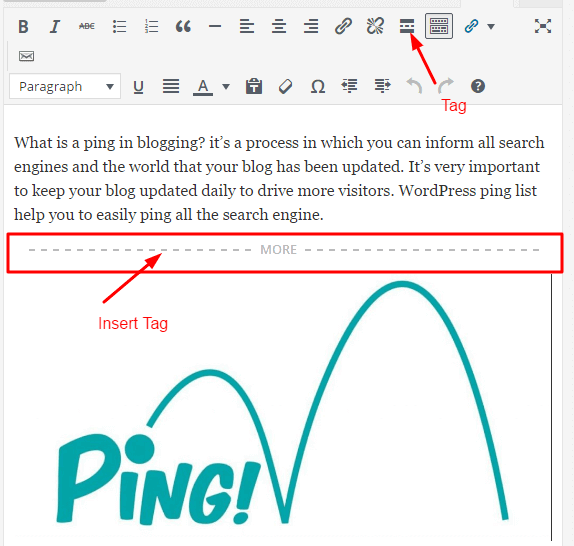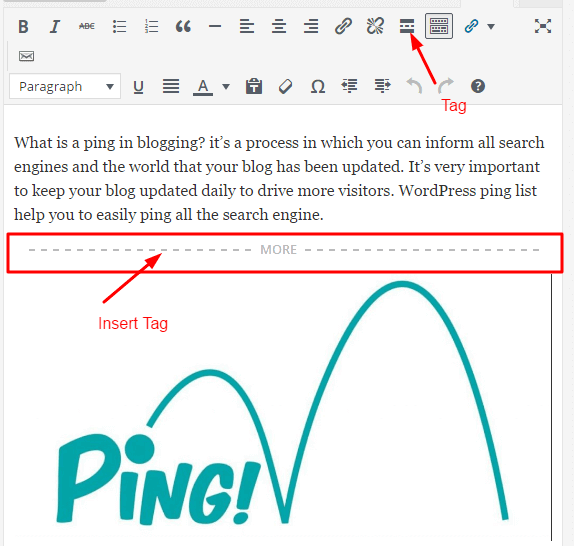 Note:- 
Tag line is important for every post to show only little part of your post on Homepage. This way you can also reduce the size of the homepage and decrease the loading time also.
Middle of the Post
Don't forget about the body of the post. You should give attention to the title and description of your post but you should also consider adding your keywords naturally in the body of the page as well.
End of the Post
Place keyword at the end of the article so that the Keyword Density will be good and also place some older post at the bottom to decrease the Bounce Rate. If the Bounce rate decrease then quality of the page automatically starting up and your artricle become seo optimised content. It it not compulsory to add older post in the end of the article.

5. Add Image
Images are good for the user as they make the content less tiring and easier to read but they are also good for search engines since they are an additional way for them to understand more about a given page. Place the image after 50 or 100 words to Attract The Visitor and force him to read the article. There is no hard and fast rule to place image after exact 50 or 100 words you can place image according to your choice but i personally recommended you to place image after 40 to 50 words.
Google announced that, you have only 3 second to attract the visitor. Seeing that articles with photos, info-graphics, and other visuals get up to 94% more views, it's safe to say that not including visuals is a colossal mistake. They also hold some weight in terms of search engine optimization – if you optimize them correctly.
Note:-
Reduce the size of image before upload;
Make image fully optimize and delete unnecessary image form post;
At least one image contain your focus keyword.
6. Use H2 Subheading
Subheading also play an important role in the seo optimised content and also good practices for SEO purpose. Use focus keyword and place in the sub heading of the article in H2 because google crawler give more attention to H2 heading. So it is good to write keyword in H2. You can also use H2, H3, H4 and H5 heading so that visitor can easily find, what they want in your topic they.

7. Internal and External link
Anchor text is the term for embedding a link into a word or phrase on a page, instead of just using the URL.
Example:- Check out this great article on the "sell your service and product".
In the above example, I embedded the link into the text "sell your service and product"
This is better than simply linking the phrase click here = http://www.hitechwork.com/sell-your-services-product-online/
Note:-
When creating anchor texts, it is important to offer exact matches. Moz recommends that 17% of your anchor texts be brand names.
Do not over optimize your content with anchor links to avoid being penalized by Google. You should make sure your links are relevant, useful, and of course, reliable.
Do not place two link continuously, Make at least 7 mm a space between two links according to Google Guide Line.
Don't hide affiliate link or other link. It generate negative point.
This is fantastic for spreading the authority of your website to other pages, and also works wonders for the user experience. And as we know, Google loves sites that feature a great user experience! But don't just link to pages on your own site. Be generous with your links! Link to people who've Posted Interesting Content. By doing this, you're giving your readers additional insight on a topic you're talking about, and you also increase the chance that the person you linked to will notice you and increase the seo optimised content rate.
Link Out
Links to relevant resources and references in the body of your copy can support key points and provide more value for readers. What's more, search engines view websites with outbound links to trusted blogs and sites as more valuable.
Link In
I am a big fan of Internal links and I always advise my clients to use Internal linking in their articles/pages to create their own small webs within their websites. I have written an article on Internal Linking guidelines you can take into account but you can also take a quick look at any Wikipedia article to see how they are using internal links to ease user navigation.
8. Edit Snippet
Snippet is the second main part of the post. Here we write information which is most important for search engine. These information read by both crawler and user for understanding what the article or post actually about it. So it is very important to write reliable information for both Crawler and user.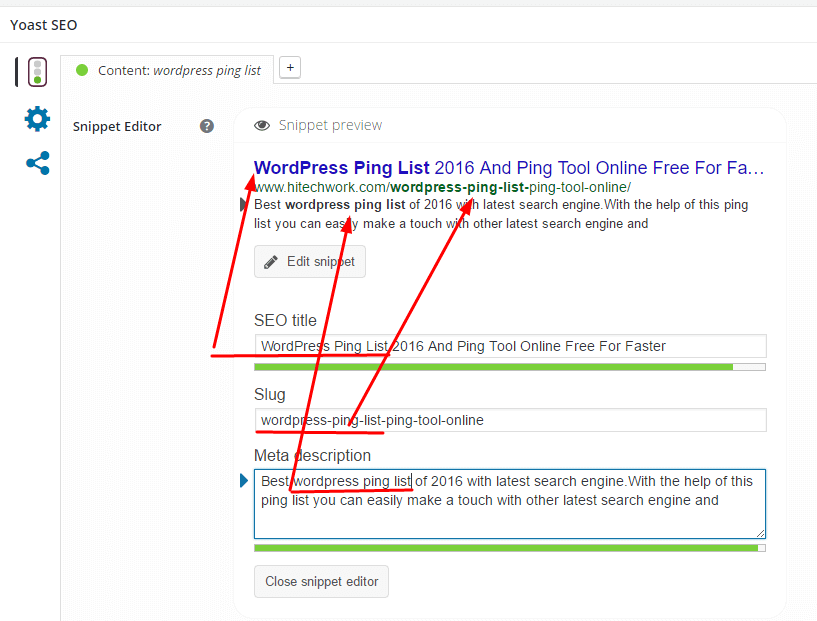 The snippet is divided into 3 box. First is SEO Title, Second Slug and Third Meta description Box.
SEO Title
Copy and past the tittle of the article or post in the SEO tittle box and this box help you to count the number of word or length of the Tittle for seo purpose. You can also write another tittle for search engine but it create a negative point.
Slug
Slug must have contain your focus keyword because this decide the url of your post. So it is important for user and search engine.
Meta Descriptions
Meta description is important to attract the visitor and good for SEO purpose. A lot of us ignore them because they take time to write. Good SEO copy-writing is almost pointless without attention-grabbing Meta descriptions. They directly affect how much traffic a web page receives from a given search result.
If you fully fill these 3 box with right way then your seo optimised content rate automatically boost.
Note;-
Place focus keyword in the meta description so that it generate plus point for your post and google can easily understand your post. Also place keyword in Slug and SEO Title box.
Yoast plugin introduce the new feature called "Readability". You can also lean about the yoast readability in my next article.
9.Author Name and Bio
Author is good for data Structure markup and HTML Improvement. They provide additional important information about author and generate plus point for page rank.


The web is no longer anonymous, this means that when publishing content on a web page you also need to show details about the author. This is especially true for topics that are sensitive like health related topics, financial etc but in general showing the author information makes a page trusted and consider it seo optimised content. Check out my previous post where i mention a lot of Plugin for wordpress to make wordpress more easy and SEO friendly.
10. Beautify The Text and Mobile Friendly
It is important when preparing your page to give some attention to detail and make it easier for users to scan through the text to find what they want. Make the page look good by adding bold, italics, images, small paragraphs and headings.
Make sure your website is mobile friendly, and that you have an easy way for your users to read your content on the mobile devices without having to scroll back and forth reading one word at a time. SEO friendly website directly impact on the seo optimised content and boost your post rank.
Some Other Important Point
Length:- There is little bit confusion about the length of the article,  but the evidence has shown that the longer the content, the more likely Google is to rank it on the first page. So length is strength. Why is this? Well, in general, people like having more than enough content. And it's not just Google that says people like longer content – people actually link more to longer content too! Now, this doesn't mean you should go off and write 2000 words just for the hell of it. No, you need to be providing value with each of those words. People don't like length for the sake of length. They like length because in generally, the longer an article is, the more value it contains!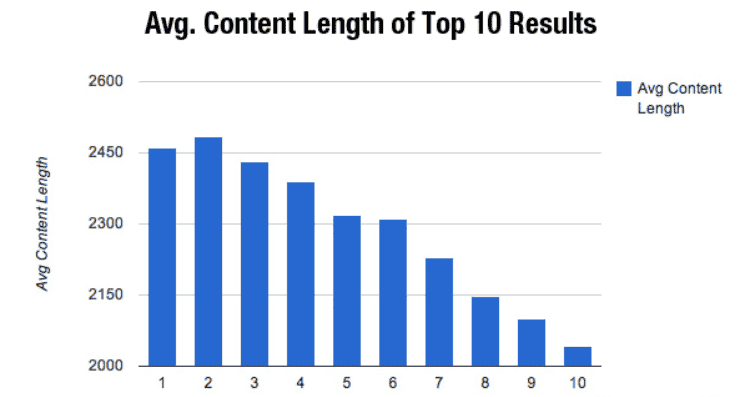 If what you have to say can be done in 400 words, 1000 words, or even 1400 words, that is fine. The idea is to write the content with quality in mind.
Write Evergreen Content:- Evergreen simply means that is stays fresh for a long time, or perhaps forever without ever going out of date. This type of content is not necessary to stay alive in the 2016 world of content, but it will help you by avoiding the need to constantly remove, update or refresh your content.
Google offers a freshness score to your content, so if you do not write evergreen content, you need to understand its life cycle, and either update it or remove it before it goes stale and drops your ranking.
In order to increase your chances of getting a better position in the SERPS you need to make sure that your page is better than the rest of other page on website. You need to convince them that what you have in your website is more beneficial to the searcher than what there is already available on the internet. Of course there are a lot more factors that play a role like domain authority, page rank, back links, who wrote the page etc but what you can do as a first step is to do some checks before you hit the publish button.
Conclusion
After reading this article, you should be focused on quality. The points below are quick tips for you to remember when writing content for 2016.
Keep it social (especially when writing the headlines and titles).
Length is strength.
Write as if you were talking to your readers.
Reduce the size of page.
Use image for attraction.
optimize the image before upload and after upload
Keep it fresh.
link old post with new post
link with good quality  website
Link up organically.
Mobile friendly websites are essential.
So this is a brief guide for new blogger to write a post in WordPress for better search result.
Remember to share this post with anyone who might benefit from this information, including your Facebook friends, Twitter followers and members of your Google+ group! And also Support Us By Liking Our Facebook, Twitter, and Google+ Page.
If you have any suggestion or problem about seo optimised content please feel free to comment below.
I'm Professional Blogger, SEO and Digital marketing expert. I started my blog in 2016 with the aim to share my knowledge and experiences for the people associated with my field as well as for general public.