How to Find Someone Free of Charge? To find a specific person online, there are many ways and search tools that you can use for free; some show you the address when others can list personal details like the contact information such as a mobile number or any possible social profile Facebook or Instagram. A few years ago, some free people searched directories with no need for a credit card or membership.
These days, those sites are not secure, and also the database is out of date; thus, wasting time with such systems is not what everyone is looking for. For that reason, we tested and confirmed the best options for free people search without any need for a subscription or any account to get the data if that's possible, of course, and available publicly.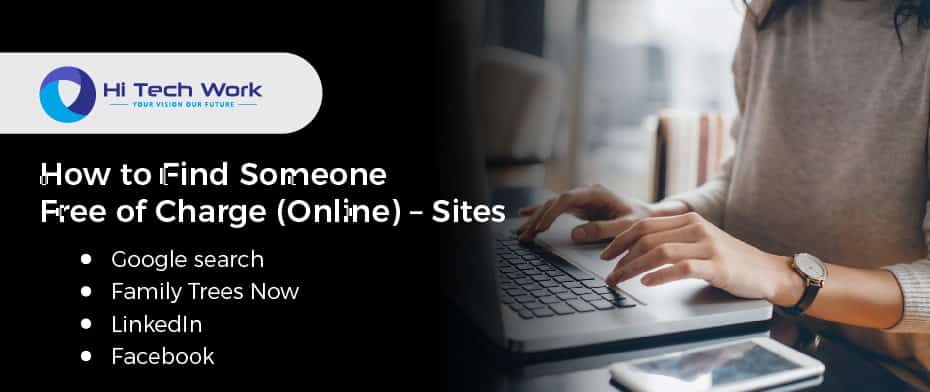 How to Find Someone Free of Charge (Online) – Sites
The following people search sites with free public records can work for many, but don't expect to find every information about others without spending some time. That's why we suggest dedicating at least a few minutes to do your search and every time, start with a new tool until you find them.
Google search
Millions of people use Google every day, but many do not even know that they can trace anyone online by adjusting some parameters. So first, take note of all the details you know about the person you want to trace with the search engine; next, type his name and last known address or city inside quotes.
Why quotes? Well, Google offers a list of search parameters that enable people to refine search results and get only what they look for; here is an example, let's suppose you'd like to find an old friend called "John" and what you have about him is only first name and area of work or home address.
So, by typing "John" followed by that address, Google will present you the pages where that information is listed, which can take you directly to their social media profiles, blogs, or posts on different websites.
Google allows us to find people free of charge, and that may take few minutes to hours or more if the name is mainly famous and used by thousands of individuals; that's why the advanced search system is helpful. In addition, by adding the name of your friends or relative, then limiting the search to a specific country or state, you'll exclude the not-needed matches and only have fewer details to check and verify.
Family Trees Now
This is an extensive database of names and people details for more than a hundred years ago, so it's an excellent place to find both dead and alive people in the United States using their names or other personal information. The website search is 100% free without any credit card. However, you may see interruptions and error messages like "access denied" sometimes, it looks like a problem with their site search system that does not work well every time.
With Family Trees Now, people can track their relatives, family origins, old and last found addresses, and even birth dates. Also, the census record from a long time ago can help find people's grandparents from World War Two or lost family members and friends during the last decades; who knows where they live now?
The site enables people to find their friends, old colleagues, or relatives using any of the following search entries:
First names
Street address
Phone number
Middle names
Location
Last names
Birth year
Any relative name
Country
Some searches on this site can present you with public data such as marriage records, divorce records, and personal details about alive people.
LinkedIn
Unlike other social media networks, LinkedIn has more extensive databases of profiles directly associated with active accounts. These people are principally business owners, celebrities, or others looking for a job. In conclusion, LinkedIn is the ultimate people finder tool for businesses and companies.
On the other hand, by searching for someone's name only, the site list all the probable profiles, and once that becomes a long page with similar names and details, the search filter comes in place to refine profiles. So, make sure you use that and add a city or the last known job title of the person you need to locate.
Facebook
Facebook is free to use and search for people; it does not need any complicated skills to reconnect with an old relative or anyone else you haven't seen for long years; everything starts with basic information. So the full name should be enough if they use social media.
Believe it or not, thousands of people got their long-lost connections thanks to social media and Facebook in the first place, so give it a try and remember to use the search filter. That enables you to search for people on Facebook by name, city, and even education.
All that won't be possible if the user keeps his details hidden from being crawled and discovered by search engines; that's why using Facebook search is better, showing accurate information about people and where they are.
Talking about social media reminds me of the significant impact of Facebook on our life, what we do, and what we share is there on Facebook. All free information on people that the site collects will keep stored in their vast data centers.
In other terms, even if someone deleted his Facebook account, one day, you may find his name, cell number, and address because of data breaches or other knowns hacks, and that happened many times when large size of data is being exposed publicly because of problems with the internal site privacy settings or other issues.
What you'll need to find people online?
Without a doubt, finding someone through the Internet can take some time, especially if he or she's a long lost friend or an ex-boyfriend, girlfriend, or partner; it does not matter if you have one or more details about them, if no website can help you, you should look for other ways to get his additional personal information like numbers or emails and use another method that works.
The first step that everyone should start with is the person's name; that's the essential information that can show you where he lives and what contact information you can use to reach them.
Now, if you only focus on their first and last name, that won't be enough with Google or social media; how many times have you searched for someone's name on Facebook and noticed a long list of profile matches? Of course, that also happens with any people search engine; the more details you have, the better chances you'll find them.
Now, if you have a different piece of personal information, add it to your search, but how can you get that? Well, if you exchanged emails in the past, you may try to find the email he or she used, check your inbox, and look for any past conversation. Gmail can assist with that by searching for a name, username, or other words you used.
Next, use that email to find other details on Google, keep doing the exact search but every time with a different entry, and you may find the phone number of someone you missed my name, email, or other details as all that is linked to each other.