The coronavirus pandemic has ravaged both lives and livings. Our old social customs are left behind, and new restrictions have become a norm. The old ways of doing things have been massive, if not completely, altered.
The most significant impact of this pandemic had been on humans – on their lives and relations. But many other practices couldn't stay unaffected as well. One of them is "the way business is done."
The impact of lockdown, social distancing, and other restrictions made businesses realize that their operations must evolve to cope with the new realities.
Pandemic speeding up automation
A report by Statista reveals that in a survey,36.6% of logistics industry professionals feel in certain regions, their business operations must change to respond to the impact of the COVID-19 pandemic. 23.3% said that globally they couldn't return to previous operating models.
"Automation both in our production workflows and overall business management helped our team to keep the pace with the post-pandemic changes faced", shares Gevorg Hambardzumyan, the CEO of Front Signs, a leading manufacturer of custom business signs.
These changes are visible for everyone to see.
Most of the workforce is working from home. Today customers are not coming to businesses; rather, businesses are reaching to them.The supply chains have been disturbed. Physical storage has been relocated to virtual storage. The meetings are taking place online.
Forbes reports that a typical automation journey used to take at least five years. But, with the Covid19 pandemic, that time has reduced to a year and even months.
So, automation has become imperative for the survival of businesses in today's world.
This blog will look at tools that can facilitate managing your business operations and lead to automation to survive in the changing scenarios.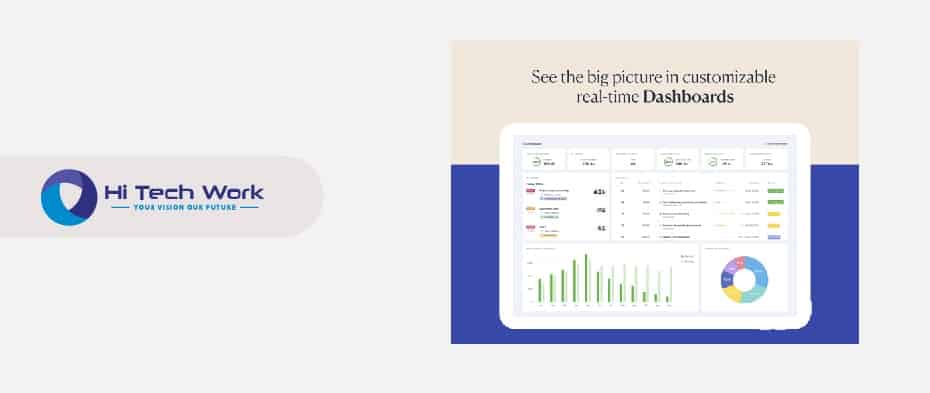 Scoro
Scoro is a cloud-based end-to-end work management software. The software offers multiple features like time management, project management, sales & CRM, and finances.
With Scoro, managers can view account information, calendar, pending task, progress, KPI, account information, all on a single dashboard. It simplifies business management and keeps multiple teams in the loop to optimize synchronization.
In Scoro, tasks are scheduled daily, monthly, and weekly, and all the changes and modifications to the tasks are saved in real-time. It also provides access control to the manager to grant employees different levels of access based on their involvement in the project.
Scoro goes beyond project management and gives a detailed overview of tasks completed, time spent on them, and the expenses. On a singles screen, you can view the invoice and billing for the project too.
Scoro has multiple pricing packages:
Essential for $26 user / month (min. 5 users)
Work Hub from $37 user/month, min. 5 users
Sales Hubfrom$37user/month, min. 5 users
Ultimate(custom pricing)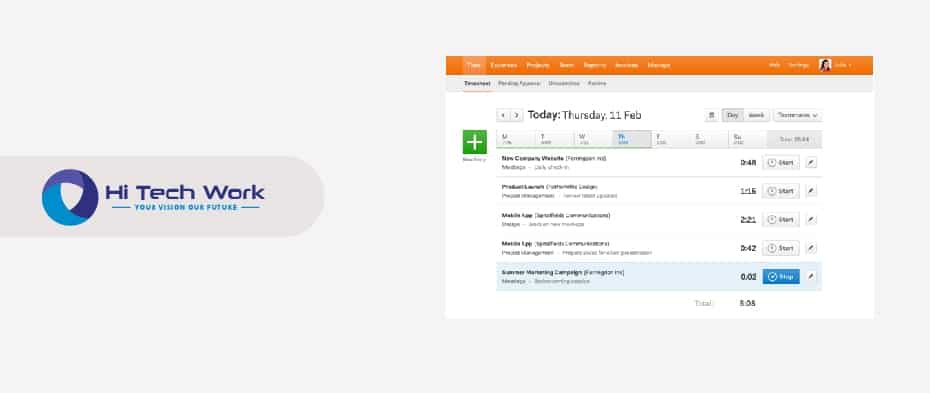 Harvest
When time is of the essence, tracking every second of it becomes imperative. Harvest is a cloud-based software that enables business managers to do just that.
Harvest is a cloud-based time tracking software. If your employees are fed up with filing timesheets, Harvest is the best alternative to automate the process.
It puts all the projects on s single dashboard, and the team members can track their time spent on each project. If a timestamp is missed, the software reminds the worker to enter it and track the time.
The insights from Harvest help you analyze the cost of each project and check the time spent on it. It optimizes project delivery and helps reduce the cost.
The invoice feature of Harvest automatically turns the billable hours into an invoice to send to the client. The platform also offers integration of payment gateways Stripe and PayPal to quickly receive payments.
Harvest has two pricing models
Free
1 Seat, 2 Projects
Pro
Unlimited Seats, Unlimited Projects for $12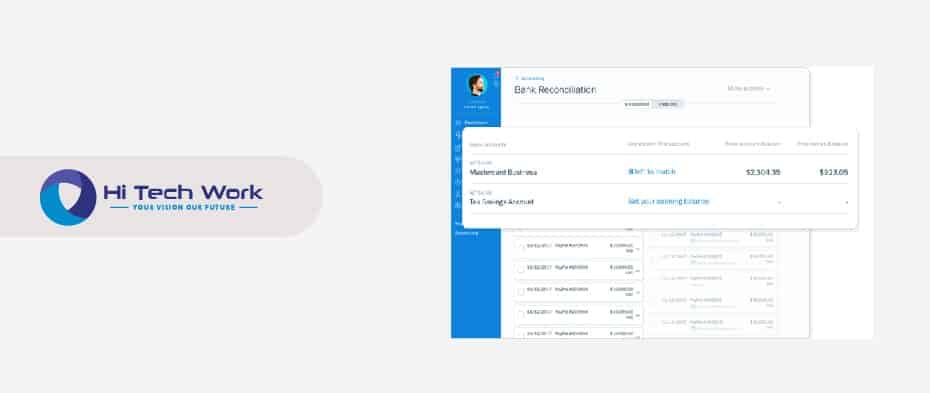 Fresh books
Freshbooks is an all-in-one solution to all the accounting worries of big and small businesses. Whether revenue estimation invoicing, expense tracking, revenue growth, taxation, or banking growth, Freshbooks automates the process to increase accuracy and reduce errors.
Freshbooks' expense tracking systems keep an account of every penny which is being spent. Without maintaining hundred of spreadsheets, you can easily track your business cost and where you can make cuts to reduce it.
One rather ingenious tool of Freshbooks is mileage tracking. Every kilometer you travel for business-related work can be tracked, and its expense is automatically logged into the software. You can claim this amount when filing for your taxes.
Freshbooks also simplifies the process of invoicing.With this invoice generator, you can easily create and send invoices to the customers. There are also many 'invoice for services rendered' templates that you can choose from. You can customize the design and add your logo to the invoice.
Send your clients reminders and choose the currency you'd like to receive the payment. All this is done swiftly through Freshbooks.
Freshbooks pricing plans include:
Lite for $ 7 .50 /month
Plus for $ 12 .50 /month
Premium for $ 25 .00 /month
Select (custom pricing)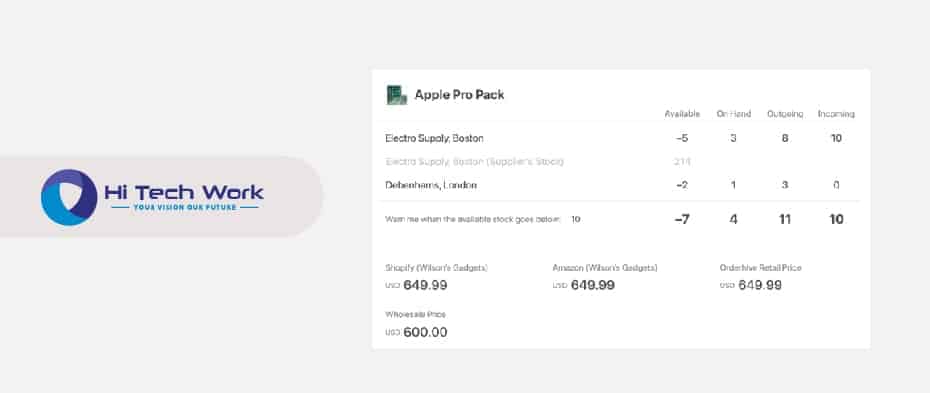 Orderhive
The front end of your business will only work well if the back end is optimized. Orderhive is a tool that facilitates the backend workflow.
It provides solutions for inventory management, invoicing, order management, warehouse management, product listing management, shipping and returns management. With Orderhive, your enterprise runs in an autopilot mode where you only focus on revenue generation.
Tracking your inventory ensures that you are never 'out of stock.' The tool also provides complete information on orders, suppliers, and customers.
The entire process, from receiving the order to shipping it, is simplified with Orderhive. It manages shipping and returns, thus providing a complete e-commerce and enterprise solution.
Pricing plans for Orderhive are:
Free (Free plan for Shopifyusers)
Lite for $ 44.99 /month
Starter for $ 134.99 /month
Growthfor $ 269.99 /month
Enterprise (Custom pricing)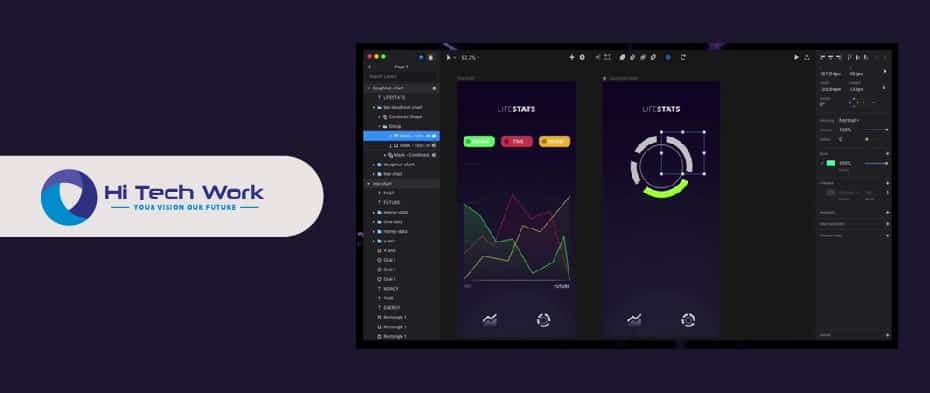 InVision
InVision is a perfect solution for businesses and projects that involves a lot of back and forth, prototypes, multiple submissions, and changes requests.
It is a design and development tool that provides resources for every step of theproject, from ideation to development.
With InVision, teams can collaborate, test, and experiment with products and ideas on a digital dashboard.
InVision Freehand has features like prototype creation, digital whiteboards, presentation, wireframing, planning, and feedback management. It enables users to streamline and automate workflows and prototype development.
The software makes real-time changes to the projects and lets every team member work on a project simultaneously.
InVision pricing plans include
Free
For individuals and small teams
Pro
For cross-collaborative teams
$7.95 per user/ month
Final words
In today's world, business management has got more complicated than ever before. These tools ensure that you are always up to the task. These tools automate the business process, increase the pace at which work is done and make the whole process efficient.