Don't you get sound while listening to music or enjoying watching movies? It is pretty annoying to get your Airpods connected, but no sound appears.
Ever since Apple introduced Airpods, many enthusiastic fans have loved its products. The competitive and high-notched Airpods have a variety of applications that allow you to make calls, listen to music, and get help from the iOS intelligent virtual assistant, "Hey Siri." However, technology is quite unpredictable and, of course, sometimes encounters technical glitches. So, you can quickly fix having no sound in Airpods thanks to some more straightforward steps mentioned in the subsequent section.
How to fix an issue when Airpods connected but get no sound?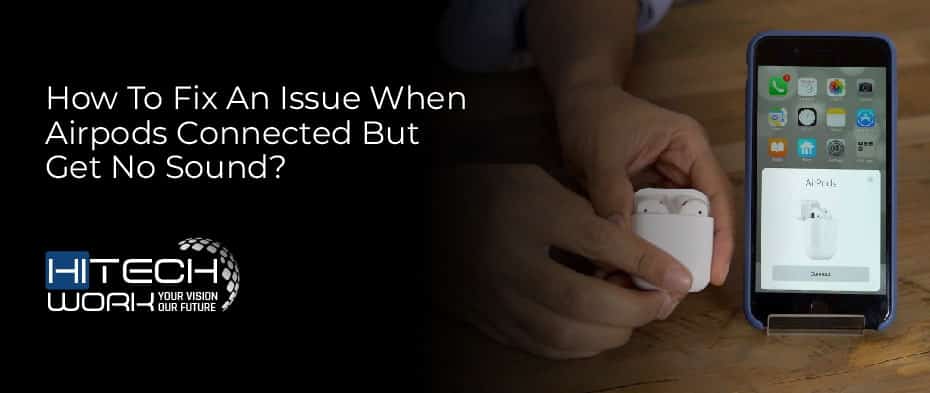 It is time taking to improve the Airpods connection but remaining issues like automatic detection, resetting Airpods, network setting, audio settings can be resolved. But you have to maintain its cleanliness. Although its charging capacity is good, you can still check the charging level. All these issues can also defect your Airpods. You can follow these solutions, which are given below.
Some of the solutions are available here to solve this issue
Solution1:Place them in a Charging case
The sound defect once in a while happens in Airpods. Maybe Airpods are not fully charged, or one has down the battery as it sets differently.
So, apply these steps
Put these Airpods in a charging case and make them closer to iPhone to see the battery level.
If the battery level is not the same, set it for 30-60 minutes again.
Then take off from the charging case if the battery level is equal after charging.
Check by playing some music or making calls.
Solution2: Clean up your Airpods
Once in a while, this defect occurs that Airpods connected but no sound may be because of dust in it then using continuously, and then sensors do not detect ear and make Airpods faulty.
To restore your AirPods, use soft stuff to clean from dirt.
To clean joints and slots, use earbuds.
Check whether it's audible; if not, use water with isopropyl alcohol and clean cautiously.
Please do not use any hard stuff as it damages the earpiece of
Solution3: Disable or Enable Automatic Detection
Why are my Airpods connected but no sound? There is a possibility of an Automatic Detection error in the iOS device. Automatic detection is the tracking sensor built-in Airpods to sense your ear. Maybe it doesn't track the ear. That's whyare  Airpods connect but do not get sound.
Follow these steps to check the error
First, go to the <Settings App> option on your iOS device.
Then select the <Bluetooth> option for the following process.
Now double-tap the Airpods option on iPhone.
Disable the option of <Automatic Ear Detection> to remove the error.
Finally, you can check the sound by connecting Airpods to iOS.
Solution4: Reset your Airpods to make them Audible
Airpods connected, but not getting sound might not be a big issue. There may be an issue with Airpods settings. So, reset it again.
Follow these steps to resolve the soundissue in Airpods
Make sure Airpods are minimum charged 50%. If not, then set it by placing it in the charging case.
Then go to the< Settings option> in the Menu of iPhone or iPod
A new screen will show, choose the <Bluetooth> option, and click <I>.
Again press to <forget the device> option for the next step.
Click <I> to confirm the resolution of the Airpods issue.
Press the <Setup> button of your air pod at the back of the cover; wait for 20-30 seconds to flash a light that shows the signal of completion of the process.
Now check Airpods by connecting with iOS devices and listening to something.
Solution5:Disable Audio Limit
Sometimes, there is no issue with your Airpods hardware. Airpods connected but have no sound while listening to music on your iPhone. So check the limit of maximum sound.
Follow these steps to fix
Open the <Settings App>,
Press the < Music> option. After this step, go to the next step
Now press the <Turn off >volume option.
Recheck your Airpods by listening to sound.
Solution6: Resetting Audio Settings
Rarely the issue appears in Airpods; Airpods connected but no sound. Many iOS users don't know how to figure out this. Quickly sorted out by resetting your iOS audio settings.
 To know how to solve this technical issue, follow these steps
Select <SettingsApp> in iPhone.
Anew screen will appear,press<Accessibility> option.
Then choose <Audio/Visual> in Hearing section.
Check the slider point whether it is in balance or not. If not, move the slider bar to the center to balance.
Now play some music to check Airpods are audible.
Solution7: Reset your Network Setting
Here is a solution for the issue of Airpods connected but no sound in iPhone, iPod, and other iOS devices. To make them audible. Reset network setting of Airpods but maybe readjusting network setting loss the connection of WIFI, Bluetooth and loss of call settings.
 Follow these steps to reset Airpods
Choose <Settings> option from <Menu> bar.
A new screen will appear. Now press <General Menu> option.
Then click the <Reset Network> option for the final process.
Now check your gadget is ready to use.
Solution8: Update iOS software
Using an old version of iOS software also makes flaws. Maybe because of it, Airpods connected but no sound. Always need to update the software of iOS devices to keep away from defects.
Follow a few steps to update iPhone
In the <Setting Menu> of your phone.
Press on <General >option for further process.
Now press <Software Update> option to update.
After the process of updating, power off your device.
After a few minutes, turn on your device and have no issue.
Airpods are ready to use.
Again connect your Airpods with an iOS device and enjoy the music.
Conclusion
Airpods are one of the most convenient and well-acclaimed gadgets, thanks to Apple worldwide. However, you may find some sound or connection glitches. Hopefully, our attempt to resolve your concern might help you fix it. If the troubleshooting above methods cannot address your issue, contact customer support service. Apple is always available to assist you.