Have you ever encountered the issue that your Apple watch won't pair with your iPhone? If so, then you have come to the right page.
Apple watch has become popular among other apple products with infinite amazing functions such as fitness tracking, wireless communication, and much more. But when you can't pair it with your iPhone, the number of features it has reduces dramatically, like you won't get any notifications, calls, or messages on your watch.
However, wireless connection errors can be extremely annoying, especially when you are not sure what's causing the issue. Don't worry; following this guide can easily fix this not pairing issue.
Note: Apple watch only connects with an iPhone 6/6 Plus model or later, and it doesn't work with iPad or Android-based devices.
Possible Causes of the Not Pairing Issue
There are various factors that could be blamed for the not pairing issue. Here are the most common ones.
Apple Watch is only compatible with iPhone 6 or later, and it cannot be paired with other devices & the iOS software must be 8.2 or later.
Deprived functionality of any device could lead to the not pairing issue. It can only be linked when both devices work accurately. When your watch doesn't get sufficient power, it might not pair with your iPhone either.
The location also plays a role in not pairing issues. Signals might not be that good, and it interferes with your Apple watch's connection.
Also, there are also other reasons why your Apple Watch isn't pairing. Let's discuss some fixes to help you connect your apple watch to your iPhone.
Methods to Resolve the "Apple Watch Won't Pair" Issue
Here's what to do if your iPhone cannot link with your Apple Watch: when you try to pair them.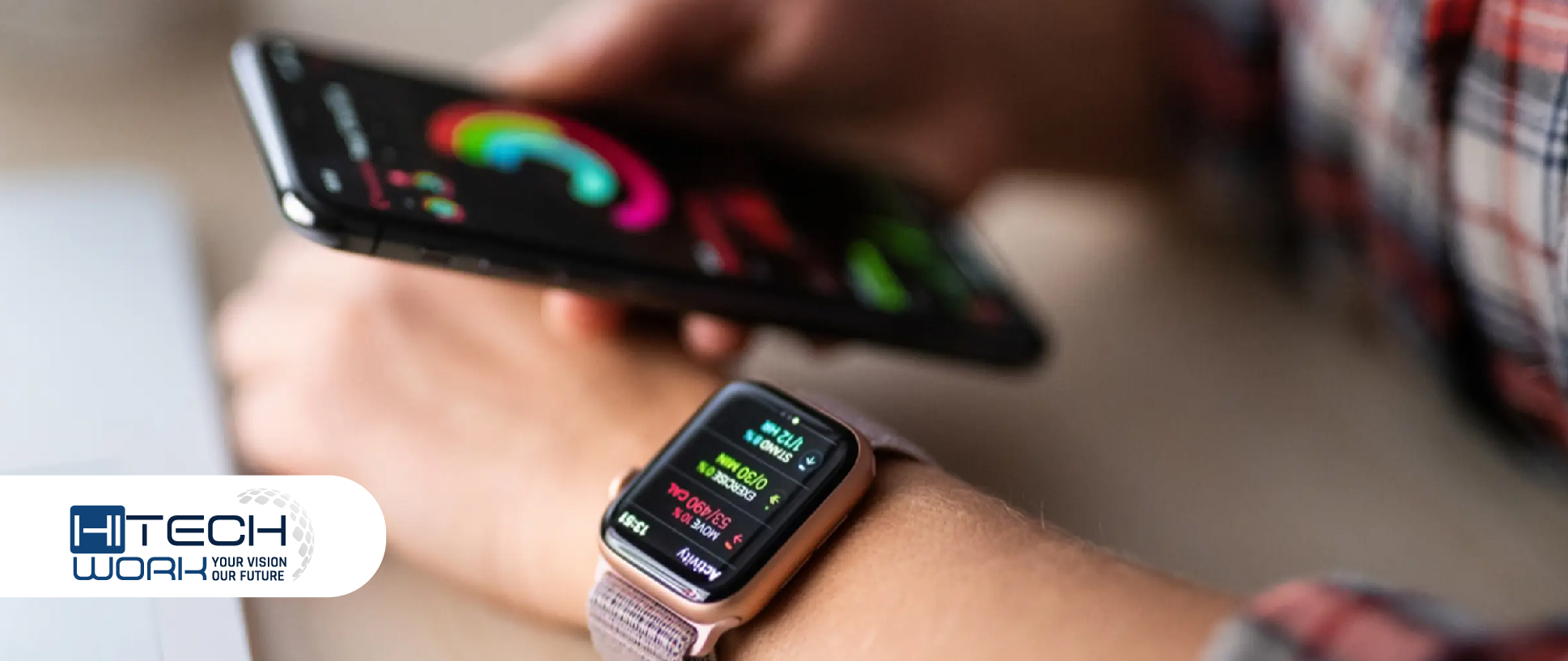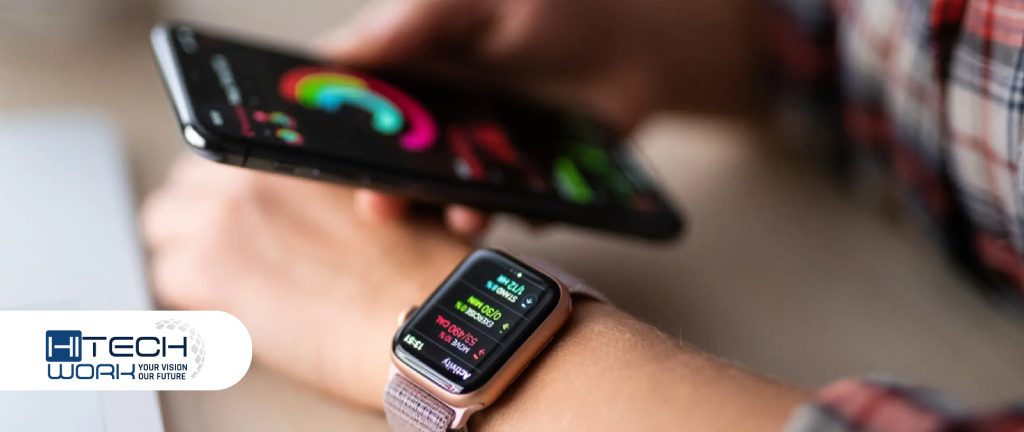 1. Put your iPhone & Apple Watch Closer
Sometimes, the issue may occur because you have placed your iPhone & Apple watch too far. When you place them far away, the devices might have difficulty pairing with each other.
So try to get them together and check the issue is resolved. If not, then try the other solutions.
2. Check the Settings on Apple Watch & iPhone
If your phone has Wifi or Bluetooth toggled off, or if either of your devices is in Airplane mode, they won't be able to pair. Ensure all settings are set correctly to assist the connection.
On the iPhone, you can instantly check this in the control center. Move down from the upper-right corner of your screen & make sure Bluetooth and wifi are on (the icons will be blue) and Airplane mode is off (the icon will be gray).
On the smartwatch, move up from the bottom of the screen to view the control center.
3. Unpair both Devices & Pair them Again
In the watch app on your phone, choose All watches, the information option beside your apple watch, and then tap Unpair Apple watch.
Now, pair them again, and check if the issue is resolved.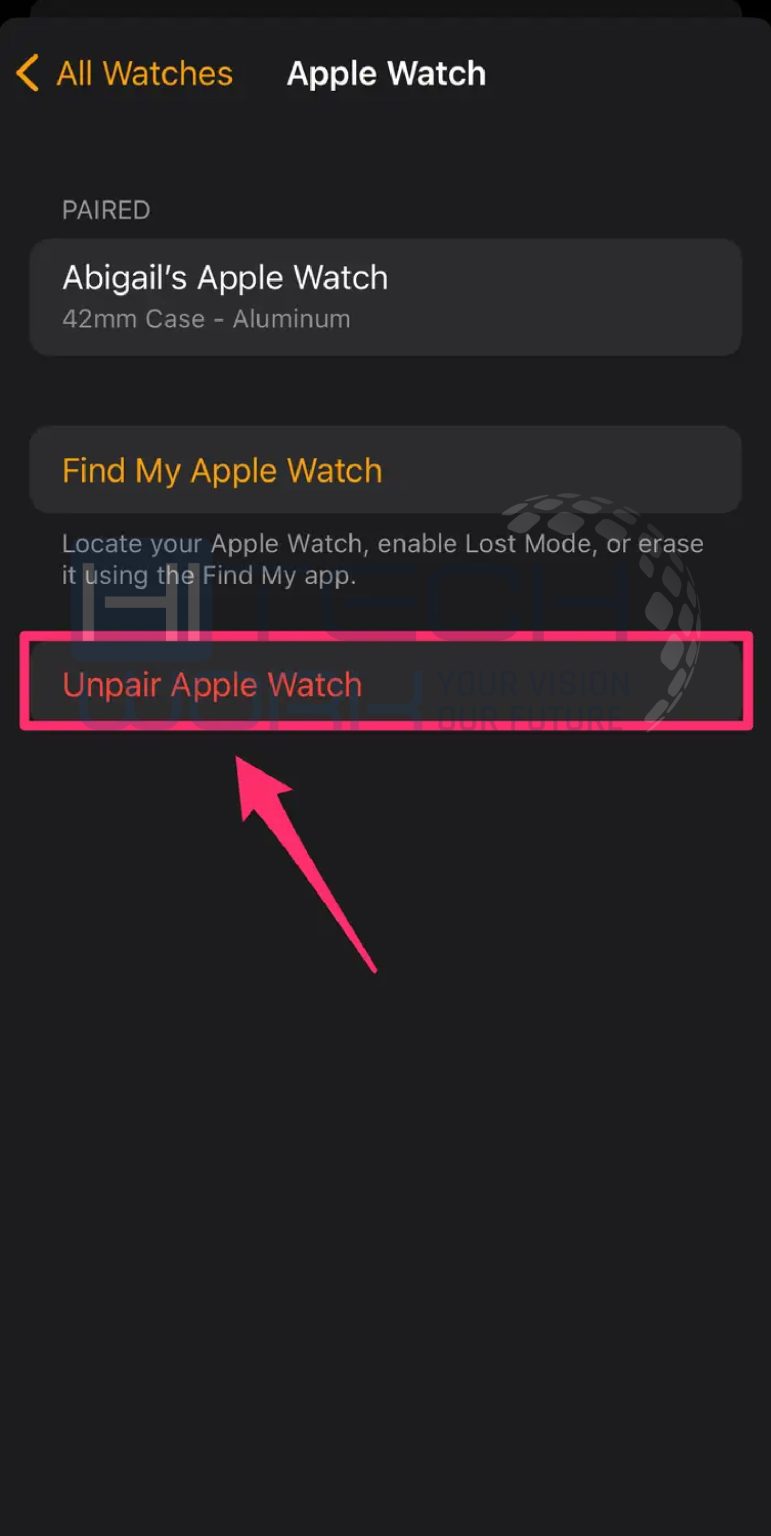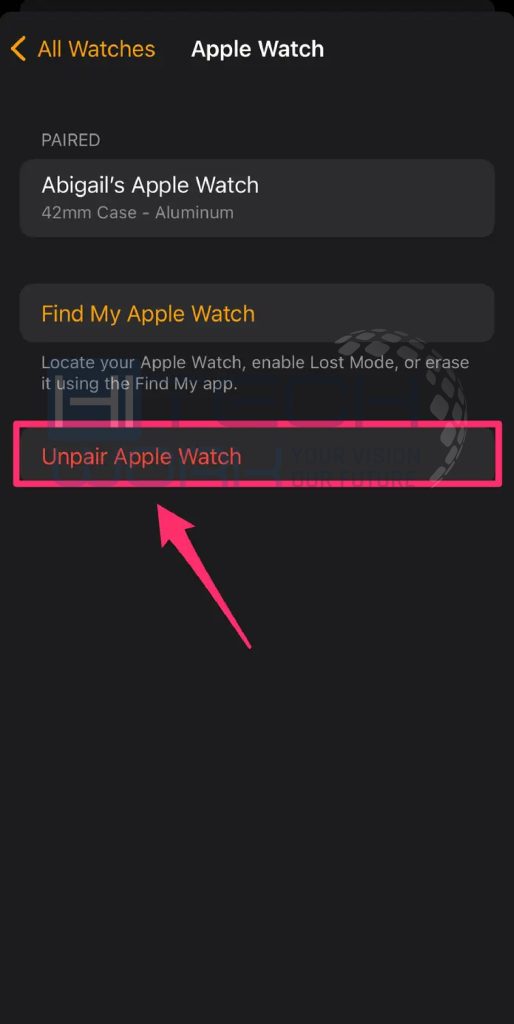 4. Update Your Software
If your Apple Watch is still not connecting with the iPhone, ensure to manually check for software updates, as the newest software update can solve various bugs or compatibility issues. Sometimes the old firmware version can also cause various issues.
Open the settings app on your iPhone > and tap General.
Now, choose Software Update, which will directly check for the available update.
If you see a new update, just click on Download & Install.
When the software updates finish, reset the device to apply the changes.
Downloading & applying the update may take time. So be patient.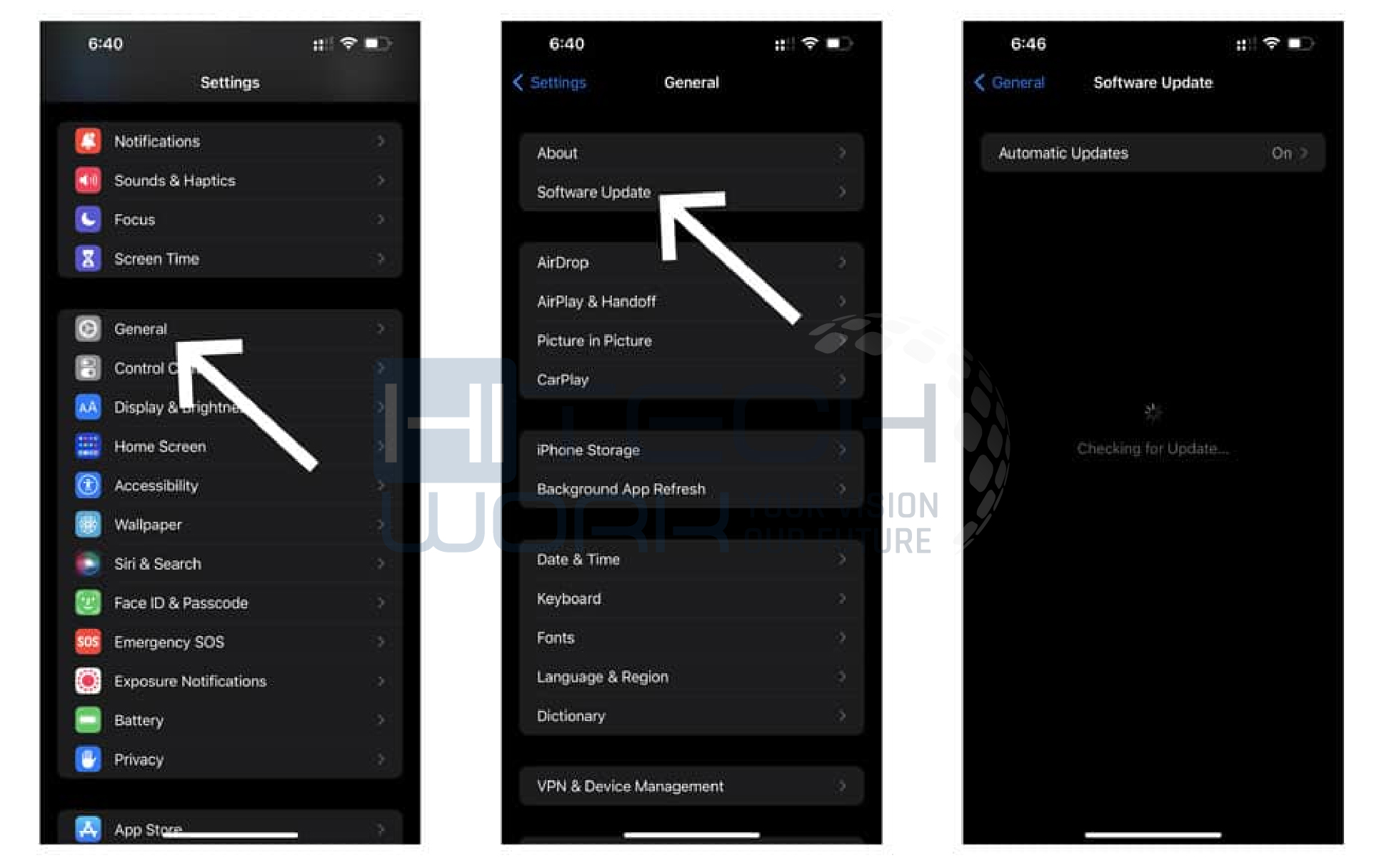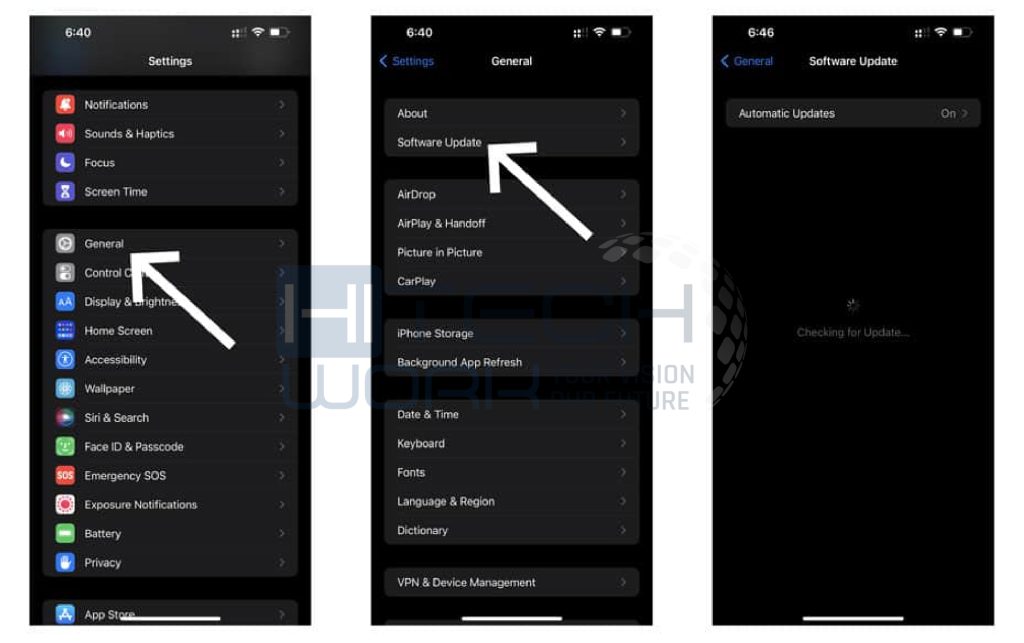 5.      Make Sure the Apple Watch Isn't Already Paired
Sometimes, it is also the cause of an issue, so always check to ensure your watch is not paired with any of your devices. If paired, apply the steps below to unpair the device.
On your old device, open the watch app and tap "My Watch"> All watches.
Tap the "i" icon next to the watch you wish to unpair, then tap "unpair Apple watch."
Tap again to verify and wait till the watch is unpair.
Now, you can connect your watch to your new iPhone. You will have to unlock the activation lock using your Apple ID & Passcode.
6.      Restart Apple Watch & iPhone
If your watch isn't pairing to your iPhone after checking both devices' settings, you can restart them to resolve whatever kind of connection issue they are having. And ensure don't turn them off immediately.
It takes a little time to remove all caches and information and reset all the settings. Then check the problem is resolved.
It's quite simple to restart your apple watch, just hold the power button down & draw the slider which emerges on the screen. When it's a blackout, you can press the same option until you see the apple logo. When the display is dark for a few seconds, tap the Digital crown to power the Apple watch again.
To restart iPhone, you have to hold the power button along with either volume option for a little while, and you will see the "Power off" slider. Just draw it & your iPhone will be powered off. To power it on, press the power option along with volume until you see the logo.
7.      Erase Your Apple Watch
If you still experience the issue, consider removing all settings and content of your Apple watch. If it is because of a software error in watchOS, this might help you solve the issue.
For this, launch the watch app from your iPhone and tap on General. After that, click on Reset and hit "Erase All content & settings."
8.      Reset Your Apple Watch
If you have tried all the solutions mentioned above and still persist the issue. It's time to reset the watch. The Reset will resolve the issue but remove all the saved data. So you must backup the data before processing this method.
Go to the watch's settings app, tap on General >Reset > Erase all content & settings.
Final Words
This article discusses useful ways to resolve the "Apple Watch won't pair" issue. Now you can easily pair your Apple Watch with your iPhone. If you still persist issue, please contact us. We will surely come up with a solution.