Most awaited update to the M16 tactical rifle in the season 4 call of duty warzone from Black Ops Cold War. Some players might be missed the assault rifle or submachine gun buffs in the update's patch notes. Otherwise, they would have seen that the M16 would be a fairly noticeable buff to its overall damage multiplier. It has purred content creators, like Whoslmmortal, to try out the M16 and its top Loadout in Warzone Season 4 Reloaded.
Moreover, to use this weapon, you must check out the best M16 Warzone Loadout. Therefore, with the right attachments and perks, you will get an M16 Warzone Loadout that beams enemies at a range that is important in Warzone.
Remember that this weapon does not give you any favors at close range. But we will surely recommend some close-range options for you to pair it with.
What Is The M16 Called In The Warzone?
The M16 is a Weapon Blueprint available in Call of Duty: Modern Warfare and Call of Duty: Warzone. It is the renowned blueprint variant of the base weapon M4A1, one of the Assault Rifles featured in Call of Duty.
Best Model 16 Loadout in Warzone
Whoslmmortal has put together an M16 Warzone Loadout that you won't want to sleep on.
Muzzle: Agency Silencer
Underbarrel: Field Agent Foregrip
Magazine: 45 Rnd
Optic: Axial Arms
Barrel: 16.3'' Titanium
The Agency Silencer is a no-brainer in the M16 build. It will increase this weapon's bullet velocity and effective damage range and put on sound suppression. Moreover, throwing the Field Agent Foregrip onto this weapon increases recoil control on both axes. It is like something will come in handy, stalking the jungles of Caldera, Rebirth Island, and Fortune's keep.
Further, the 45 Rnd Magazine, increasing the ammo count, is well-worthy. You can also use a larger magazine if you don't mind a slower ADS speed.
If you want to take advantage of the weapon's lack of recoil control, the Axial Arm 3x optic is a safe option. It is not great at close ranges but a beast at an (Axial) arm's length. Throwing the 16.3'' titanium barrel will increase the fire rate and finish everything.
M16 Loadout at Close Range for Combat and Stealth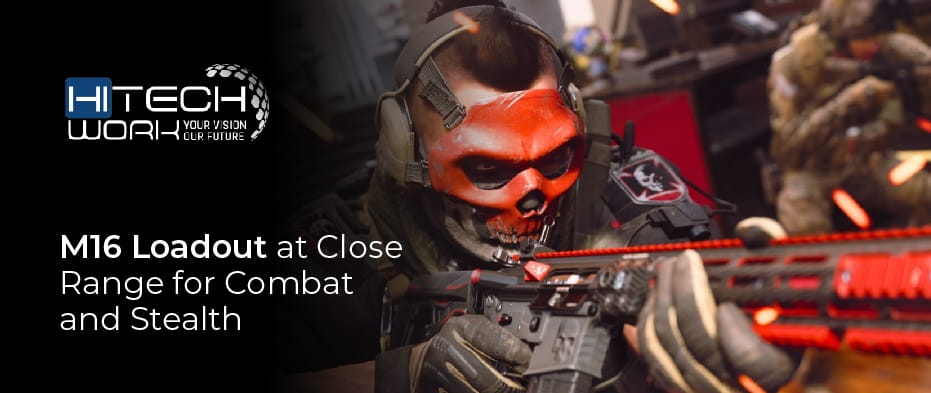 Muzzle: Agency Silencer
Barrel: 16.3" Titanium
Optic: Hawksmoor
Ammunition: 45 Rnd
Rear Grip: Airborne Elastic Wrap
This M16 is the best work at close-range encounters. If you are an aggressive player who sneaks up and takes enemies out up close. Then, you will enjoy this class.
Moreover, it improves your vertical recoil control, which is ideal for any situation. This class key is the 16.3'' Titanium Barrel which increases the fire rate, and you will need the boost when battling out up close.
We recommend you stick with Hawksmoor Optics to line up your shot more easily.
Best M16 Warzone Loadout at Medium Range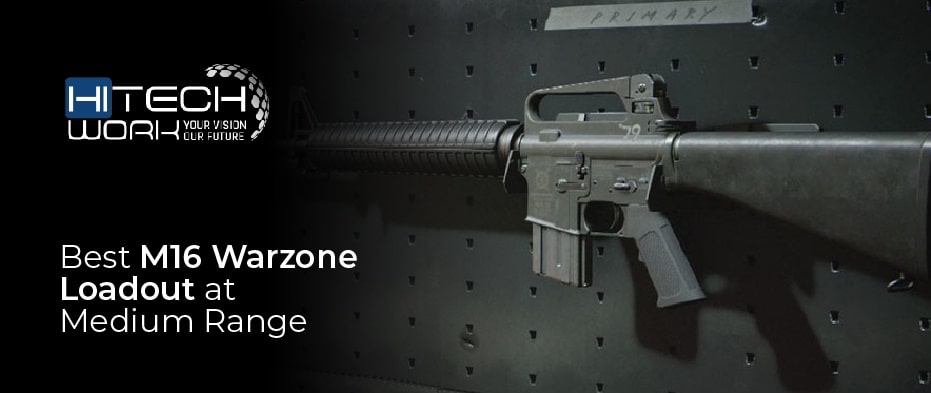 Muzzle: Agency Silencer
Barrel: 16.3'' Rapid Fire
Optic: Axial Arms 3x
Underbarrel: Field Agent Foregrip
Ammunition: STANAG 60 Rnd
This specific M16 reduces the gun's ADS time while increasing its effective damage in medium-range gunfights. It is designed for aggressive players who want to push their opponents with the M16.
Best Warzone M16 Loadout for Long Range Combat
Barrel: 20.5" Task Force
Optic: Visiontech 2x
Underbarrel: Field Agent Foregrip
Ammunition: 45 Rnd
Rear Grip: Airborne Elastic Wrap
This M16 is a behemoth of a weapon at a long range. If you want to eliminate your enemies in just two bursts, as long as your opponent is within a certain range. Then, you have got the right attachments.
Moreover, you can switch to the 20.5'' Task Force Barrel in order to increase your damage range, overall damage, and bullet velocity. Through this, you can get two-burst eliminations from afar. It makes your weapon's rate of fire slightly slower but at medium to long range.
Model 16 Loadout Secondary Weapons
These M16 secondary weapons are long-range beasts, so you have to drop into a battle royale game with a short-range option. While balancing your class is essential to success.
However, we recommend this type of 100 Warzone Loadout, or MP-40 Warzone Loadout. Further, there are also some fantastic shotguns out there. This Jak-12 Loadout does a job, but their shotguns are not as popular as SMGs; clearing out rooms will be a lot of fun on Rebirth Island.
Model 16 Perks and Equipment
Perk 1: E.O.D
Perk 2: Overkill
Perk 3: Amped
Secondary: MP49
Lethal: Semtex
Tactical: Heartbeat Sensor
This M16 class utilizes EOD and Amped. EOD enormously reduces the damage from non-kill streak explosives and fire. On the other hand, Amped gives you faster weapon swap and equipment speeds.
There are only three options you must consider whenever putting some perks together. The most popular choices are Double Time, Overkill, and Combat Scout. The Overkill perk permits using our MP40 Loadout, the best SMGs in Warzone Pacific Season 1.
Further, Semtex and Throwing Knives do a great job in the lethal slot under equipment options. Hence, Heartbeat Sensors remain a decent option, while Stun Grenades will come in handy if you are considering with your secondary.
How to Unlock M16 Warzone
It is incredibly simple to unlock the M16 in a warzone. You need to reach level 10 in Black Ops Cold War or Warzone. Once you have unlocked it, go to Warzone and start making your class from the Loadout screen.
What Is the Alternative to the Model 16 Warzone?
The AUG is another burst rifle gun that is the best alternative to the M16 Loadout. This weapon has excellent precision with a decent pick.