Teamviewer Alternative: No longer a foreign idea, remote access has gained traction with businesses to facilitate convenient off-site support and virtual meetings, especially during these recent pandemic times.
TeamViewer has been a widely used tool for remote administration with its all-in-one solution that can be installed and updated with ease.
While it presents advantages like remote printing, desktop sharing, and easy file transfer from online storage services such as OneDrive and Google Drive, it also comes with some constraints, like possible slow file transfer rate and proxy limitations.
Remote Access Isn't Going Anywhere
Although many businesses began transitioning to a work-from-home policy only recently due to the pandemic, remote access has been in use for a while. As its name suggests, remote access allows users to connect to devices and access files on a network from any location. Tools like TeamViewer and its alternatives take it one step further by letting users not only connect but also control the devices, as seen historically with remote support.
Businesses have used remote IT service as a standard customer service solution for years to deliver quick response time around the clock. Remote desktop access helps more than the customers. Companies also enjoy the benefit of addressing their customers' needs from virtually anywhere in the world at reduced manpower costs.
Establishing a strong remote desktop connection has only grown more prevalent today. A recent study found about 80% of surveyed companies plan to keep some degree of remote work in the post-pandemic era. Adopting a remote access strategy offers companies much flexibility in employee collaboration and productivity. They can hire the best talent yet of location, remove silos, and promote collaboration between teams and locations around the world.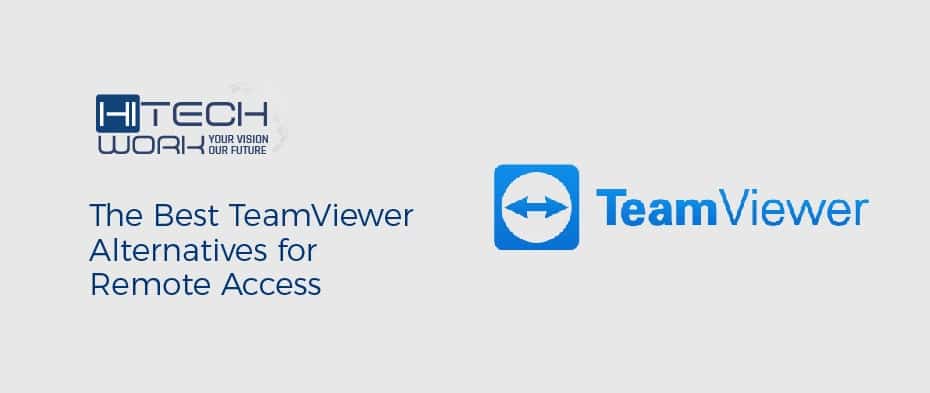 The Best TeamViewer Alternatives for Remote Access
Whether the direction is complex remote management or holding online meetings with different participants, the following list should guide you in selecting a suitable TeamViewer alternative for your needs. From free versions to free trials, these nine options cover essentially everything TeamViewer offers and more. With employees working from home, it's imperative for businesses to understand and adopt measures to maintain a productive work environment outside of a typical office setting.
Dameware Remote Everywhere
A cloud-based solution, Dameware Remote Everywhere (DRE) provides remote access to workstations typically in less than eight seconds and includes encryption protocols to help keep data safe over the connection. With two-factor authentication and multi-level permissions, DRE's security features distinguish the software as a strong TeamViewer alternative.
Establish quick remote access—either with attended access or unattended access—from Windows, macOS X, or Linux to any desktop or mobile device such as Android or iOS. DRE users can also grab screenshots and record videos during a remote desktop session. This reporting feature can then be held to a file and uploaded to the cloud for future troubleshooting. In expansion, DRE enables IT, professionals, to reboot unresponsive computers via Intel vPro with AMT, Wake-on-LAN, and KVM, so they don't need to wait for the end-user to be present before troubleshooting.
Other remote desktop features include pre-session or in-session chats with end-users, voice conferencing, and multi-window switching to run several sessions simultaneously. Admins can also add users to Active Directory (AD) and task permissions through the software's AD management tool.
DRE may not be a free alternative to TeamViewer, but it offers a 14-day trial for users to catch how comprehensive, robust, and safe it is.
Dameware Remote Support
For slightly different usage cases than DRE, as on-premises software, Dameware Remote Support (DRS) works with an unlimited number of end-users over Linux, Windows, or macOS X. Remote connections are made over the internet or via LAN. In facilitating the Windows administration process, the software also accesses reboot systems and allows users to view and clear event logs and delete or move files.
Built-in remote admin tools facilitate remote management of Active Directory conditions and deliver remote support from iOS and Android devices at any time from anywhere. A distinct feature of DRS is its partly remote system, which uses system tools to troubleshoot problems on a device without needing to launch a full command-control session on the host. It also permits for mass deployment of agents to devices and integration with a help desk. Also, DRS offers user account and permissions management.
Mikogo
Mikogo runs directly within the browser on most prior operating systems with no download or installation necessary, saving businesses and end-users time. It features all the standard features of strong online meeting software, such as chat features, interactive whiteboard functionality, recording and playback tools, and more. Admin roles can be switched out quickly and efficiently, and with the Mikogo HTML viewer, teams of up to 25 users can access a computer simultaneously.
With high-quality VoIP and teleconferencing numbers for multiple countries, Mikogo makes virtual meetings easy. Users will appreciate the convenience of multiple monitor support for up to four screens and data transfer functions. This will allow them to safely share and exchange sensitive files up to 200MB with each other.
A 14 days trial for a single user per session is available.
Ammyy Admin
With a zero-configuration requirement, users can instantly and easily share a remote desktop or control a server. No complex firewall or router configurations mean straightforward security features, and a unique ID is created for each user to avoid unauthorized entry. Ideal for remote system administration, distance learning, remote support, and data isolation, Ammyy Admin is a straightforward but robust multi-tasking TeamViewer alternative you can use anywhere and at any time.
Free for personal benefit, this remote desktop software enables direct data transfer and basic chat functions. Unfortunately, it doesn't support full-screen mode.
Chrome Remote Desktop
Perhaps the most straightforward, TeamViewer alternative on this list, Chrome Remote Desktop runs as an extension within the Google Chrome browser. You'll need a Google account to access it, but as a lot of people already use a Gmail address, this shouldn't be too much of a hindrance. Just add the extension to the browser on the computers which you want to access, and you'll instantly have remote control via an HTTPS connection.
This Chrome extension may be free to use, but as with most "you-get-what-you-pay-for" instances, restrictions come with the free price tag. If you're looking for functionalities like chat, video calls, and screen-sharing, Chrome Remote Desktop is unfortunately not the remote access resolution for you.