Can Alexa call 911? of course not, Alexa cannot call on 911 immediately, but it can handle the crisis using external hardware and third-party skills to handle the problem. Devices such as Amazon's own Echo Connect can connect Alexa devices directly to landlines, allowing you to make calls to 911. On the other hand, you can use some Alexa skills to send alerts through different software applications like Ask My Buddy and My SOS Family. However, it is important to note that these skills do not contact 911 directly.
Alexa – Background Manufacturing History:
Amazon Alexa is also known, Alexa and cannot make a direct call on 911. It is a virtual assistant technology developed by Amazon and was first used in the Amazon Echo smart speaker and the Echo Dot, Echo Studio, and Amazon Tap speakers developed by Amazon Lab126. You can control voice, play music, set alarms, stream podcasts, play audiobooks, provide real-time information such as weather, traffic, sports, and other news. Alexa can also be used as a home automation system to control multiple smart devices.
In November 2014, Amazon announced Alexa with Echo. Alexa was inspired by the computer voice and conversation system in the science fiction television series and the movie Starship Enterprise. Amazon developers chose the name Alexa because it has a strong consonant with X and can be recognized more accurately. You stated that the name resembles the Library of Alexandria, which Amazon Alexa Internet also uses for the same reason.
Amazon opened its first Alexa-themed pop-up shop at the Eaton Center in Toronto, demonstrating how to use home automation products with Amazon's smart speakers. In addition to US mall-based pop-ups, Amazon also sells Alexa devices at Amazon Books and Whole Foods Market locations.
In 2018, sound interaction and collaboration with Alexa were available only in English, German, French, Italian, Spanish, Portuguese, Japanese, and Hindi. Alexa is available in English and French with Quebec accents in Canada. In October 2019, Amazon, along with Bose, Intel bras, and LG, announced the extension of Alexa to Brazil in Portuguese.
What Alexa can and cannot do in an emergency:
The most important thing to remember is that Alexa cannot call 911. However, voice assistants can do the next best thing. If you need help, you can call trusted contacts such as loved ones, parents, and best friends. Keep in mind that Alexa may be able to make direct calls to 911 by connecting Amazon's Echo Connect device to your home landline.
If you're using your phone as an Alexa device, that also works. You need to open the app on your smartphone and unlock the screen. This may not be the exact moment you need help. You also need to perform some additional steps.
Go to the app settings
Tap Alexa on this phone in the list to turn on the Enable Alexa hands-free option
This allows you to communicate with Alexa over the phone as long as the app is open (no need to tap the Alexa button). Remember, you are out of luck if the Alexa app is not open and your screen is locked.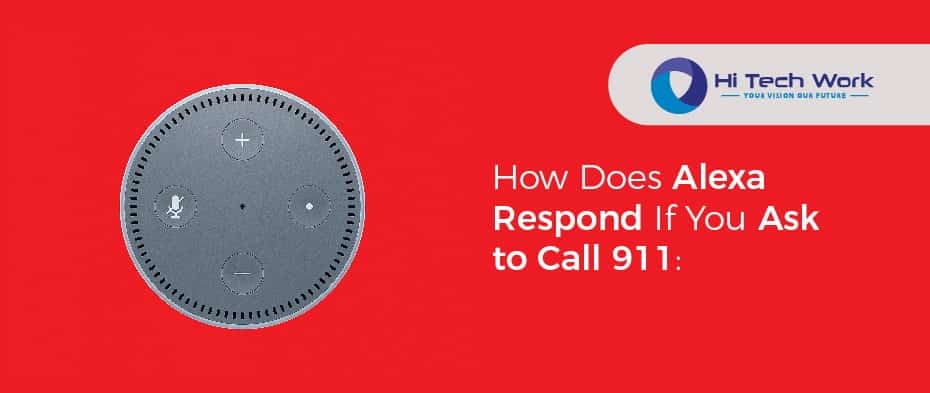 How Does Alexa Respond If You Ask to Call 911:
But what does Alexa do if you ask to call 911 without these add-ons? When I say these words to Alexa, she says, "You can't make this call. Please dial your emergency number.
For the emergency 911 service call work, identify your callback number and your location. This is currently not possible from smart speaker devices.
For this technology to work, Internet service providers must create and support an emergency call infrastructure. But, this does not mean that you cannot make an emergency call using Alexa. Alexa can call your contact list regardless of whether it's a landline or mobile number. There are two ways to make this call.
To call a specific person's phone number in the phone contact list, say "Alexa, Phone (contact name)".
To contact multiple contacts, use My Buddy Skills to contact multiple people in your contact list.
Using Echo Connect to Call Alexa 911:
Amazon's Echo Connect is a product that appears to have failed on Alexa family devices that the company no longer sells. However, if you have something hidden or want to buy from a thrift shop such as eBay, this may be the solution of choice. The original Echo Connect was introduced as a small box that connected to a landline phone and allowed you to use your Echo device as a speakerphone.
To Set Up Echo Connect:
Follow these given steps to get the echo to connect up and to run.
Connect Echo Connect to an electrical outlet near your modem or phone jack.
If you need to connect a standard telephone handset in addition to the Echo Connect, use the telephone jack splitter adapter to make the two connections.
Then, open the Alexa app on your android or iPhone.
Choose the Settings menu.
Select Add Device> Amazon Echo.
Select Echo Connect to complete the setup.
After you have completed the preceding steps, you can ask your Echo device to call any landline. Or mobile numbers, including emergency numbers such as 911. To call 911 when setting up Echo Connect, "Call Alexa 911."
Use Alexa Skills to Obtain Assistance:
You can use another method to get help, but it doesn't call Alexa 911 directly. Alexa skills such as Ask My Buddy and My SOS Family make it easy to reach out to others in an emergency. This example shows how to configure the Ask My Buddy skill for use with Alexa devices. Please note that this does not contact 911 or emergency services directly.
The "Ask My Buddy" Account – Make Account To Call Alexa 911: 
If you are interested in this option, set it as follows: It does not take more than 5 minutes.
Create an account on the Ask My Buddy registration page
Fill out the registration form (see below)
Finally, log in and select the Contacts tab. Then you can select up to 5 emergency contacts to receive notifications
Once your Ask My Buddy account is created, add skills to your Alexa device for easy access. Please note that the free version of Ask My Buddy only notifies up to 5 contacts in English and is limited to 10 alerts per month.
The Use of Ask My Buddy with Alexa – Use to Make a Call Alexa 911:
The first thing you need to do is go to askmybuddy.net and register. It's free if you have less than five contacts and use less than ten notifications in 30 days. Following that, there is a very low monthly fee.
Launch the Alexa app on your mobile phone
Tap the hamburger menu in the upper left (three short horizontal lines)
In the drop-down box, tap Skills & Games
Tap the magnifying glass symbol in the upper right and type "buddy."
Select Ask My Buddy Skills
. 6. Follow the registration and setup instructions.
Once Ask My Buddy is set up, ask Alexa for help, for example, "Alexa, ask my buddies for help" or "Alexa, ask my buddies to contact Michael." I can. The service will now send a text message and call the contacts in the list to notify you of the problem. It is best to discuss such a system with a few people in advance so that your contacts know what to do when they receive an alert.
The Safe Trek Skill – Use to Make a Call Alexa 911:
Although this talent is no longer an alternative for calling 911 directly, it is probably an awesome alternative if you don't have contacts near sufficient that will help you bodily in an emergency. With this talent enabled, if you say "Alexa, inform Safe Trek to ship assist," a Five Diamond Certified Safe Trek agent will ship assist in your home.
The SOS Family Skill:
Users on the network do not need an app when using this skill (not called 911). Once you have set up an account for the My SOS family, you can add unlimited contacts to report emergencies. Contacts receive text / SMS and voice calls.
Request Alexa to call non-emergency numbers:
On the other hand, Alexa cannot call an emergency number by simply asking. Again, Alexa cannot make an emergency call Alexa 911, but you can contact one of your contacts and make a voice connection. If the Alexa app has access to your contacts, you can say something like, "Call Alexa, James." You can also ask Alexa to call the full number. B. "Alexa, call 2018675309".
What is Alexa Guard – Apart From Call Alexa 911:
It is simple. What if your home's Echo speakers could detect the threat and alert you immediately? This is the point of Alexa Guard. This is an Alexa-powered feature that uses the existing ranged microphones on your Amazon Echo device to pay close attention to glass shards, footsteps, smoke, and alarm sounds from CO detectors when you are away. Alexa Guard can also turn smart lights on and off, mimic normal use, and make you look like you're at home. It also works with the new ring car alarm to help alert you to possible vehicle intrusions.
How to Activate Alexa Guard:
First, you need to activate the feature in the Alexa app on iOS or Android.
Open the Alexa app.
Go to Menu (3-line icon)>
Scroll to the bottom and click on the Guard option.
You will be asked to confirm and enter your zip code to use the absent lighting side.
Note: The Alexa app uses a zip code for off-limits lighting, so you can turn it on smartly when you're in the neighborhood at night.
How does Alexa Guard work? – Apart From Call Alexa 911:
Activate Alexa Guard with voice commands.
After activating the feature in the Alexa app, tell Echo, "Alexa, I am going". This puts the Guard in absent mode and sends a smart alert to your smartphone when you hear a smoke detector or the sound of glass breaking. These notifications include audio clips so you can listen to them yourself. You also have the option to log in to your Echo device.
To allow Alexa to identify the sound of broken windows accurately, Amazon claims that the team broke hundreds of different types of windows with objects such as crowbars, hammers, and bricks. With the help of machine learning, Alexa was taught to hear and recognize these types of sounds, so you can better understand when to warn of potential intrusions and dangers.