Wondering! whether you can play PS4 games on PS5 or not? So, no need to be concerned. Because PlayStation5 vendors will feel pleased to know that it is backward compatible with the PlayStation4. It means that if you have both consoles, you can have fun with your favorite PS4 games on the PS5.
Suggested: You can also check the compatibility of PS3 and PS5.
Even some PS4 games will run better due to the smooth frame rate or Game Boost feature of PS5. But on the other side, some of the PS4 games are unavailable on PS5 due to some functionality. Moreover, it might show errors and unexpected glitches while playing on PS5.
However, with some exceptions, there are more than 4000+ PS4 games that you can access on the PS5, which include Afro Samurai2: Revenge of Kuma Volume One, We Sing, and Just Deal with It! etc.
So, let's move to the next section without wasting time here to learn the detailed guide on the compatibility of PS4 and PS5, along with the method to play a digitally purchased game.
PS5 Backwards Compatibility with PS4
With the unusual exception of 4000 games, your PS4 games will access well on the PS5 console. However, you should check your PS5 as all available updates are installed before you set up to play PS4 games.
Thus, Sony also recommends that you should check the core game's works normally on the PS5 before buying or installing any add-ons for the game.
Actually, you will notice that a few PS4 games show improvement in general while playing on the PS5. It is an advantage of choosing games for the PS5's Game Boost feature that allows the game to access at a higher frame rate. Some of the games that run better due to the Game Boost feature on PS5 include:
Assassin Creed Odyssey
Crysis Remastered
God of War
Ratchet & Clank
Rocket League
Shadow of the Tomb Rider & others
Hence, you will feel pleasure to know that PS VR (PlayStation Virtual Reality) titles are also included in the list of compatible games if you are enjoying PlayStation VR. While playing VR games on a PS5, you need to have a PS VR headset, PlayStation Camera for PS4, and a PlayStation Camera adaptor, and the games perform well when you use a DualShock 4 controller.
What to look for! To Play PS4 Game Discs on a PS5
A great majority is playing PS4 game titles on the PS5 console. It seems as if PS5 and PS4 are backward compatible as described above; that's why you can also access PS4 games on the new console. But you may get the message to install an update initially.
After that, just put the PS4 game disc into the PS5 console to play a physical PS4 game disc on a PS5. Then, choose the game core from your game's home page. Subsequently, the games will run as they did on PS4, most likely with some excellent PS4 benefits. Another point is that you have to insert the disc every time to play the game.
Tip: You will not be able to use physical game discs given that it does not have a disc drive to read them if you have a PS5 Digital Edition.
 Step-by-Step Method to Play Purchased PS4 Games on a PS5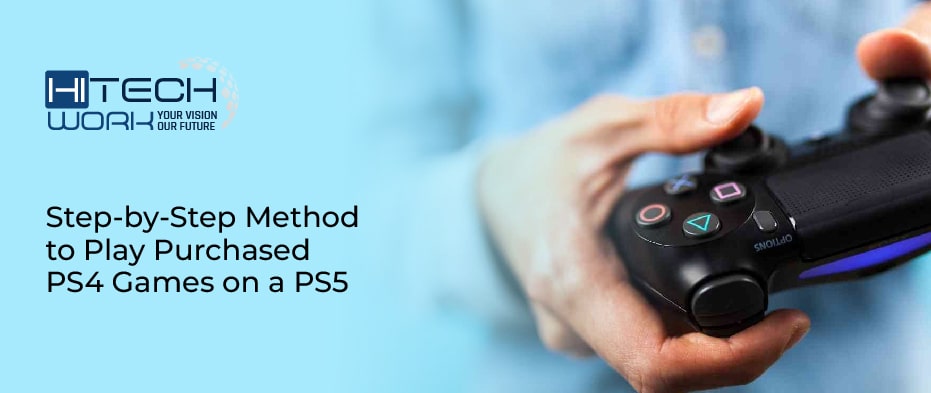 The backward compatibility of PS5 is expanded to digital games too. Ensure to use the same account on both consoles while playing PS4 purchased games from the PlayStation Store on a PS5. In this way, you get access to PS4 purchases on your PS5.
Moreover, you can also play PlayStation Plus games with an active payment. As an alternative, by using a compatible USB storage drive, you can access PS4 games on a PS5 directly too.
Furthermore, you can easily relocate digital games and game data from a PS4 to a PS5 through a Wifi data transfer. Let's move to the subsequent section to see the method of transferring game data from PS4 to PS5.
Steps to Download a PS4 Digital Game on a PS5 Console
Here is the method of installing PS4 digital games on a PS5 console. Let's go through it:
From your Games home page, choose the game library.
Now, select the game you would like to play. If the game is not already downloaded, select the Download tab.
Method to Transfer Saved Game Data from PS4 to PS5
Following are the instructions to apply for relocating the saved data of PS4 to PS5; so that you can restore your previous console data easily:
Initially, switch on your PS4 and PS5. The key point is to ensure both consoles are linked to a similar WiFi network.
Now, on the Settings page, choose the System.
After that, click on the System Software.
Now, opt for the option Data Transfer.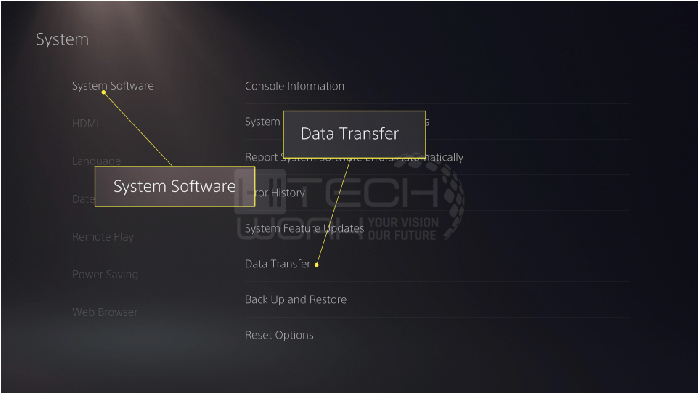 5. Click Continue on the next screen and access your same PS4 profile.
6. Once you get the message Prepare for Data Transfer on your PS5, then click on the PS4 power button           until you listen to a beep.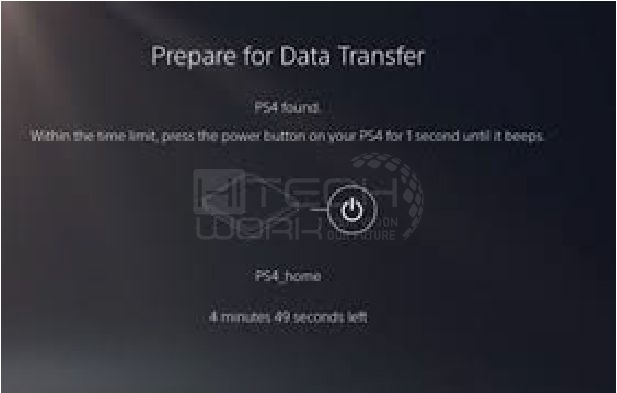 7. Choose the games and game data that you desire to transfer on the PS5. You can choose all the game              titles if you want then click on the Next tab.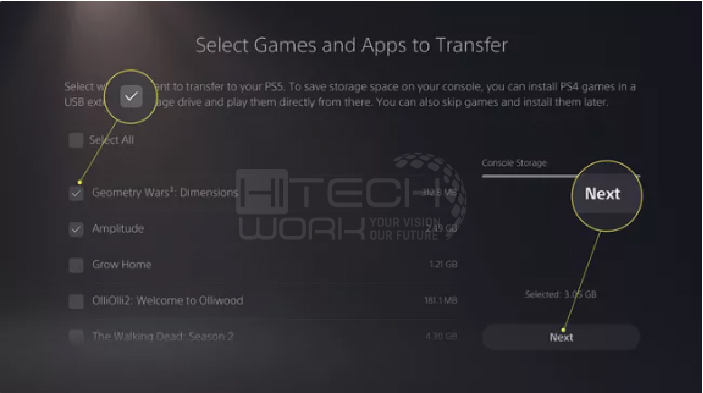 8. In the end, click on the Start Transfer.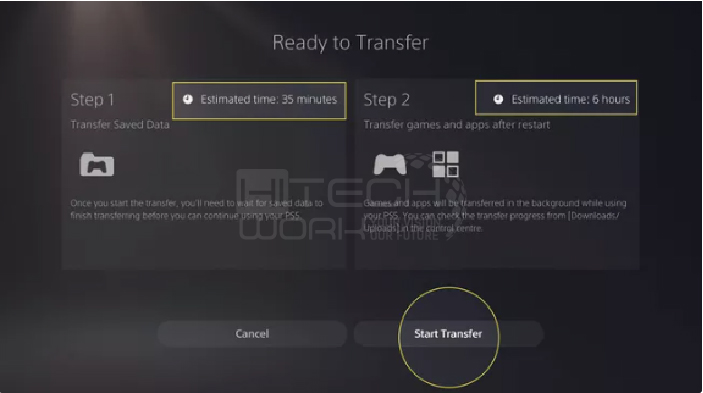 Incompatible Games of PS4 on PS5
Here are the lists of incompatible PS4 games with the PS5, which are relatively short that you cannot play at the moment. Hence, you have to avoid only the below games:
Just Deal with It!
We Sing
Hitman Go: Definitive Edition
Shadwen
TT Isle of Man (Ride on the Edge 2)
Afro Samurai 2- Revenge of Kuma Volume One
Robinson: The Journey
Although most other games can be accessed on the PS5, it does not mean the gaming experience may not always be 100% flawless. Therefore, when you play the game on the PS5, some features or functionalities that were available on the PS4 may not be accessible. Let's take an example; the share menu is not displaying on the PS5 while playing a PS4 game.
However, you are allowed to take screenshots by clicking the Create button on your DualSense controller. Similarly, some PS4 games cannot record video at 3840 × 2160; still, if you begin recording at that setting, you only get a resolution of 1920 × 1080.
Note:  The Backward compatibility of PS5 is not expanded to PS3, PS2, or PS1 games.
PlayStation VR Compatibility with PS5
The PS5 is backward compatible with PlayStation VR too. It means that you can plug it into the new console if you already own a headset, and you will get pleasure from a virtual reality experience.
Moreover, you will be able to play physical and digital PSVR games on the PS5. Thus, it would be best if you have a free PlayStation Camera adapter to link the PS4 camera to the PS5 because it is not compatible with the new HD camera.
Conclusion
With the significant investment of the PlayStation5 console, you can still play older PS4 games on PS5. Hence, there are thousands of incredible games available which are backward compatible with PS4.
However, a few incompatible games are also available that occur some errors while playing on PS5. So, hopefully, the above guide is quite fruitful for you, and do let us know your thoughts about the blog by commenting.