Amazon is one of the most popular online shopping platforms that does not let you use PayPal while purchasing from Amazon. Here the question arises of why amazon does not allow so. However, We all know that you can not pay directly from Pay-Pal on Ama-zon. But there are some exceptions and workarounds that will enable you to pay with PayPal on Ama-zon. To purchase from Amazon, you first create a Pay-Pal account and choose the debit card or credit card option during checkout, and you can pay through the key card cash card of Pay-Pal. Moreover, another exception that allows you to use your Pay-Pal credit on Amazon is to purchase Amazon gift cards from a retailer that accepts Pay-Pal. The blog will discuss the answer and the other alternative ways to use Paypal through cash cards and the key card of PayPal.
Why we Can not use Paypal On Amazon
Amazon is the largest e-commerce store worldwide and does not allow people to pay directly from Pay-Pal as it has its own payment method such as Amazon store card, Amazon secured card and much more. But it does not let you pay from PayPal directly. On the other hand, there are some tweaks to using the Pay-Pal account while buying from Amazon. When you want to use the pay-pal on amazon, try to use the cash card or Pay-Pal key, the detail is mentioned below.
How can you use Pay-pal On Amazon?
People are aware that Ama-zon does not allow people to purchase directly from PayPal. But it gives some loops, so you can buy from it by using your PayPal account. Here we will discuss the possibility of paying from PayPal on Ama-zon.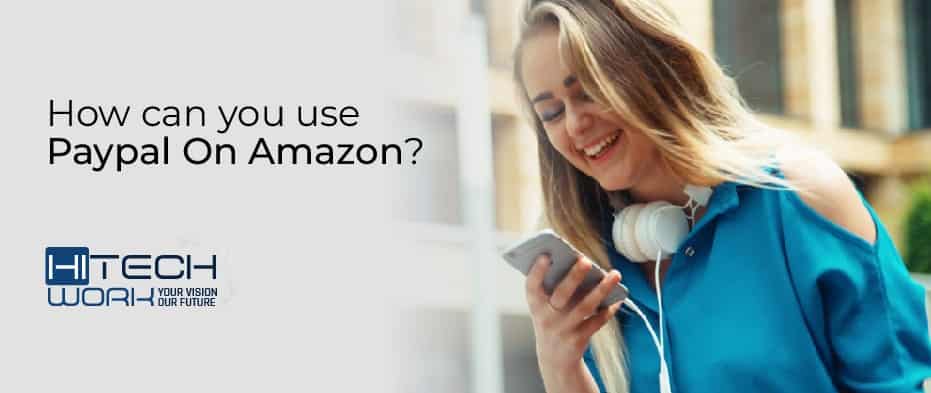 1.      Use the Cash Card On Amazon
You have to add the PayPal cash card as a payment option. The cash card from PayPal is a debit card that allows you to make payments that will draw from the PayPal account. From the cash cards, you can shop online as well as in stores that will use the Mastercards. You can also use MasterCard while shopping from Amazon.
Amazon rewards its customers, but you will not get rewards if you pay with a Pay-Pal cash card. Moreover, you must have a balance in your PayPal account to pay cash as it is not a credit card. Other than that, you can also sign in to your account on Amazon, make a purchase, and then choose the method option by adding the cash card as a new payment method and entering the card number to checkout.
2.      Use the Paypal Key to Buy from an Amazon
A new virtual method to buy things from Ama-zon is the PayPal key (just a card number), which allows you to acquire items with either the balance in your account or the linked debit card. If you are using the PayPal key in different online stores, you can also use the key to enable you to use the MasterCard. In that case, you have to enter the 16-digit key number and mention the security code and expiration date to pay with PayPal on Ama-zon. Moreover, the key allows you to pay the bill through one of the credits linked to your account with Paypal. But, there is an exception that PayPal's key is not yet available to all PayPal account holders. If you want to get the PayPal key (a virtual card). You have to log in to the Paypal account and check the option of the Paypal key.
3.      Use the Paypal to Buy the Amazon Gift Cards
The other way to use Pay-Pal on Amazon is that you have to buy amazon gift cards from your account and then load the cards from your account. First, you have to look for a retailer that sells amazon gift cards and accepts Pay-pal. Similarly, there are various ways to buy Amazon gift cards with the Pay-pal account from eBay, eGifter, etc. Make sure you are purchasing the cards from the safe site. The gift cards help you to purchases from Ama-zon through PayPal Credit. When you accept the gift cards, use them the other time you shop from Amazon.
After purchasing the gift cards of Amazon with the Pay-Pal credit account, it will take time to add them to your amazon account. When you add the gift cards before making any purchase, it will not show on the checkout screen. So follow the steps to redeem a PayPal purchase of gift cards.
Go to the Amazon account and log in.
Go to the profile from the top right of the screen. Then, select the Apply gift card on your account.
After that, type the gift card code and tap on your balance.
After that, if you make any purchase from Amazon, you can use the payment method through amazon gift cards.
Conclusion
People love to use PayPal for all their purchases as it is the most flexible, safe and accepted method globally. But, the vast exception is that amazon did not use Pay-Pal to make a direct purchase from the Amazon store. However, it allows you to pay from PayPal using other tactics like paying from a cash card or PayPal key. The blogs contain all the possible methods to make your payment through PayPal on Amazon. You can make your purchases from any online or retail store from the above methods.