Are you looking for the best compass apps for Android?
The advent of technology in the shape of smartphones and GPS made the compasses and not to mention maps, redundant in search of ways or for navigational purposes. However, the compasses have played a crucial role in advancing a human civilization due to their immense assistance to humans in charting new territories, mapping, and navigating seas. Unsurprisingly, compasses are still used in today's world. But not in its original, physical form. Instead, in the form of apps in smartphones. So, in this guide, we have curated a list of top compass apps for Android devices.
 Compass Apps for Android: Compass Galaxy
This app was made by Szymon Dyja called Compass Galaxy. The unique feature in this app is that most compass apps function on your smartphones unless you got a magnetometer in there; instead, Compass Galaxy has clear any of the permission to access the app. Doing that, they aim to provide a user-friendly app to the user. So, do not forget to add this app to your phone if you get lost!
Just a Compass
Well, if you are into easy-to-understand things, then Just a Compass is the RIGHT thing for you. The app has free of bugs and consumes less space making it perfect for your phone. Another thing that makes the Just a Compass must-have is that the app is free to download with up-to-no ads to disturb your experience.
Compass
It was created by GammaPlay named Compass. The app is a blessing for those who have lost track of their home or are just stuck In the woods while hiking. The Compass is also one of the most accurate compasses present on the Play Store. With rave reviews pouring on the accuracy of the Compass is the evidence of having this app on your phones. The excellent outlook of the app makes it more appealing to download it free from the Play store.
Compass By NixGame
NixGame is known for its exceptional apps; Compass is just one of its many great apps. The app is super-easy to operate and trouble-free. Besides, Compass has the feature to juggle between the poles from geographic and magnetic to ace the accuracy milestone. The app has extensively utilized the strength of GPS or different location services to boast accurate reading. Moreover, the Compass app by NixGame also adds longitude and latitude to pinpoint your location/coordinates to your friends to find you due to their usage of location services.
GPS Compass by DIJKOT
Compared to other compass apps on the Google Playstore, GPS Compass by DIJKOT stands out in every aspect. The app's compass accuracy is arguably the most accurate compared to others. The app is super simple, fun to use, and highly convenient. It is free of ads and other annoying bugs to boost your experience. GPS Compass has an interface thatis smooth without glitches, which can be expected in other compasses. Additionally, the app consumes less space which means your OS can efficiently function it. So, it can be your journey partner without any problem.
Compass Apps for Android: Compass Steel 3D
This app is filled with super-features from self-calibration to magnetic heading. The bestselling point: It's ad-free—besides, range of colors to choose from. The app also offered the Compass in 3-D. Simply tilting the Android device, the Compass will be shown in 3D, giving the traditional compass vibe. The Compass Steel 3D has both the sun and moon indicator features and the sun and moon, respectively, timings. Though, access to these features requires the person's location coordinates because the app evaluates these coordinates to determine the directions.
Compass 360 PRO
Compass 360 PRO should be the compass app you need on your phone. The app has an easy-to-use interface and has the most accuracy in competitive compass apps. The app works globally wherever you are in the world. Because many compass apps are restricted to operate in the STATES, however, 360 Pro can work anywhere else.
Compass Apps for Android: Advantages of Compass App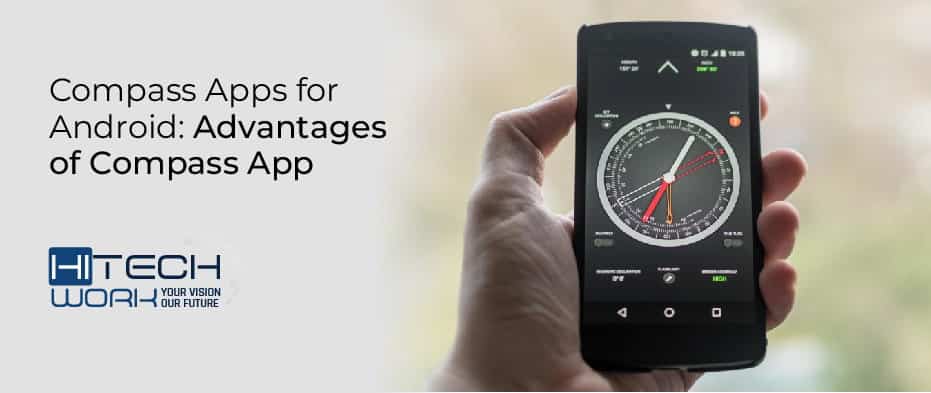 Compasses are your companion in any journey. Whether you are on a hike or backpacking, it will help you understand how you are going, which can be very helpful in a lost way.
Some of the advantages of using compasses are:
Compass apps for Android can be easily downloaded from the Play Store to assist you in tracking ways.
The compass apps are generally free or negligibly cheaper than expensive traditional compasses.
The compass apps, unlike standard Compass, can easily be used in the dark due to smartphones.
Compass apps have a how-to guide installed in their work, so you can quickly learn the curves.
Most compass apps are different in designs and other aspects. There are also some of the compasses which incorporate altimeter, barometer, GPS, etc.
Conclusion – Compass Apps for Android
These Compass mentioned above apps can help you find your true north in directions. Many compass apps present in the Play Store do not work as mentioned in their description. In this situation, this curated list of compass apps on Android will prove helpful as it includes tried and tested apps.