ZIP files are an essential part of our digital lives today. They help us bundle folders and files into one convenient compressed archive, making it easier to manage and share data. Whether you're a professional sending important documents or an individual looking to save space on your hard drive, ZIP files are a reliable and efficient solution for data organization and transfer.
However, there is a downside, ZIP files can become corrupt and inaccessible at times, which can lead to data loss. This can be a nerve-wracking experience, but don't panic due to today's technology, there is a solution available in the form of advanced corrupt ZIP file repair software free download. This powerful tool can help you recover your data effectively and quickly.
However, in this article, we will explore how this software works, and how you can download and use it to recover your lost data. With this reliable solution, you can say goodbye to the frustration of corrupted ZIP files and hello to a seamless data recovery process today.
Part 1. Common Reasons Behind a Damaged ZIP File
As previously said, Zip files are commonly used to compress and archive data. However, they are vulnerable to corruption due to various factors. Thus, it's essential to know the typical causes of ZIP file damage to take preemptive action and plan for effective data recovery. Below are the six primary reasons contributing to ZIP file corruption:
1. Unsupported Compression Methods
Using unsupported or incompatible compression techniques when creating ZIP files can make them unreadable by standard ZIP file readers. This problem is more common when dealing with older ZIP formats or specialized compression methods.
2. File Transfer Problems
Errors that occur during the process of copying or moving ZIP files from one location to another can lead to file corruption, particularly when disruptions or interruptions affect the file transfer operation.
3. Incomplete Downloads
ZIP files may suffer from corruption when their download process is interrupted prematurely, often due to network disruptions or other related issues. This can result in missing or damaged data within the ZIP archive.
4. Sudden System Shutdowns
Abrupt power outages or system crashes during ZIP file creation or extraction can leave the file in an incomplete or inconsistent state, resulting in corruption.
5. Virus or Malware Infections
Malicious software can infect ZIP files, causing harm to their internal structure. This infection can render the ZIP file inaccessible and potentially damage the contained data.
6. Storage Media Issue
At last, storing ZIP files on failing or damaged storage media, such as a deteriorating hard drive or malfunctioning USB drive, can gradually result in file corruption over time.
Part 2. Repair Corrupted ZIP File With Wondershare Repairit File Repair Tool
In this digital era, data is paramount. Losing or corrupting important files can be a nightmare. That's where Wondershare Repairit File Repair comes in. It is a cutting-edge data recovery tool that can help you salvage valuable information from damaged or inaccessible files.
Wondershare Repairit File Repair is a professional-grade software designed meticulously to address the diverse needs of users. Its proficiency in ZIP file repair is remarkable, and it can also mend files created in widely used applications such as Word, Excel, and PowerPoint.
This powerful tool goes beyond conventional data recovery. It can effortlessly extract a plethora of information from corrupted ZIP archives. Its user-friendly interface ensures a seamless experience, simplifying the recovery process.
With Wondershare Repairit, restoring your precious data to its original state is just a few clicks away. When it comes to repair corrupted ZIP file, Wondershare Repairit File Repair sets the standard for efficiency, reliability, and ease of use.
– Key Features of Wondershare Repairit File Repair
This remarkable ZIP repair tool offers a range of exceptional key features that make it stand out from other tools in the market. Let's take a look at some of its amazing key features.
Wondershare Repairit offers comprehensive support for repairing a wide array of file formats, including PDF, PowerPoint, Word, Excel, ZIP, and Adobe files.
Effortlessly restore files afflicted by all levels of corruption, whether they appear as blank files, fail to open, display unrecognizable formats, contain unreadable content, or have altered layouts.
Experience the flexibility of repairing an unlimited number of files, regardless of their size, ensuring that no data recovery challenge is too large.
With an impressive success rate, Wondershare Repairit diligently restores corrupted files without making any modifications to the original data.
Compatible with various operating systems, Wondershare Repairit seamlessly operates on Windows 11/10/8/7/Vista, as well as Windows Server editions from 2003 to 2022, and macOS versions spanning from 10.10 to macOS 13.
– Repair ZIP File Using Wondershare Repairit File Repair
If you are having trouble with corrupted ZIP files, don't worry. You can use the Wondershare Repairit file repair tool to repair ZIP files in a few easy steps. Here's a step-by-step guide on how to do it:
Step 1: Download the Software
Start by downloading the Wondershare Repairit File Repair tool on your computer. Make sure to download the correct version for your system by visiting the official website.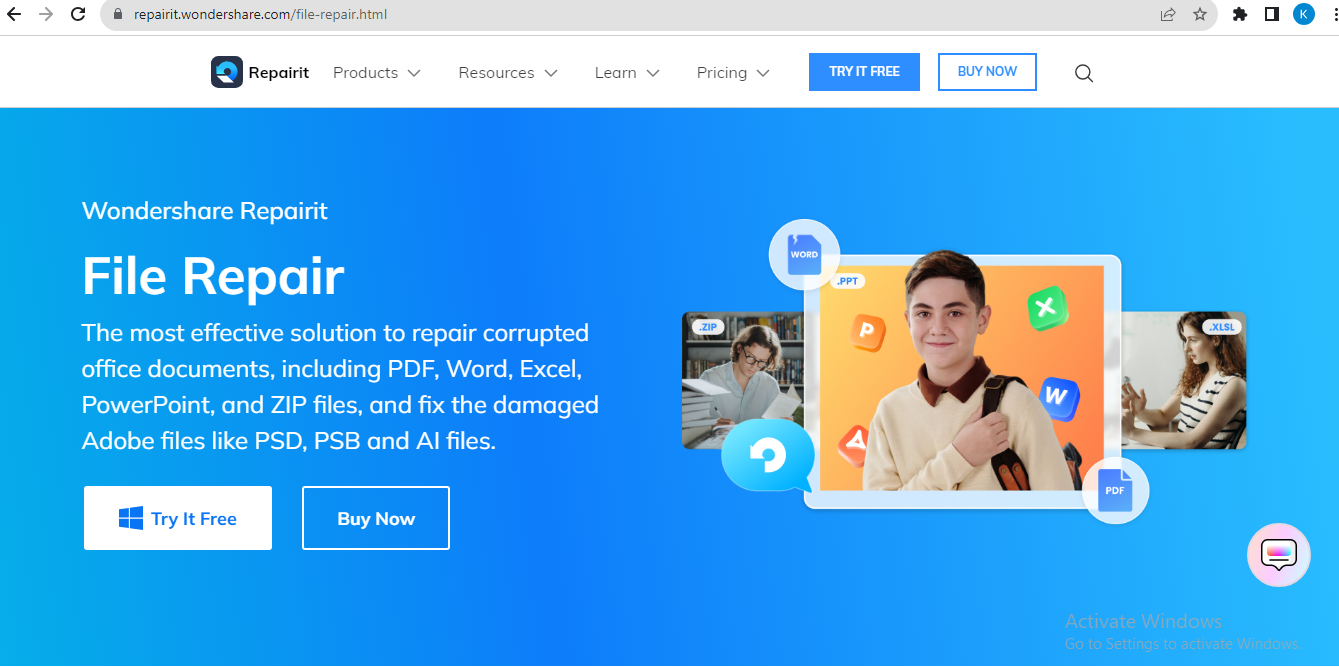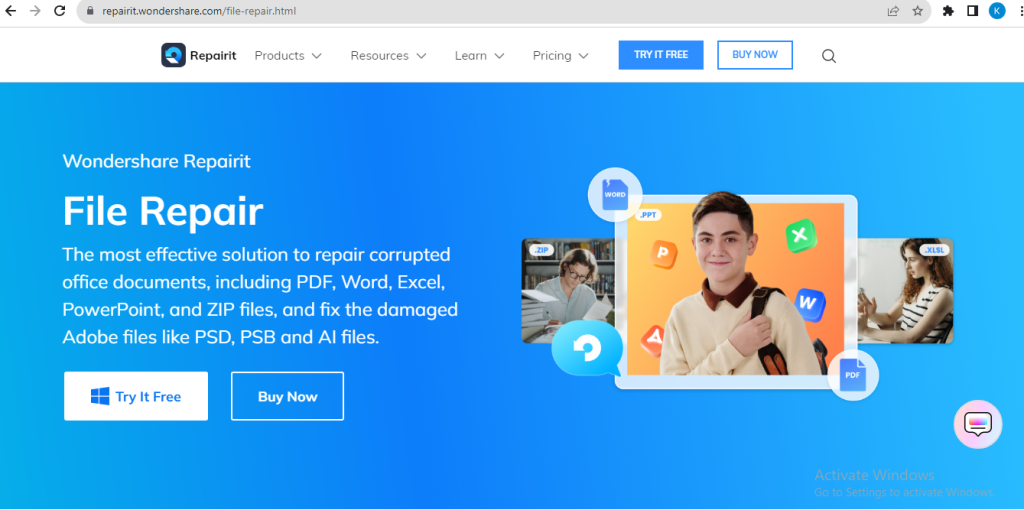 Step 2: Launch the Software
After installation, launch the software to access its user-friendly interface. Then, go to the "More Types Repair">"File Repair" option.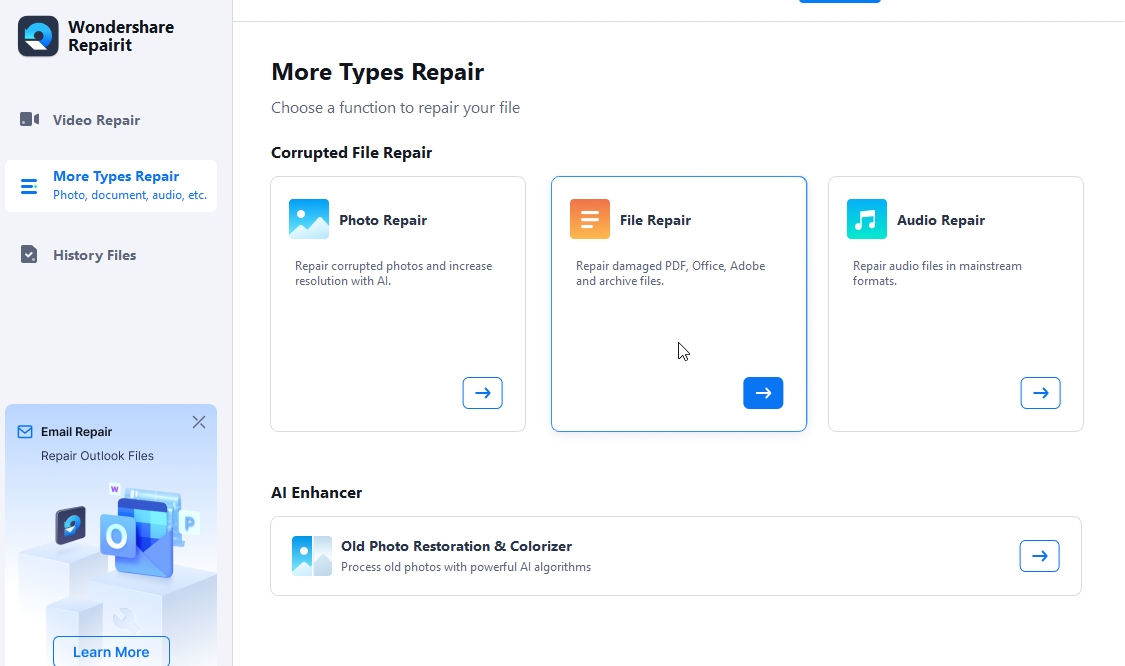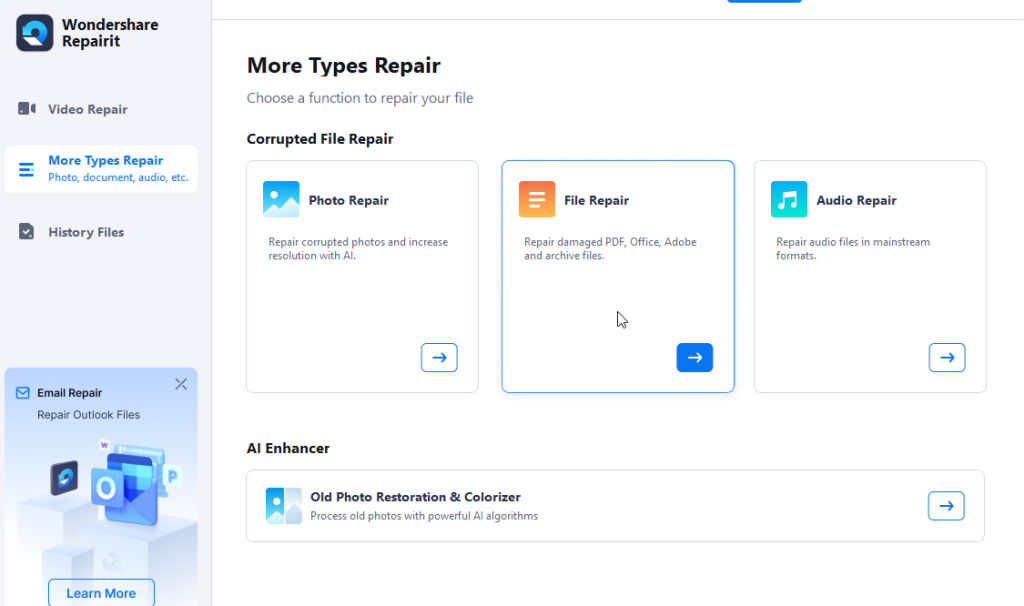 Step 3: Add Corrupted ZIP File
Click on the "+Add" button in the software interface to select and add all the corrupted ZIP files you want to repair.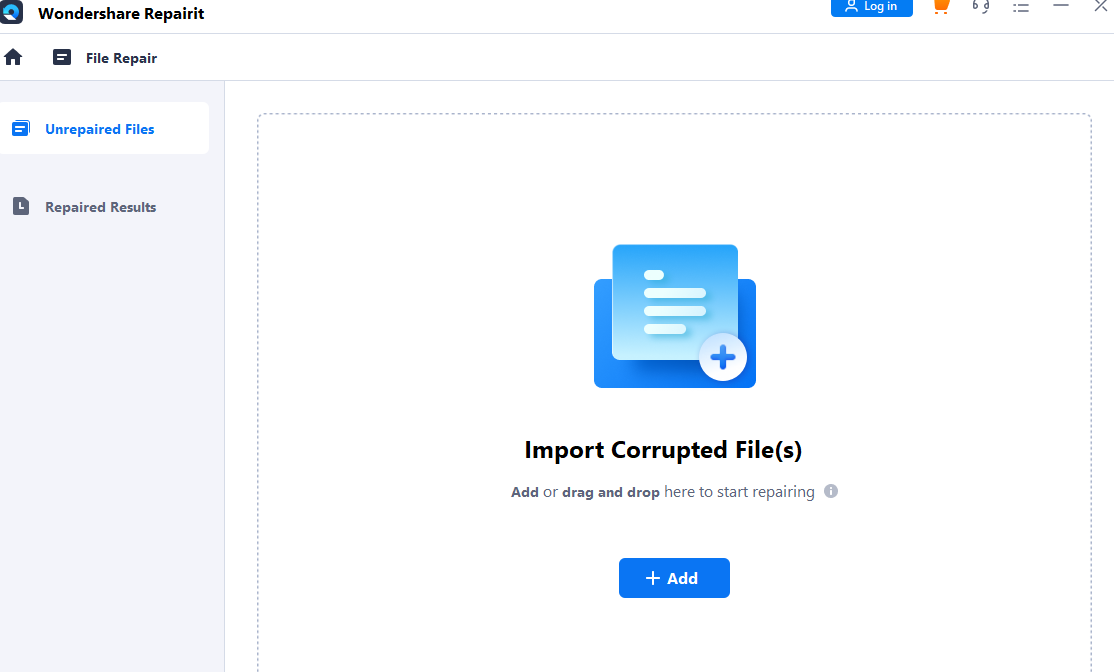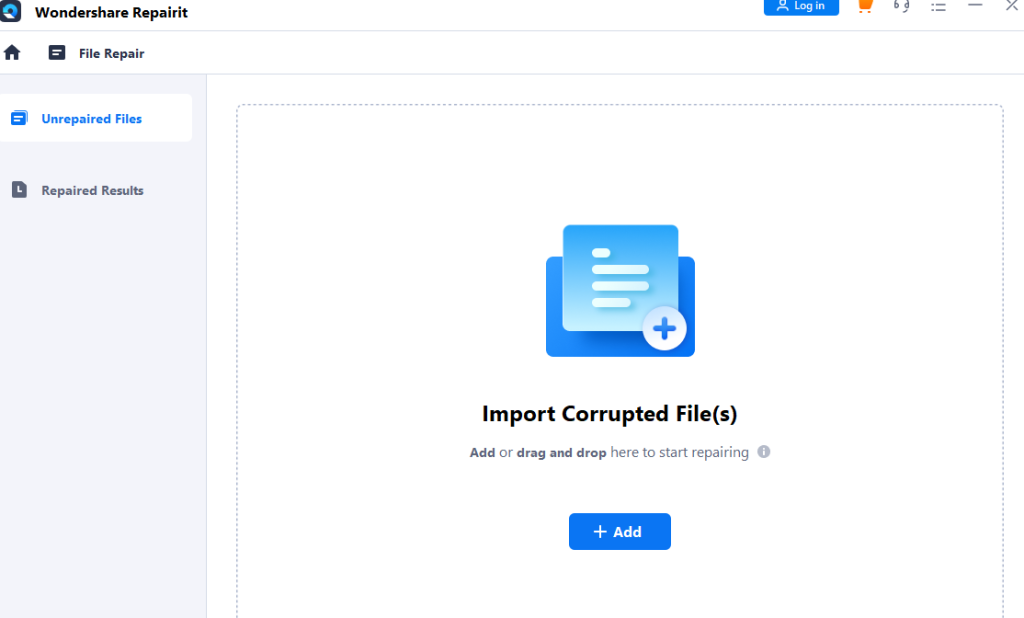 Step 4: Start the Repair Process
Once you've added the corrupted ZIP files, click on the "Repair" button to begin the repair process.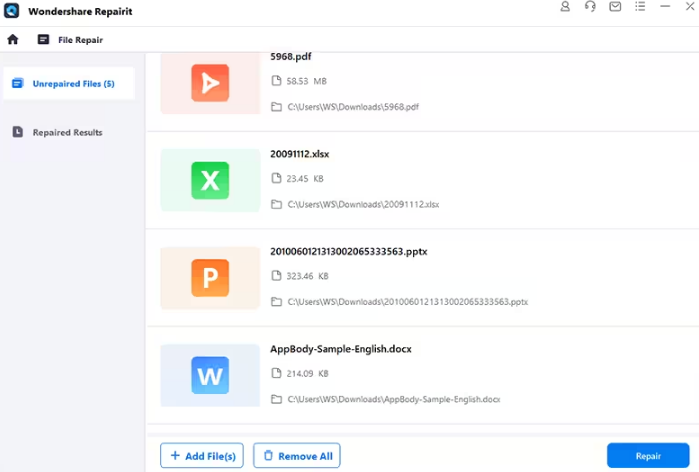 Step 5: Monitor the Repair Progress
The software will analyze and repair the ZIP files in just a few minutes. You can monitor the repair progress on the screen.
Step 6: Preview the Repaired ZIP Files
After the repair is complete, click the "Preview"button to review the contents of the repaired file. Confirm that the data has been successfully recovered.
Step 7: Save the Repaired ZIP Files
At last, if you're satisfied with the results, click on the "Save" button to save the repaired ZIP file to a location of your choice. And that's it!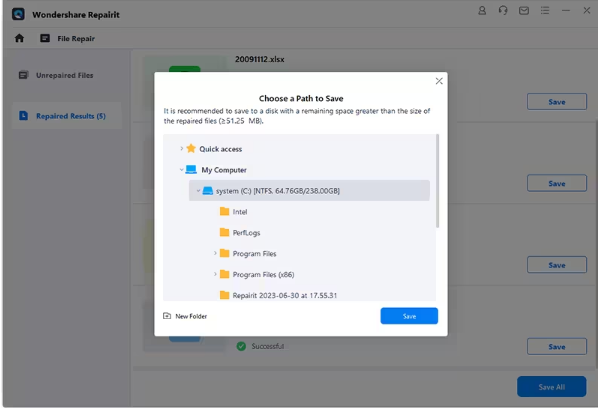 Part 3. How to Prevent Corrupted ZIP File
Preventing the occurrence of corrupted ZIP files is crucial for maintaining the integrity of your data. Here are some proactive measures to help you avoid encountering ZIP file corruption in the future:
When downloading ZIP files from the internet, ensure that you use trusted and reputable sources. Avoid downloading files from unverified or suspicious websites.
Before archiving important files into ZIP format, check the integrity of the original files. Make sure they are not already corrupted. If they are, repair them before creating a ZIP archive.
When downloading or uploading ZIP files, maintain a stable and uninterrupted internet connection. Interruptions during the transfer process can lead to incomplete and corrupt ZIP files.
Keep your compression and extraction software up-to-date. Software updates often include bug fixes and improvements that can prevent corruption issues.
After creating a ZIP archive, verify the compressed file's integrity using the software's built-in verification feature. This ensures that the ZIP file is free from corruption.
Regularly scan your computer for malware and viruses. Malicious software can infect ZIP files and lead to corruption.
Maintain backup copies of your important files in their original format and ZIP archives. Regular backups can safeguard your data in case of corruption.
Be cautious about over-compressing files. Extremely high compression levels can sometimes lead to errors and corruption. Use an appropriate compression level for your files.
To Conclude
ZIP files have become an essential tool to compress and organize data, making our lives more manageable. However, corrupted ZIP files can cause inconvenience and potential data loss, disrupting this convenience.
Fortunately, advanced solutions like the Wondershare Repairit File Repair tool can help recover data from corrupted ZIP files. With its user-friendly interface and remarkable features, it empowers users to recover their valuable data efficiently and swiftly. No longer do you have to struggle with inaccessible files or worry about lost information, the path to recovery is just a few clicks away.
Moreover, understanding the common causes of ZIP file corruption and implementing preventive measures can save you from these woes altogether. By following the best practices outlined in this article, you can safeguard your data from corruption, ensuring its longevity and accessibility.
However, with the right tools, knowledge, and precautions, ZIP file corruption need not be a source of anxiety. Embrace the power of data recovery tools and preventive strategies to keep your digital world intact and thriving. Lastly, thank you for reading this article, have a great day.