DayZ is a thrilling survival gunfire game. In this game, players must survive the zombies and other opponents. Alike any other shooting game, it has many exciting features. To stay in this game, a player must build a base for their security and hide their weapons. So without that (Base Building), players will be a simple target for other players and zombies. This guide will teach you how to construct the DayZ base Building and many more.
What Do You Know About DayZ?
DayZ was formally released in December 2018 for windows operators, then in 2019, it was released for PlayStation and Xbox handlers. Primarily this is a survival video game; to survive while playing this game, the player must search the land for weapons, food, water, and medicines. Suppose a player doesn't want to kill, so the player can collaborate with other players to continue the game.
Why is it Essential Building a Base in DayZ?
Constructing a base while playing DayZ is very important because to make it, you have a grip to survive from the throngs of zombies and other players. However, you can hold your loot and supplies in the base to secure them. In this game, there is just one rule for players, but the longer you survive, the more danger you have to face. Besides that, in a video game – a base-building feature is available for players that allow you to stand unconnected with others and live more.
Let us hang out to learn how to construct the base in the DayZ.
Excited to Know the DayZ Base Building Guide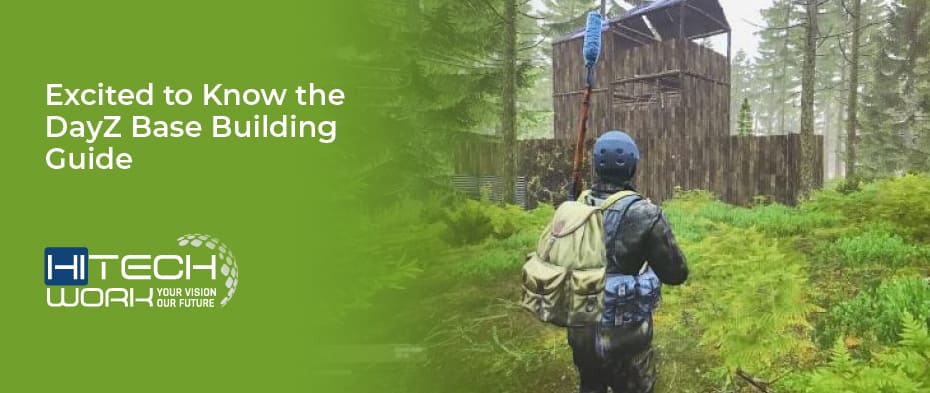 Making a building in DayZ is the easiest mission ever in all the games. To do that, you must search for a good spot or location for your facility to build a base. Otherwise, you can make trouble for yourself, and things will get confused for you.
Having a base will help you survive longer in this game because you can return to it if your supplies run out.
Below are the steps you can follow to make the base building in DayZ.
Find a location
Recipe for crafting base
Gather your tools
Construct the fence
Build a security gate
Step1: Find An Appropriate Location for DayZ Base Building
Are you playing DayZ and want to make a base? At first, you have to search an area for it. So, find a house or a hut in the countryside. However, there are few options to make a base building in this game. It is suitable for you to start a house.
Moreover, always find a house with fully working doors. At the same time, most players look for prominent or triple-story places for their base. Because these are the most OK location for survival determinations in the game.
Corresponding, always made a base building on the high land that helps you to see the most far away of your spot. To make a facility is an advantage for you because you can put your weapons in the building and take them out before your enemies get near your house.
Here are some places you prefer to build a base in your DayZ game.
·         Pik Koslova
It is near a woody coastal spawn area, making it easy to merge. This area also helps you cut down the trees to make the boundary for your base.
·         Blue factory of Cherno Island
This cherno island is an outstanding location to settle down because if you claim the whole place, the entry of your enemies is problematic.
·         Tisy Helipads
As you know, helipads are very difficult to reach. You can find them near the military base in the northwest.
·         Turovo
You can find the looted farm near this Turovo area, and the evocation area is close to this point. Many players build their base because this area is not very handy to danger points.
·         Cherno Flats
Suppose you construct a base at the top of a flat, so you are likely not in danger. However, this area is near the spawn points. You can protect yourself by shooting your enemies at the staircase.
·         Zub Fort
This fort has a vast area and is perfect for hiding your weapons, and you can speedily find it. However, there is only one entrance to the zub fort, which must be wedged.
Step2: The DayZ Base Building Recipes for Crafting (Beginners)
It would be best if you had some essential tools for crafting or constructing the base in your game. Here we share all the vital tools you must include to go further. Do follow and collect them.
Sledgehammer – It is used for making the barriers for the building. You can be looted from the village, farm, and manufacturing areas.
Nails – You can get them to start pulling the pieces from other players' bases. It would be best if you had the nails a lot to join every side of the barriers.
Shovel –A player can be plundered shovel from the farms and used to put the wood fuels to make the boundaries.
Metallic rope – People need it to make a door and can loot it from the farmhouses and foresters.
Wooden logs – You will get them from the tree using the axe to cut the wood. So, you will get one wood log from a tree.
Axe – Gamer can get it from the village and used to cut woods.
Wooden Boards – They will only find from wood logs. A player will need wooden boards for every surface of the base building.
Amalgamationlocks are an infrequent product used to lock the gates and can be plundered from the development areas.
Some boundary-making apparatus:
Watchtower: You will need four sticks and one long rope.
Frame parts: Four wood boards, a hammer, two sticks for source, and eight nails.
Gate: A complete furnished boundary and a piece of metal wire.
Roof: Ten wood boards, twenty nails, and a hammer.
Step 3: Are you Construct Base, so let's Collect Your Resource
To build the DayZ base, you must find the resources to start the crafting. You will have to look at it carefully because sometimes they can be hard to find out. However, look for the bushes in your game if you want to search for sticks, and if you look for long or short sticks, you can gather them with your bare hands. So don't much worry about this.
Furthermore, if you are finding a rope and can't get it, you can use the rag to make a rope. But if you can't get the rags, you can also use old clothes to turn them into rags. Moreover, nails can't get from any source. You will find them in hardware stores or homes.
Collect all the crafting items and then hover to the next step to construct the base.
Step 4: Let's Construct the Base and Fences
After gathering all the construction resources, it's time to start the work. At first, you have to secure your base building by making the barriers and fitting them into the structure. Make sure you have left some place for tents and other things you will put into the house with you.
Furthermore, you can upgrade your base by including the electricity and guard towers. An upgraded or well-equipped base is better than simple walls, floor, and locks.
Step 5: Build a Gate of your Base Building DayZ for Security
At first, you have to construct the fence kit and use the shovel to put the wooden logs at both ends of the fence kit. Now, you need a hammer to build the frames. Then set the boundaries with the help of metal wires, and, in the end, you will attach the lock on the gate. Moreover, if you want an extra gate in your base, you can repeat the steps.
Definite & Incredible Tips for Constructing the Base Building in DayZ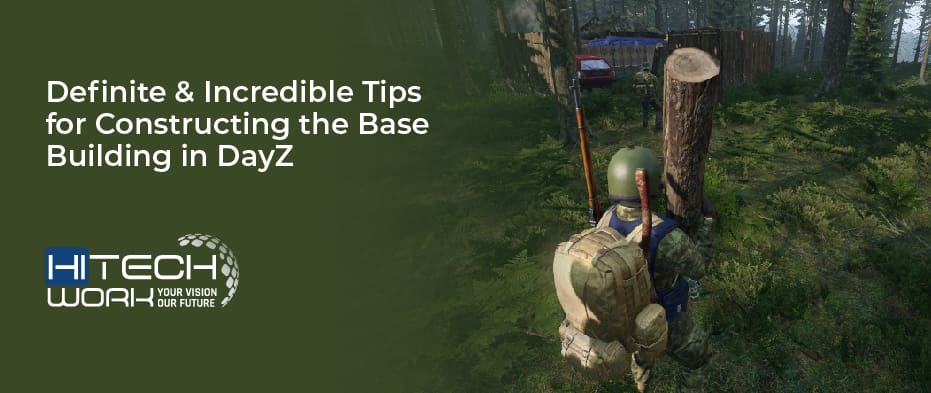 The base building is constructed to be used for the protection of a player. Their consent is not for hiding your loot and storing your constructing fence.
Keep in mind that the Fort Knox of the base can be attacked by the crowd of gamers who wish to get inside your base building.
Reddit purchasers have excellent visual guidance for building bases of DayZ.
Alternatively, you can just hide in a tent or conceal your weapons in the woods if you don't want to build a base.
Bases would better serve the player's safety with odd looks rather than advanced, complicated constructions. While whacking in a woods base, you should always make positive coverups.
Updated Talk Room: What About DayZ Base Building Plus
A DayZ base buildingplus make the available player much-needed survival and more skills. If you want DayZPlus, you must go to the steam workshop. It also gives players some new building apparatus, higher alternation methods, original UI apparatus, and new modes for their existing apparatus or tools. Moreover, if you use this mod, you will definitely love playing this game. But unfortunately, DayZ is not a multi-player surviving game.
Final Words
Building a base in Days starts by wandering around the place to search for constructing materials. The dangerous tools you need to develop a base are nails, sticks, and rags. These resources help you to build a strong structure that offers security to that player.
In this article, we shared everything you need to know about the dayz base building. So tell us in the comment section if you have any interesting facts about this game.