How to delete your Grubhub account? The deletion of the Grubhub account is not an easy task, and it requires a struggle to remove the account manually. But before going to the deletion of an account, let's start with the Grubhub basic. Grubhub is a USA-based food ordering website that delivers food around the USA corners by taking from the local restores. Now you can get your choosy food from your restaurant's kitchen to your home dining area.
If you are tired of Grubhub food delivery items, use another app and remove the Grubhub account. And if you also want to unsubscribe the advertisement email of your Grubhub account from email, you can also do that easily. The article will guide you about the deleting process of Grubhub accounts of the driver, loved one user who is passed away, and many more.
Sketch Line of Grubhub
Grubhub is an online food delivery company. It provides online ordering services for restaurants, supermarkets, and other businesses that sell food to consumers. It also operates a website and mobile apps where users can order food online. In 2012, the company had revenues of $2.4 million and a net income of $3.5 million. The company had 823,000 active restaurant partners at the end of its last fiscal year.
How to Delete Grubhub Account – Multiple Methods
Grubhub has the standard policy where they don't offer their customers a direct option to remove their Grubhub account. The only way to delete the account is by contacting customer care through the official website and emailing them. And especially by following the customer care suggestions, you can delete the account easily. Here are the following methods that you must follow for the learning process.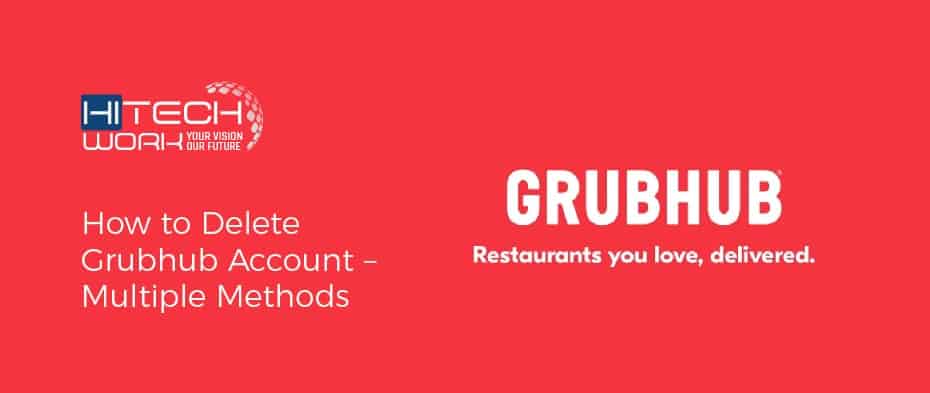 Delete Grub hub Account Through Grub hub website – Solution A
Here are the following steps that you can follow to delete the Grubhub account. You need to submit a ticket to customer care via Grubhub's official website by following this method. And then you can do that:
Go to the manage your data section of Grubhub.
Under "delete your personal information," tap to submit a request option.
Now, you will receive an email, then go and land on the verification email page. And enter your email address, then tap on the "Verify my email" Option.
Tap on "Submit Request" and then click on the delete button.
As you know, after verification, you will receive your confirmation alert, as same shown in the image below.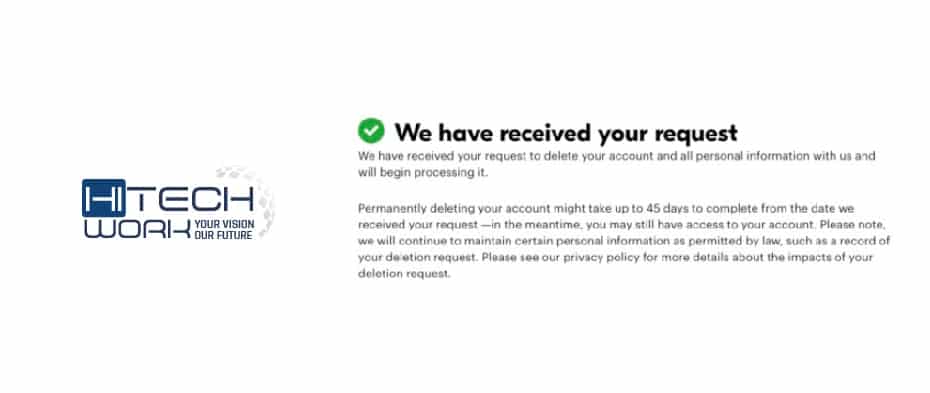 Suggestion: As soon as you submit your deletion request, it will take up to 45 days for your account to be permanently deleted. Your Grub Hub account can still be accessed until it is deleted.
Delete Grub hub Account Through Email – Solution B
The following solution to delete a Grubhub account through email sending takes a couple of days to delete. Here are the below steps that will guide you calmly. So, let's have a look, please:
Login to your Grubhub account using your registered email, and as you know, you can send an email to any other person from any account. But at this time, make sure the Grubhub email id should be available in the body section of the email.
Compose an email with this email id: accounts@grubhub.com
Now, keep the sub as "REQUEST FOR ACCOUNT DELETION" or "GRUBHUB ACCOUNT DELETION."
At last, you need to write the reason for the Grubhub account's deletion. So, write there and tap on the Send button to send it.
Suggestion: You can see a template of Grubhub account deletion in the below section of the article. So here it is:
Delete Grub hub Account Through Calling Customer Care – Solution C
This is another way to delete the Grub hub account is by calling customer care support. Therefore, dial the contact number (877) 585-1085 and call them to remove the Grubhub account promptly.
How to Delete the Driver Grubhub Account?
You can easily delete a driver's Grub hub account, but it's not as simple as you think. It does not delete like deleting a customer's Grub hub account. for this purpose, you have to follow the instructions below: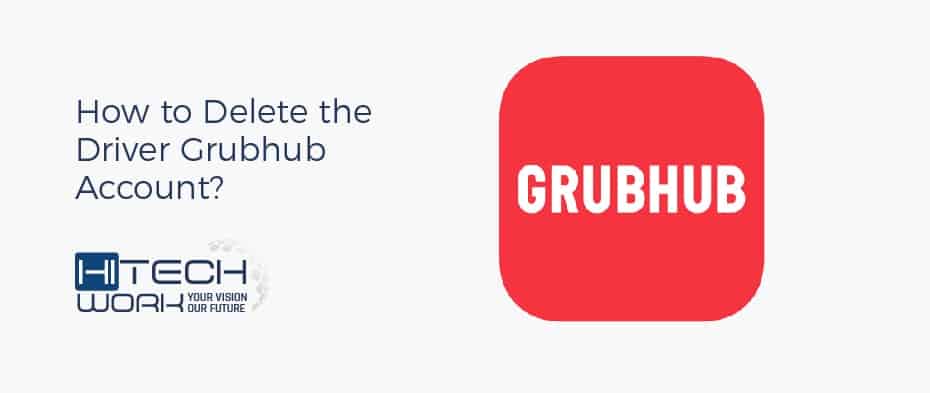 Open the Grubhub driver support page.
Under "submit a request, " choose "delivery partners request form."
Fill out the form accordingly and request to deactivate your driver's account.
Keep in touch with a support team member to proceed with your request further.
Alternatively, you have an option to email Grubhub customer support to send a request for the deletion of your deliver's account. Here's how you can do it:
Sign in to the email account linked to the Grubhub driver's account.
Then, compose an email to privacy@grubhub.com to explain why you wish to remove a Grubhub driver's account, including the necessary detail.
Keep in touch with a support team member to proceed with your request further.
Suggestion: it's an option if you want to avail that; you cannot delete a driver's account without directly contacting the Grub hub support team. Moreover, your account will automatically get deactivated if you don't use this account for four months.
How to Delete an Old Age Grubhub Account?
Deleting the Grubhub account is not easy because the Grubhub policy does not match the standards. If you want to delete an old account or forgot your password. So, you can remove your data through contact with the customer support team. Now follow the steps to delete an old Grub hub account:
Sign in to your email account linked to the official Grubhub account.
Compose an email to the Grubhub email address which is mentioned above. Give them the necessary detail that you would like to give. And then explain the reason why you wish to want to delete the old age account.
Then, mention the "Old Account Deletion Request" in the subject line, or you can type a similar type of matter.
Keep in touch with the support team of Grubhub to resolve your request.
Reset Your Password for Removing the Account
The following given steps are used to remove your account easily. So let's have a look:
Go to the password reset page at the Grubhub official website.
Now enter an email address that is linked to your Grubhub account.
Log in to your email account and follow the link Grubhub sent to reset your password.
Sign in to your Grubhub account & go to the data deletion Page.
Now tap on submit request option.
Select "Delete" to have your personal information deleted from Grubhub. And now, wait for the confirmation email.
How to Delete Your Passed Away User's Grubhub Account
You can also contact client support if you are cancelling a loved one's Grubhub account after they have passed away. You need to do the following:
Compose an email to mentioned above email address where you want to tell the reason for deleting the account of someone who is passed away.
It's an option: use the online chat support system at the official website of Grubhub. Now, include the document that can prove the situation of your loved one who is passed away.
Keep in touch with the customer support system to delete the account.
No More Interruptions
Grubhub is the USA-based food delivery online service platform that is used to take food from other restaurants to other people's houses dining. I hope this article will be helpful for you to delete the account by using different methods. But if you are tired of the online food, delete the Grubhub account and cook your own food at home by helping the family members. Please let us know whether you use this app and how much time you spend on it for eating and what kind of food you order in the comment box.