Do you feel your system is slower than usual? The first thing you have to do is to check the task manager to see if any of the applications are consuming massive amounts of memory. Sometimes, you may find that the reason is none other than a process known as "dwm.exe" that belongs to the Desktop window manager consuming high memory.
However, a desktop window manager is a process that is solely accountable for managing the visual effects & settings of your windows. It vitalizes all the visual effects that display, like a transparent window, live thumbnail, animations, and themes. If certain settings are configured wrongly on your machine, the DWM.EXE process can take up massive amounts of memory, make your system too slow, and cause black screen errors or other software crashes.
Although, there are multiple reasons why desktop manager causes memory usage issues, such as windows performance, outdated graphics card drivers, or too many processes and applications that are open on your machine. Don't worry; we will let you know multiple ways to solve the dwm.exe error in this blog.
About DWM.EXE
DWM.EXE stands for Desktop Window manager, and it is a process that is firmly connected to the file explorer process. It is an executable file, as indicated by the .exe file extension. So, DWM.EXE runs the desktop windows manager. The true dxm.exe file is a significant software component of Microsoft windows, and it is a windows core system file by Microsoft. It's accountable for handling elements such as visual effects, windows flip, and windows flip 3D.
However, this makes the DWM process an essential part of the windows system that should run on your system. But it doesn't mean that the process can't create issues, perform drops, or even carry malware. So let's move to know how to deal with DXM.EXE desk windows manager high memory issues.
Why Desktop Manger Using High GPU?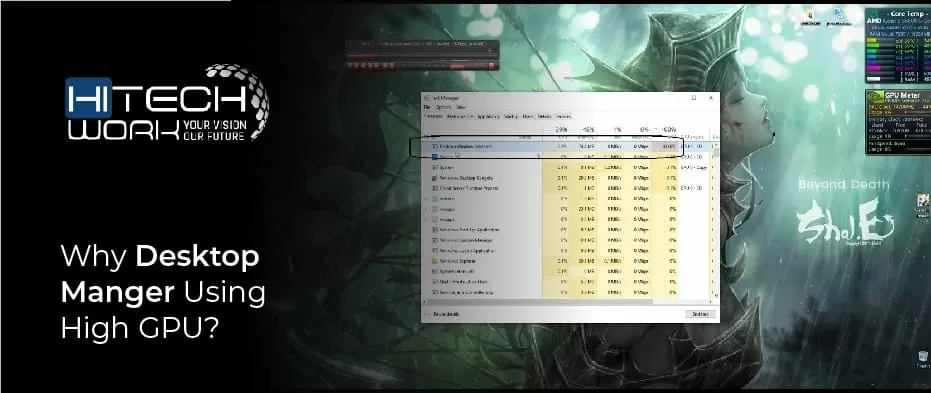 The problem can be caused by old GPU drivers or overloading the desktop window manager, which proves many desktop activities need more resources than normal. Some users have observed that the desktop window manager started using high GPU or memory after a window update. It has been said that an update might have errors that cause dex.exe to overuse GPU resources.
But, in some cases, the Xbox game bar creates a window manager to use more GPU/Memory than normal. Don't worry; we will let you know how to fix the issue in the next section.
Fixes: To Resolve Desktop Window Manager High Memory Usage Issue
If you observe extremely high memory usage, it can cause the system to crash. Try the below fixes to protect your system.
1. Restart File Explorer from Task Manager
Right-tap on a free space from your taskbar, and choose task manager.
Find the windows explorer process and tap on the restart button from the lower-right part of your screen.
Now, check for desktop window manage high memory.
This is a common workaround explained by some users who were experiencing the same issue, so try it. Maybe it's worth giving a try.
2. Scan Your System for Malware
Viruses or corrupted malicious programs can cause high memory or CPU usage problems. Use the malware scan to check and delete the virus that may be running on your system. The entire process may take up to one hour, depending on how many files the antivirus needs to scan. Restart your system and try again. Here are the instructions to perform a full scan using Windows Defender:
Press Win+R, enter windowsdefender://threat/and hit enter.
Choose scan options > full scan> scan now.
Now, clean any threats found.
If you use an antivirus, the scan steps will differ slightly. But with most, you can right-tap the icon from the taskbar and choose scan computer. Otherwise, you can also open the app and find the same option.
3. Update the Intel Graphics Driver
First, right-tap the start option and choose Device manager.
Expand the display adapter, right-tap on your graphics driver, and choose update from the menu.
Choose the top option, and search automatically for drivers.
If you get a text, the best drivers for your device are already downloaded; you can also navigate to the manufacturer's website and check if they have a new one for your GPU.
Now, tap on the search for updated drivers on the windows update option, which will carry you to the windows updates section.
Tap on the optional updates option and look for any driver updates.
Note: Be cautious while installing drivers manually. If you mistakenly download a mismatched version, you may cause more issues, such as resolution issues, glitches, and other bugs, such as frequent BSODs. To ignore such issues, we suggest you use an automated driver updater utility such as DriverFix. This tool uses a frequently updated driver database to find the best version for your hardware and can fix corrupt drivers.
4. Disable the Background Apps
However, disabling the backgrounds app may resolve the issue. Head to settings, tap on Privacy, choose background apps, and turn off the option that lets apps run in the background. Now, open the Task manager, tap on the processes tab, and right-tap on the programs you wish to close. Now, enter the End task option, refresh your system and check if it's working.
5. Adjust Performance Settings: To Fix Desktop Window Manager High Memory Usage
It's possible that the system's current performance settings affect the DWM, or t can cause windows manager to use more memory. You can adjust your performance settings to resolve the DWM high CPU error using the below steps.
Enter Wins Key + S> then type performance in the search box.
Tap adjust the appearance & performance of Windows.
Open the visual effects tab from the performance options window.
Now, observe to adjust for the best performance and tap on Apply to save changes.
At last, restart your system.
As soon as you choose the "Adjust for best performance" option, windows will disallow all the animations, effects, and others. This should decrease the high memory usage by the desktop windows manager process.
6. Run Performance Troubleshooter in Windows 10
Windows 10 adds a basic performance troubleshooter to find and resolve problems. Here is how to apply this.
Launch the start menu and search for "command prompt."
Right-tap on the command prompt and choose "Run as administrator."
Now, enter the command "msdt.exe /id PerformanceDiagnostic."
After running the troubleshooter, shut the command prompt window.
This will solve the desktop window manager's high memory usage. Sometimes, you may have to restart the system after running the troubleshooter.
7. Disable the Screen Saver
Occasionally, the screensaver can consume RAM, so you have to disallow the screen saver. And check if it resolves the issue of high memory usage. Apply the below steps to turn off the screensaver.
First, press Windows + S to view windows search.
Enter lock screen settings and hit enter.
Find the screen saver settings option in the right panel and tap on it.
Choose none from the drop-down menu list of the screen saver.
Now, tap on the Ok option.
8. Disable Third-Party Apps
There are lots of third-party apps that can be downloaded on windows 10 to change the looks. If you have downloaded apps that heavily change the windows 10 UI, disallow it and check If the DWM.EXE process's memory usage returns to normal. If it fixes the issue, then the app you are using to change the system isn't optimized and shouldn't be used.
How to Disable Desktop Window Manager?
If you want to disable DEM, you can do it in windows 7 or earlier versions, as it runs as a service. Enter services.msc in start search and hit enter to open the Services Manager. Find the DWM session manager service and alter its startup type to disabled. But, in windows 10/11, it is a vital part of the OS and hence cannot be disabled.
Why Desktop Window Manager Stops Working?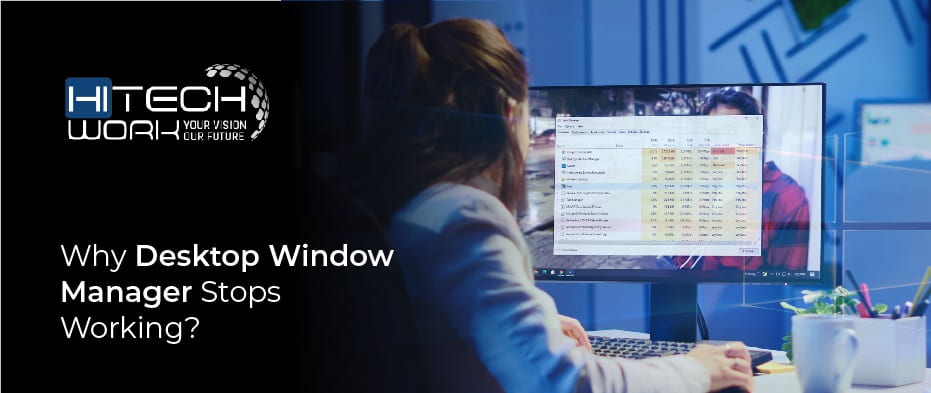 DWM is a compositing window manager that provides all those pretty effects in windows, including transparent windows, Flip, Flip3D, live taskbar thumbnails, and high-resolution monitor support. However, some users encounter an error message on their windows saying the desktop window manager stopped working and was closed. As per users, this problem arises while performing particular tasks like playing a video, or while running a program, or even doing any activity related to windows explorer. The most common reasons are:
Failed installation or uninstallation of software can lead to illogical entries in your windows registry.
Virus or malicious malware attack
Corrupted or damaged files
Improper system shutdown because of power failure.
Don't worry; you can solve the issue by:
Run an SFC scan
Reset windows 10
Run hardware & devices troubleshooter
Update graphic card drivers
FAQs
Is it secure to the End desktop window manager from the task manager?
When you end the dmw.exe task from the task manager, all you have to do is restart the window manager. Some people may be concerned about this as the screen blackouts for a second, but it is normal and not something you have to worry about. 
Can I disable DMW?
No, you can't; in this vista era, DMW was supported by a service that you could switch off and then disallow all visual effects. Starting with Windows 7, the desktop window manager became a more vital part of windows, which is significant for creating graphical user interfaces. However, this integration is deepened with Windows 8 and 10. The best part is that DMW is getting better at managing resources, and you shouldn't really need to switch it off.
Fix Desktop Window Manager High Memory Usage Issue
Hopefully, applying the above fixes can resolve the desktop window manager's high memory issue. Remember that we haven't written any of these in a specific order, so try the solutions that you find the most suitable. If you still persist with the issue, let us know in the comment section. We will come up with a solution.