DirecTV Stream vs. YouTube TV, which is the all-rounder for you?
After paying heftily for each cable which costs around $100/ month, people across America are cutting cords in records number. People have optedfor internet TV services like DirecTV Stream and YouTube TV.
However, YouTube TV has an impressive and complete channel lineup, whereas DirecTV Stream is the go-to for sports networks and large bundles.
To go into depth comparison, this blog post will cover the two most popular cable alternatives, DirecTV Stream vs. YouTube TV, and help you sort out which is a better choice to pick for your particular needs.
A Quick Over view of DirecTV Stream & YouTube TV
DirecTV Stream vs. YouTube TV, both are ''skinny bundles'' –streaming services that provide you with a bundle of live TV channels. These internet TV services offer you to purchase a pre-selected package of cable channels for a low monthly fee.
The most amazing thing is that neither of these services requires a cable box or installation. So, you will no longer look after the cable box as the TV is delivered directly over the internet.
Furthermore, these streaming services are much cheaper than traditional cable packages, and you do not have any long-term contracts.However, you can pay monthly and can cancel at any time.
Comparison between DirecTV Stream & YouTube TV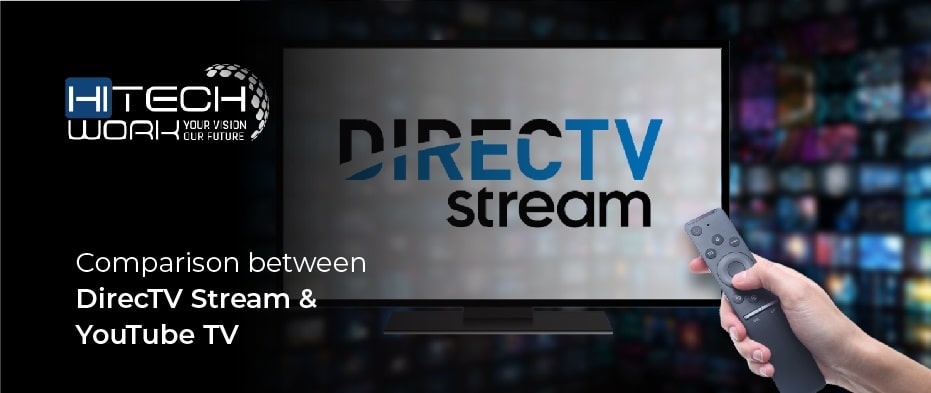 | | | |
| --- | --- | --- |
| Details | YouTube TV | DirecTV Stream |
| Base Package | $64.99 / month | $69.99 / month |
| Sale price for the first three months | $54.99 per month (limited-time offer) | $55 per month |
| Free trial | For 7-days | For 5-days |
| No: of Live TV channels | 85+ | 65+ |
| Premium channels | HBO Max, SHOWTIME, EPIX | HBO Max, SHOWTIME, STARZ, Cinemax, EPIX |
| On-demand titles | 2000+ | 40,000+ |
| Simultaneous device stream | 3 | 20 (on one home page) or 3 (on the go) |
| Cloud DVR storage | Unlimited | Unlimited |
| Subscriber | 4,000,000 | 788,000 |
| Device Available | Amazon Fire TV, Android TV, Apple TV, iOS, LG TV, PlayStation, Roku, Samsung TV, Xbox, Vizio, and Sharp. | Amazon Fire TV, Android TV, Apple TV, iOS, Roku, Samsung TV. |
Differentiate Between Channel Selections in DIRECTV Stream vs. YouTube TV
If you are looking at the starting number of live TV in base packages, YouTube TV offers more than DIRECTV Stream. The YouTube TV list includes channels witha sister network such as Nicktoons and Nickelodeon, Hallmark Drama and Hallmark Channels, BBC, and BBC World News. In contrast, DirecTV Stream channels in the base package are typically just the main networks.
Both services offer premium channels like HBO Max and EPIX. However, YouTube TV casts in sports networks, including MLB Network and NFL Network, in its base package, whereas DirecTV Stream requires you to choose a CHOICE Package or above for regional sports networks (RSN).
Moreover, in foreign channels, both streaming services offer a Spanish package or add-on,and DirecTV Stream offers Vietnamese, Brazilian, and Korean add-on packages.
Thus, YouTube TV wins the race in the channel selection category if you consider having more variety.
Who Has More Subscribers, DirecTV or YouTube?
YouTube TV has 4,000,000 subscribers; on the other hand, DirecTV Stream has 788,000 subscribers. It means YouTube TV has a big difference in subscribers than DirecTV Stream.
Which One Is A More User-Friendly And Minimalist Interface?
As we checked out the usability in our DirecTV Stream review vs. YouTube TV review, whereas both streaming services are straightforward in navigation. We come to the final verdict that YouTube TV goes the extra mile to keep it super simpler. You have three tabs: Library, Home, and Live.
While Library is where your recordings go, the Home is how you browse YouTube TV's recommendations. Further, if you have multiple mini TV screens on one big screen, all the videos play at the same time without sound.
In addition, when you head over to the live tab, you will see the channel guide and currently airing channels.
On the contrary, DirecTV Stream is aligned more with traditional cable TV navigation. It has four tabs,one dedicated to its extensive on-demand library, and deals to the Live TV channel lineup as Guide, typically seen on cable TV.
Unlike YouTube TV, DirecTV Stream has only one big video player, which you can minimize in the corner of the web app, even though it won't disappear by clicking on a different tab. It means you need to close it manually so it won't distract you while browsing content.
To sum up, YouTube TV is the simplest route in terms of usability.
Which One Has A Better DVR?
DirecTV Stream has a pretty bad DVR as you can only record 20 hours of shows, which will be deleted automatically after 90 days, and you can't record more than 10 episodes.
But when you pay $10 per month to upgrade your DVR, you will get unlimited storage space with a 90-day limit that remains, and the TV show will record 30 episodes instead of 10 episodes.
In contrast, YouTube TV has a better DVR. You can record unlimited content for up to 9 months, and then your oldest recording will expire and be deleted. The best thing is that this doesn't cost an additional fee. By default, it's already included in your subscription.
Moreover, you can also create up to 6 individual user accounts, and each one gets its own DVR.
DirecTV Stream vs. YouTube TV: Which Offers More Simultaneous Streams
YouTube TV can stream on up to 3 devices at once, while DirecTV Stream offers a massive 20 simultaneous device streams on one home network, but only three when you watch on the go. It's such a ridiculously high limit and even should satisfy the largest households full of TV enthusiasts.
However, we have experienced streaming delays on YouTube TV, whereas DirecTV Stream was inactive at times.
Which Streaming Service Has More On-Demand Content
With all of its benefits, YouTube TV is a bit lacking regarding on-demand content. Unless you record a show with your digital video recorder, you won't be able to access that much on-demand content.
On the other hand, DirecTV Stream can access 10,000+ streaming titles and over 25,000 hours of on-demand content. Therefore, we recommend you subscribe to a package with HBO Max, which offers thousands of premium shows and movies you can watch on demand.
Conclusion
If you are looking for the best of the best in terms of Live TV and on-demand content and you are an avid sports fan whose team's games are aired on RSNs, then DirecTV Stream is the best choice.
That said, YouTube TV is a spectacular service that offers the basics of television at a low monthly cost.
In a nutshell, DirecTV Stream vs. YouTube TV, both are top contenders in the highly competitive skinny bundle market.It depends on your needs; YouTube TV or DirecTV Stream could be your choice.
Let us know which streaming device would you prefer?