Discord not picking up mic? Here are the solutions to get resolved from it. If you enjoy online gaming, you use Discord. This diverse chat app enables you to communicate with your friends and enables you to do various other things. Nonetheless, Discord is predominantly used for gaming, especially as a VoIP service.
Although it normally works like a charm and needs little effort for setting up, issues can still occur. It's easy to see why "Discord not picking up mic" is not an issue you want to see when planning a game with your buddies. Here's how to fix this irritating problem.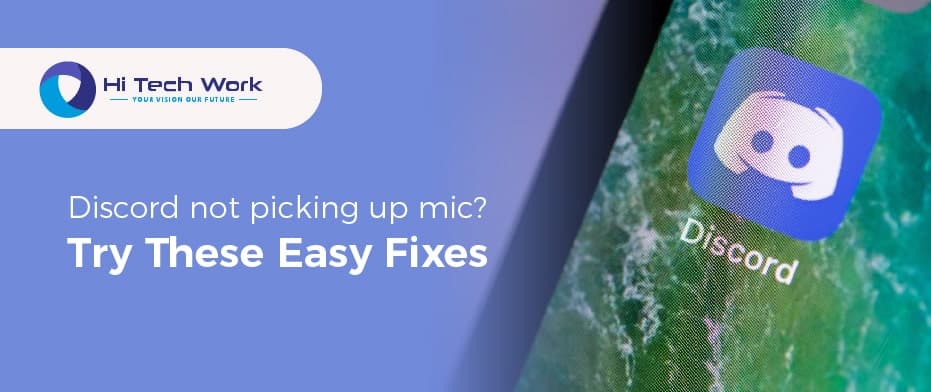 Discord not picking up mic? Try These Easy Fixes 
Allow Discord to Use Your Microphone 
Before you make any changes to the settings in your Discord, it's essential to make sure that you have enabled microphone access in your Windows/macOS.
Here's how you do it:
If you're on Windows 10
Jump into your Windows Settings and then choose Privacy.
Next, select Microphone under App permissions from the sidebar to your left-hand corner.
Over here, make sure to turn on the switch under permit apps to access your microphone.
If you're on macOS Sierra, Mojave, or High Sierra
On your Mac, choose the Apple menu and then choose System Preferences.
Next, click on Security & Privacy and then hit Privacy.
Now, click Microphone.
Over here, make sure that you have chosen the checkbox near to the Discord app so that it allows Discord to access the microphone.
Reset Your Voice Settings in Discord
Once you've made sure that you're Windows or your Mac provides access to the microphone, you can go ahead test the methods below.
The very initial thing you should do is reset your voice settings right in your Discord.
Here's how you do it:
Jump into your User Settings, and then from the sidebar to your left, prefer Voice & Video under App Settings.
Presently scroll down to the bottom of the page, and you should view a bright red key that tells Reset Voice Settings. Click on Reset Voice Settings.
Note: If you've previously set some settings of your own on this Voice & Video page, then those settings will be reset once you click the button. So take note!
You can then test your mic by scrolling up and then hitting the Let's Check button under Mic Test to test your microphone to see if it works. You should be able to hear back what you say in your microphone.
Choose the Right Input and Output Devices
Alright, you got out that your microphone still doesn't work even after trying both of the above methods. The one other solution you can do is choose your microphone under Input Device at the top of the page.
Make sure to choose the suitable Input Device and Output Device.
Logging Out and Restarting Discord
If your issue persists, it helps to log out and then restart Discord, especially if your microphone was already working fine before with the same Internet and microphone.
Here's how you logout from the Discord:
Jump into your User Settings and then scroll down the left-hand sidebar until you view a bright red Log Out key right at the mid.
See it? Great. Hit on Log Out, close Discord, restart Discord and then try logging back in using your credentials.
Check If 'Automatic Input Sensitivity' is enabled
Your microphone can stop functioning correctly if the setting Automatic Input Sensitivity is disabled in your Discord's settings.
When you disable this setting, it stops your Discord application from automatically picking up sounds from your microphone.
Here's how you turn on the Automatic Input Sensitivity setting in the Discord:
Jump into your User Settings, and then, from the left-hand sidebar, choose Voice & Video below App Settings.
Next, scroll a little down the page, and under Input Sensitivity, you should view the setting automatically detect input sensitivity. Turn on automatically detect input sensitivity.
You can now test to see if your microphone works with Discord, indicated on the indicator (just below the setting) in a solid green flash when Discord is transmitting your voice.
Check for External Factors (Checklist)
If you still find that voice is not being chosen up by Discord, then it could be something to do with your microphone/headphones themselves.
Here's a comprehensive checklist for you to run through to check your headset/microphone:
 Make sure your USB or 3.5mm headphone jack is securely connected to your system. Try unplugging and plugging back in. You can also try to plug in utilizing different ports.
Have the latest drivers and software downloaded for your device that you're using as a microphone? A great method to look for these drivers or software is to google driver's software for <insert the brand of your headphones>. Also, here's an instance of a drivers/software download page for Bose headphones.
Verify that your microphone hardware does not mute when connected with your device. Some headphones have a mute button on the side that can stop picking up your voice input.
Try any other headphones you may have to lie around to see if the problem doesn't lie with your Discord. If you do not have any headphones lying around, try to ask your friends or family to borrow theirs.
Try Pushing to Talk
Some of our readers have found that a workaround to taking the microphone to work is to change the Input mode from Voice Activity to push to talk in the Discord Settings.
The only downside to this method is that it needs you to press a button all the time when you want to talk to someone.
Here's how you do turn it on:
Jump into your User Settings, and then from the left-hand sidebar, prefer Voice & Video under App Settings.
Next, scroll a little down the page, and under Input Mode, you should view the two options of Voice Activity (which will previously be pre-set) and Push to Talk.
Check the box next to Push to Talk. You'll require to record a keybind, meaning you'll need to assign a key on your keyboard to act as an activator every time you want your microphone to pick up your voice.
So Record Keybind to assign a key and then hit Stop Recording once you've assigned a key to have it take effect.
Done. You can try pressing the key you decided to talk to (use the microphone) the next time you're Discording with someone.