Is Error code 2002g infuriating you?
Are you an enthusiast battlefield 2042 player and unable to resume your game?
You are at the right place to resolve the issue regarding error code 2002g.
After opening the game 'Unable to load persistent data' dialogue box appears
Although, it's a highly frustrating moment when you cannot connect to your game and go thru 'Error code 2002g'.
The bugs that cause the error code 2002g can be triggered by many things, but the game manufacturers make time to time update patches, so you can update your game and enjoy playing it smoothly.
What can cause error code 2002g?
These things start with a welcoming dialog of Error code 2002g, and it will take you back to the start menu.
It is a mood spoiler when you are ready to play the battlefield 2042, and you have to face this issue that won't start your game.
And this interruption doesn't go away; there are several fixes to resolve this issue from time to time.
The issue regarding network:
Before looking forward to complex solutions, check your internet connection that cannot connect to your game.
Sometimes, the issue prevents your game from getting connected to the servers.
In this problem, the solution is straightforward, restart your router or restart your game and you will resume playing smoothly without error code 2002g interruption.
Servers down:
The game's servers are often down due to maintenance. That is why you are looking at the error code 2002g.
This issue will only stop your game for a short period until it is addressed. After that, you may begin playing your game and have fun.
How to resolve error code 2002g: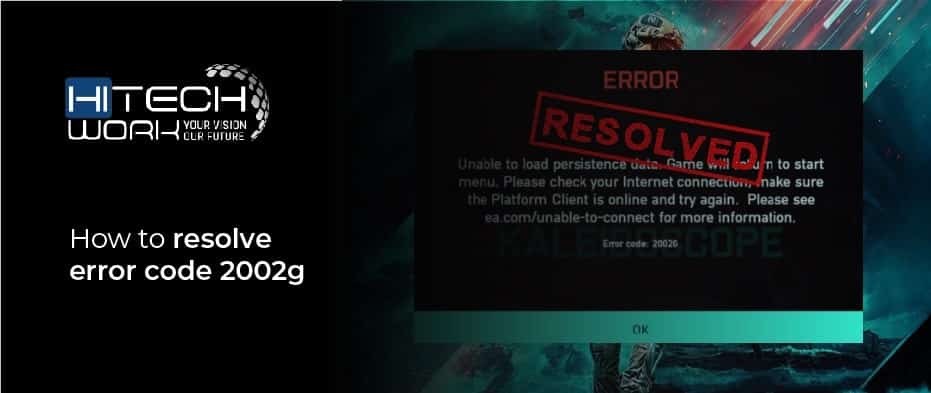 There are several solutions to get rid of error code 2002g; you can go through the best-suited solution after analyzing the issue first.
Don't jump on every solution; try another if you fail to resolve the issue.
Following are the solutions that you can use to resolve the error code 2002g;
1. Relaunching the game:
Occasionally, the problem is caused by a little flaw or malfunction, which will keep stopping your game until you restart the battlefield 2042.
You have to check that the device is completely shut off, and then you can go for the game's relaunch. Applying this easy solution fixes the error most of the time, and you can resume an uninterrupted game.
2. Turn off Crossplay:
Sometimes the option of crossplay gets enabled, which might cause an error.
By turning off the crossplay option in battlefield 2042, you might access the game without being in a party or crowded match.
To turn off crossplay, follow the steps below so you can resume back to your game without error code 2002g;
Launch the game
Click options
Search General tab
Scroll downwards
Unable crossplay
3. Restarting your PC:
The easiest and most obvious fix would be restarting your PC. Your game will sometimes repair the issue by turning it off and then on again.
By restarting your PC, the apps running in the background will get close, and this will help you play the uninterrupted smooth-running game without any slow-running processor error.
4. Launch the game directly through origins:
You can try launching the game directly through origins and see if you can witness the error.
They can play battlefield 2042 through different platforms, and sometimes, when it's interrupted by the error code 2002g, you can switch to another platform to avoid the error.
However, to launch the game directly through origins, you need to download the source on your computer.
This way, while playing the game, the origins runs in the background so you can function correctly without any interruption.
5. Disable Firewall:
After going through the above solutions, if you are still witnessing the error code 2002g, it's time to move forward with the last option.
Go for this solution when you've failed above all. Because disabling a firewall sometimes results in consequences. However, it allows the virus to harm the PC.
A firewall sometimes blocks the third parties that are allowing the game to run smoothly, and that can be the central issue regarding the error because your PC might take that as a threat.
The Firewall is in charge of permitting your computer's sending and receiving requests. As a result, if the Firewall prohibits connections from entering, you will be unable to play games effectively and the error code 2002g will persist.
Follow the below instructions to disable your Firewall to resolve error code 2002g in the game;
Go to start menu
Search for control panel
Go to system and security
Click the option of windows defender firewall
Turn off the windows defender firewall
Private and Public network settings should be turned off.
Then click OK
After the above instructions, you will successfully disable the Firewall but always remember one thing this can cause you to harm your PC.
If the issue has been addressed, you may enable the Windows Defender firewall to prevent viruses from infecting your computer and keep your data secure.
Conclusion:
When it comes to online gaming, such flaws are all too common. And the battlefield 2042 is already a heavy game that can be triggered by tiny bugs and need an instant solution to resume gaming.
Such errors can be an interruption when you are in the mood to play your favorite game and are unable to access it due to a dialog box regarding an error that is constantly taking you back to the start menu.
I hope the above solutions will help you make that error go away, and you can resume your game smoothly.