Have you been observing the cute Avatar all over your feed & still you have not formed your Facebook Avatar? So you are missing out. Now, Facebook allows its users to make & customize cartoon versions of themselves, which they can create with diverse faces, outfits, and hairstyles. So, you can use the Avatar in any social media app or Face book comments, as a profile picture, in stories & or wherever you want. Hence, you can also use the avatars as a sticker in-app like Twitter, Snapchat, and Instagram. As it is quite similar to Snapchat Bitmoji & when this feature is already included in the Facebook app, the whole setup is pretty easy; by following the below, you can easily create your Avatar. So let's move to the next section.
What is Facebook Avatar?
An avatar is a new feature from the massive social media platform that allows users to create a cartoon-like character of themselves or a character avatar that looks nothing like you; thus, you can generate an idealized version of yourself. Moreover, you can also express yourself or react to posts or stories with custom avatars on social media. Additionally, you can also use it as a display picture and user. The Avatar is closely similar to the Bitmoji of Snapchat and the Apple Memoji feature.
Quick Guide to Customize Facebook Avatars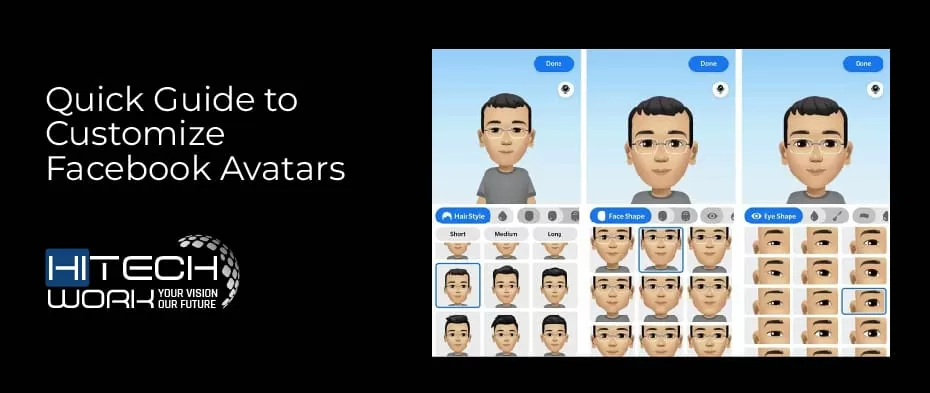 Create your own cartoon avatar with the new feature of Face book, and you can share it on your feed. You can make the Avatar with diverse faces, outfits & hairstyles. So let's explore the steps to create the Avatar.
First, install the newest version of the Facebook app on your smartphone devices, either iPhone or android.
Second, view the Facebook app & sign in to your account.
Third, tap on the three lines menu bar at the apex of the right corner of the screen.
Then, move down & tap on "See More."
Next, tap on "Avatar" & then tap on "Next."
Here, you can customize your Avatar by choosing a skin tone and outfit and then tapping "Next."
After that, you can modify your hairstyle, eyebrow, body shape, and other features.
When you have altered all the features, tap on "Done" from the apex right corner.
Next, tap on "Next," and then you can see your complete Avatar.
Now, your Avatar is ready, and you can see the three buttons in the right corner.
The first button lets you share your Avatar to your newsfeed or use it as your display picture.
Then the second option permits you to open & use the stickers based on your Avatar.
Next, the third button lets you edit the Avatar.
Where we can Use the Facebook Avatar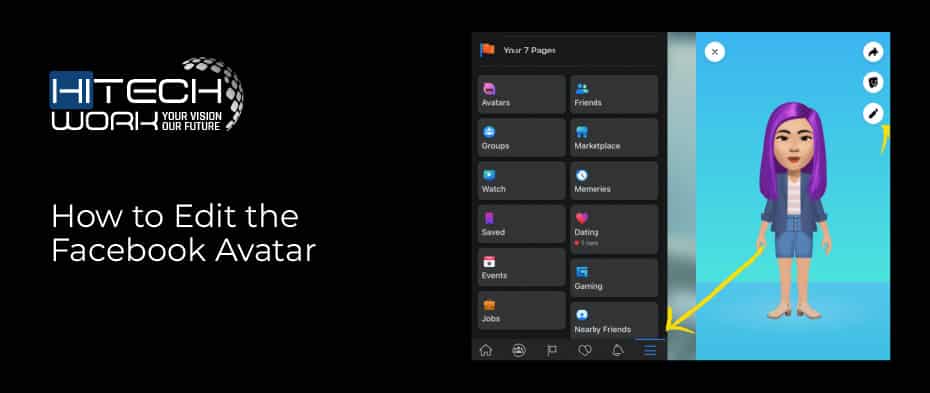 You can use the Facebook avatars in comments, stories, and text posts with a background theme. Additionally, you can use the avatars in messenger conversations and show them on your Facebook gaming profile. However, these avatars allow users a variety of ways to convey themselves in a digital form. Hence, you can share your Facebook avatar broad and wide by sharing it on Facebook, where it will show up in your friend's timeline or feed.
Use Your Avatars in a Comments
When you wish to use the Avatar to convey your mood or thoughts on a post, so click the comment button and then the emoji. Where you will be displayed with your own avatar stickers.
· Use the FB Avatars in Messenger Chats
You can also follow the same steps for the chat on the web version of Facebook. When you have a chat window open, tap on the sticker option. That will show you a suite of stickers to use. Next, tap on the icon that displays the Avatar, which will bring up a menu of the custom avatars to use, and you can also use the reaction stickers in the chat. By tapping on the emoji option in the chat bar, click on the sticker menu & move right to enable the avatar sticker.
Hence, the FB avatars are still spreading out globally, and hopefully, there is a chance that these avatars can also be used in another FB-owned service.
· Use the Avatar Sticker to Share & View
From the main page, you can also open & send the Facebook avatar sticker through messenger or copy the sticker to apply on another social media platform. So, let's move to the steps.
First, open the avatar page & click on the Stickers Then go through to open all your available stickers.
Second, you can send a sticker with the messenger so click on t and then click Send in messenger.
Then, enter a message, choose a contact or group, and click Send.
If you wish to copy a sticker, click the sticker, click on Copy Sticker, paste it into any text or email, and send.
Other ways to share the Avatar
It is also possible to share the Avatar directly through the text without copying it by applying the given steps.
First, click on the stickers icon from the main avatar page. Then click on more options.
Second, click on Messages, Instagram, Mail, Facebook, or any other option you want.
So, here we choose insta, then click Ok>share to share the avatar sticker.
Back to More options, move down for other ways to use your Avatar, including saving the image, assigning to contact, copying, etc.
How to Edit the Facebook Avatar
People who love to update their appearance might also love to tweak their Avatar to relate to their current mood or look. Even if your style does not alter much, you might wish to update the Avatar if it's been a while. To do this, you can click on the pencil icon from the upper right, which will move you to your avatar creator window. So, from there, you can start making any changes you want. In addition, you can also use the tool to create severe changes to the Avatar or just change the outfit to relate to the current mood and style.
Final Words
Now, with the arrival of the avatar feature on Facebook, users rejoice and can say a farewell to the old days when they could express themselves through the generic happy, sad, angry emojis on Facebook. So, now you can customize your own Avatar with this new feature and are allowed to share the Avatar with others on any social media app. Moreover, you can also edit your Avatar as per your mood & style. So, it's time to embellish your Facebook experience by using this cool feature.