Do you want to know everything about the Garmin Golf Watch S2? You have come to the right place. The information in this blog post may help you decide whether to pick up this watch.
The brand known as Garmin needs no introduction as it is a world-renowned provider of direction and distance using GPS technology.
Initially, Garmin prepared three models with relatively few minor feature differences. But, the S2 approach, without having advanced specifications, is priced at $70 above the S1.
The Garmin Golf watch models were developed with previous versions, beginning with the entry level-S1. The S2 contains a notch with layup and dogleg yardages and a digital scorecard. However, it cannot position the flagstick on the green or the ability to add custom target points. Even it lacks a touch screen which is available in the S3 model. You may also check out another Garmin Titanium Epix (Gen 2) GPS Watch, which is a perfect companion for any outdoor enthusiast.
This model was introduced on Jan 23rd, 2013, which defines the technology as not the latest available. Although, you can still get the best out of it by accessing the correct GPS measurement to predetermined layup points in the fairway and measurement to the front, middle, and back of the green.
Approach S2 belongs to its family of golf GPS watches, which are preloaded with 40,000 golf courses across the globe. This wearable watch is a must-have on the golf course to measure the distances you covered with your shot and a course odometer. Accessing the correct distances to make a difference in your club section and the shot you attempt is helpful.
Course Updates with No Fees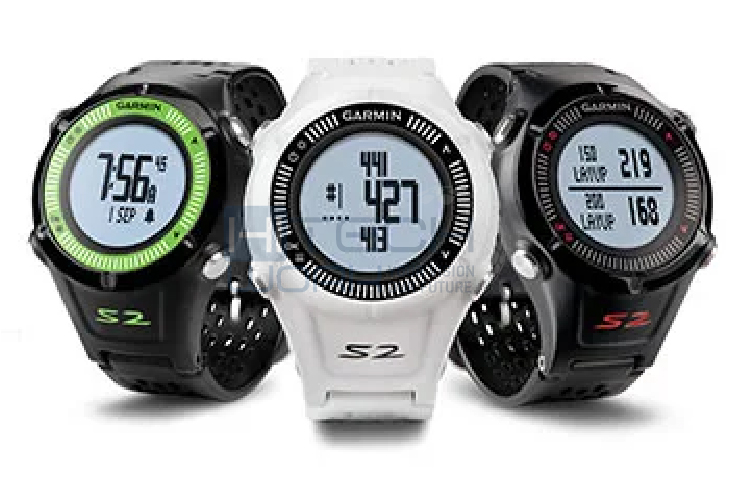 You can update all 40,000 preloaded courses without an additional subscription charge. And these updates are added up to four times a year and are possible by using Garmin Express. Moreover, S2 knows wherever you are on a course near home or at a holiday resort.
Lock-In & Yardages Measurement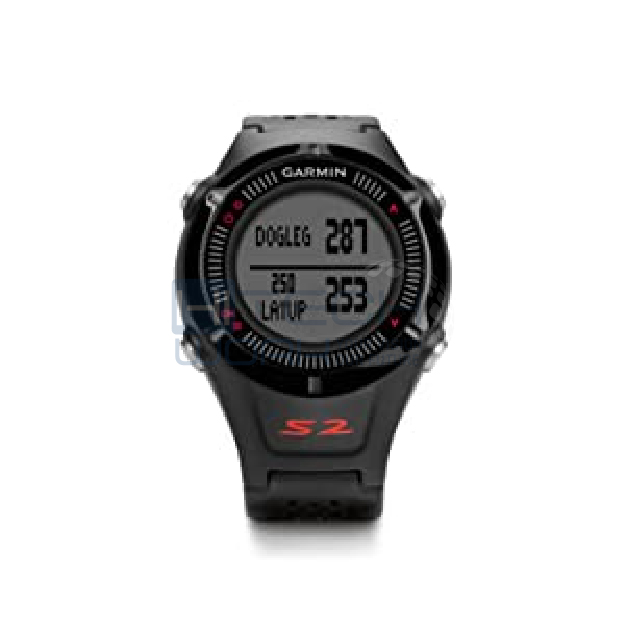 Garmin Golf Watch S2 is a cool and comfy GPS golf watch with a high-sensitivity GPS receiver providing precise yardage to the front, back, and middle of the green. It also provides a strong signal strength and improved tracking under trees. It also tells exactly the position and how far you are from the hole so you can confidently plan your next shot.
Digital Scorecard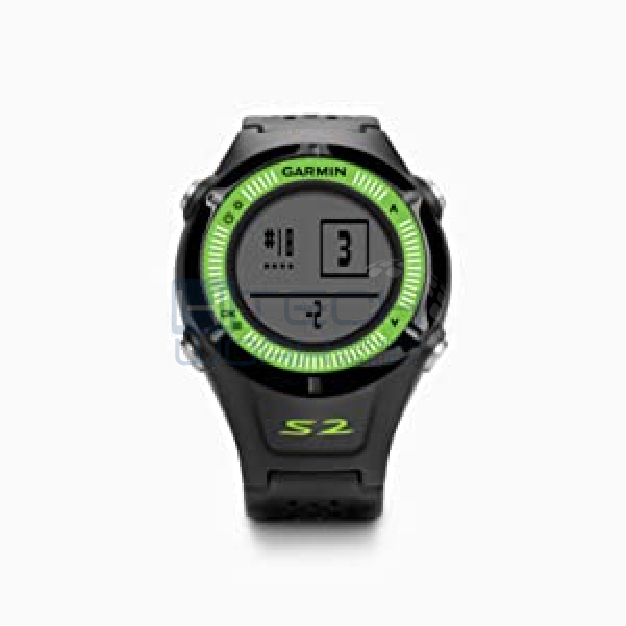 It also has a digital scorecard that keeps your score throughout your round. Once you complete your game, use the included USB to pair your S2 with your computer to download, store and print out your scorecards.
Sleek Design & Better Performance
As far as its design is concerned, it's quite flexible, lightweight, and comfortable enough to wear regularly. The overall design gives you distance information to help you play golf accurately.
The overall body comprises a smooth rounded plastic material that feels comfortable on your arm with a rubber band. If you see the face of the watch and the band is not a single modded unit as usually found on Garmin watches. Its appearance seems bigger than the Garmin Approach S1 or the Garmin Approach S3 because of its larger bezel around the watch face.
You can customize your look with vibrant white, purple watch bands and low-key black shades.
Even with Approach S2, you can never miss a tea time because it keeps up to date with an automatic time and date, an alarm, and a rechargeable lithium-ion battery.
It includes perforations in the band and offers 17 different sizes to fix according to your wrist size. Now look at its rubber protrusion locks into the suitable hole to keep it comfortable. In S2 Approach, 32 MB memory offers sufficient storage for storing multiple golf courses.
Garmin Golf Watch S2 Differernt Modes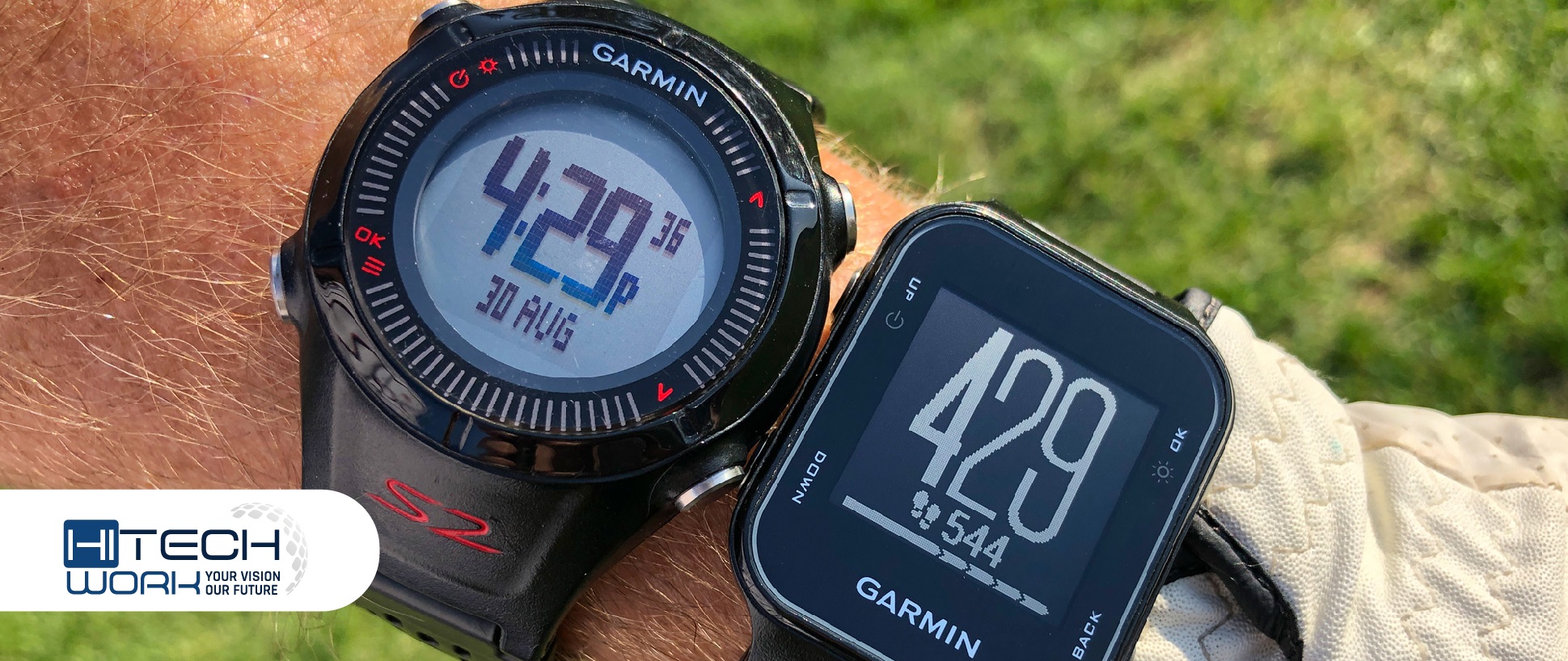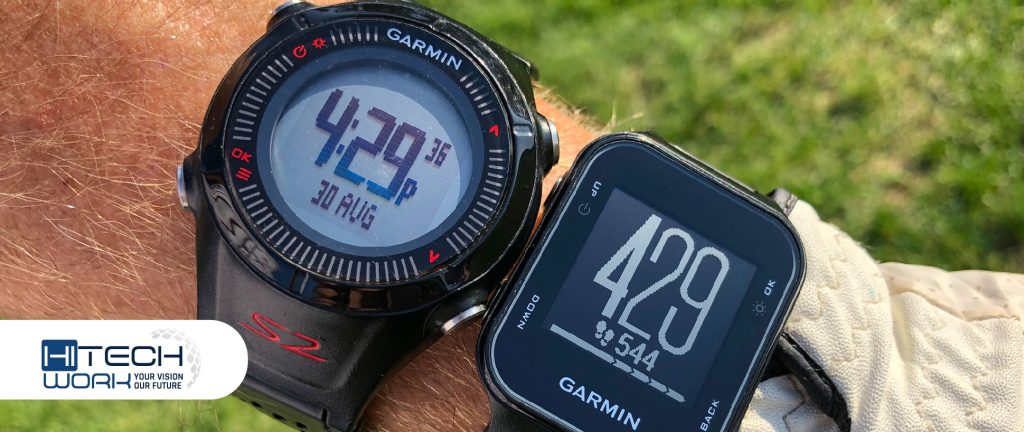 The S2 model has 4 different modes for users to pick from. It can be found in almost all watches. Indeed the four buttons on the side of the watch make screen navigation quite simpler and accessible to the functionality required to show the different views and operate the watch conveniently.
So you can start your round and turn it on by using any of the buttons; select the menu option, choose your course from a scrollable list, and start your round. By default, the watch sets the hole closest to your position. The views given by Garmin Approach S2 are described below.
The first one is Hole View. It gives you the distance to the front, center, and back of the green, what hole you're on, and its par. And you will use this feature most of the time.
The next is Layup View. This feature tells the distance between layup and dogleg spots on the hole, which seems unhelpful. The disadvantage is that it doesn't display how far away hazards are. That's the only drawback.
Another mode, Measurement View, will give you the distance of your shots. It is useful to know how far you have hit your ball and walked up to it. There's a restart option to measure or continue with the measurement before toggling.
The final mode is Time Mode, which displays the current time and date just like you would see on any other digital watch.
Water Resistance & Warranty
And no matter whether you retrieve your golf ball from a water hazard or your watch suddenly drops off into the water. Your watch is protected by having 1 ATM water resistant (up to 10m). You would be surprised to know that chemically strengthened glass protects the lens from scratches. Further, a one-Year Limited Warranty is enough to satisfy you regarding its longevity.
Conclusion
You might have many benefits, but some downsides, like S2, are expensive, with no online portal to track your performance. It also fails to show you the distance to and to cross hazards. And more importantly, it could be a perfect device, but it is a bit older now and stands at its lowest in terms of features. Therefore, buying this model is all up to you. If you believe the above features benefit you, you may buy it.