Data is an essential component of our lives and is stored on different devices such as computers, laptops, smartphones, and more. Hard drives are one of the primary devices used for data storage on computers. However, hard drives can fail like any other device, and data can be lost. However, Losing important data can be anannoying and devastating experience. But don't you can recover all your valuable data with the right tools; it is somehow possible to recover data from failed hard drives. This article will discuss hard drive recovery and how Wondershare Recoverit can be used to recover lost data.
How does Wondershare Recoverit Work?
The Wondershare data recovery tool facilitates you in recovering lost data. It is an advanced software that supports various storage devices such as hard drives, SSDs, USB drives, memory cards, and more. This amazing software also has an advanced scan feature that can perform a deep scan of the hard drive and recover data not found during the quick scan. So let's discuss some of its key features.
Key Feature
Here are some of the amazing features of Wondershare Recoverit Data Recovery Software:
User-friendly Interface: Recoverit has a simple interface that makes navigating and recovering your lost data easily.
Multiple File Format Support: This software can recover over 1,000 different file formats, including photos, videos, documents, emails, and more.
Deep Scan & Quick Scan Options: Recoverit offers deep and quick scan options, allowing you to recover lost data quickly or perform a more thorough search.
Preview And Selective Recovery: With Recoverit, you can preview the recoverable files and selectively recover the ones you need, saving you time and storage space.
Flexible Recovery Options: this also allows you to recover data from various sources, including hard drives, SSDs, USB drives, memory cards, NAS/Linux Servers, and more.
24/7 Customer Support: This tool offers 24/7 customer support to help users with any questions or issues they may encounter while using Recoverit.
Tech Specs
Supported OS: Windows 10/8.1/8/7/Vista/XP and Mac OS X 10.9 or later
Processor: 1GHz (32-bit or 64-bit)
RAM: 256 MB or more of RAM (1024MB recommended)
Hard Disk Space: 100 MB and above free space
Supported file systems: FAT16, FAT32, exFAT, NTFS, APFS, HFS+, and more
Supported file types: Photos, videos, audio, documents, emails, archives, and more
Supported devices: Internal/external hard drives, SSDs, USB drives, memory cards, digital cameras, and more
Languages: English, German, French, Italian, Spanish, Portuguese, Japanese, Korean, Chinese (Simplified), and Chinese (Traditional)
License: Free trial version with a limited feature set, full version available for purchase with lifetime updates and technical support.
Supported File Formats
Photos: JPG, PNG, BMP, GIF, PSD, RAW, and more
Videos: MP4, AVI, MOV, MKV, FLV, WMV, and more
Audio: MP3, WAV, WMA, OGG, AAC, and more
Documents: DOC/DOCX, XLS/XLSX, PPT/PPTX, PDF, HTML/HTM, and more
Emails: PST, DBX, EMLX, and more
Archives: ZIP, RAR, SIT, and more
Other: ISO, EXE, DLL, and more
Check more information here: https://recoverit.wondershare.com/tech-spec/
How to Recover Files from Hard Drive with Wondershare Recoverit?
Here is how you can recover files from a hard drive using Wondershare Recoverit Data Recovery Software:
Download and install Wondershare Recoverit Data Recovery Software on your computer.
Launch the software and choose the Hard Drive where you lost the data from the list of available drives.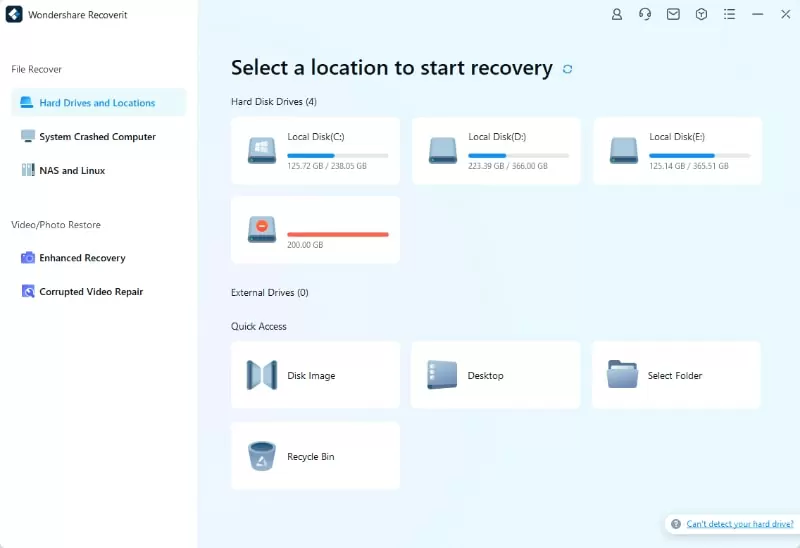 Click on the "Start" button to initiate the scanning process. Depending on your needs, you can choose between a quick or deep scan.
Wait for the software to complete the scanning process. You can preview the recoverable files as they are found during the scan.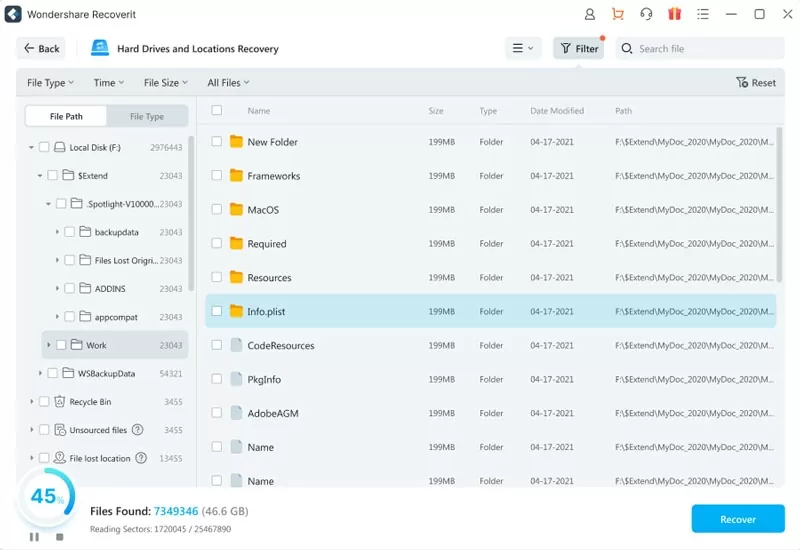 Once the scan is complete, select the files you wish to recover and click the "Recover" button.
Choose a destination folder for the recovered files and click the "OK" button.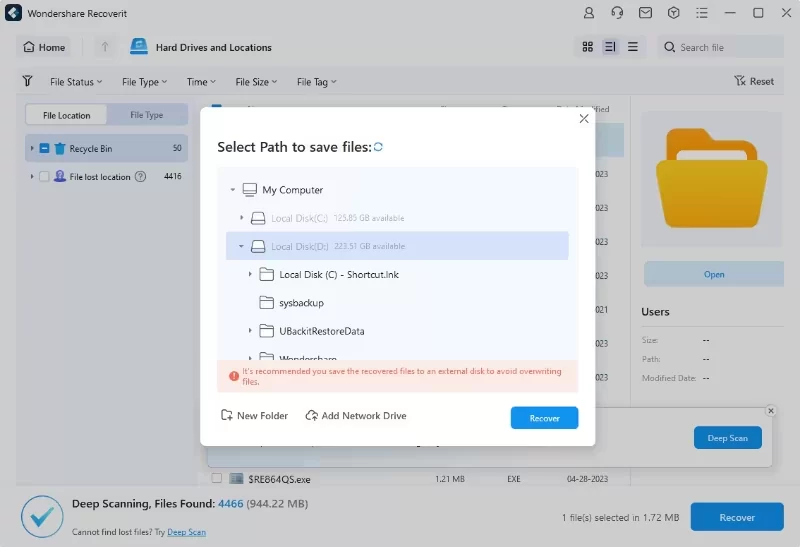 Wait for the software to complete the file recovery process. You can access the lost files in your chosen folder when it's done.
Tips on Hard Drive Data Loss
Don't worry if you have lost your data. However, there are ways to avoid it.
First, you need to regularly back up important data or files to cloud storage, backup software, or external hard drives, and it is also needed to keep your hard drive cool to avoid any damage.
The next precaution is installing anti-virus software tohelp secure your system from viruses. If you suspect your hard drive is failing, stop using it for sometime to prevent more damage.
But if your system is suffering from a data loss, a data recovery software like Wondershare Recoverit can help recover lost files. It is significant to avoid writing new data to the affected hard drive as it can cause further damage. By following the above-mentioned tips, you can prevent data loss.
Conclusion
Wondershare Recoverit is reliable data recovery software that can help users recover deleted data from a corrupted or failed hard drive. For users, who wants to recover their data, they can opt for Recoverit and its advanced scanning features, user-friendly interface, and data protection features, Recoverit is a great choice for users who want to recover lost data. Moreover, you can also try its free version. Hope this article helps you a lot. Feel free to ask us if you have any queries regarding the software.