Before delving into the help desk system, let's learn to appreciate its application. You have probably heard the phrase "Help Desk Software."
Do you communicate with your customers using an email inbox? Have you forgotten to reply to their certain emails? Do you find it challenging to keep your consumers satisfied? If you seek a desktop solution to the issues presented, you have found the proper place to hunt for help desk software.
Help Desktop Software
The Help Desk Support System is designed to give you the tools to make your customers feel valued and heard. Customers seem to contact your company by email, text, web, live chat, or social media. When they have questions or problems, they connect immediately. The help desk system creates a ticketing system automatically linked to the customer's history for each issue. Tickets are either automatic or manual, depending on the business norms. Representatives can also rapidly collaborate with other team members for support while working on tickets.
Help desk software brings all your discussions together and keeps track of user requests. In addition, it makes it easier to engage with your customers. It helps you cope with a better understanding of customer care concerns. Help Desk solution manages customer service through IT services as an employee helper. Its primary focus is to assist the support team members in arranging client requests. Self-service, tracking customer inquiries, and reporting their performance are the rest of its other features.
Help Desk Software Illustration
For instance, you're selling anything you have on your website as an online store. You will probably receive several consumer inquiries about a range of topics. It includes the material, shipping costs, projected delivery times, and refund requests. They want to communicate with you through email, texts, and comments on social media. In circumstances where a customer wishes to communicate with you or one of your agents via your official website. That means they expect you to be available. For their satisfaction, you must maintain a strong connection with your customers.
On the other hand, whatever mode of communication you use, Customers want you to stay engaged in the conversation. Respond to their questions if they start a conversation on Twitter and then move to the phone. It is where support help desk software can come in handy and help you get to your customers.
Where can you use Help desk software?
Small businesses demand support help desk systems with advanced automation capabilities. Help desk teams can concentrate entirely on ticket response while routine help desk chores are automated. For that reason, immediate help desk expansion is a high priority for medium-sized companies. They demand quick, adaptive solutions that allow their personnel to maintain a high level of consistency. It helps to update automatically labeled social media postings. It also categorizes and prioritizes incoming requests.
Furthermore, it allocates placement requests to the company's representative depending on their criteria. It enables the maintenance of an efficient mailing system. It is available to different team members with no need to handle several inboxes or folder structures or make login IDs. Undoubtedly, the user-friendly design enables the administrator to control workflow. It also serves a wide range of obligations delegated to various company representatives.
What Benefits Does the Help Desk System Offer?
The help desk software incorporates all of its features. For instance, customer service, invoicing and payment choices, and package trackers are some features. It provides an effective ticketing system for all team members, including sales, marketing, and support departments. The Help Desk Software makes it easy to track client satisfaction utilizing analytics scores and internal key performance indicators. Let's discuss some of the essential benefits it has to offer to its users.
Help desk software boosts productivity in administering desktop service portals by utilizing automated desk support. It means your staff can focus on a customer-oriented approach. While keeping their problems in mind allows them to move more quickly than maintaining paperwork.
Effective teamwork helps to boost the visibility of the more efficient ticketing system. Responding to unanswered tickets allows the customer to connect more effectively. The marketing team collaborates with the automated ticketing system to deal with their issues.
It offers a more accessible connection with better responses. It is pretty helpful in getting more contextual information. Undoubtedly, better access to the customer's past transactions helps interact in a well-coordinated manner. The most relevant consolidated database makes a difference in making the right decision.
An efficient help desk support system lets you track a team member's performance using its metrics. For instance, assume you want your team's performance on constant review to analyze their performance and improve faster.
Powered automation in help desk software lets you have a satisfactory customer experience. Team members can handle routine activities with time and event-based triggers. Furthermore, it allows customizing your workflow with automated ticketing. That ultimately gets the right representative for a swift response.
Built-in reporting features keep you well informed about your team's progress. Each help desk software helps analyze performance metrics.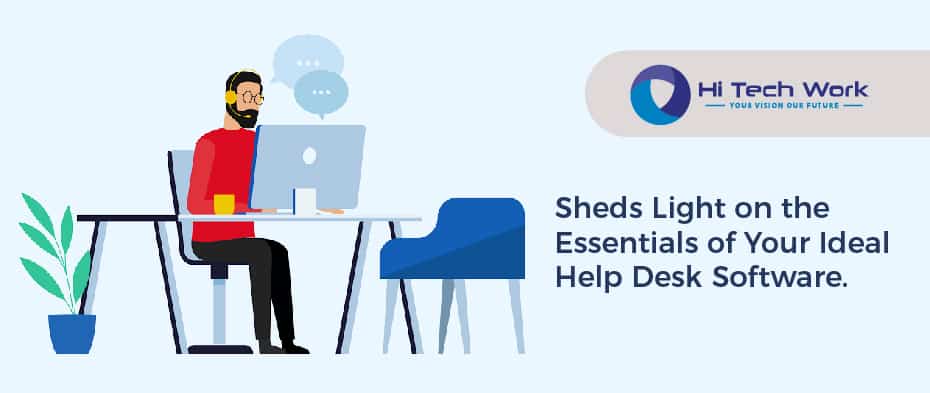 Sheds Light on the Essentials of Your Ideal Help Desk Software.
Each help desk software system has features that set it apart from the competition. Some desktop systems support a direct login to the customer for setup integrations and plugin support. Moreover, others prefer to integrate the ticketing system with the reporting system to analyze team performance and ticketing system performance. At the same time, some may use Artificial Intelligence (AI) to improve the success of analytics systems. The primary attributes should integrate it into the immediate help desk support platform.
Multi-channel ticketing system
You can personalize your tickets with a multi-channel ticketing system. It provides a centralized platform for various social interaction mediums. As a result, you can communicate and correspond easily across all channels. In addition, it integrates emails, text messages, and social media into a single platform, removing the need for multiple logins.
Efficient Team Collaboration
Team members can collaborate more effectively thanks to the help desk software system. Moreover, it makes them more visible. It keeps you informed about ticket owners and enables you to respond appropriately.
Reporting and Analytics
The desktop support system's built-in reporting feature allows you to track all team members' progress on a single platform. As an illustration, you can examine team performance metrics and determine where they stand. It draws attention at the same time to the areas where changes are mandatory. Consequently, It leads to an improvement in your help desk ticketing system and more efficient work.
Customization
Customization is another notable feature of help desk software. It enables the help desk system to follow your company's needs. Moreover, it allows for a more seamless transition that acts as an extension of your entire business's customer base. After-sales customization features reflect your company's brand image. With desktop support, it is easier to retain loyal customers.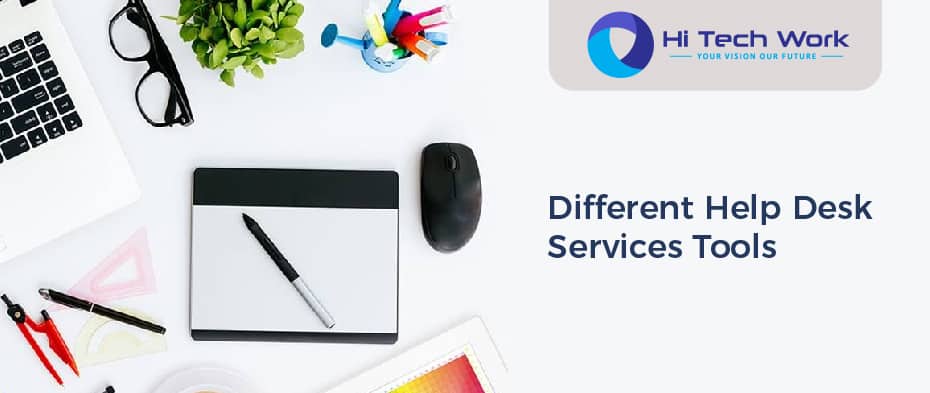 Different Help Desk Services Tools
You can get different help desk software solutions based on how they get hosted on internal or external platforms. Moreover, it is helpful whether it is for open-source or company-designed software.
Enterprise desktop solution
The desktop solution to an internal and external team
Cloud-based online help desktop integration
Open source vs. closed source desktop services
Enterprise help desk software.
Enterprise help desk software is the preferred choice for large organizations. It enables a comprehensive help desk system with numerous features. Moreover, It has advanced account management features. Moreover, other advantages include knowledge bases, collaboration systems, and an unlimited number of users. They are appropriate for businesses that rely on customer interaction. In short, effective sales tracking and performance leads to effective employee performance tracking.
The Help desk solution to an internal vs. external team
The importance of the internal team help desk lies in its support of internal management. Help desk software is also known as a service desk. Internal help desk software works similarly to External helpdesk. You can find it different in its functions. However, the internal help desk is helpful for internal team members. On the other hand, external help desk software classifies customers and other users.
Cloud-based online help desktop integration
You can get similar features when it counts for your company data or data stored in cloud-based online servers. Some help desk software incorporates it as an extra feature for online support. The mechanism is pretty similar. The only difference that classifies it is the storage mechanism. It has the same features as any other help desk software. It also secures data synchronization on its server with strict data protection. The company chooses to customize its features to connect with the internal team. It provides ongoing internal maintenance for help desk systems.
Furthermore, the IT department is responsible for strict configuration and data security issues for company-sensitive data on their servers. Making it secure is their prime objective. On the other hand, third-party vendors take security measures for data security on the cloud-based help desk software.
Internal management takes the liberty to customize within the internal system. It keeps regular checks as well. As you can sense, cloud-based software offers remote data storage services that vendors can easily upgrade or downgrade on the company's request. So, the company IT department gets quite relaxed about maintaining software thanks to software vendors in the case of cloud-based software.
Open source vs. closed source desktop services
Open source help desk software allows for simple changes to the underlying source code. You can copy, delete, or change any source code as needed with the help of users and organizations. It enables skilled programmers to tailor the software to the company's needs. On the contrary, closed-source softwareprohibitsmodifications. Furthermore, its sole administrator is in charge of changing any source code. In a nutshell, you get what you see with no options for customization. Closed-source help desk software systems allow you to customize essential plugins and integrations.
Top Help Desk Software
You can find different help desk software that can fulfill the company's requirements.
Zendesk
HappyFox
Help Scout
KB support
JIRA Service Management
Salesforce Service Cloud
Slack
Huddle
Guru
Document 360
Zendesk
By far, the best help desk software is Zendesk. It improves customer service by utilizing time-saving tools such as triggers and automation functions. It is pretty simple to use and includes a simple built-in interface to assist Help Desk agents and customers. With its unique feature of providing quick, it takes personalized agent responses. In addition, for continuous customer inquiries, agents receive it via system macros. Another appealing feature is its support for over 500 marketplace apps. A custom view of the queue filter option and ticket status becomes a worthwhile option.
Help Scout
Help Scout offers considerable customer base support with more than 500 team members. It can support the small business with a trial package of 14-days' usage. Help Scout fulfill the expectation of vigorous reporting. It carries out the native knowledge base, robust APIs, and a wide array of integrations.
KB Support
KB Support offers excellent WordPress website integration. You can enable your daily ticketing system through web forms and emails. In addition, you can easily install your KB Support help desk software using WordPress. With professional integration with Mailchimp and WooCommerce, you can opt for an enterprise package. On the other hand, it offers a professional package with a native knowledge base and Zapier integration. Zapier integration lets you connect via social media, online chats, and text messaging.
JIRA Service Management
Atlassian introduces JIRA Service Management internal help desk software that is cloud-based. It means the technical team with automation features such as Self-services, incident management, and ticketing systems are other interesting help desk systems. Moreover, you can create a knowledge base for natives with separate Confluence subscriptions. You can also access the free plan of JIRA with its limited features and 3–10 user access provisions. The free trial of a 7-day with standard services or premium package supports up to 5000 agents.
Salesforce Service Cloud
It is worth your attention if you need powerful and efficient technical support software and offers artificial intelligence-powered automation. Advanced analytics provides the best services with continuous improvement over time. Furthermore, it unlocks the 360-degree customer view. You get pertinent information from other programs through its easy-to-use interface, APIs, and Salesforce integrations.
Slack
Another well-known help desk software for messaging apps integrates with many desk systems. It enables users or agents to use its beautiful interface with powerful features on a single platform. In addition, you can get the facility to create tickets for new and existing ticketing systems on any slack platform. It also helps with adding comments and getting real-time notifications.
Huddle
It is a well-designed customer service interface intended for sophisticated client interactions. It conveniently handles secure document management, data storage, and multitasking responsibilities. Huddle connections make it simple to connect to the huddle platform in Microsoft Power Automate. Moreover, its task management feature will integrate help desk software if self-service is what you need to deal with a large volume of customer requests.
Guru
It brings Artificial Intelligence-driven integration with browser extensions. Let your agent manage their knowledge and unrestricted access whenever and wherever they need it. It also offers a unique knowledge base system with Zendesk integration. In addition, its integration with Zendesk supports the Zendesk software to lessen the individual tool tracking requirement. It furthermore enables the company team to create, share, upgrade internal and external knowledge base systems. It also helps to flawlessly integrate the existing workflow by getting data from Customer Relations Management, emails, social media, or other system tools.
Document 360
Knowledge bases play a vital role in boosting the customer support team. Whether a company prefers an internal and external knowledge base is quite helpful. Document 360 offers a clean interface with its Markdown editing features. That makes knowledge base content a seamless experience for its users. Document 360 makes it easy to find information with real-time search and spontaneous categories.
Moreover, the support agent can quickly search through the knowledge bases if you feel like installing it. It also helps in sharing articles, links, or any related content. Try to create article drafts immediately using Zendesk as well. Its pricing ranges between $50 to $300 monthly.