Why convert PDF to Word is a hot topic. When compared to Microsoft Word or Google Docs, where you can easily edit text and images, PDFs feel like "words carved in stone". If someone sends you a PDF file and you need to make massive changes to it, this kind of bulk editing is difficult for PDF editor applications. To solve this problem, you'd better convert PDF to Word document. Read this article to get a quick way to convert PDF files to editable Word documents on your Macbook or Windows computer.
How Do I Convert PDF to Word on Mac for Free
Most people would see copy and paste as a low-tech method, but sometimes it works surprisingly well. Especially when the PDF file is mainly text-based, copy and paste is the most convenient and effective method. Please follow the steps below to try.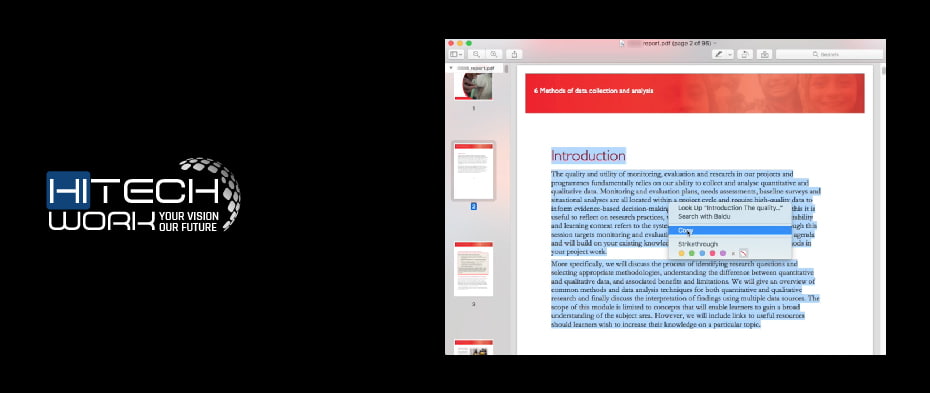 Step 1. Open the PDF with the Preview
Double-click your PDF file, the general default is opened within the Preview. If not, right-click your PDF file, go to Open Method, and then select Preview.
Step 2. Copy the PDF Text
Press Command+A on your keyboard to select the entire text, or use the mouse to select the text you need to copy. Then press Command+C, the text in the PDF file will be copied.
Step 3. Paste it to the Word
If you are using Pages, go to File and select Word as the export format. Or save the file as a DOC within Microsoft word, it's done.
How Do I Convert PDF to Word on Windows for Free 
Word is a new generation of Microsoft Office software that combines text editing, table creation, graphic editing, layout design, and some special effects for word processing. But it also has more features you have not explored, for example, you can use it to directly convert PDF to Word documents.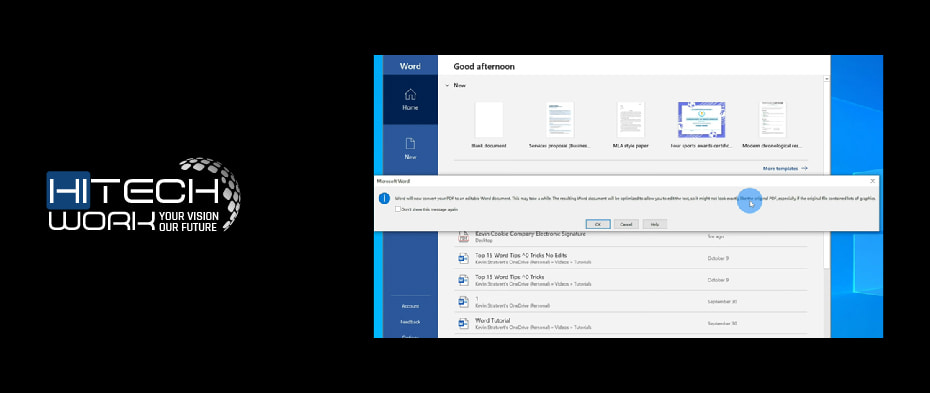 Step 1. Open PDF in the Microsoft Word
First open your Microsoft Word, find the target PDF file and drag and drop it into Microsoft Word.
Check the "Don't show this message again" button in the pop-up window, then click Ok. 
Step 2. Edit PDF files
The top menu bar provides different options that allow you to add comments to the PDF file, change the layout, etc.  You can edit the document until you are satisfied.
Step 3. Save PDF as Word
When everything is ready, please navigate to File > Save As. Preset the file output path and use a new name to overwrite the original name. Under File Save Type, select Word, then click Save button.
How to Batch Convert PDF to Word Documents
PDFgear works well on your Windows or Mac computer, with powerful conversion features, it supports converting between various formats from PDF and to PDF. It can quickly complete the conversion task while maintaining the same file quality as the source file for you. It has no limitation on the size and dimensions of your converted files and provides output files without watermarks.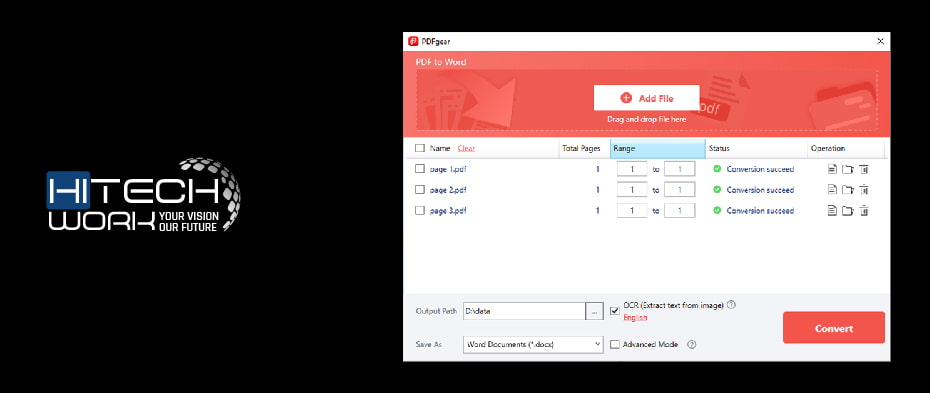 Step 1. Upload PDF files
Free download PDFgear to your computer and launch it, then find PDF to Word Converter on the main interface. Please click the Add Files button to upload PDF files to be converted, PDFgear accepts multiple PDF files at one time. PDFgear also provides shortcuts to import PDF files, you just drag and drop PDF files to the converter. 
Step 2. Preset Conversion Settings
After the files are uploaded successfully, you can set the conversion settings according to your preference. To find the converted Word file quickly next time, you can choose a familiar save location and name for it.
Check the OCR button before conversion, PDFgear will extract the text in the images from the PDF file and convert it to an editable document. To get better OCR results, select the document language.
Step 3. Convert PDF to Word
Once everything is ready, click the Convert button at the bottom right corner to start the conversion. sit and relax and wait for the file to be converted successfully. After the conversion task is finished, PDFgear will automatically go to File Explorer and you can browse the new Word file. 
Convert PDF to Word: FAQs
Q: Why do I need to convert PDF to Word?
A: We need to convert PDF to Word for various reasons, PDF is highly secure and you can't edit PDF documents without the help of related tools. This feature is also a double-edged sword, as it prevents you from modifying the text or content of the document. After converting PDF to editable Word documents, you can edit them at will.
Q: Which is the best PDF to Word converter?
A: A good PDF to Word converter will be good at generating good conversion results and keeping the layout and many other aspects. Do a simple all on Google and hundreds of search results will be presented in the search results. But the really difficult next step is when you need to choose the best option from them. PDFgear is an excellent PDF to Word converter that uses OCR technology to extract the text from PDF images. Accurately create high-quality Word documents that match the source PDF files.
Q: How to convert PDF to Word online?
A: For PDFgear, online PDF to Word conversion is a breeze, follow the steps below to complete the conversion task: Access to online PDF to Word converter on your device's browser for free> Use the Select files button to upload your PDF files> PDFgear will automatically start the conversion after your files are uploaded successfully. Click the Download button to save the new Word file to your device.
The Closing Thoughts
With the maturity of conversion technology, converting PDF to Word is becoming easier and easier. If you don't like to download any three-party software to your device, you can refer to the above method to complete the PDF to Word conversion task on your Windows or Mac PC. For some other users who focus on the conversion result and batch PDF to Word conversion needs, PDFgear is a free alternative method. Try PDFgear, it will not let you down.