How much does Roku cost per month? It might sound like a simple question, but the cost gets perplexing with subscriptions, channels, and renting movies. Keep reading for a clear breakdown of Roku pricing.
If you are pondering to buy Roku, then you are pretty confused about its pricing list. You might be curious about: how much is Roku costs. Are Roku channels free? Do you really need to sign up for a subscription?Can you rent a movie on Roku? This Roku cost handbook aims to answer all your queries.
Moreover, Roku is one of the most budget-friendly streaming devices you can get; there are different costs when calculating the total price of using one. However, to curb your confusion, we will go through the cost of each Roku device, prices for Roku channels, and any subscription you may opt for.
How Does Roku Work?
Roku makes it easy and affordable for all to watch their favorite TV. This device acts as the home and gives you an entertainment package so that you can streamline your setup and watch what you love while saving money.
Roku Streaming Device TotalCost
The total cost varies from user to user for using a Roku device. It is because you need to figure out which device you want to choose as they are all very different in price and features. However, a Roku device can cost as little as $29 to as much as a few thousand dollars. It dependsup to you on how muchyou want to spend.
Apart from the actual device, though, costs are perplexing with certain channels and streaming services.However, some channels and services are free, while others require one to set up a subscription or pay a one-off fee.
However, that cost money isn't at a set price. Again, it depends on what you want. On top of that, on-demand channels, such as Redbox, offer a pay-as-you-go option.
8 Comparison List of Roku Device Cost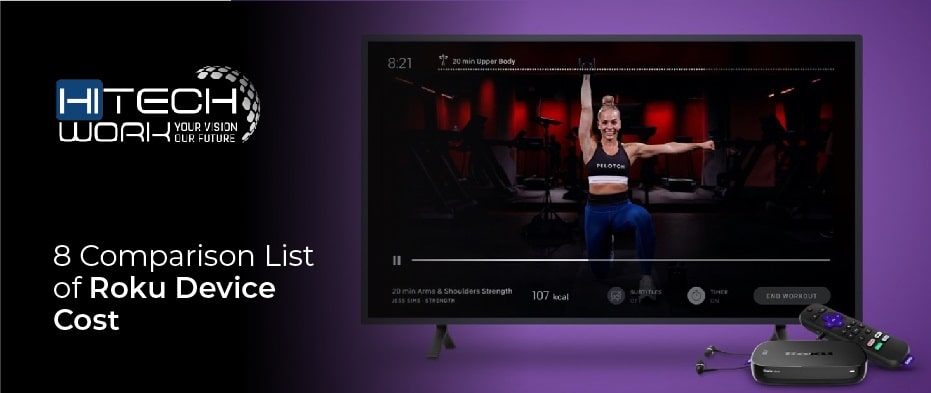 This segment will list the current Roku devices, prices, and features. You can choose any of these mentioned devices according to your requirement.
Roku Express
Cheapest option
Only stream up to HD 1080p.
Includes a simple remote
Great for first-time steamers and second TVs
Price: $24.58
Roku Premiere
Same as the Roku Express
But stream in 4K and supports HDR
Price: $29
Roku Express 4K
Newer version
Supports 4K and HDR
It can be used as a USB Ethernet adaptor
Price: $34
Roku Express 4K+
Same as the Roku Express 4k
Along with a voice remote with TVcontrols includes a premium HDMI Cable
Price: $20.99
Roku Streaming Stick+
A portable device in 4K and HDR.
Long-range wireless receiver and includes the Enhanced Voice remote.
Price: $49.00
Roku Ultra LT
Extended wireless with Ethernet port and Bluetooth
Supports 4K, HDR and Dolby Vision, and voice remote and TV controls.
Earbuds include.
Price: $79.99
Roku Ultra
The fastest 2020 model contains the Ultra 4800R.
Best wireless receiver with an Ethernet port.
Supports Bluetooth and streams in Dolby Vision
Price: $89.99; find it on Amazon
Roku TV
Most expensive with a unique TV experience; smart TV features
It comes with the simple remote
Price: starts around $195.00 (different brands and sizes available)
Which Are the Paid RokuChannel
If you want to access premium services of Roku streaming channels, then you can go for the paid channels on Roku. Its cost varies from channel to channel.
Some channels have one-pay-off subscriptions while others have monthly or annual subscription charges if you can subscribe to a streaming channel like Hulu, which starts at $5.99/month, or FuboTV and Sling TV, which both start from $30/month.
Furthermore, if you want to enjoy series and watch movies, we would prefer you subscribe to Netflix, Apple TV, HBO, and Cinemax. Also, you can sign up for Disney +, which starts from $4.99/month.
How Much Does a Monthly Subscription Cost For Roku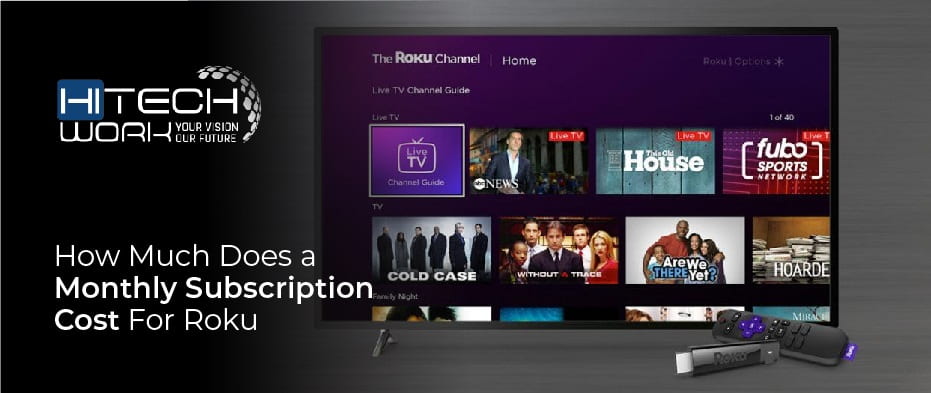 Initial payment is required for the Roku device. Otherwise, there is no monthly subscription fee for a Roku unless you require a third-party app (i.e., Netflix, Hulu +, or YouTube TV). If someone tries to sell you such a subscription or some ''lifetime Netflix'' deal, you must immediately halt communication as it is the most common Roku scam.
Moreover, once you have paid for your device, that's it. Further, if you want to add paid channels and subscriptions to your account, it's your choice.Many free trials are available, so we recommend you try the free trial once to review the fine print carefully before committing.
However, you can add the channels in your preexisting subscription to your Roku home screen and login. You can also add a credit card or other payment method and manage your Roku subscriptions through your account.
FAQs
Is the internet required for Roku or apps on Roku?
Yes, Roku needs a reliable connection to send and receive data for streaming. You cannot use Roku without Wi-Fi or connection via Ethernet because it does not get its data like a cable subscription from a service provider.
Why does Roku charge me every month?
Roku did not charge you every month as it does not have any monthly subscription. But Roku does have in-app purchases. However, if you have Netflix, Hulu, YouTube TV, FuboTV, Sling TV, or other services would be charged monthly.
What should I do if I am getting charged by Roku?
If you don't figure out where your Roku charges are coming from, you can reach out to Roku customer support. However, it can help answer many questions regarding your bill.
What can you watch on Roku for free?
There are over 6000 channels available for free on the Roku platform.
Does Roku call for charging each month?
No, Roku will never call you and inform you that you need to pay some premium subscription every month. Such calls come from fraudulent companies.
Conclusion
We hope our Roku price guide will help you and you can choose the best Roku device.
In a nutshell, there is no Roku cost subscription, and you can pay only if you subscribe to a channel or other streaming service or pay a one-off for some content.