Are you feeling stressed about misplacing? or want to add your device? So, no need to worry; you can easily track down or add your device through the Find My iPhone app, from your iPhone to your AirTag. Thus, you can track all the devices, not only a single device, once you have signed in at a time by playing a sound to uncover them.
Basically, the Find My app is a free-of-charge app that allows you to locate your lost or stolen device remotely for all iOS devices. There are various features this app offers, like it will make a sound to track the device so that you can quickly discover it. Moreover, it also helps you to remove all the data if you find your device is in the wrong hands.
Moreover, you may observe your family member's device through the Find My app if you enable the feature of Sharing Family. Then, you will see their device on your devices list and their location if they have misplaced their device. But you cannot use this feature for your friends. They have to log in with their iCloud account or Apple ID to uncover the spot. However, unlike many features, initially, you have to enable the feature before using it on iOS.
Let's move to the next section to learn the methods of adding a device to the Find My app for your convenience with additional features and techniques to use the feature.
How to Add a Device to Find My App on iPhone/iPad/Mac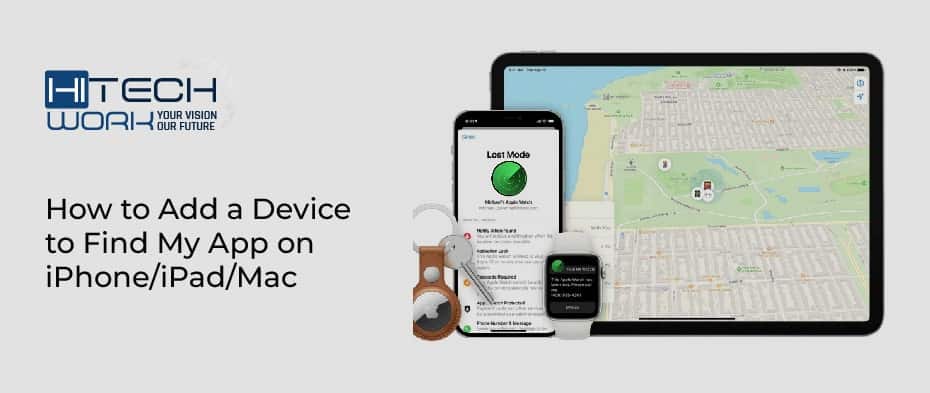 The Find My app uses Bluetooth to find your iOS devices, which is an encrypted and anonymous network. Additionally, this app is compatible with the iPhone, iPad, iPod Touch, Apple watch, MacOS, Airpods, Air Tags, and much more. Furthermore, through the AirTag app, you may also use them to find your personal belongings, e.g., your keys or wallets. Thus, it is beneficial for misplaced devices and items and for stolen possessions.
·         Add an iPhone to Find My iPhone Tool
When you sign in to your iCloud account on your device, it is automatically added to the Find My app. Moreover, by default, various other features are also enabled, like the ability to play a sound, remotely lock it and yet show a message on it. In order to activate the feature, follow the below steps:
Initially, open the Settings on your home screen.
Then, at the top of the menu, click on your Apple ID.
Now, tap on the Find My
Navigate to Find My Phone and toggle the switch to enable the feature. On activating it, it will turn green. Now, you can locate your device by using an iCloud account.
You can also enable the Find My Network or Send Last Location switch, as it will send the location even if your device battery is low or you are offline.
Note: Sometimes, you may not wish to integrate an iPhone or iPad into the already set up devices using iCloud. Especially if you have an old iPad or iPhone still listed.
·         Add a Mac Device to Find My iPhone App
Occasionally, it happens when you misplace your Mac computer, and you need to find it. For that purpose, apply the following steps, which are convenient to locate it:
Firstly, click on the Apple menu on your Mac, which is visible as an Apple icon in the upper right-hand corner.
Secondly, click on the System Preferences option from the dropdown list.
Thirdly, click on the iCloud or Apple ID. It depends on the macOS version and which version you are using. Then, access according to it
Roll down the screen to search for the Find My Mac option and tick the checkbox beside it.
·         Add a Device to Find My App from an iPad
Follow the below steps to add a new device to the Find My app on an iPad. Moreover, this app also provides several functionalities:
Initially, open the Find My app on an iPad.
On the screen, pick the bottom menu and select Devices.
Now, click on the "+" icon on the right side of the screen. Then, the app will begin to search for newly connected devices.
Trace the device that you want to add.
Finally, enter your Apple ID and follow the prompting instructions if any appear.
Note: Suppose you are trying to locate a new device, but nothing is popping up; ensure that you are using the latest iPadOS version. Furthermore, your Bluetooth is also activated while searching for a device. In the end, navigate to Settings and move to the Location Services tab. Make sure that Location Access is turned on to add new devices within the app.
·         Additional Features of Find My App
The added device will show up on the map, and you will be able to access it. But if you want to add other features, like third-party products or items, you have come to the right place. With AirTag, you can effortlessly search for it, but make sure that your Bluetooth is enabled. So, apply the following steps:
Initially, launch the Find My app on your device.
Then navigate to the items at the bottom of the screen.
Now, tap on the Add Item.
The next step is to opt for the air tag or other supported item.
Click on the item which you wish to add.
Finally, type in your Apple ID, and the process will end.
Method to Use Find My iPhone App on Device
Grip your iPhone to bring up the search field, and swipe down from the middle of the home screen. Now, type Find My in the search field, and it will come into view in the Application segment. Sometimes, it may also appear in the Extras folder. Now, launch the app and sign in with your iCloud credentials. After signing in, you will see all your devices listed in the Devices tab. After that, pick up the lost or stolen device from the list to see its location.
Thus, there is one more option: the User Interface (UI). It works similarly to the AirTag, but there is a slight difference if you are using the web-based tool. You just have to swipe up to view all the options in this feature. After that, pick the option which is feasible for you. For example, if you have misplaced your iPhone at home, you can tap on Play a Sound, which will help you to discover your iPhone.
Conclusion
Find My iPhone app is one of the utmost innovations from Apple, which will allow you to uncover the location of your devices or expensive essentials if it is misplaced or stolen. Therefore, it is better to get it easily to avoid any loss. Hopefully, the above methods will make your life easy, and do let us know about the article and how much it is helpful for you through commenting.