For a pulsating and creative Instagram user, adding music means a value-added integration. You will find Instagram reels getting viral owing to the type of music amalgamation in the Instagram stories. Thus, if you want to identify how to add music to reels after recording, you will get the gist of the discussion quite quickly. In addition, counting on music on your Android or iOS devices can be a simple step. You must heed the comprehensive instructions to navigate and apply your favorite musical track.
Let's get started on adding songs from the Instagram music collection, adding music from other reels or trending videos, or using a personalized audio track in reels. In another case, importing an audio clip from a video or voiceover addition, This article covers it in a detailed discussion.
Approaches to Add Music to Reels on Your Instagram After Recording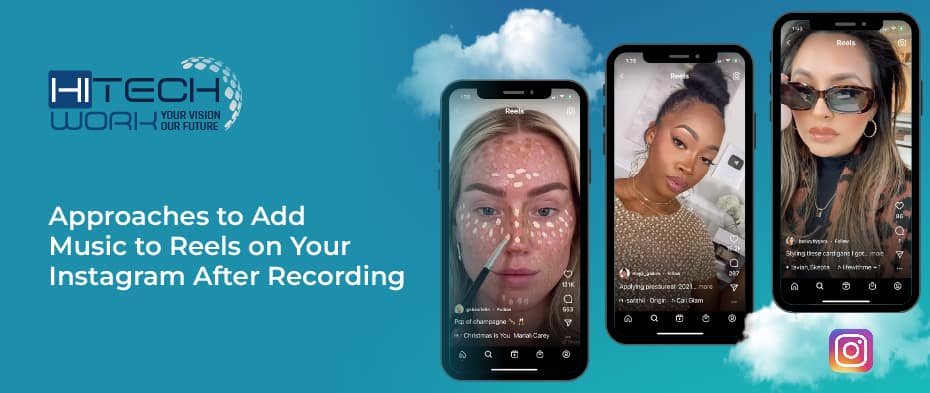 Let's gather up the 8 ways to add music or Audio track to Instagram Reels. Before getting ahead on how you can add music to Instagram Reels, it is mandatory to update your app on your Smartphone first.
Add background music to Instagram reels
Import Audio clips from a video to Instagram Reels
Adding original audio clips to Instagram Reels
Add music using third-party plugins
Search and add trending and popular songs to your Reel
Integrate the voice clip in to your Instagram Reels
Amalgamate music after recording to Instagram Reels
Add TikTok music clip to your Instagram Reels
How Can You Add Background Music to Instagram Reels?
Adding music to Instagram Reels before recording or after can be quite a straightforward mechanism.
Launch the Instagram app to add the music to the Instagram Reel by pressing the "Plus (+)"icon. Then select "Reels." The Reels adding screen will popup.
Then select a song by tapping "Audio Icon" before recording or adding more recordings. Once you've done it, you will navigate to the music screen. You have to click the song you want to include from the available options to add to your reels.
In another case, recording the Reel scan be used alternately by clicking the same "Audio Icon" to add a soundtrack to your Reels
Once you have selected your song, the song page will open up. Use the bottom slider at the audio clip to select the song part you want to integrate. Instagram makes things easier by incorporating the popular segment of the song. Locate the pink dots on the slider, then press "done" to add your favorite music to your Instagram Reels.
You can adjust the selected music using the available slider by sliding to different portions of the song on the "Audio icon" while navigating the Reel creation screen. You can even change your desired segment via an available slider.
You can, on the contrary, optout of the current song by pressing the "Delete" icon. You can then add another music song.
Import Video Music to Instagram Reel
The reel collection seems limited; therefore, you might not find all the songs in the music collection. To overcome such restrictions, you can import your favorite audio music from your Smartphone to the Reel. Unfortunately, you can add the original soundtrack directly to your Reel.
Here is the step-by-step guide to adding music from a video to your Instagram Reel within a few moments.
Open up the Reel creation screen. Tap on the "Audio" icon, then navigate the Import You can even update your Instagram app if you don't find any import button.
You can select the video from which you can import audio. Then once you have chosen your soundtrack slider, it will allow you to select your desired portion of the video for adding audio sound from the clip.
Finally, you can press the "Done" button to get the audio from the video to your Instagram Reel.
Add Original Soundtrack to Instagram Reels
Now let's discuss how you can add original audio sound to Instagram Reel. Although you can't get the dedicated feature to add music to Reels, use it another way. If you want to include an original soundtrack, then play your music appon your phone while recording a reel. The soundtrack will then be visible on the Instagram Reel. Moreover, the username on your soundtrack will be visible beside the original music. Even others can use a similar audio track in their sound track. On the contrary, an artist's music can be added smoothly by some description modification to display the username or song.
Use Third-Party Add-In to Include in Your Instagram Reel
You can use a third-party add-in to add original music to your Instagram reels. You have to create your soundtrack using the third party to do that. Then it will be quite an easy option to upload your original soundtrack into Instagram Reel. A video editing app can be another choice to add your favorite audio music or web app. InShot and KineMaster app can let you edit and personalize your audio track to your Reels.
Search for Trending or Popular Music Tracks in Your Reels
Instagram has an exciting library for trending or popular Reels. Because Instagram users feel elated about adding your preferred reel music, they want to add up the music track. You can also easily incorporate your favorite music from other Reels without any need to manually search for your desired theme. Explore the Trending Reel or some of the most melodic music tracks if you feel tempted by some fascinating Reel creation feature.
Open up theReel that you want in your Instagram Reel. Then tap on the "song" at the bottom of the Instagram Reel.
For your inspirational music, you can use it in your customized reel music. For the prompt reel creation option, tap on the "Use Audio" button at the screen bottom. It will get you to the reel recording screen. You can record your Reel, and similar audio can be used as background music. Tap the "Audio" icon to select the song portion in your favorite music reel. Once you have navigated the Audio page for your preferred music, search for other creators' Reel using a similar musical theme.
For future trending reels consideration, you can save your audio by pressing the "Save Audio" button. You can even opt for the direct message icon at the top of the Instagram screen.
Furthermore, to view your saved audio, you can tap the "Audio" icon whenever you want to create your reel music.
You can finallytap the "saved" button. Additionally, it is quite a convenient search for all your saved clips and chooses amongst the most desirable music collection.
How Can You Add Voices to Your Instagram Reels?
Despite adding music, some might want to add their voices to their Instagram Reels. Robotic voices or announcers can be influential in amalgamating voiceover effects. Voice over Instagram Reel can be practical for storytelling, adding an introduction to videos, or sharing opinion content. It even allows you to mix the voiceover feature with your favorite music, bringing excitement to the Instagram reel.
First, you have to record your voiceover reel on Instagram. Here you can even add your music.
Next, click the "Next" or "Preview" icon to navigate your Instagram screen. You can search the "Microphone" icon for voiceover creation as well. You can doodle and add text and stickers to Reel.
Then it will open the voiceover screen. Then press holds the "Recording" button to initiate recording your audio. Adding multiple recordings can be a useful option. You can press "Done" to save changes to your audio.
You can add music along with voice over your Instagram Reel by pressing the "Mix Audio" icon on the Reel Editing If you're willing to amend or remove your music, you can tap the "Edit" icon under the music head, then press the "Delete" icon once the edit screen opens "Camera Audio" or "Music" sliders. You have to adjust the music balance and voiceover volume wherever necessary.
You can tap the "Voice Effects" options to modify the voice with its effects in Reels.
How to Add Instagram Music to Reels After Recording
While recording your Reel, you don't need to start recording if, in any case, you have forgotten to add music to your Instagram Reel.
Go to the "Reel Edit" screen, then tap on the "Mix Audio" or "Music" icon.
You can tap the "Add" icon on the audio clip slider at the bottom of the screen.
Now select your favorite music that you intend to add to your Instagram Reel. Alternately, you can even download the Relief you're using a third-party add-in for editing your videos for Instagram music and reloading the Instagram Reel.
Add TikTok Music Clip to Your Instagram Reels
TikTok is an exceptional and evergreen platform for short videos. If you are familiar with the trends on TikTok, then trend weaves on the TikTok and then flourish on the Instagram platform. So, if you're a TikTok lover and want to add its videos on Instagram reels, try out Kapwing, a free web App.
To begin, you must create your video or reel without music and then download it on your phone.
Then open up Kapwing's official website from your computer or Smartphone.
Next, upload your video file by navigating "upload file." Then navigate the "Audio" option.
As for the audio file, you can upload it. For the TikTok video, you must ad just the audio-video setting according to your feasibility. Once you have modified your video, you can download it via the Export video button. After downloading it conveniently, you can upload it to Instagram Reels. In case of any problem, you can change your browser or use MP4 format in your downloaded video.
Different techniques to add music on Instagram have already been covered, including direct and indirect methods of adding Audio to Reels. Guidance on how to add music to Instagram reels after recording your personalized voice or video audio can be handy. It is not just essential for Instagram Stories but also well-integrated with Reels. Finally, Instagram Reels can teach you how to download music using a third-party plugin or web app.