How to add someone to a group text? You know it's not a hard and fast technique but people who don't know about this feature. Those people have come to the right place and know the hilarious group texting features of iOS 14/13/12 & 11 and Android.
Nowadays, people would like to send the celebration invitation through groups other than individual texting. So, you must know the difference between group message & iMessage. If you are an android user, you can't send the GroupText to the iOS versions because iOS uses the functional iMessage feature, which will be enhanced profoundly in 2022. Group iMessage work when every individual uses an iOS device, making it possible to delete or add members to the group text.
If you are tired of individual texting of friends and willing to know how to add your friend or relative to a group chat. You are again on the safe side; group messages are sent via the cellular data using the SMS function because active users belong to the huge iOS & android mobile groups. We'll guide you on how to add/edit or delete a person to group chats on both IOS and Android without their contacts.
The Sketch Line of Group Conversation
Group conversation primarily aims to interact with others, explore their emotions, and categorize the conversations according to the groups involved, such as friends, family, colleagues, etc. Make sure you pay attention to all slang tones and respond accordingly. When you participate in a conversation group, be positive so that people in that group circle will allow you to participate in their conversation. A group conversation occurs when you expect others to adopt your actions, and someone you're interacting with does the same.
How Do You Add Someone To A Group Text Via Android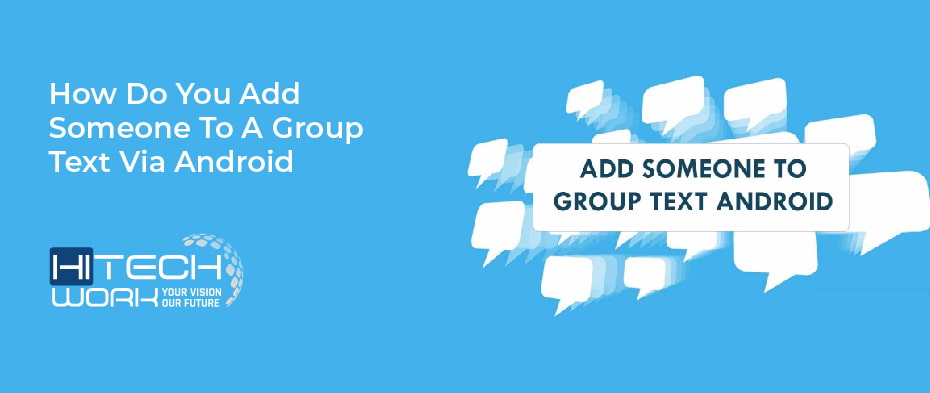 The apple iMessage has a cool feature of quickly adding people to group chats, but it only allows a few individuals at once. On the other hand, the android pattern is not as easy, but not impossible to do it. So, to enroll a person in an active group message, you must first create a group with that person. If it sounds complicated, then follow the step-by-step points.
Click on the message
Then hit a tap on a New message that you'll find out at the top right side of the screen.
Now add individuals that you'd like to add to your group. Keep adding it one by one manually and make a short group.
Once you add them, you may send a text to the group you created to convey the message quickly.
All your friends or family members have now received the message, so enjoy the healthy exchange of ideas.
What Is the Best Way to See Newly Added People in A Group: Android
People are curious to know who is added to the group because they can think and feel comfortable before sending any message to a group. If you would see the newly added people to the group, your text can be easily covered according to the people. Therefore, don't get into trouble – see the points that will help you a lot.
Click on the message icon to open your inbox.
Once you open it, click on your created group tab and tap on the three dots mentioned in the right corner of your screen.
Once you tap on it, a list will show where you'll tap on the group details option.
Now, you will see a list of added people with their names; if you are an admin of this group, you may add more people.
How to Start a Group Convo by Adding Your Friend to a Group Text via iPhone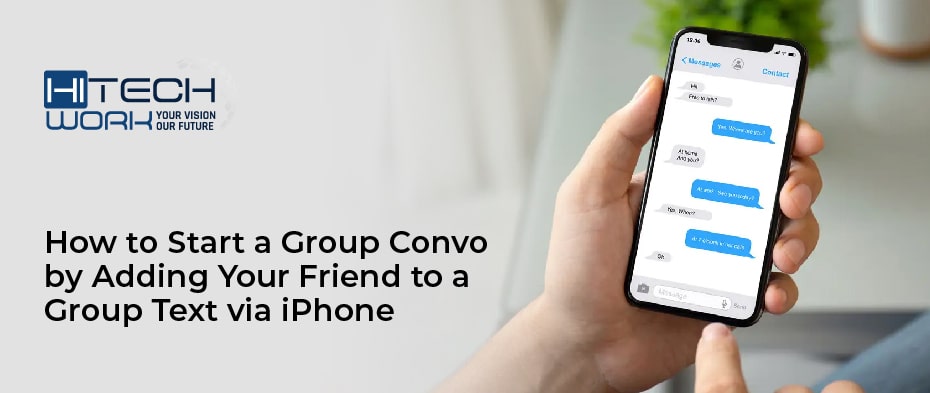 In order to keep up with Apple's extensive growth, iOS constantly updates its technology, and iMessage is one of its most successful products. We are able to add anyone to a message group much more easily with iMessage than with Android. For instance, if you wish to add someone to a GroupText, but the admin only allows iPhone users to join, and the person you wish to add is an Android user, you will not be able to do so, so you will have to create a new group message to add that person. Therefore, how to add someone to a GroupText on an iphone is what we'll take a look at.
Go toiMessage, select the group text under messages and open it.
Then click on the group icon in the window's upper middle.
You'll find an icon of an arrow line aside at the right side of the screen with people group icons.
Now tap that people group icon.
After tapping on it, you'll see Add contact option, tap on it.
Add people by clicking on the + button
Once you have finished, click on done.
As a result, you can send your friends a group SMS on your iPhone and continue chit-chatting.
Note: If you want to remove someone from your group SMS, follow the above steps again – when you reach a contact list, hold that contact and swipe it left – the option shows "Remove" click on that it will remove the contact.
Can You Delete & Add a Group Name to the Friend's Group Text on Android?
Deleting or editing a group text in both scenarios is technically possible. For example, suppose you accidentally enroll in a useless group message and want to get rid of it. In that case, you need only hold and press long on the group message. Afterward, you will see a delete sign at the bottom of the window to delete the group, but if you don't want to delete it, you can find another way to remove yourself. Then mute your group will not annoy you anymore.
IOS users, you are lucky because android users don't have the facility to add a name to a group. Instead, if you still want to add a name to a GroupText, use the stock messaging app of Android and type the person's name in the group message. They verify your profile identity, so play safely. Afterward, the person successfully sees their name in the group text list.
Indeed Android has cool features like adding people to a group, removing the existing member, and viewing member-viewed messages.
How Can I Add Someone To A Whatsapp Group?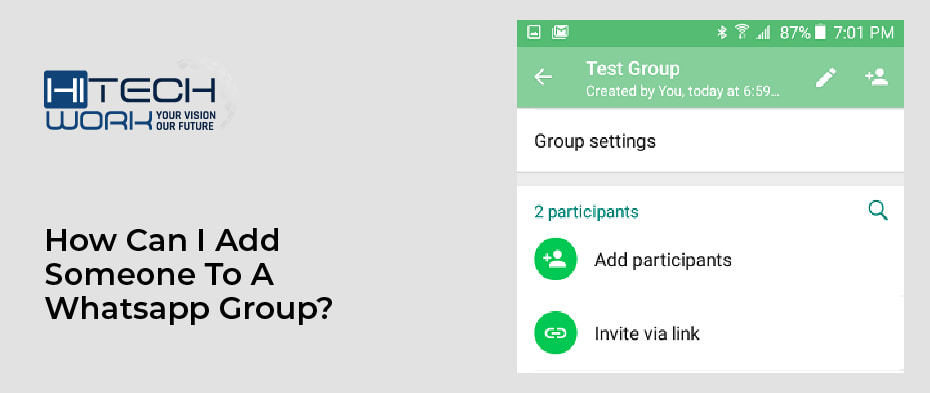 If you want to add someone to a WhatsApp group, you can add them by becoming a group admin or if you are already an admin, add the individuals. On the other side, if you're not an admin, request the admin to add that person to a group, but we'll take it easy like you're an admin and want to add someone to the group. Hence, check out the instructions below.
Go to the WhatsApp application and search for the group in the WhatsApp search bar.
Then search it and open up the group.
Click on the group names title at the top middle.
After then, click on Add Participant.
Then select and add people to the group by taping their contact.
After selecting members, click on confirm, and it'll add people successfully.
Can I Receive iPhone13 Group Text On Android?
The answer is yes because we can do it technically. If your sim is put on an android device, an iOS device never allows you to access its group text on Android, but we are not here for excuses, right? We must have the technical way, so take your phone number and sim ejector with you, and let's start the procedure.
Remove your sim card from your Android device with the help of a sim ejector and insert it into your IOS device.
After inserting the sim go to your iPhone setting and click on a message
Then you'll see an option for iMessage, click on it and turn it off.
Then eject your sim from the iPhone and place it again in your Android mobile.
Respectfully, you can be a part of your friend circle group, where you can text from Android into the iOS 13 group text from now onwards.
Let's Understand the Lifestyle Difference Between SMS & MMS
MMS = Multimedia Messaging Service
SMS = Short Service Message
During your daily life, you use both SMS and MMS, but you are unable to distinguish between the two when someone asks. Am I right? If you are struggling to find the answer, let us tell you what these two actually are. Basically, both are a source of conversation but are different in terms, whereas SMS is used for a chat that is used on data packages all the time, and MMS is for video calls which require charges for every MMS.
Is It Possible to Leave the Group Text On iPhone?
Absolute yes! Nothing is more annoying than continuous conversations in a group. The message notification pop sound might also bother you, and you're ready to leave the group. Besides that, you may also mute the conversation, so you don't get a notification that will bother you. Follow the steps below to leave the conversation on a quick note.
Open your message app, search for a group text message you would like to leave, and open it.
You'll see a group icon at the top right corner and tap on it.
A window pops up where you need to scroll down to find the leave conversation tab. Once you find it, leave the conversation.
Note: This is for iPhone13 & 12 users; you need to click on the info button [i] to leave the conversation as soon as possible. However, you may follow similar steps for iOS, iPad, or iPod touches users. If you could not find the leave conversation option, it might mean that one person doesn't use iMessage.
Wrapping
Group text is the most relevant way to convey your message to a number of audiences simultaneously and ease our daily life routine – you can create multiple groups of different genres like family, friends, office groups, etc. It would be nice if you could get all your answers related to this topic, and maybe this technology will grow to another level in the future.