Are you a fashion enthusiast looking to experience the Elden Ringworld in new attire? So here's a guide for you explaining How to Alter Garments Elden Ring. Although, FormSoftware has developed weapons and armor sets while keeping the fashion souls community in mind. However, armor alterations to give a fresh look to your overall physical appearance is not easy.
As so many impediments come your way. Fashion freak players may succeed in having customized attire once they got two necessary items and beat a boss for clothing alteration. So we'll tell you how to acquire these key items.
The altered garments will not only look super cool on you, but it also reduces your armor weight along with stats. It levels up the Weight by removing some armor points. Despite this, it's a worthy trade-off when you can take off your cape and look at armor detail. Without further ado, let's get started and find out the required item to unlock this new feature.
Here's one of its features Snap Gesture which lets the player communicate without dialogue. For more details, click here!
How to Defeat Demi-Human Chief?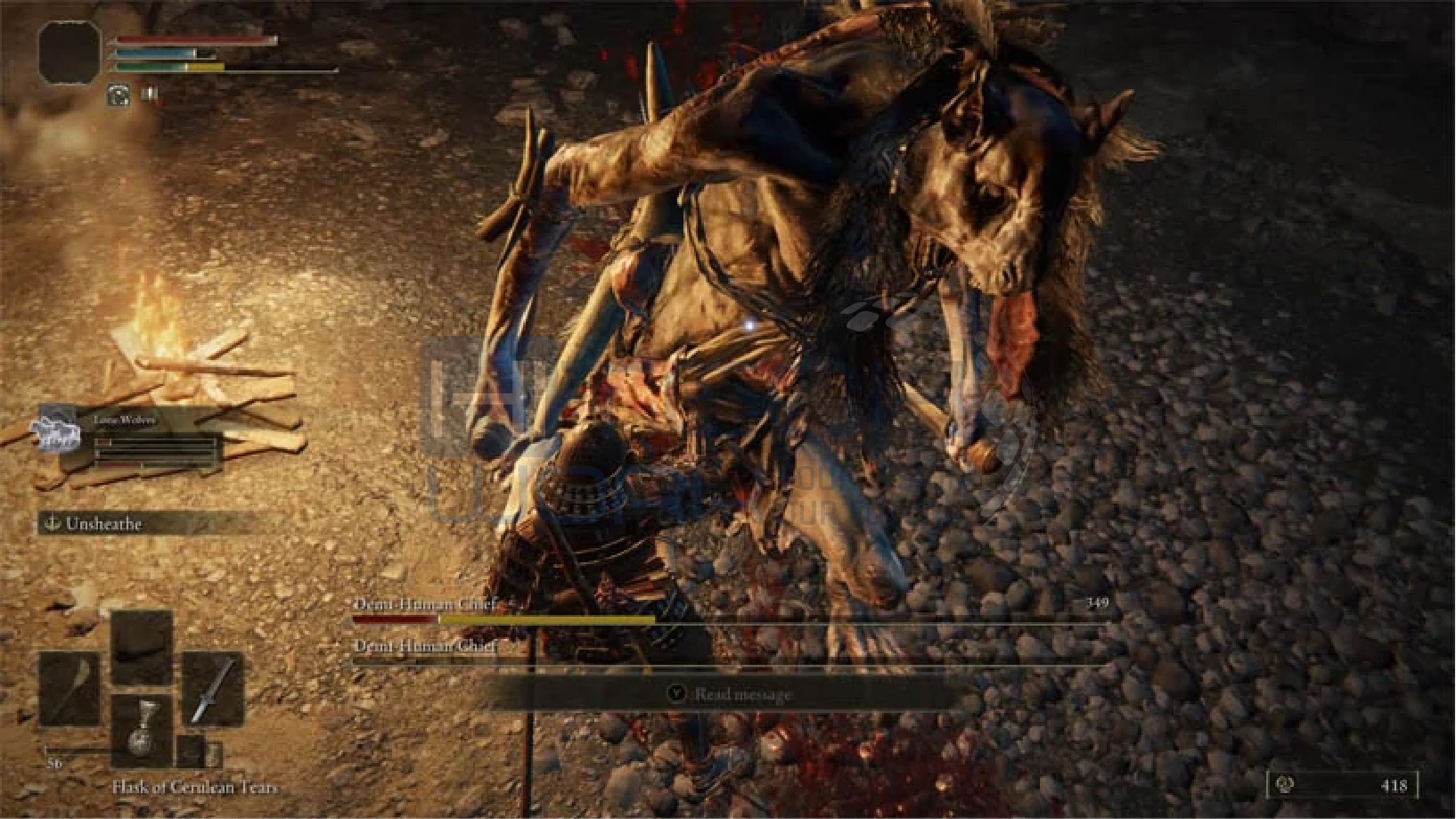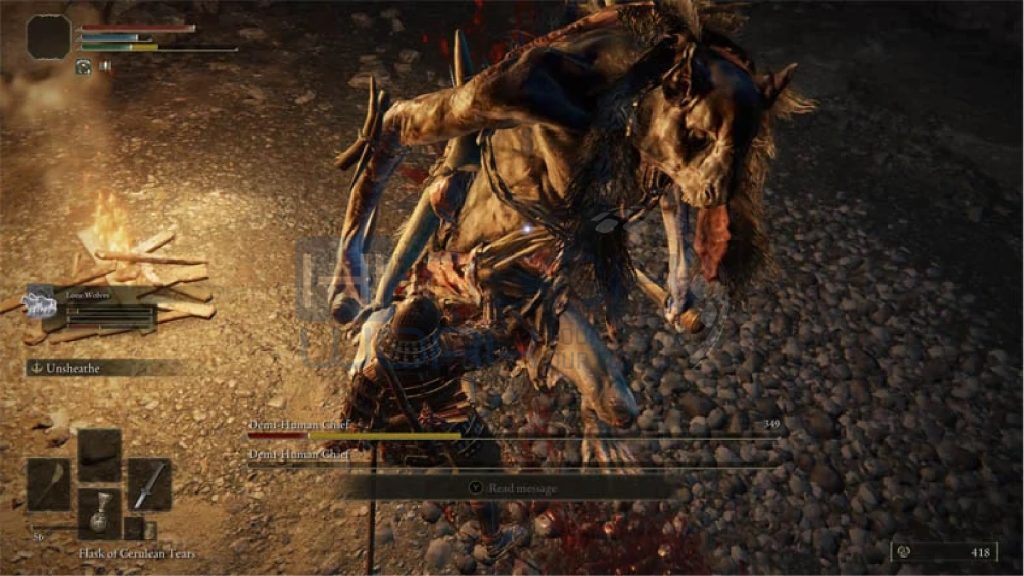 For garments alteration, you need tailoring tools and sewing needles. So how do you get these tools?
Before obtaining the tailoring tools and sewing needles, you must be prepared for the boss fights. There will be two bosses Demi-Human, you have to defeat. For any help, you can call out a friendly fighter named old knight Istvan to aid you in battle.
The boss fights comprised of Demi-human chiefs standing in your track, and defeating them is no easy feat. The fight is based on a one-on-one encounter. However, fighting against multiple enemies simultaneously is tricky as any of them may interrupt your attacks and make it a challenge for first-time soul players.
Two Demi-Human Chiefs will be in the boss area, ready to snoop on you. You must take down a swath of Demi-Humans In this situation and play vigilantly. Do fast striking before you notice the combat getting uncontrollable chaos. But, if you have a strong build, these enemies won't be challenging things for you.
Once the two demi-human chiefs have been defeated, you will get a pop-up telling you to put your hands on looted tailoring tools and sewing needles.
Tailoring Tools and Sewing Needles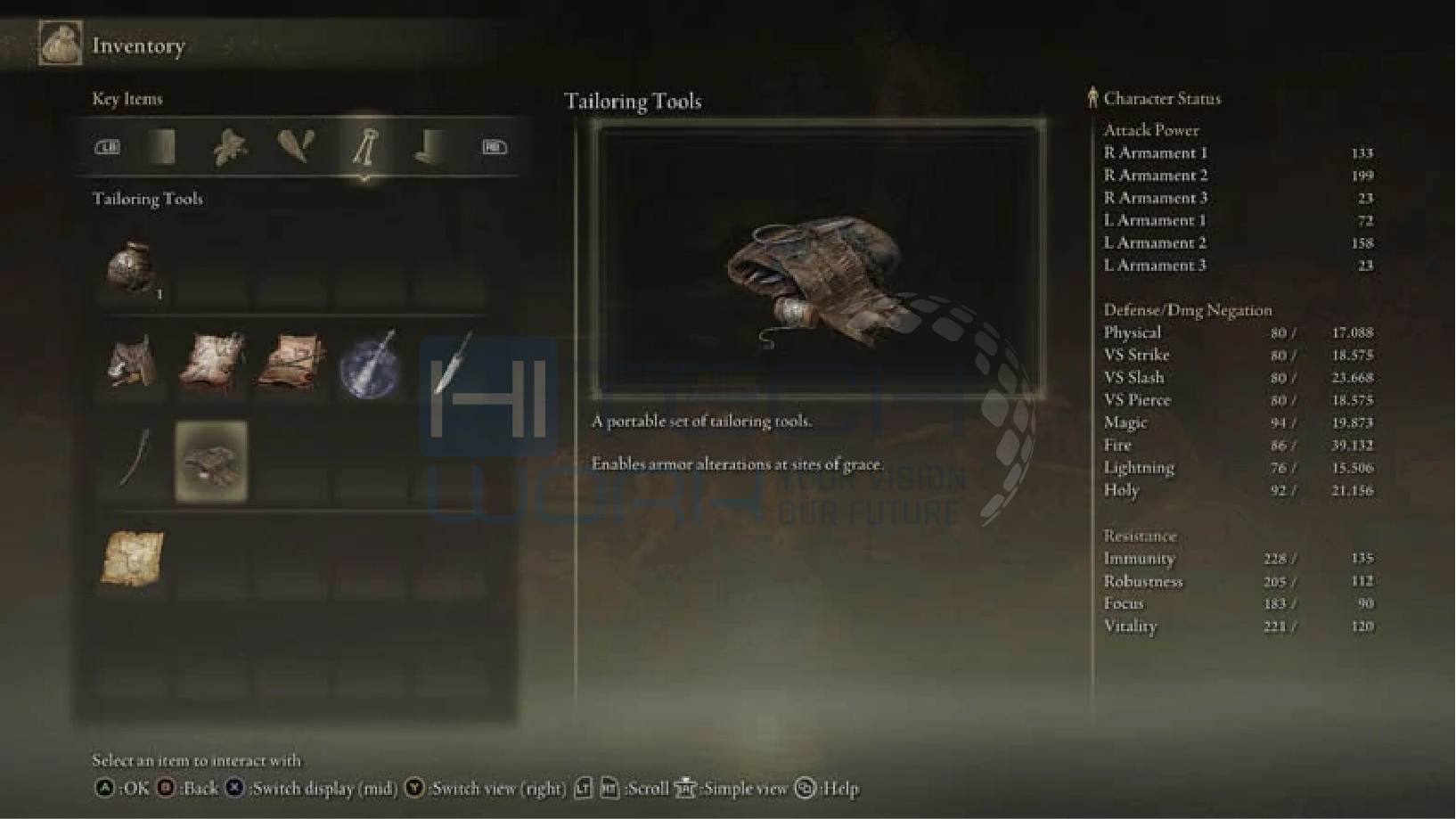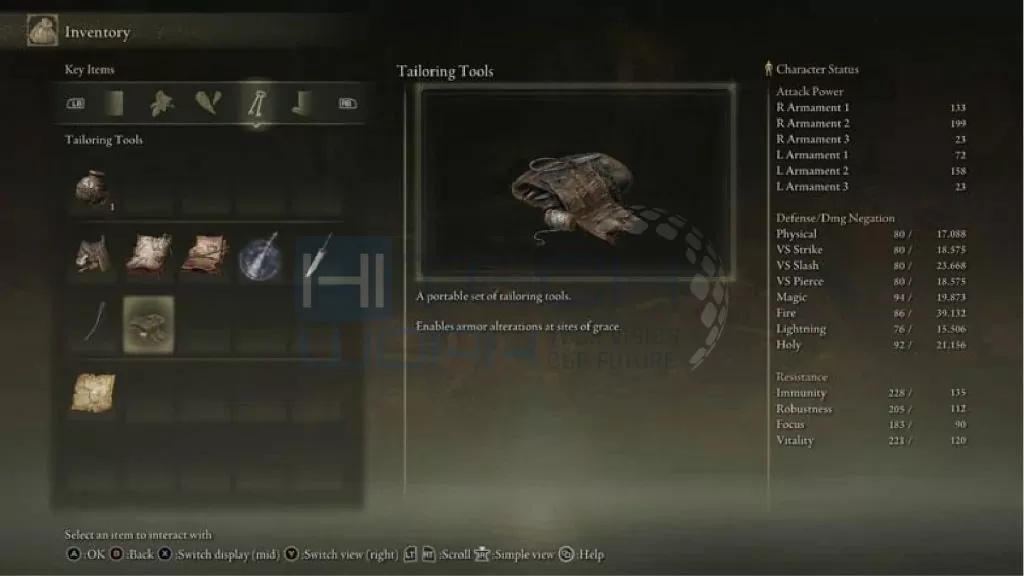 Tailoring tools is in Elden Ring video game, enabling amor adjustment at sites of Grace. The key items are placed inside the Coastal Cave on the western part of Limgrave.
Once you defeat the Demi-Human chief bosses, you can acquire Tailoring Tools and a Sewing needle to alter garments Elden ring.
To go there, take the first step from the Church of Elleh. While in the area, hold a torch from Merchant Kalé as the cave is too dark.
Altering Demigod Armor
After having these tools in hand, you might be thinking of changing most sets, but it does not allow you to alter demigod armor just because demigod alteration needs another key item, the gold sewing needle and golden tailoring tools. These are easier to find as they are in a chest in the Church of Vows (with turtle pope) in Eastern Liuinia of the Lakesand, found on the right. Although, a few specific Helmets and Body Armor pieces in Elden Ring can be changed as long as you have the necessary items.
How to Alter Garments Elden Ring?
Now you have to travel to a site of Grace to use these items and then have the armor appearance of your choice. The Coastal cave is quite nearer but may do the trick. While resting at Grace, you have to select alter garments from the menu to show you the interface of Alter Garments.
On this screen, you can see the available list of items, select which armor you want to alter, and preview the altered armor. And you will notice anytime you alter armor, and there is a rune cost. So make sure you are satisfied with the alterations before confirmation.
When you select the armor piece to change, you will also see the stats are now changed. And in the case of the black knife's armor, it will remove the perk of silent footsteps. Those stats get changes, including Weight, poise, and ability.
Further, if you find the altered version of armor while exploring, you can change it to the default with the same process. Such as, the Banished Knight Armor pieces found in Farum Azula can be altered to default.
You can't change every armor piece in Elden Ring. In most cases, the only cosmetic change will be putting off the cloak.
Alter Garments Elden Ring for free
There's another way to use garment alteration if you don't want to spend the runes and get garments alteration for free. Boc is a character who will help you customize your armor for free. He is a kind demi-human wearing a little cure hat and quite gentle, due to which he was beaten up, robbed, and kicked out of Coastal Cave.
Boc the Seamster Location in Elden Ring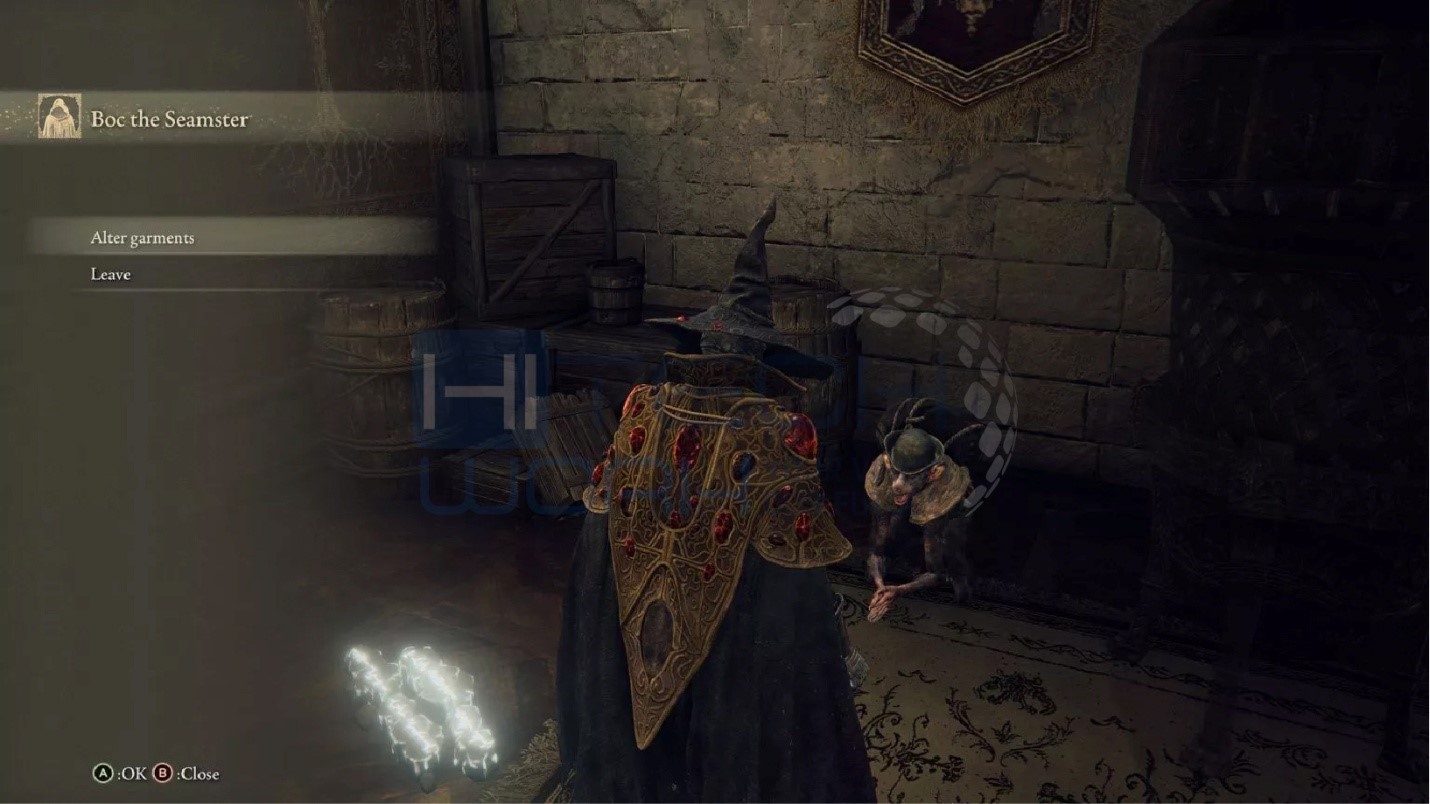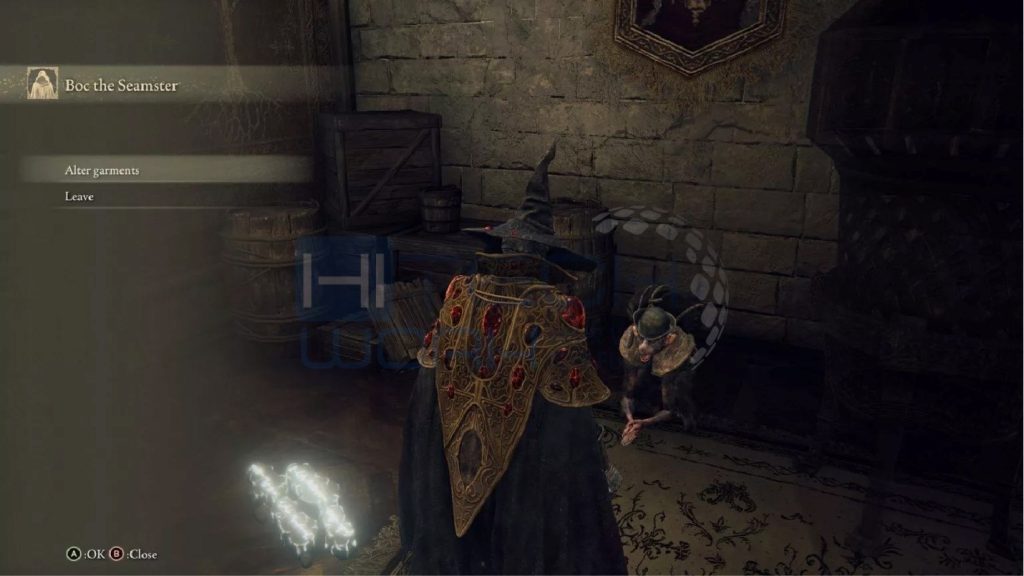 To reach out to Boc's altering services, go through some of his questline
You will first need to find him northwest of the Murkwater Bridge. Boc is hidden as a small tree southeast of the Agheel Lake North and asking for help. He will start speaking to you when you're in the area so you can follow his voice to the correct tree. If you attack the tree heavily, the spell breaks, and Boc returns
Once you free Boc to exhaust his dialog, he will say how Grateful he is. And even offer you ten mushrooms as thanks in return. You should only hit the tree once, or you might accidentally kill him.
Boc will move to the Entrance of the Coastal Cave (if you do not find him there. Rest at Grace and check or go back to his tree location and talk more). He will say he's useless and has been kicked out of his tribe. So, you must hand him the Sewing Needle and Tailoring Tools to Boc. He will be at the Coastal Cave. After giving him his supplies, he will move to Liurnia of the Lakes, where the Lake-Facing Cliffs Site of Grace is. Later, Boc will offer his seamster services to you for free.
The meeting with Boc is possible in a few locations. But the best place to track him down is at the East Capital Rampart Site of Grace in Leyndell Royal Capital.
If you have not progressed that far you can also find him at:
Lake-Facing Cliffs Site of Grace
East Raya Lucaria Gate Site of Grace
Altus Highway Junction Site of Grace
Now interact with Boc, so he will offer you to alter garments for free from the character customization screen. From there, you have to select garments to change. The options will be the same as if you're doing it alone, and they won't cost runes.
Conclusion
Overall, altering garments in elden Ring could be difficult for first-time players unfamiliar with its hub area, the right path, and side room. However, if you also want to customize your armor, you must walk through the above Elden Ring guide. That may help you to gain tailoring tools by winning the chief bosses fight and dress up with classy garments alterations.