Spammers exist everywhere, whether in the real world or the technology world. Make yourself save from them in every world. Like in the digital world, another way of trapping is messages. You receive that message to scam your data like you won the lottery or share a profile to gain a password. Now the question arises how to block texts on iPhone? The answer is by blocking contacts. To block any frustrating or spam messages is straightforward and exciting. You need to follow a few steps to get rid of those messages. As those messages send the link, you will be in trouble if you suddenly access the link. It may hack your data of iPhone and credit also. You can use the blocking feature in every model of iPhone for your ease.
Undoubtedly, you can stop spam messages in different ways. Like blocking save contacts, downloading blocking apps, filtering unknown numbers, or contacting your Carrier, you can try these tricks to avoid spammers. So try to be cautious and take precautionary steps by blocking. In this article, you will learn a brief explanation of multiple ways to block or avoid messages on the iPhone and the result of block numbers in the following section. Also, the method to unblock any number if you accidentally block any number in the subsequent section is explained.
How to Block Messages in your iPhone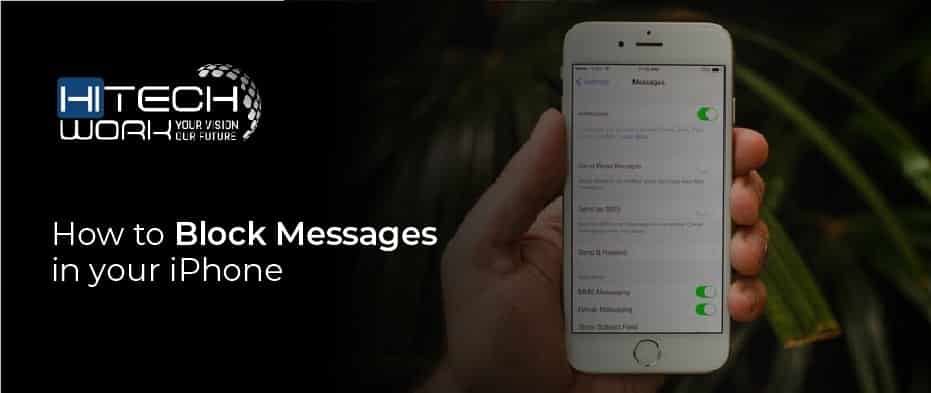 At this time, you are tense as someone tries to hack or trap you through your iPhone. Block texts that you are receiving by applying any trick to save them from spammers. So nothing is impossible with some hacks you may get out of this issue.
1. Block Your Saved Contacts
One of the convenient ways to block unwanted messages is described below. Follow these steps.
Open your Contacts on your iPhone.
Choose that contact whom you want to block.
Lastly, click the "Block this Caller" option. Now you may relax; that sender will not allow you to text or call you.
Note: At a time, you don't have a built-in feature to block the messages but still allow them to call or vice versa on iPhone. But you have the benefit that stopping saved numbers on your iPhone will not be able to send you texts or calls.
2. Steps to Block Texts on iPhone
Suppose you are getting spam messages from an unknown number, so there is no need to tense as it can be blocked unwanted numbers easily with a few steps, and you will never get the texts from it.
Firstly, on your iPhone→ open the Messages.
From contacts, open the messages which you want to block.
At the top of the message, press the contact and tap the "info (i)" button.
Click the right-facing arrow on the details screen next to the name, phone number, or address.
Press the option "Block this Caller" on the iPhone screen.
Click again "Block Contact" to confirm on the appearing popup menu.
3. Filter Messages From an Unknown Person
If you are getting texts daily and blocking them one by one, spammers make hold of your iPhone. You never get any scam messages again. Still, you can avoid it with another unique feature on the iPhone of filtering. It filters all incoming texts from saved contacts. You can also check the filter list of unknown senders.
In Settings, select the Messages on the screen.
Enable the "Filter Unknown Senders" option on the iPhone screen; to make a barrier of incoming text messages from unsaved numbers.
Now you have a sigh of relief.
4. Install Call Blocker App
If you are still not satisfied with the above methods, you can install apps to make a barrier between iPhone and spammers by installing the Blocking app of call. In those apps, you also allow calls, not messages, or vice versa. A list of some accessible apps is given below.
VeroSMS
Robo Shield
Truecaller
Nomorobo
5. Contact Your Carrier to Block Texts on iPhone
Sometimes, you take many steps to keep yourself safe from trapping. But spammers always try to poke you with different tricks like changing the number or using privacy settings. You may also enable more filters from your Carrier to stop texts from scammers. If above all methods will not work or you want more protection, contact the Carrier of iPhone.
What happens when you block texts on your iPhone?
When you block someone's messages, he doesn't get any notification. It shows to the blocker that he has sent the texts but not. You don't receive any of them and don't need to respond.
Blocked messages or calls will be sent to your voicemail if your phone is off. A spammer can also sent you voice mail but it will not show with regular messages. It is the only hint that spammer will know of about stopping him.
When you have limited any person, he tries to Facetime with you, then only their phone rings, but you don't get any call. This process will be continuous until he doesn't stop calling.
Unblock the Block Number
Any contact you want to unblock, or you accidentally block any number on iPhone. So you can easily remove it from the blocking list. Apply the following steps to unblock the number.
Open the Settings app on the home screen of the iPhone.
Select the Messages Option from the list.
Now click on the "Blocked" option on the screen.
At the right top corner, tap the "Edit"
A list will appear of blocked numbers; choose the number and remove which you want to unblock. Now the process is done.
Conclusion
Hopefully, the above methods are helpful for your convenience and protection. Block those texts and also calls that make you irritating, and try to avoid scammers as there are a lot of chances to trap through messages from spammers. So let's get them in the trash by blocking.