Do you really want to know how to call someone private? As if there could be any reason to make unknown calls. Thus, if you want to prank with your friend or to surprise that person whom you haven't talked to yet, Additionally, you can hide your number if you don't want to uncover your identity.
Hence, there are many firms and businesses that want to hide their identity and make private calls, even for security purposes. Though this method was simple in the past, it is now difficult to use due to the widespread use of caller ID, cable phones, landlines, and cell phones. But in the below section, we have discussed some of the hacks for your ease.
However, there are various methods to make unknown phone calls, whether through phone settings, other apps, or by asking a phone carrier to hide your number. So, go through the following section to learn the techniques before wasting time here.
How to Make a Private Call with Multiple Methods?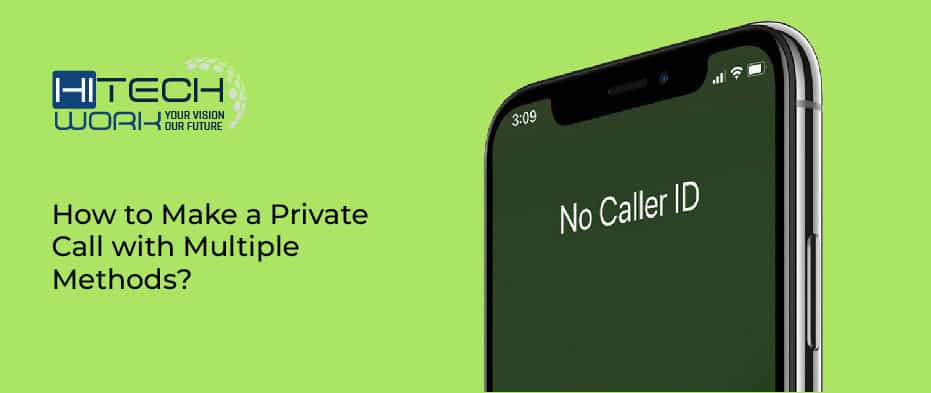 There are several ways to block your own number or show it as private, so that it will not appear on the other end while making calls. Whether you want to utilize this feature on a call basis or permanently, this technique will show you as an anonymous person. Thus, you can use this feature both on Android and iOS, but there is a slight difference in the settings for hiding a caller ID. So, to find the methods of hiding a number, move to the next section:
Method 1: Implementing a Blocking Code
You need to use a code to make your phone number private and also appear on the receiver's display. The method of using a blocking code works on any kind of phone, including Android or iPhone, and even landlines in the United States. The following are the steps to make your number private:
Initially, open your keypad and dial (*67) before the number you are trying to call. I think it is a great idea to try it with your friend.
This process hides your number, but it will show as private, unknown, N/A, or blocked. On the other hand, it will show up on caller ID.
For example, if the number is 333-4444, then you may dial it as *67333444. But you have to dial it whenever you want your number blocked.
Method 2: Hides your Phone Number on iOS & Android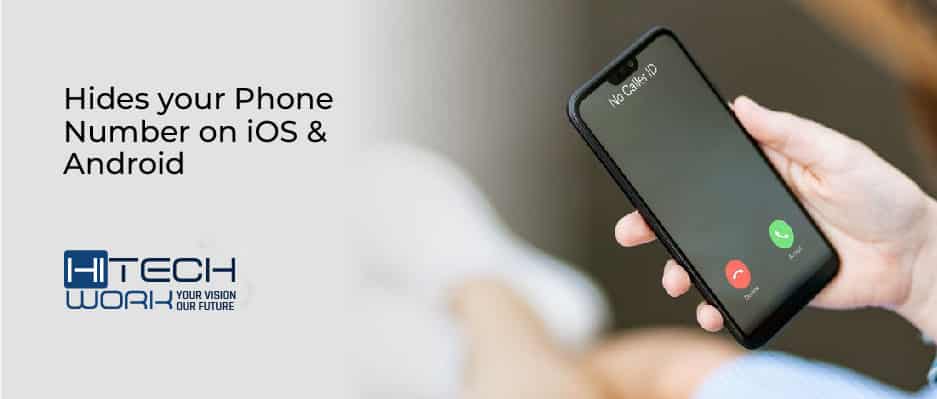 Every Smartphone has a feature to make your number private, which alters on the basis of the OS version. The only exemption is present for Verizon phones, which require your account rather than phone settings. You just need to adjust the settings on the phone, and your number will appear as private on each call. For that purpose, go to the next section to see the techniques for iPhone and Android:
·         Make iPhone Phone Number Private
The iPhone has a built-in feature to hide the number as it is described. Sometimes, it bothers you to write a code every time, so it is better to enable it permanently.
Firstly, navigate to the Settings and click on the
Secondly, tap on the Show My Caller ID.
Toggle the switch to show or hide your number.
·         How to Make a Phone Number Private on Android
Initially, open the Phone app, and then open the Menu.
Press on the Settings icon and then click on Call Settings.
Now, tap on Additional Settings and, afterward, Caller ID.
Opt for the Hide number option, and now the other caller ID cannot see your number when you make a call.
Note: After applying any method according to your mobile device. Like an Android, select the Show number or Network default option to disable this feature. Then, keep in mind that you can also apply the above methods to re-enable the feature of unhiding your number.
Method 3: Contact the Phone Carrier to Blocked your Number
Every device has a different process of blocking your phone number, and it is frustrating to block on a per-call basis. Especially if you are using another type of phone on which you want to block outgoing calls. Then it is better to ask your phone carrier to make your number private. All the leading carriers provide this feature, including Sprint, T-Mobile, Verizon, and AT & T. Through calls and websites, you can ask them for help.
Thus, you can enable this option by dialing (611) to the service provider. Usually, carrier providers don't charge a fee to make your number private. But if they do so, they will send you a bill automatically. Moreover, you can activate this feature permanently. After making your number private through carrier service, you don't need to use the (*67) code before making the call.
Once you have enabled the private number feature, you may also switch it. It means if you want to call your family, then enter (*82) before the number, and your number will display on your member's phone when you call him. This method will temporarily unblock your number.
Method 4: Using Block Code on a Landline to Call as Private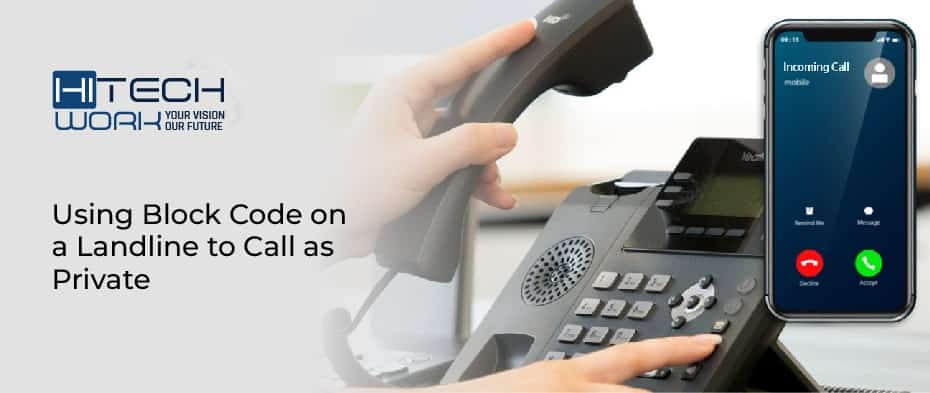 There is a bounty of helpful codes available, whether you are using a phone or landline, which assists you in managing your privacy. The following is a list of some standard star codes which you can use via dial keypad.
| | | |
| --- | --- | --- |
| Codes | Name | Description |
| *57 | Trace Call | Traces last receive incoming calls and are helpful for call warrants legal action. |
| *60 | Call Block | Calls from specific phone numbers when this feature is enabled. |
| *67 | Caller ID Block | Cover your phone number on the Caller ID system |
| *69 | Call Return | Redial the last number that you have called |
| *70 | Call Waiting | It places your call on waiting |
| *72 | Call Forwarding | Forward your call to other phone numbers |
| *72 | Anonymous Call Rejection | Block calls from private callers |
| *80 | Disable Call Block (*60) | – |
| *82 | Disable Caller ID Block (*67) | – |
| *87 | Disable Anonymous Call Rejection (*77) | – |
Method 5: Use the Burner App to Call as Private
If you are not eager to apply the above methods, then a burner app is quite reasonable to use. Because it allocates you a second number to use for your phone, but this app works on internet data to make calls. There are multiple burner apps that you can install for iOS or Android, but here we are describing three of them:
Burner is one of the well-known Android or iOS apps to use for good reasons. It comes with a 7-days trial, and then it charges $5 per line per month. Through this app, you don't need to bother to hide your number as it directly routes your calls to the secondary number.
Hushed is much cheaper than other apps but not free of charge. It provides the offer of $2 per week, on which you get 60 texts and 20 minutes for the call. Moreover, an unlimited package of $5 monthly is also available. But on the basic plan, Hushed allows calling to one another for free. Thus, you can withdraw the package at any time if you want to.
Another technique is to use Google Voice, which gives the user a new number to make calls, audio messages, or texts for free. Unlike the other choices, you don't have to pay a monthly fee with Google Voice. You just need to have an active Google account to get started.
Do you want to know if someone Blocks your Number?
You feel irritated that you have to call again and again, but another person is not receiving your call. It might be possible that he is busy somewhere, having a battery issue, or that his mobile is on silent or having network problems. But the most important thing is that he might block your number, whether on purpose or accidentally. Then you don't get any official message on blocking your calls, but you can make a guess or find another way to contact him if it is essential.
Conclusion
It is worthwhile to keep your caller ID private to control your privacy, so that no one can easily contact you. Additionally, you can also use this feature to prank your friends, as it will show your number anonymously. So, hopefully, the above techniques are pretty good for you to apply. Furthermore, let us know your thoughts in the comment box regarding the article.