For all those, especially you, who are wondering how to cancel a PlayStation Plus subscription? This article will significantly help you if you want to learn many methods of turning off the renewal membership, like on a PC, app, or PS console. Fortunately, all the described ways are relatively easy, and you can use them at home in your comfort zone.
As you know, Sony has been growing for years, and it provides many subscription offers for PlayStation, where PS Plus is a well-known example.
Playstation Plus is a paid subscription that offers free games monthly, PS Store discounts, online multiplayer gaming, cloud storage, and much more.
But sometimes you feel bored and don't want to pay further, or you are not taking advantage of the features or justifying the payment, so whatever the reason, you can take a break from the billing process.
Also, ensure that you turn off the renewal tab before the next end date, as it will automatically renew the subscription.
However, you can also turn on the membership with the same cancellation method if you change your mind. So, without wasting time on this part, move to the following section to see the details regarding how to cancel a PlayStation Plus subscription and refunding methods to use.
Is It Possible To Cancel The PS Plus Membership at Any Time?
Of course! You can easily cancel the subscription whenever you want. Furthermore, you don't need to pay its cancellation fee.
However, remember that your PS Plus subscription renews automatically. Therefore, it is better to cancel your subscription before the free trial or the end of your subscription so that you don't need to pay unreasonably.
Furthermore, if you cancel your PS Plus in the middle, you must do it at least 24 hours before the automatic renewal date. So you can withdraw the subscription at any time on any console. It only takes a few minutes for this task.
Is PlayStation Plus free forever?
After canceling the subscription service, you can still access your free games till the end of the billing period. But once it ends, you are no longer able to access any of the games that you have during the subscription.
So, you will lose all the benefits that you can access, including online storage, monthly games, and an online multiplayer capability.
Nevertheless, those games will also be stored on your system, but you will not be able to play them. However, if you change your mind, you must do the subscription and regain access.
4- Best Ways to Cancel your PlayStation Plus Subscription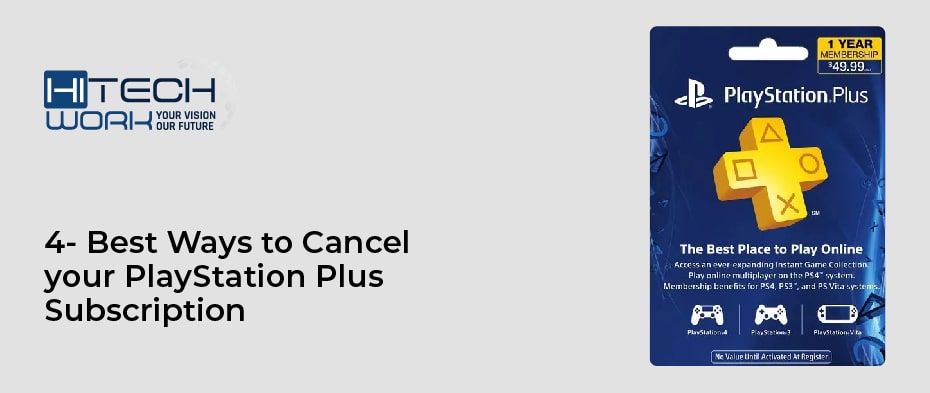 There is no rough and challenging way of withdrawing the PlayStation Plus membership. Hence, you can do it within a minute regardless of the reason. So, go through the next section to see how you can perform the task in multiple ways:
Web browser
PS Plus App
PS 4 Console
PS 5 Console
1.      Withdraw Your PS Plus Membership Through Your Web Browser.
Let's see the following steps to cancel the subscription through a very easy way, is a web browser:
Access the Account Management site by signing in and selecting the Subscription tab on the left.

Subscription tab

Find your PlayStation Plus subscription and choose Turn Off Auto- Renew
Now, click on Confirm

Confirm the cancelation of PS Plus
2.      Cancel Your PS Plus Subscription Through The App.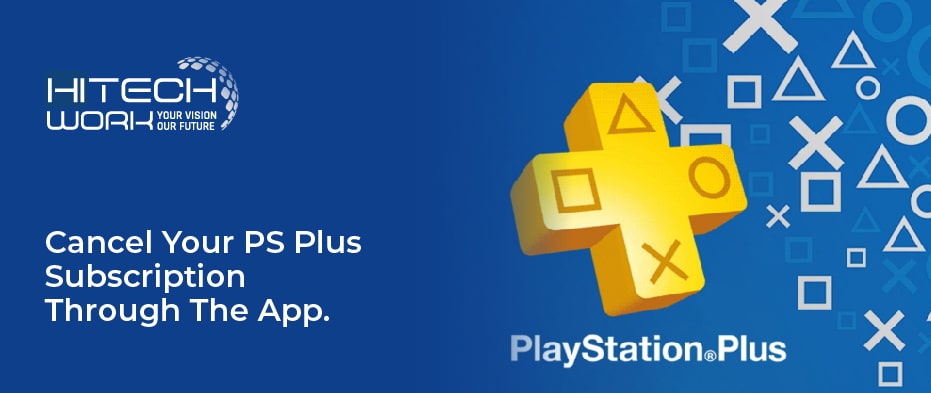 Cancel your PS Plus or any PlayStation subscription right from your mobile phone is a great comfort. In the meantime, if you have not connected your PlayStation console to your PS App; you can still rescind the PlayStation Plus subscription without having to start your console or PC.
But remember that you need to log in to the PS App to perform the cancellation process.
Access the PS App on your Smartphone and navigate to Settings.
Scroll down the screen and click on PSN Service Status in the PS Network.


playstation subscription management

 

On the next screen, scroll down to Services and click on PlayStation Plus.
You must log in to your PS account to withdraw your PS Plus subscription. Click on the top right corner and type in your login credentials to Sign in.
Click on your profile picture in the top right corner and choose Subscriptions Management from the menu.

Subscription Management

Last but not least, tap on the Turn Off Auto –Renew.
Finally, click on Confirm to withdraw your PlayStation Plus subscription.

how to cancel playstation plus on phone
3.      Rescinding the Subscription using a PlayStation 4 Console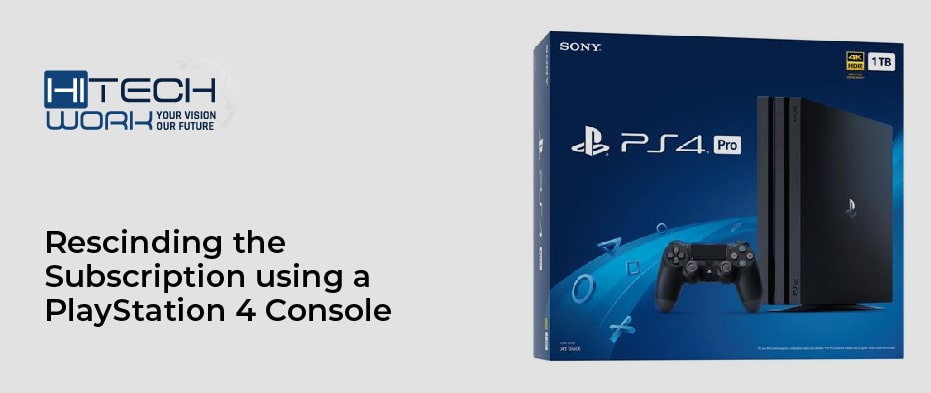 Here is another method for terminating the membership hat through PS4. So, let's see the steps below:
Initially, go to Settings.
Click on the Account Management.
Now, select Account Information.
Then, click on the PlayStation Subscriptions tab.


Account Information

After that, opt for your PlayStation Plus Subscriptions.

PlayStation Plus Subscriptions

Click on the Turn Off Auto –Renew.
Finally, click on the Yes tab.
4.      Cancel the Membership of PlayStation Plus via PlayStation.
It always seems amazing if you get anything feasible, like the instructions below for rescinding the subscription. Hence, let's see
Select Settings first from the Home screen in the upper right corner.
Now, select User and Accounts.
Select the Account tab in the left pane and then choose the Payment and Subscriptions tab on the right.

Payment and Subscriptions

Select the Subscriptions.
Now, move to PlayStation Plus.
Click on the Turn Off Auto-Renew tab.


Turn Off Auto-Renew

 

At last, confirm your choice, and your membership will not renew. Though, it will still be active until the day shown on the above Next renewal date.
What Happens After Canceling the PS Plus Membership?
Actually, you will turn off the auto-renewal feature when you withdraw your PlayStation Plus subscription. The subscription is not rescinded immediately, but it will be effectively canceled the next renewal time. Withdrawing PS has a few consequences:
Free PS Plus games are only accessible if you have an active subscription. Thus, you cannot access these games because your subscription has been withdrawn.
You can only play offline games, except for a handful of games like Final Fantasy XIV.
If you have used the cloud save feature, then it is not also available further. You can only access the saved data that is stored on your console.
You will lose access to its libraries when the membership expires if you have an Extra or Deluxe membership to PlayStation Plus.
It is important to note that canceling your PlayStation Plus subscription does not revoke or delete your Playstation Network account.
You keep your PSN ID, trophies, saved game files, and any digital games and downloadable content (DLC) you purchase through the PlayStation Store.
Cancel the PlayStation Plus Membership & Get a Refund
It is pretty good that you have the option to request a refund for your Playstation Plus subscription within 14 days of the transaction. So, if you have not used the subscription, then you have a high chance of receiving a full refund. On the other hand, you may also get a partial refund.
See the instructions to request a refund. Well, remember to have your PSN account ID, Sign-In ID, PlayStation Network subscription name, and your date of birth.
Initially, open a browser and move to the refund page of the Sony PlayStation Store.
Click on the blue Request Refund.


blue Request Refund

 

Then, talk to the chatbot to confirm whether you are the account owner. Click on the Yes tab to reply.
After that, select the Cancel a subscription tab to choose a reason for your request.

Cancel a subscription

Then, you will be transferred to a live or support agent for further guidance.
Wrapping Up
Hopefully, now you know how to cancel the PlayStation Plus membership in multiple ways, which is handy to apply. But there is one more thing you must know: you can also turn on the subscription with the steps mentioned above in the same way; reverse all the steps to regain access on any of the platforms.
Still, if you have any questions or concerns, please leave them in the comments section.