Is your Apple Pencil causing a charging problem? If yes, then no fret. We will let you know how to charge the 1st and 2nd generation Apple pencil & how much time it will take to charge them. These pencils are wireless styluses for some iPad models that allow you to write handwritten notes, sketch, paint, and draw, as well as control the iPad, as it is wireless and all you have to charge it rarely.
Apple always surprises its users with cool accessories for iPhones and iPad. An Apple pencil is one of them. However, two versions of the Apple pencil will look and work differently and are intended for different iPad models. Both versions use a different method to charge. You don't need a charger or any powered hub; you can easily charge the pencil using the iPad it's paired with. No matter your pencil, it will charge quickly in just 15 minutes. But if your pencil is not charging with the iPad, it may be due to basic software issues or hardware problems. So let's discuss what to do if the Apple pencil is not charging.
How to Charge 1st & 2nd Generation Apple Pencils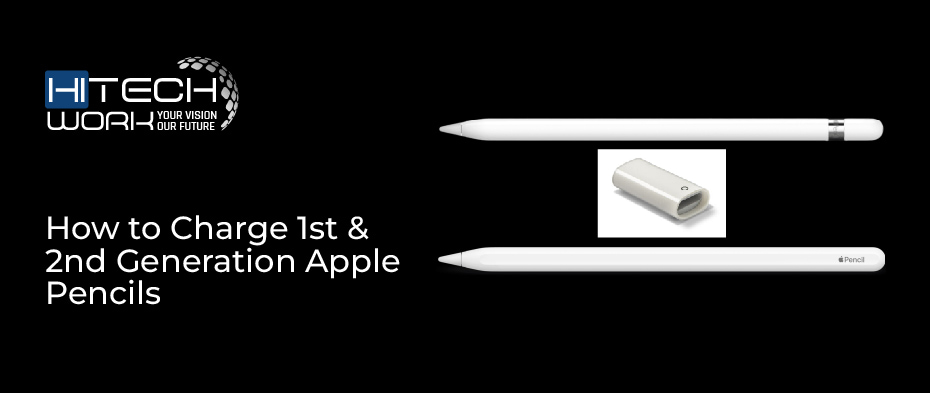 Although the iOS pencil is a wireless device that runs on a battery, it has a great battery life, and you can charge it occasionally, especially if you own a second-generation pencil. If you use the pencil often, you will have to charge it before running out of battery. That's why you need to know about charging the Apple pencil. Now let's move on to the ways to charge the pencil.
Charging 1st Generation Apple Pencil
Charging the first-generation pencil is not the best affair. The 1st generation pencil is friendly with all iPads that ship with a physical home button and a lightning port. If you want help recognizing which Apple pencil you have, know that the 1st generation pencil is entirely circular, and you can charge it similarly. Take your apple pencil and erase the cap from the top of the stylus. You will now see a lightning connector at the end of the pencil. Then, place the connector into the lightning port at the bottom of your iPad. You will hear a sound, and the pencil will begin charging.
Moreover, keep the pencil on charge until it charges completely, which will be around 15 to 30 minutes. Still, if your pencil is not charging, debris may block its port. So you first have to clean it. Although you can also use the lightning adapter that came with the pencil. So link your pencil to the adapter, and then connect it with a lightning cable to charge your stylus pencil.
Charging 2nd Generation Apple Pencil
With the 2nd generation, Apple advanced the charging experience by leaps and bounds. The second generation Apple pencil is managed by the latest iPad Pros and iPad Air. These iPads have flat edges and don't have home buttons.
So, the pencil magnetically snaps to the side of the iPad, as it has only a flat edge (along with a programmable option). And that's all you need to do to pair and charge the stylus. You can place your pencil on top of your Airpods (when in landscape), and you will see a popup telling you that the pencil is charging, and you will also see the battery status. If it does not start charging, ensure Bluetooth is toggled on by pulling down the control center on your iPad and checking that the Bluetooth button has turned blue.
How to Check the Charging level of Apple Pencil
However, you cannot see if the first generation is charging. But there are two different ways to see if the Apple Pencil 2 is charging. You can swipe from left to right on your iPad home screen to bring up the Today View menu. In the batteries section, you will see an option for the pen. If your pencil is on a charge, then it will show a battery status with a lightning bolt inside. Another way to check whether the 2nd gen pencil is powered up is by adding a widget to the screen. To check the battery status, apply the below steps.
Open Today View by swapping from left to right on your home screen.
Move to the bottom of it and click on the
Now, look for the battery widget, choose it, and then move it to the home view.
Although you have to allow, Bluetooth to see it listed under the widget section.
What to do if Apple Pencil is not Charging with the iPad?
Second-generation pencils and the below-mentioned iPad models allow wireless charging when linked to the top of an iPad. In such a case, we are referring to the iPad (4th gen), iPad Pro 12.9 "(3rd & 4th gen), and the 11-inch iPad Pro (1st & 2nd gen). Although the 1st gen pencil does not have wireless charging, even the earlier iPad models would not function.
The 2nd generation Apple pencil will not charge if put on an iPad other than the ones mentioned above. So ensure that you have put the pencil 2 on top of the iPad, near the power & volume keys, with Bluetooth on. Remember to check your iPad battery; if the iPad battery is low, you can charge the pencil with the iPad.
Fixes- for Apple Pencil not Charging
Here are some fixes that will resolve your apple pencil charging issues.
1.      Restart your iPad
Sometimes, problems occur in charging pencils, such as temporary glitches on the iPad. So to resolve this, toggle off your iPad and turn it back on. When you have done this, place the 1st gen pencil into the iPad's lightning port or connect it to the right edge of the iPad.
2.      Ensure the Connection is Correct
If your iPad is placed on cushions, sheets, or an uneven floor, the connection between the pencil (in the lightning port or magnetic side) may not be correct. As a consequence, the stylus may not charge. So to fix this, put your iPad on a table or a plain surface and place your pencil in charge. Ensure the connection is correct and, if needed, try again to fix it.
3.      Kept on Charging for a While
If you are charging your pencil after a long time, with its tiny battery thoroughly exhausted, it may take time to display the battery status. In this case, allow the pencil to charge and wait for 15 minutes.
4.      Make Sure Your iPad is Charged
The Apple pencil battery (86 mAh) is tiny as compared to the iPad (about 11,000 mAh). Therefore, you can charge your pencil even if your iPad's battery is low. But, sometimes, it will not work due to the iPad's version, bugs, or any temporary issue. So, before inserting your Apple pencil to charge, ensure your iPad has a sufficient battery.
5.      Clean the Connector & Port
Erase the magnetic cap from your pencil 1 and use a warn cloth piece to clean the connector softly; after a minute of cleaning dirt from the iPad's lightning port cautiously. You can use a warn non-conductive object such as a wooden or plastic pick to gradually clean the dirt from the port. After cleaning, place your iPad into charging; if it functions, that means the port is fine. It will charge the pencil too.
To clean the apple gen 2 pencil uses a dry soft piece of cloth and wipe it properly. When you link it magnetically to the iPad, ensure a case, plastic protector, cover, etc., isn't coming between the apple pencil & iPad charging surface.
6.      Unpair & Pair the Pencil Again
If your pencil is not charging due to software issues, this is the simplest way to fix it.
View iPad settings and click on Bluetooth. Ensure it's enabled.
Click (i) beside your apple pencil.
After that, click on Forget this Device >Forget Device.
Now restart your iPad.
Place the pencil 1 to lightning connector into the iPad port. For pencil 2, connect it to the right edge of the iPad. So in a few seconds, you will see the Pair button. Click on it, and the issue will be resolved.
7.      Update your iPad
If you are using the previous version of iPadOS, open the settings >General > Software update your iPad. See if this resolves your Apple pencil charging problem or not.
8.      Check Hardware Issues
If the solutions mentioned above don't work, then you have to check the hardware of your pencil. Maybe the pencil battery is old enough, or you haven't charged the pencil in months, which caused its battery to fall into a deep discharge mode, or the pencil is damaged, and some hardware issues prevent it from charging.
Wrapping Up
However, the charging ways of both apple pencils are quite different. But now you know how to charge an apple pencil. Hope this guide assists you in charging your 1st and 2nd-generation apple pencils. If you can't charge your pencil, try the fixes mentioned above. It will resolve your issue. Tell us in the comment section which apple pencil you have and what issues you are facing with it.