Phones have become a massive part of our standard of living and have transformed how we communicate with the world. However, when you start to suspect that your confidentiality might have been exposed, there is a chance that your iPhone is hacked, which can evoke a sense of concern. But how can you discover or check that your iPhone is hacked in the settings app?
In 2017, technologists revealed that phone hacking occurs approximately every 38 seconds as a reminder to remain vigilant. An 11 percent increase in reported phone hacking incidents between 2018 and 2019. That highlights the importance of being proactive in detecting any signs of unauthorized access to your phone.
So, if you suspect your iphone is hacked, how can you remove a hacker? Read this guide to find the answer to your question.
Settings Apps to Check if iPhone is Hacked
Everybody spends a lot of time on their phones, and sometimes it's fairly obvious that it is performing out of the ordinary. By checking the below-mentioned sign in your phone's settings app, you can determine whether or not your phone is hacked.
But remember that these signs are not conclusive but specify a probable security fissure.
Check Unfamiliar Applications in Settings If your iPhone is Hacked
Stay attentive and cautious about the apps you install on your iPhone. You can ease the risk of hackers downloading malicious software without your consent.
It is important to remember that hackers typically require only brief physical access to your phone to install spyware applications. Which can compromise your privacy by transmitting personal information, texts, media, and more to their servers.
So if you encounter a suspicious application you did not install yourself, it indicates that your iPhone may have been hacked. Plus, if you find that your antivirus software disappears unexpectedly, it can be seen as a protective measure against a virus and could indicate potential unauthorized access to your device.
Subsequently, check your phone regularly for unfamiliar applications and instantly delete any you discover. Ensure you check any application folders, too, as hackers can often try to hide malicious apps there. Furthermore, check and view the most used applications from your iPhone settings in the last 7 days if you are suspicious it has been hacked.
Open your iPhone and then navigate to the settings app.
Now tap on the screen time option from the settings menu list.
After that, hover over the see all activity option.
In this section, you can see the total time you spent this week. The applications are recorded in chronological order, with the most used app at the top.
Then scroll down and tap show more to view all applications and websites.
Check iPhone Data Usage in Settings When iPhone Hacked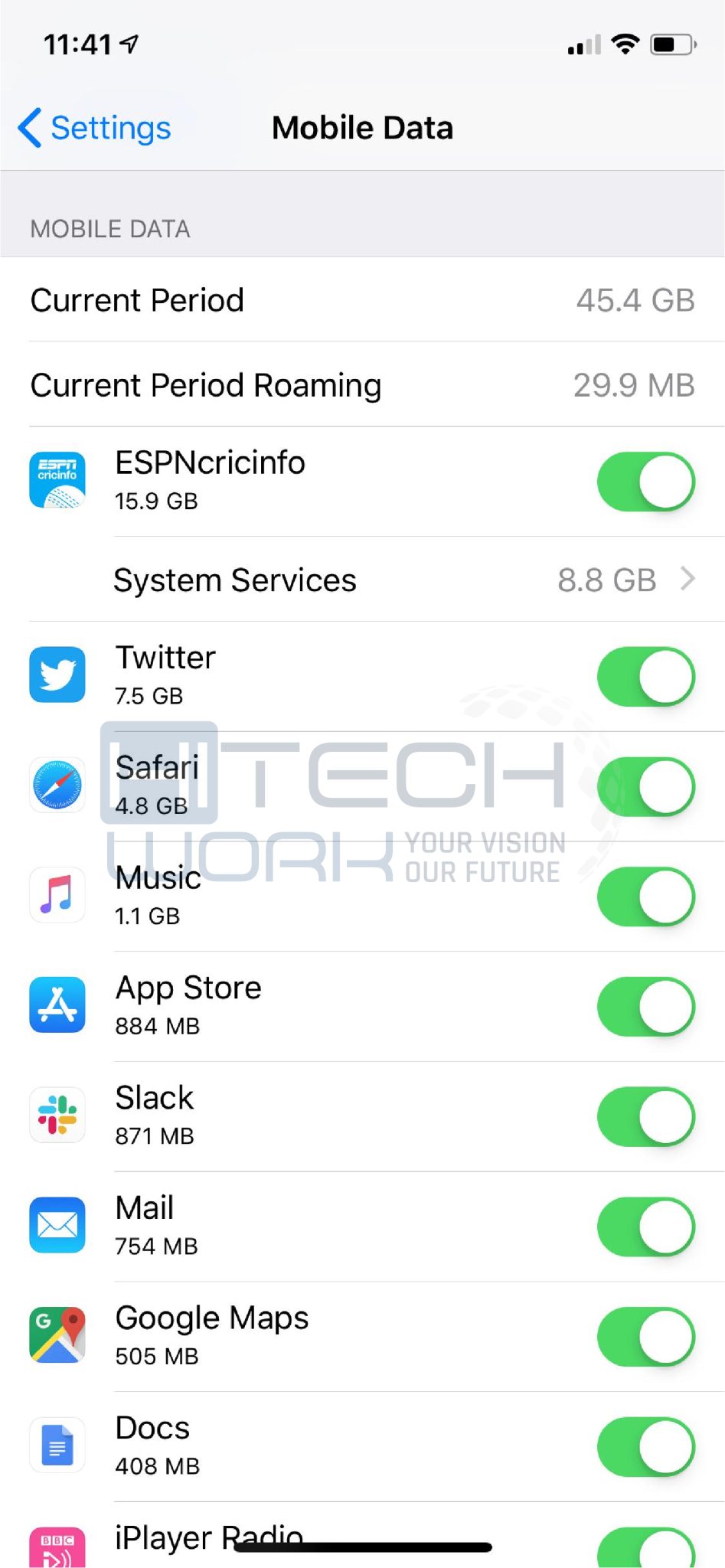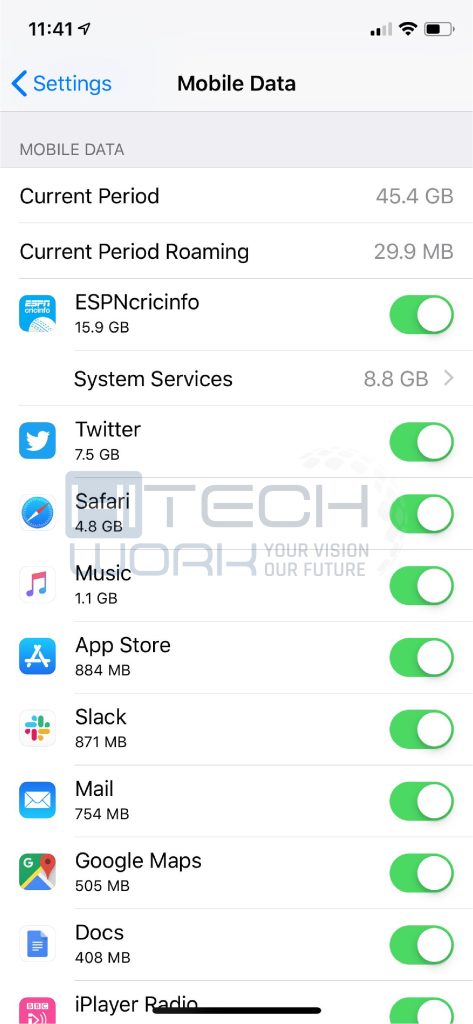 Have you noticed your phone's mobile data draining quicker than usual? Or has your mobile data phone bill skyrocketed?
Most of us don't use all of our data each month. But if you discover yourself consistently reaching your data usage limit and feel uncertain about the reasons behind it. It is an indication that something may acquire your attention.
In certain cases, if your phone is hacked, it may exploit your phone and mobile network to receive calls. That lead to unexpected outcomes such as a negative balance on your phone, excessive mobile traffic, and unwanted data consumption towards the end of the month.
So when your iphone is compromised, a hidden or malicious app running on your device could be surreptitiously connecting to the internet and transmitting your data to unauthorized servers. That results in a rapid depletion of your data usage.
These attacks often exploit internal iOS vulnerabilities frequently through phishing attempts disguised as innocuous subscriptions. When you check these signs in settings, you can safeguard your privacy and security proactively if your iPhone is hacked.
That's why checking the cellular network traffic is always a good idea. You can check which application uses the data in the cellular data section and in what quantity.
Open your iPhone and hover over the settings app.
A settings menu page will appear on your screen; tap the cellular option here.
Now scroll down and find the application list that uses cellular data.
Here you can also check the present and previous billing periods.
Other Ways to Check if Your iPhone is Hacked (Without Settings App)
There are several other ways to discover if your iPhone has been hacked instead of the settings application.
Overheating Phone: The battery of your iphone is draining quicker than usual when a process is running in the background.
Receive Mysterious Messages: If you don't recognize the newest messages, your iphone might probably be hacked.
Phone Performance is Dropped: if you sense that your phone is acting slower than usual, it means that your phone's processing power is being for something else.
Hear Strange Voice During Call: when you hear a strange crackle noise, echo, and other strange sounds that were not there before. It may indicate that a wiretap has been place on your phone.
How to Remove a Hacker from My iPhone?
When you check the settings app and doubt that your iPhone has been hacked, it is necessary to take an instant action to recover your phone's control and defend your personal data. That's why you must act hastily to defend your iphone from additional harm.
Here, we have shared the safety procedures to remove the hacker from your iPhone.
Turn Off the Internet Connection
If you check in the settings app and doubt that someone has access to your iPhone or your iPhone is hacked, turning off the internet connection will make a hacker not access your device remotely. To switch off the wifi or internet connection, swipe down from the upper right side of the Home screen and then tap on the Wifi icon to it.
Uninstall Suspicious Applications
Possess an eye out for applications that you don't think of downloading. Have suspicious names or display infrequent behavior. Malevolent applications may have access to your data or be the reason for the hacking attempt.
To delete an app, tap and hold the app icon till it initiates to wobble. Next, click on the cross X icon on the app, then confirm your decision to delete it.
Clear Browser History on your iPhone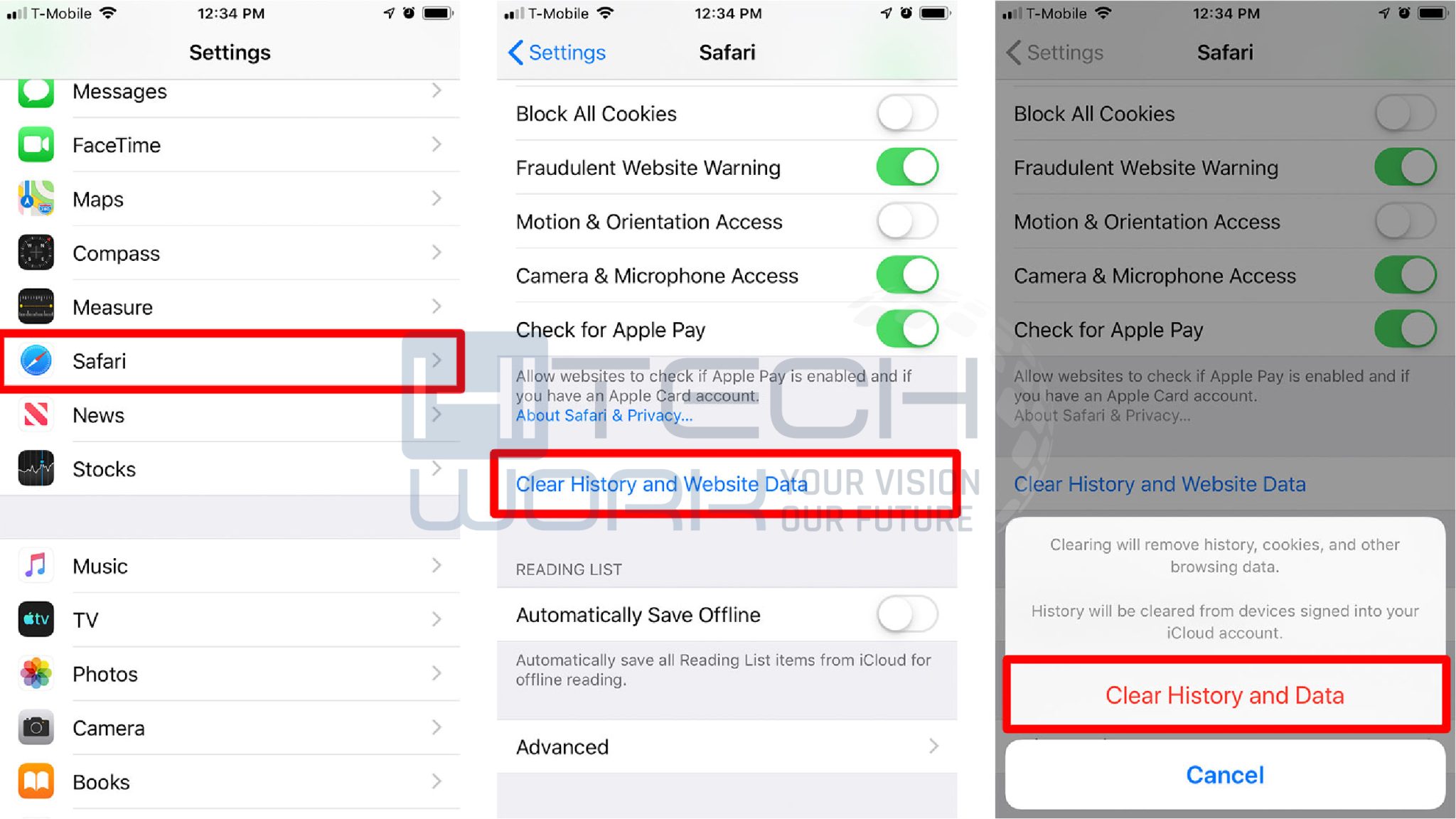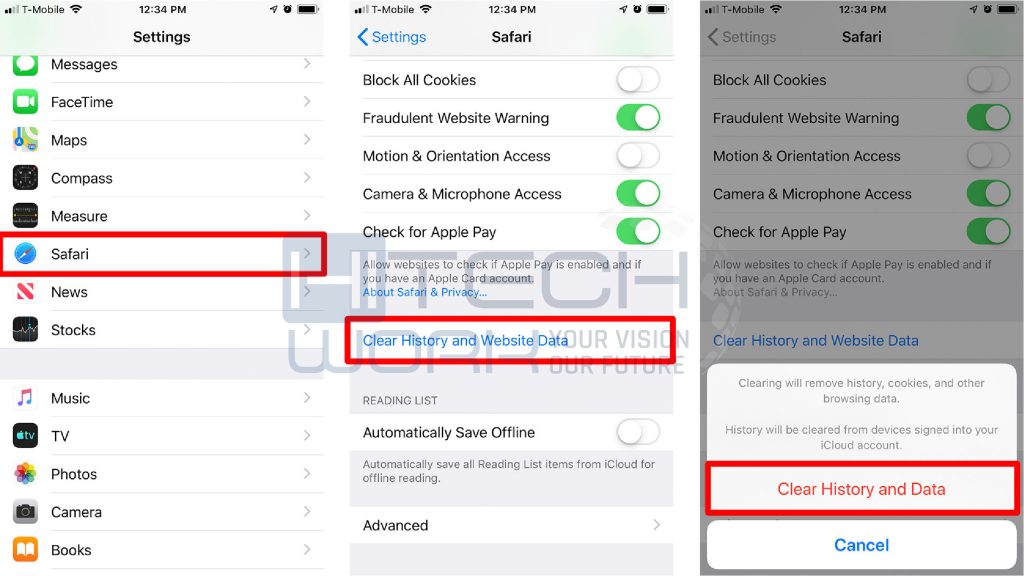 Suppose you have seen threatening pop-ups when browsing the web. Clearing the browsing history cache cookies will help you not come back next time when you are using it again. To do So, launch settings app > Safari > Clear History and Web Data > clear history and data to confirm. That's it.
Update your iPhone to its Latest Version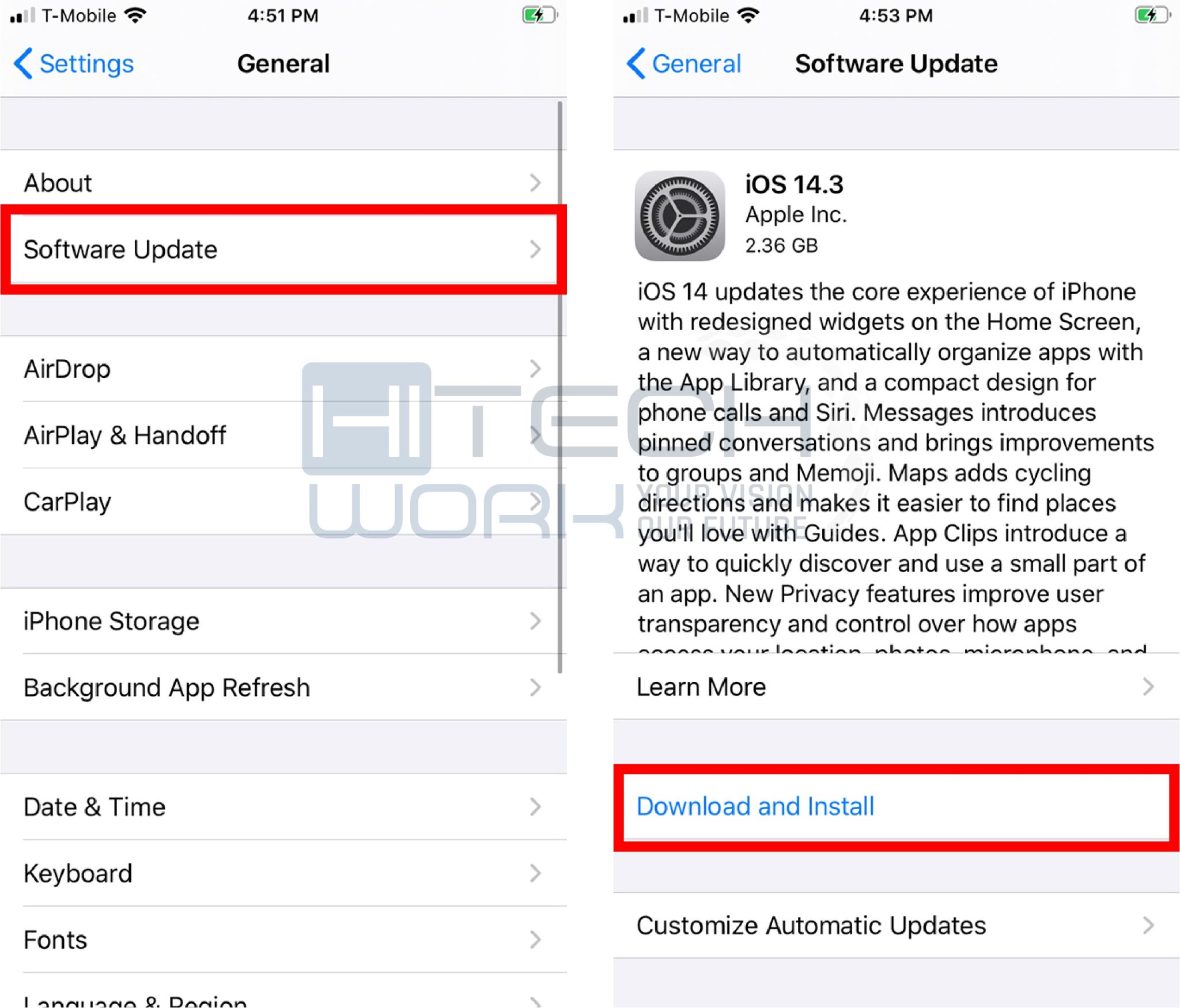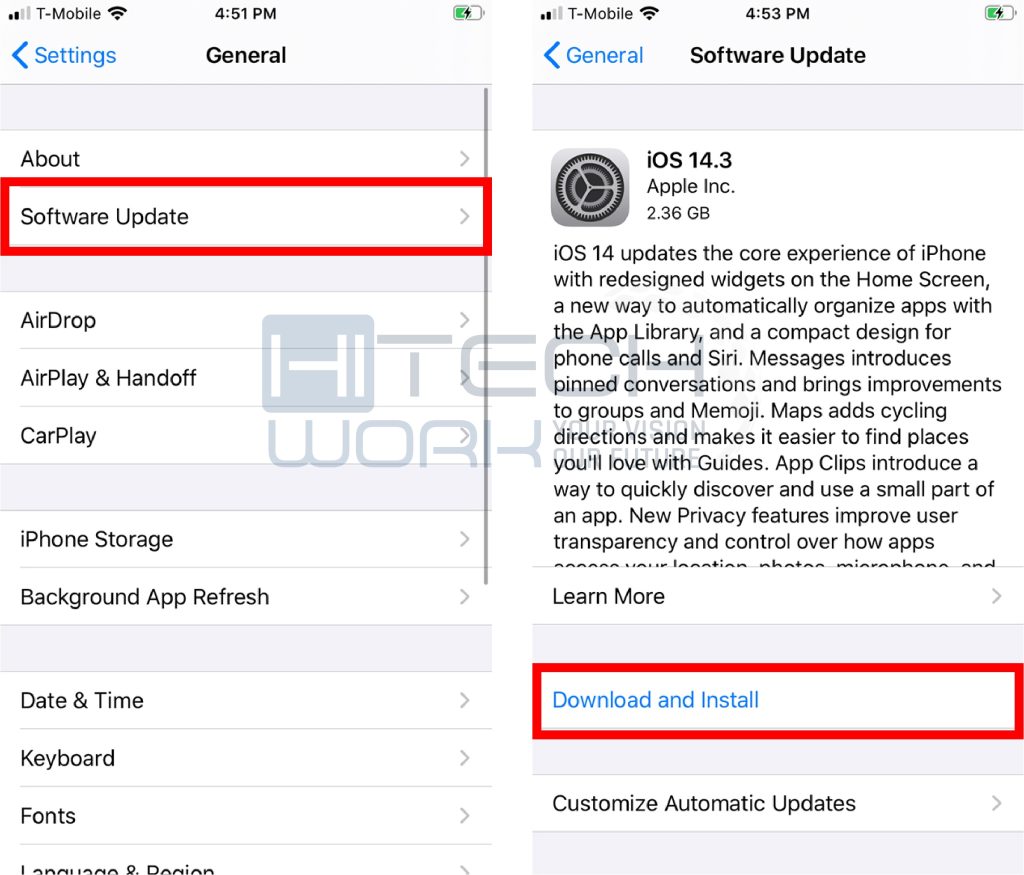 When you check and Upgrade your iPhone settings, it approves your device has up-to-date security and fixes to protect against known vulnerabilities and being hacked. Regular updates can prevent hackers from exploiting outdated software and help keep your iPhone secure from being hacked.
If you want to update your iphone to clean your hacked iPhone, hover over the settings app. here, and tap on the general option from the pop-up menu list. Then tap on the software update. If an update is available, click the download and install. That's it.
Retune your Passwords
Use inimitable passwords for every account you use on your phone to stopover a domino outcome. Check the settings app and make sure that if one account is hacked, the other remains safe on your iPhone. Use at least 12 characters, and dodge using straightforwardly guessable data like birthdays. To do that, use a mixture of upper and small letters, numbers, and symbols to make a unique and strong password.
Turn on Two-Factor Authentication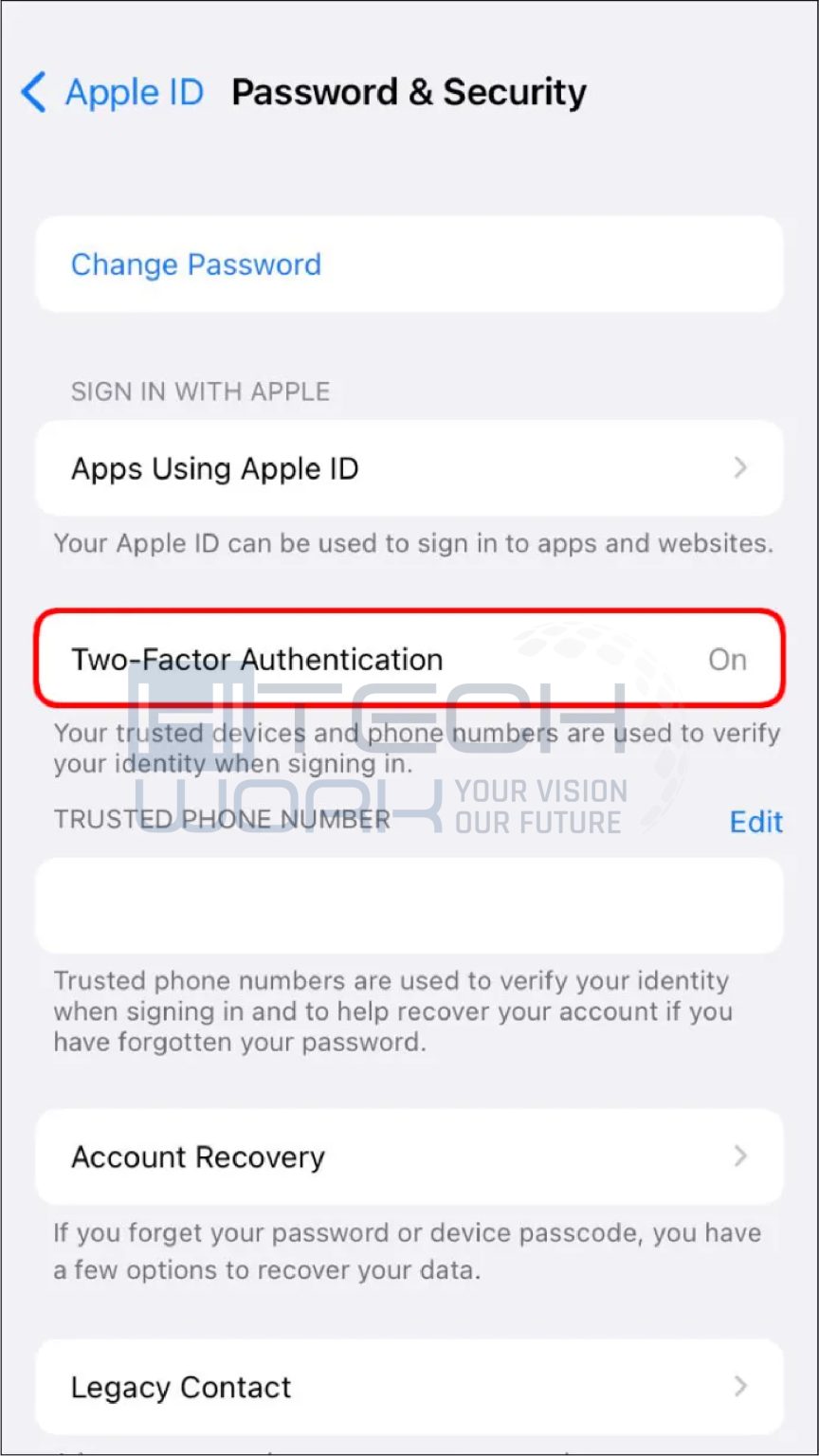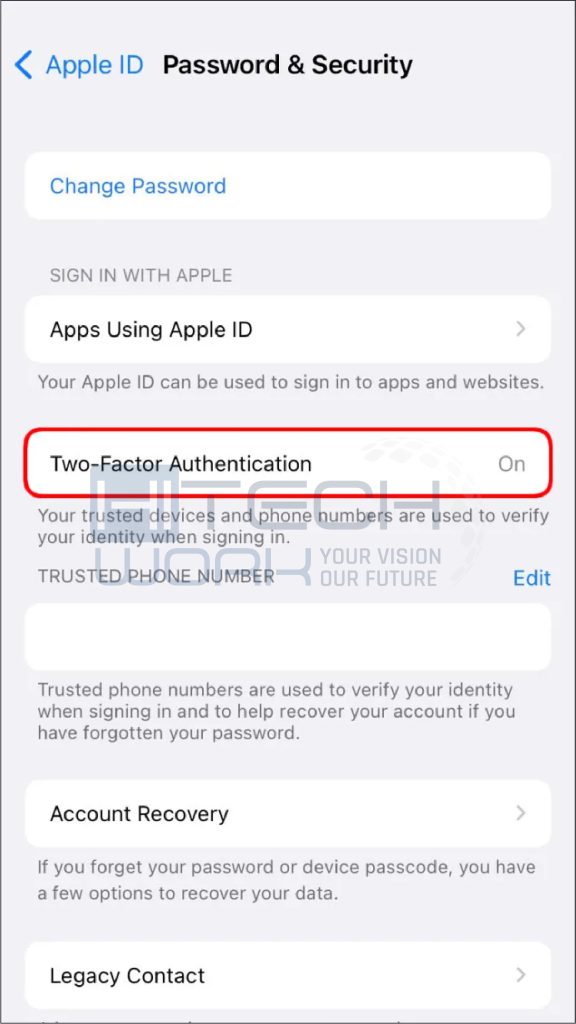 2FA adds a layer of security by necessitating a second arrangement of authentication. Like a text code or biometric statistics additionally to your PIN. Hover over the settings app > NAME > Password & Security to enable two-factor authentication on your iPhone. Then click on the turn on 2FA and follow the prompts to ample the 2FA procedure.
Remove Unknown Profiles
Unknown malicious profiles can grant hackers access to your data and device settings. So check and look for profiles in settings that you don't recognize or have doubtful names for cleaning your hacked iphone. To get rid of unknown profiles, move to the settings app > General > Profiles option. Next, tap on the suspicious profile and click the remove profile option.