In Overwatch 2, the players get many stats from the original game but get stuck when checking their Rank in OV2. However, this guide will explain how to check your Rank in Overwatch 2.
As a player, you must know you have both Rank and level, in which the level is easier to understand. No matter whether you win or lose or whenever you play. Eventually, you gain experience, which causes you to level up, but it won't be prominently shown in Overwatch 2.
Meanwhile, Out of the five main game modes featured in Overwatch 2, Rank reflects your skill level in a particular competitive playlist. And you have to win if you're interested in improving your Rank. Playing a game is not the only certainty of ranking up, as you can lose games and lower your Rank.
What is your Overwatch 2 rank?
Your Rank quantifies your skill in Overwatch 2 in comparison to the rest of the player base in a competitive game mode. It starts from Bronze 5 to Grandmaster (and Top 500) and gets only changes when you play competitive matches.
There are different ranks for the three classes (DPS, Tank, and Support) if you're playing Role Queue or a single rank for Open Queue. Blizzard occasionally launched competitive queues for alternative game modes, such as Mystery Heroes and Captured the Flag, which also has individual ranks.
Therefore, to check out the Rank in Overwatch 2, first, you must get one by winning five competitive matches or losing and trying 15.
Simple Steps to Check Your Rank in Overwatch 2
Let's learn how to check your Rank in Overwatch 2 in just a few steps.
First, you must boot up Overwatch 2, so go to your profile from the game's main menu screen.
Select the "Career Profile" option at the top-right of the main menu. Make sure that you come across it in the "Overview" tab.
The Rank displayed will be for "All modes" by default, so choose the "Competitive" option from the drop-down box.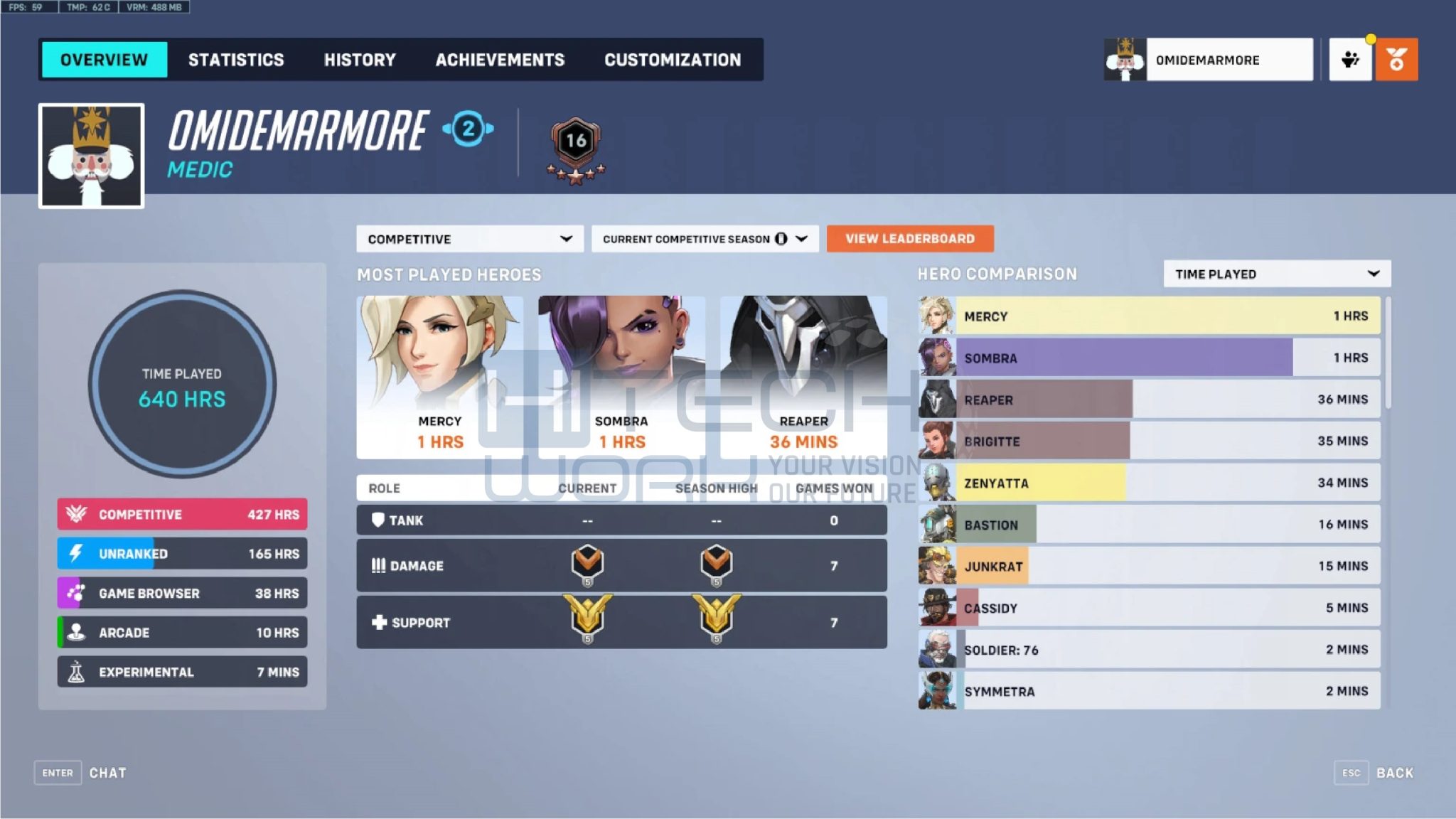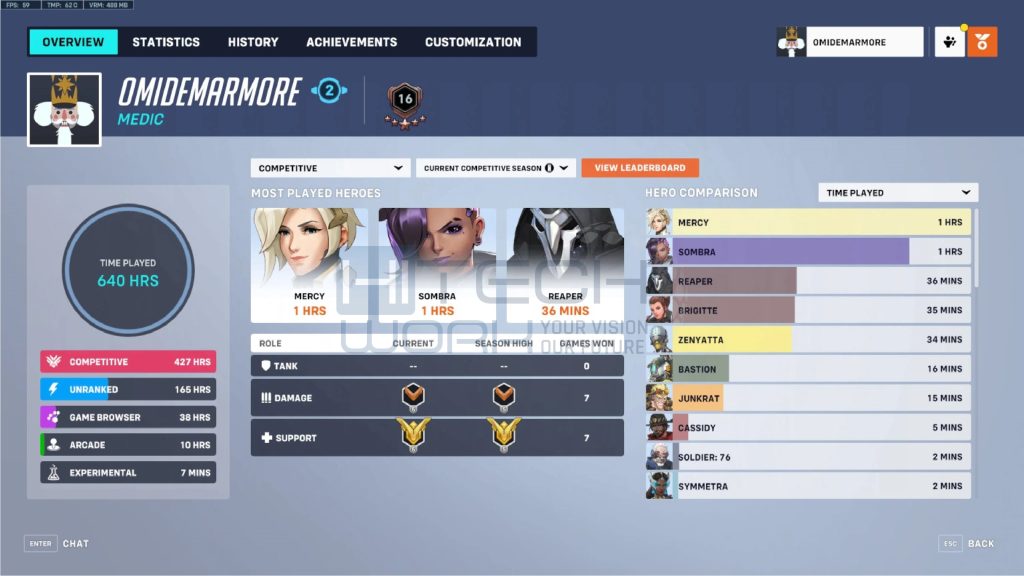 So then you'll be able to see your Overwatch 2 competitive stats and current Rank. But if you do not see this option, you haven't played any competitive matches yet and should complete at least one to get the stats.
Moreover, you can see all of your ranked stats from the same menu. You can view your stats for any mode you've played in this manner. It also includes information about your gaming histories, such as how many games you've played, how many you've won, how many you've lost, eliminations, deaths, assists, damage done, how many hours you've spent playing Overwatch 2, your favorite game modes and heroes, your longest killstreak, and more.
Method to Hide Your Rank from other players
At a certain point, in Overwatch 2, there are various reasons why you might want to hide your Rank from other players. You want to hide your ranking to stay private and prevent random players from harassing you; therefore. Hiding your Rank can also serve a strategic benefit because by hiding your Rank, you also hide your playtime stats for each hero. Playtime stats help the enemy team counter you before you leave the spawn door, especially if you like to one-trick a certain hero.
Even though Overwatch 2 players can hide their Rank from other players to stay private and restrict random players from harassing them, this feature is a strategic plan, as you can hide your playtime stats for each hero. The playtime stats may assist the enemy team in countering you before you leave the spawn door, especially if you like to trap a certain hero.
Follow the instructions and hide your Rank to keep your gaming profile hidden.
Go to the Options menu, and then go to the Privacy Tab.
You can hide your Career Profile from everyone or allow access to only your friends and group.
And don't worry, hiding your Career Profile won't affect your ranking, so you check your Rank whenever you want.