Is it embarrassing to wear a grimy Apple watch band among friends? Here's the friendly advice to clean the Apple watch band: Dust, smoke, sun exposure, and spilled food while eating outdoors will make your Apple watch band dirty and worse to wear. It is important to clean it twice a week to reduce the chances of irritation and prolong the life of the device. Fortunately, it takes a few minutes to wash out and turn into a new cleaned look.
However, people like to wear various watch bands to get a cool look, but it's cleaning which is necessary to do. So it would help if you do it according to the instructions on the iOS box.
Here are all the methods of cleaning the Apple watch band, whether you are looking for a leather Apple watch band, silicon watch Apple band, nylon watch Apple band, or white Apple watch band on your wrist.
Exclusive Features of an iOS Watch That People Love to Try
Fitness Companion
A bank of songs, podcasts, and audiobooks
User-oriented
Alarming heart rate
An Apple watch is the best and most convenient fitness partner, always on your wrist. People used it as an ideal device for a healthy lifestyle. Your watch keeps you connected with the people and things you care about most. An Apple watch has apps that help you reminding to wash your hands and protect your hearing from loud sounds. It gives you millions of songs, Apple podcasts, and Ebooks, making your day enjoyable.
Moreover, Instead of putting your valuable credit cards in your wallet, you now have your credit card and debit card on your wrist. You can purchase anything you want quickly and securely. Your Apple watch improves your sense of direction. An Apple watch has kid-friendly features and parent-friendly goals. It has a Heart rate app that will alert you to high and low heart rates and irregular heart rhythms so you can take action and consult your doctor. However, An Apple watch helps you focus on your overall health and wellness.
Official Apple Instructions Before Cleaning the iOS Watch Band
Apple watch bands are available in different materials, including leather, wood, silicone, and stainless steel. Hence, the cleaning methods of each digital iOS watch depend on the different solutions. Now we may have a look at what you need to get started.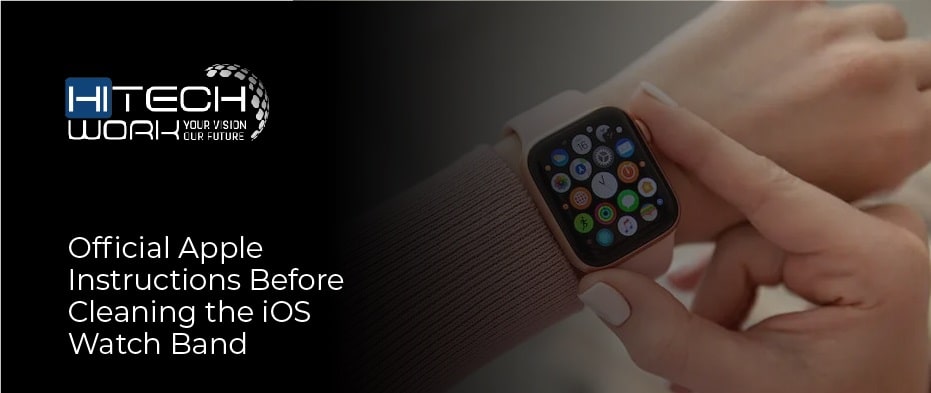 Apple Watch Care Kit  
Nonabrasive, Lint-Free Cloth
Lukewarm water
Liquid soap
Cotton swabs
Stainless-steel polish
Soft-bristle toothbrush
Alcohol wipes
Precautions
Safe Your iOS Watch and keep it in a secure place while removing the band
Remove your band first from your precious apple watch to avoid damaging
Check the exact cleaning solution before going to clean your Apple watch band.
Always use lint-free and nonabrasive cloth.
Use mild, hypoallergenic hand soap to clean the band.
7 Spotless Methods: To Clean the Grim off your Watch before it Gets Ruined (100% Guarantee)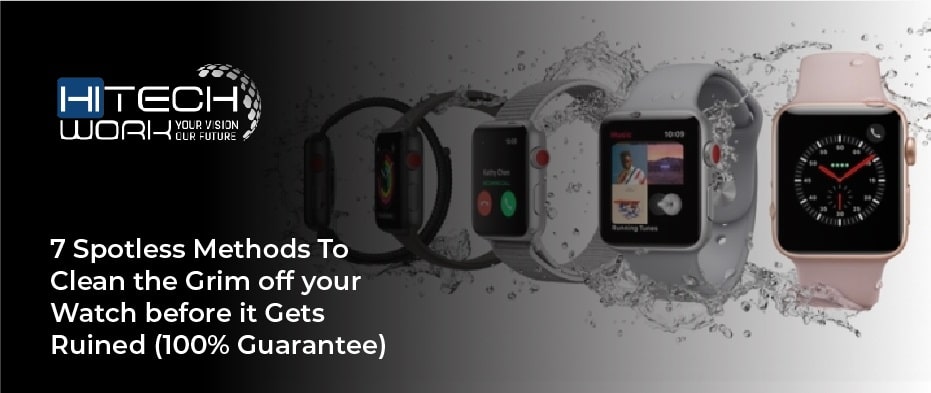 An Apple watch has various watch bands that need to be cleaned accordingly. To clean your Apple Watch, use 70% isopropanol alcohol (a colourless liquid that is a major component of rubbing alcohol used in household items, including cleaning, hand sanitizers, and cosmetics) and a cotton pad to rub the surfaces.
The most popular 100% spotless methods to clean your iOS watch band are listed.
Use Lint Free Cloth to Clean the Leather Apple Watch Band


Cloth to Clean the Leather Apple Watch Band
if your Apple watch possesses a fancy leather band, gentle cleaning is required. Leather is not water-resistant. Water misshapes leather, and as a result, it causes discoloration. Although when the water dries, it makes a band cracky.
Apple suggests subsequent ways to clean leather watch bands.
Gently wipe the watch leather with a clean, non-abrasive microfiber cloth. Use a lightly damp cloth and fresh water to remove sticky smears. Make sure not to expose leather bands to sunlight, high temperatures, or high humidity. It is important to wait in peace while letting the band dry. Once it has dried thoroughly, reattach the band to the watch and enjoy your spotless band.
Just Use Liquid Soap to Clean Silicone Apple Watch Band


Clean Silicone Apple Watch Band
Are you perplexed about what to use for your watch? Yes, then here is the solution for you. You can choose anything that will be your friendly budget.
Silicone bands can be washed with warm water and liquid soap. It is also waterproof and trouble-free to clean. Avoid harsh cleaning agents that could devalue the protective coating.
Apply Mild Hand Soap to Clean White iOS Watch Band


Hand Soap to Clean White iOS Watch Band
White Apple watch bands once looked shiny, but now you're sporting some streaks or stains on your wrist. However, mild hand soap and water may not effectively remove stains or yellow discoloration on a white watch band.
The solution is a Mr. Clean Magic Eraser, which can be used with a little water to remove stains and disappear discoloration (Albeit not Apple-approved) on the Apple watch bands.
Make Use of a Damp Cloth to Clean Nylon Apple Watch Band


Damp Cloth to Clean Nylon Apple Watch Band
All you need is just a damp cloth. Nylon watch bands would be cleaned with a dampened cloth. Nevertheless, nylon tends to absorb water, so do not clean it under running water or go off it in your washer. Make sure to let it dry thoroughly and then reattach the band to the watch. Otherwise, if water remains on the watch bands, it will start to smell.
Apply Vinegar and Water to Clean Stainless-Steel Apple Watch Bands
Stainless-steel Apple watch bands are made of 316L stainless steel. Harsh cleaning agents may damage the band's protective coating and cause discoloration. Apple recommends using a nonabrasive lint-free cloth only to wipe the band.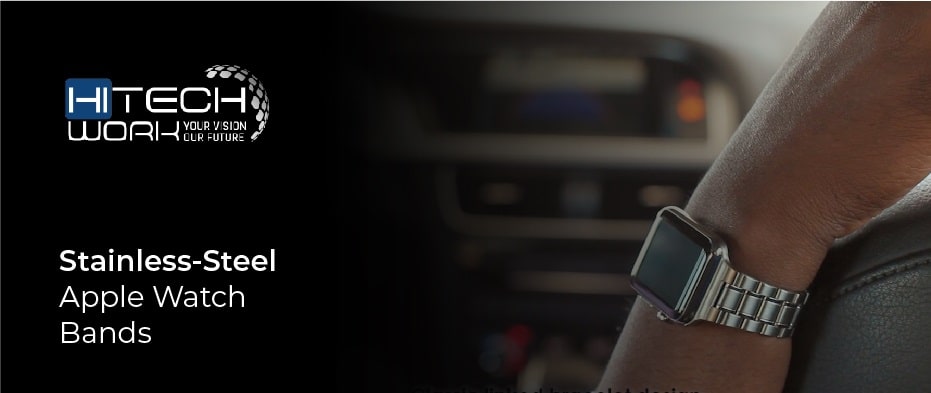 There are other cleaning methods to consider if the overhead solutions do not remove stains and smears completely. Be sure to try warm, soapy water with a cloth. Let the band dry thoroughly before reattaching it to the watch in order to avoid rusting.
For tough remnant, try a mixture of one portion of water and one portion of vinegar to clean a stainless-steel Apple watch band. Apply the solution to the stainless-steel watch band with a cotton swab and gently rub away the smudges. Moreover, use a high-quality metal polish especially intended for jewelry that improves shine and helps in removing scratches.
Use moisten cloth for Wood Apple Watch Band


Wood Apple Watch Band
Wooden watch bands must be wiped down with a damp cloth and placed in the open air to dry quickly. Elongated water exposure will affect wood, resulting in deformation or cracking.
Soft-bristled brush for Braided-Loop Apple Watch Band


Braided-Loop Apple Watch Band
In contrast with woven nylon, braided-loop Apple watch bands are water resistant. Use a soft-bristled toothbrush to scrub the band gently, then wash it out with water. Now let it dry properly.
How to Clean Your Dusty Apple Watch Surface & its Digital Crown?
unlike to clean an Apple watch band, your apple watch face and its digital crown have to be cleaned safely. You could be polluted with germs, dirt, and harmful viruses whenever you touch your Apple watch band. So, it's better to take care of your hygiene and regularly clean it. Let's started to do it properly. Here's the step for cleaning the Apple watch surface:
You need to turn off your Apple Watch while thumbing down on both side buttons, and if it is connected to its charger, remove it.
Priorly remove your band if it is not water-resistant.
Swab it with a non-abrasive, lint-free cloth, damp cloth, and freshwater so it can remove stains or smudges on the Apple watch face.
Be alert not to use any soap or cleaning agents.
You can hold the watch for 10 to 15 seconds under lightly running fresh lukewarm water.
Dry the Apple Watch and its back crystal portion with a soft, lint-free cloth.
The steps above will be the same for cleaning the Apple watch's digital crown. Furthermore, remember that when you put your watch in fresh water, you must continuously turn and press the digital crown as the water runs over the small gap between the crown and the surrounding surfaces and watch case.
More Specifics of Apple Watch Bands
Most popular sports bands are made from fluoroelastomer (it is a fluorocarbon-based synthetic rubber that has exceptional heat and chemical resistance capability and is used in an aggressive environment).
Apple has specified commendations for Solo Loop, Sport, and Nike Sport, Bands. Use a nonabrasive lint-free cloth with a slightly damp cloth along with hypo-allergic soap in order to clean the Apple watch band.
Conclusion 
If you're anxious about your hard-earned money, you have wasted on an Apple watch band that started discoloration and looks dirty. You won't get worried about investing in another watch band. This article for sure solves your problem and is worthy enough. It covers all the methods to clean Apple watch bands safely and turn them sparkling in the evening. You feel grateful after wearing your glossy and spotless watch. Hopefully, you will enjoy it.
Moreover, check Apple's official site for any further recommendations.