How to clean the iPad screen and get the best out of your iPad. We all know that an iPad screen is prone to scratches, smudges, and fingerprints. It's also very easy to get a screen protector on your iPad That will protect the screen, but it's not as easy to clean it. In this article, we'll discuss how to make spotless your iPad screen safely and smoothly and what you can do to get the best out of your iPad's original look.
Key Takeaways
Before cleaning the iPad screen, unplug your iPad and remove the protective case.
Try to gently wipe in a circular motion for the cleaning side by side and avoid getting more wet cloth.
Use a microfiber and lint-free cloth – lightly dipped in water and clean.
iPad laptop screen has an oleophobic coating, making it wipe away dirt easily.
If a speck of dirt won't clean out, use 70% isopropyl alcohol containing 30% water.
Avail Precautions
Don't use bleaches, abrasive and aerosol sprays.
Try to avoid leaving the device plugged in.
Don't spray directly cleaning product on the iPad screen.
Avoid using abrasive cloths such as paper towels.
Don't use harsh stuff.
Never use cleaning supplies directly. Always mix in water and use them.
What is Oleophobic Coating on iPad Screen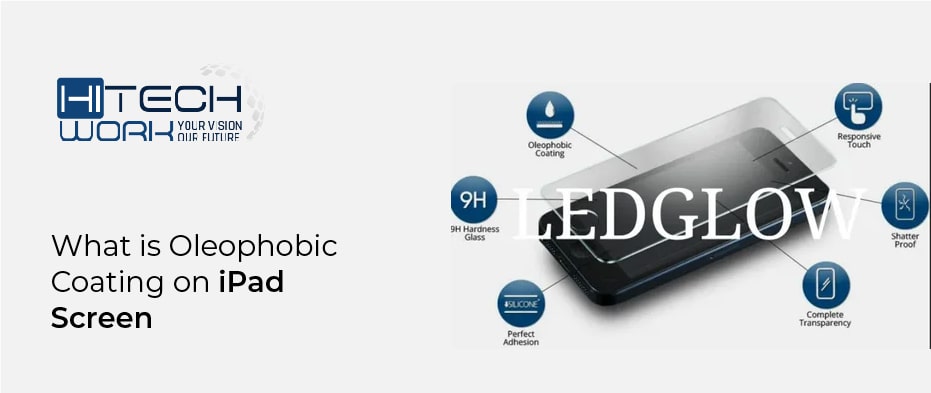 OLEO = OIL & GREASE
PHOBIC = STAY AWAY OR RESISTANCE
The oleophobic coating means to stay away from oil showing on the screen. It is simply designed for people who want to keep things private. Oleophobic is an important aspect of any device or electronic product dealing with oil and grease. This term is quite popular nowadays, and many manufacturers use it to define their products.
People try to avoid wearing off the oleophobic coating because it damages the phone. Additionally, preventing your phone from crowding the fingerprint on the device, the coating makes it easier to wipe them off from the iPad screen to keep your screen clean.
What You Need to clean iPad
If your iPad touch screen has a dirt smear and won't extract out easily. Take precautions to clean it and ensure using hard cloth types that can cause damage. Before cleaning, take mandatory supplies once.
Soft Lint Free Cloth
Water
70% isopropyl alcohol wipe
75% ethyl alcohol wipe
Clorox Disinfecting Wipes
How to Clean iPad Screen Safely & Smoothly
Consider the steps below to give your iPad a look brand new as you buy a new one.
Warning: Avoid getting moisture in the opening of the iPad, such as the camera, speaker charger, and headphone jack.
Turn off the iPad – if the iPad connects to the charger or a desktop.
Check if your iPad is in a beautiful customized or protective case, and carefully remove them.
Now take a lint-free cloth and damped into the water containing cleaning products, and buy from any eCommerce store.
Wipe the screen by moving the cloth in a circular motion. Start at the top and come forward with side-by-side movement to clean the screen.
Allow the iPad or laptop screen to air dry for 5 minutes.
Replace the protective case or brand-new case to revive the original look.
Where to Buy iPad Screen Cleaner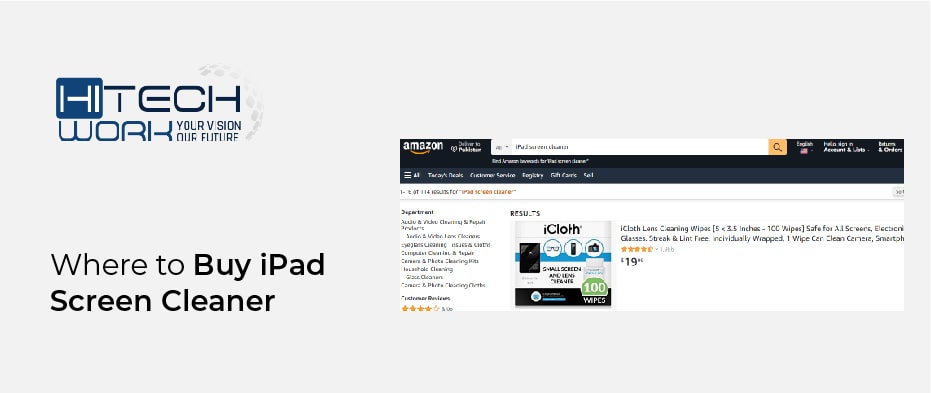 There are many iPad cleaning products, but do you need one? Here is a list of the best iPad screen cleaners from different eCommerce stores. I've tested all these products, and they work well. I've been using each of them for several months now. I use a combination of wipes and these products to clean my iPad screen daily. You'll see that some of the iPad screen cleaner brands don't offer a warranty. That's because they just make their products and sell them.
Amazon
MagicFiber Microfiber Cleaning Cloths
Flawless Screen Cleaner Spray
iCloth Lens Cleaning Wipes
iKlear iK-26K Complete Cleaning Kit
Monitor Wipes
BestBuy
Insignia™ – 5 oz. Screen Cleaning Solution
Insignia™ – 70% Alcohol Electronic Cleaning Wipes
AudioQuest – CleanScreen Cleaner Kit
Nano Magic 16oz Screen Cleaner
Walmart
Tech Armor Screen Cleaner Kit
Screen mom cleaner kit
Screen joy cleaner kit
FINCIBO round screen cleaner
eBay
Acenix screen cleaner
Monster screen cleaner shield
Polishing cloth for apple products
40 x screen cleaning wet wipes
How to Protect Your Screen with iPad Air 10.9 Screen Protector?
The iPad's screen is one of the most sensitive parts of the device. It's very easy to scratch or damage the screen of your iPad with your fingers. In order to prevent such incidents, you can apply and buy iPad Air 10.9 screen protector from an eCommerce store or nearby shop and take out the old protector to replace it with a 10.9 protector.
FAQ's
Why is disinfecting the iPad screen mandatory?
You must know that the iPad screen is an overlooked source of microbes that are mostly covered with germs that may come from your hand or the environment. That's why disinfecting the screen is compulsive with 70% isopropyl alcohol or Clorox solution disinfecting wipes.
Are stubborn stains cleaning quickly?
The screen is the important part of the iPad that must be clean. The stubborn stain can immediately clean if the screen comes into contact with a soft lint cloth wet with Acenix screen cleaner.
What about the cost of the cleaning solution?
The cost of a cleaning solution depends on the brand you get from the cleaner kit. Otherwise, the cleaner kit cost is reasonable and may check out on online stores like eBay, Amazon, and Walmart.