How to close apps on iPhone 12? I know that you don't know how to do it because you are upgraded now from iPhone X to iPhone 12, and I am here to help you by following this guide. If you previously owned an iOS 8, 7, or any other older version. Then you will definitely know that there was a device button to close the applications. But now, in the recent era of the iOS 12 or 13 series, iOAS X, XS, and XR do not have a home button option on the device, which means you have to use gestures to close your various applications.
This guide will be helpful to you. While this feels so awkward and tricky to use, it will take only you a few days to get acclimated, therefore, if you are unsure about how and when to quit apps on your iPhone. Here, we share some quick steps to follow.
How To Close Apps On iPhone 12 (Easy Steps)      
If you want to close the apps or frozen apps on iOS 12, you can easily do it. Likewise, if your phone is not responding to you manually, make your phone run smoothly by following this guide. On the other hand, on iPhone SE, iPhone 8, and earlier series of iPhone, there was a button for closing or removing the running apps on your phone. But this button is not available on iPhone X and later series to close your running apps. Here are some steps you can follow to quit your apps on your iPhone X and later series.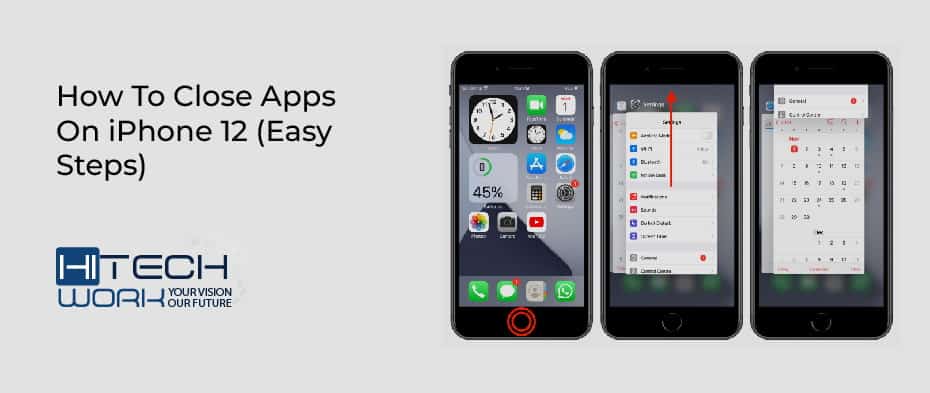 Go To the Home Screen
Firstly, to close your non-stop working apps on iOS 12, you need to go to the home screen of your iOS 12. You can do it by swiping up from the bottom of the screen in one motion. This option reveals all the apps that are running on your iPhone 12.
Swipe Up to close Apps on iPhone 12
Now you can see all the apps you have currently used or open. Swipe up on any app on top of the screen that you want to quit or close and pause in the middle.
Swipe through the Open Apps
Now, you should see a roller with preview windows of all the apps you currently have open to remove easily. Since when they were last used. Then, locate the apps you want to close by swiping left or right on iOS 12.
Swipe Up on the App That Wants to Close
Once you have located the app that you want to close, swipe up on the app's preview window to close it. You can close one particular or multiple apps. Just you need to swipe up on any you wish to close fully.
Click on the Display to Return Back to the Home Screen
Tap the top or bottom of the screen to return to your iPhone 12's home screen. Once you're done dealing with the app (or apps) you wish to close.
When You Should Close Apps on iPhone 12
These are the reasons on how and when you should quit or close your apps on iPhone12, 11, XS, and X.
If you closed the not working apps, it would be helpful because it will slow down your device. When you are not using the app, it will go to the background of the home screen of your iPhone. In that case, you can quit and then restart your app. It will also help you to solve your problem.
Sometimes your phone or apps will freeze or get stuck on your iPhone. In that situation: close or quit the app and restart it. It would be best to close or remove your frozen apps on your phone's home screen. It will work out, and the app will be closed. If it is not workout and the app is still frozen on your phone, restart your iPhone again.
Closed The Apps to Save Battery Life of Your iPhone
Its a big misconception that if you close apps in the background of your iPhone 12 home screen, you can save your phone battery. But it is not like that, but it will reduce your iPhone's battery life. It will gradually shorten the life span of your iPhone. However, for the frozen and not working apps, it is okay to leave these non-working apps in the background of your home screen until. Or unless you want to use them again. This situation is considered in all iPhone series.
Conclusion:
In conclusion, if you want to close apps on iPhone12. And don't know how to operate your device, I hope this guide will be helpful for you to solve your issues relating to closing the running and freezing apps. And this article will also guide you on how you can save the battery life of your iPhone by closing apps. Let me know in the comment box which iPhone model you are using nowadays because all the above instructions are given for iPhone 12.