If you are wondering how to connect AirPods to PS4, this article will give you all answers and clear your doubts. Apple AirPods are wonderful accessories that work flawlessly with different features of iPhone, iPad, MacBook, and other devices. Still, there might be some issue attaching them to PS4 pro or PS4 because PS4 lacks a few features, one of which is connecting any Bluetooth headphones or headsets.
When your PlayStation4 does not support Bluetooth audio. You can use your AirPods, AirPods pro, or any other Bluetooth headphones with it.
Airpods – How to Connect AirPods to PS4:
Airpods are the most popular truly wireless earbuds to hit the market for months after launch. They are ideal for mobile devices because of their small size and quick pairing. We rely on AirPods too much, and it is a disappointment that AirPods are not an option when we want to use headphones with our PS4.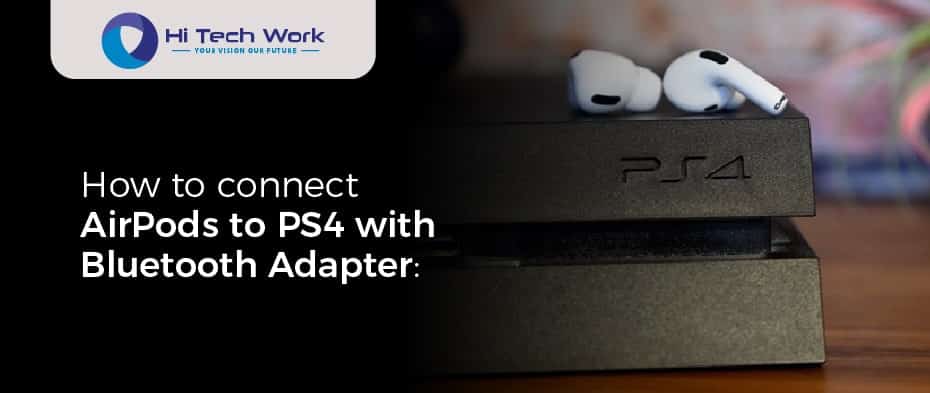 How to connect AirPods to PS4 with Bluetooth Adapter:
Follow these steps to connect AirPods to a PS4 using a Bluetooth adapter:
Make sure your AirPods are fully charged. If your Bluetooth adapter uses a rechargeable battery. For example, the air fly Duo is connected to the PS4 controller's headphone jack and requires battery power. Other Bluetooth adapters are connected to the PS4 USB port and do not require battery power.
You can connect a Bluetooth adapter to your PS4.
Put the Bluetooth adapter in pairing mode. The exact procedure depends on your device. Therefore, you should read the supplied instruction carefully.
While your AirPods are charging, open the charging case. Press and hold the sync button.
Press and hold the button down until the lights on the Bluetooth adapter stop flashing. This light flashing indicates that AirPods are paired with the adapter.
Pairing AirPods to the Receiver:
Confirm that your PS4 is sending to your AirPods by checking the setting on the PS4. Simple, go to the settings > Device > Audio devices.
Two important settings need to be changed on the audio device screen, such as the output and headphones.
OUTPUT DEVICE: set to headphones connected to the controller or (the right menu for your Bluetooth adapter).
HEADPHONE OUT: you can also control the audio volume sent from the PS4 to your AirPods in the volume control menu.
After that, all the audio from the PS4 hits your AirPods, and you are good to go!
Luckily, there are third-party products that you can use to pair the two. We will walk you through the process in this complete guide to connect AirPods to PS4.
Third-party Dongles:
If you only try to sync your AirPods with your PS4. The system will not recognize the headphones because it does not support Bluetooth audio. This is where third-party receivers come into play game. You will find that even Sony silver, gold, and platinum headphones still require the use of a dongle, so it is not uncommon to use one with other Bluetooth headphones as well.
The main dongle we recommend is the Avantree Leaf Long Range USB Bluetooth Audio Transmitter Adapter, which has a variety of uses. Still, more importantly, it can work with your AirPods on ps4. It is expensive and one of the top adapters to use with AirPods on PS4.
If you are looking for something cheaper, we recommend that you buy the DEWIN Bluetooth dongle adapter. This dongle is available on Amazon at half the price of the main dongle, so it is worth it. It works well, although it is a bit less easy to get started.
How to connect AirPods to PS4 without a Bluetooth Adapter?
You can also connect to your PS4 without a Bluetooth adapter. However, the requirement for this is that you have an android or iOS Smartphone.
This process allows you to play PlayStation4 video games on your smartphones. So that you can effectively play games on a PlayStation while using your AirPods as headphones. Let's look at the steps associated with this method.
"Technology is a powerful tool but a dangerous master."
-Christian Lous Lange, Historian
Steps for Connecting Airpods without Bluetooth Converter:
Turn on Your PlayStation4:
First of all, for this turning purpose of how to connect AirPods to PS4, you need to turn on your PS4.
Sign in to your PS4 Account:
After turning on your PS4, you will need to log into your PlayStation Network account on your PS4.
It would help if you opened your smartphone before you could continue. Then open the app store on your smartphone. It depends on the type of your smartphone.
If you have an Android smartphone, open the Play Store, and if you have an iOS smartphone, open the App Store.
After opening the App Store on your smartphone, search for the PS4 Remote Play application.
Log in into your Account:
Once you have downloaded PS4 Remote Play on your smartphone and accepted all the terms of use, you will be prompted to log into your PlayStation Network account.
Find out your PlayStation4:
Once you have logged into your PlayStation Network account in the App, your smartphone will search for your PS4. Be patient; this process may take a few minutes.
Connect your computer to your controller:
Once your android phone has established a connection with your PlayStation4, you will have the option to connect your controller to your android phone.
To do this, first, go to your Android phone settings menu and go to the Bluetooth settings. Then press the Share and PlayStation button on your controller.
This method will keep your controller in release mode. Once you do, your controller will appear in the list of devices it can pair with on your smartphone. You select it from the list, and your smartphone will pair with your controller.
Once you have connected your controller to your smartphone, the rest is easy. Connect your AirPods to your smartphone as usual.
This technique can be done through your smartphone's Bluetooth menu, or if you have a newer iPhone, the AirPods will connect to it as soon as you open its case. Once you have done all of this, you can go back to PS Remote Play and start any game of your choice.
An additional method to Connect AirPods to PS4:
A Bluetooth transmitter can also route audio from a TV to a PlayStation4, as long as the TV has additional support, for example, a 3.5mm headphone jack port. How to connect AirPods to PS4: Here is an additional method to connect the TV to the PS4 with an HDMI cable, as usual, then connect the transmitter to the headphone jack of the TV.
Put the transmitter back into pairing mode and press and hold the pairing button on the AirPods. The streamer and AirPods will automatically connect to allow audio from the PS4 through the TV and AirPods.
Another easy way to connect Apple AirPods to a PS4 is with the Remote Play app for iPhone and Android smartphones. This application allows players to access the PS4 from anywhere via Wi-Fi.
The ultimate downloaded & activated App only works on Android version 5.0 and higher or on iPhone models with iOS 13. The Apple AirPods are connected to the smartphone following the Bluetooth settings.
The ability to pair Apple AirPods with a PS4 is beneficial for all gamers who prefer to play with wireless headphones rather than the TV audio or mono headphones that come with the PS4. Apple AirPods are a great option, and while pairing them with a PlayStation4 is not easy, there are ways to put them together.