Are you looking for a professional tool and wondering how to connect Apple Pencil 2 to your iPad 9 generation? You are landing on the right page as we will let you know a quick way to hook up your Apple pencil 2 with the right pair.
However, the Apple (1st Gen) has a glossy, circular finish and charges via a lightning port; on the other hand, the Apple Pencil 2 has a hexagonal shape that feels more like an actual pencil in your hand.
To go into depth, we write up this blog post to tell you a comparison between Apple 1 and Apple 2 and a list of their compatible iPad models. Once it is connected to your iPad, therefore, you can take advantage of the handy features, including handwritten notes, Scribble feature, writing inside text boxes, and much more.
Let's explore below.
Apple Pencil Generation 1st vs. 2nd
The Apple Pencil 1st gen was launched in 2015, while the Apple 2nd debuted in 2018. They both have similar usage but differ in design, price, and charging mechanism. 1st generation costs $99, and Apple 2 costs $129 which means Apple's 2nd generation is quite expensive compared to Apple 1.
Further, you must remove the end cap of the original Apple pencil and insert it into a lightning port. The Apple 2, on the other hand, is charged by magnets on the iPad. In addition, the new Apple Pencil 2 does not have an end cap, so there is no fear of losing it.
The Apple Pencil 2 has a hexagonal shape to make a more comfortable grip with a soft touch. On the contrary, the Apple 1 has a circular shape that easily rolls off surfaces.
Moreover, by double-tapping the side of the 2nd generation, Apple makes it simple to move between stroke types and tools, while the Apple 1 does not have this exclusive feature.
However, your iPad model will dictate which Apple Pencil you can use since both Apple Pencils offer capabilities and performance with most high-end styluses.
Which iPad Models Paired with Your Apple Pencil
When you purchase an Apple Pencil, you should check early whether it is compatible with your iPad, or you might end up paying for the wrong model.
Below are the following iPad models that are compatible with Apple Pencil and already mentioned on the official support page.
Apple Pencil (1st Generation) Is Compatible With the Following;
iPad mini (5th gen)
iPad (6th gen and later)
iPad Air (3rd gen)
iPad Pro 12.9-inch (1st and 2nd gen)
iPad Pro 10.5-inch
iPad Pro 9.7-inch
Apple Pencil (2nd Generation) Is Connected With;
iPad mini (6th generation)
iPad Air (4th generation and later)
iPad Pro 12.9-inch (3rd generation and later)
iPad Pro 11-inch (1st, 2nd, 3rd and 4th generation)
How to Pair Apple Pencil 1 to a Compatible iPad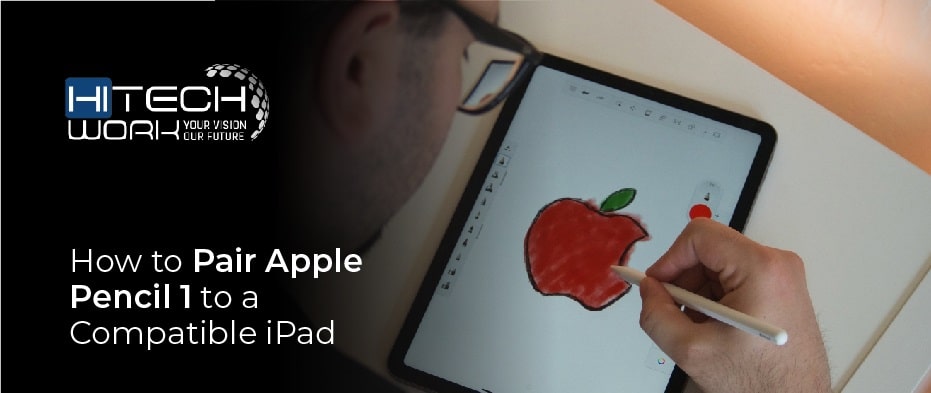 The Apple Pencil 1st generation has a lightning connector through which it connects with supported iPads. If you are sure your Apple Pencil is compatible with your iPad, it's time to pair the devices. Let's do it with the below steps;
First, you need to remove the cap from the back end of your device and plug the Apple Pencil into your iPad's Lightning port.
A notification will appear on the screen. Click Pair.
Now, you can set up your Apple Pencil and click on Settings.
Scroll down and select Apple Pencil.
Here, you can see how much percentage your Apple Pencil charged and adjust its setting.
Tap on Only Draw with Apple Pencil if you want to use Apple pencil for drawing and writing purposes.
Toggle Scribble on if you want to convert the handwritten text in a text area to type.
Click Try Scribble to practice writing in a text field while converting it into type.
Toggle on the Left Corner Swipe to turn taking screenshots or opening Quick Note with your Apple pencil. Even though you have Only Draw with an Apple Pencil tap on, this gesture will work.
Furthermore, the Apple Pencil will stay connected until the user turns on Airplane Mode, restart their iPad, or connect the pencil to another iPad. In addition, it is great to let it rest in the lightning port and charge for a while.
How to Connect Apple Pencil 2ndGeneration to Your iPad 9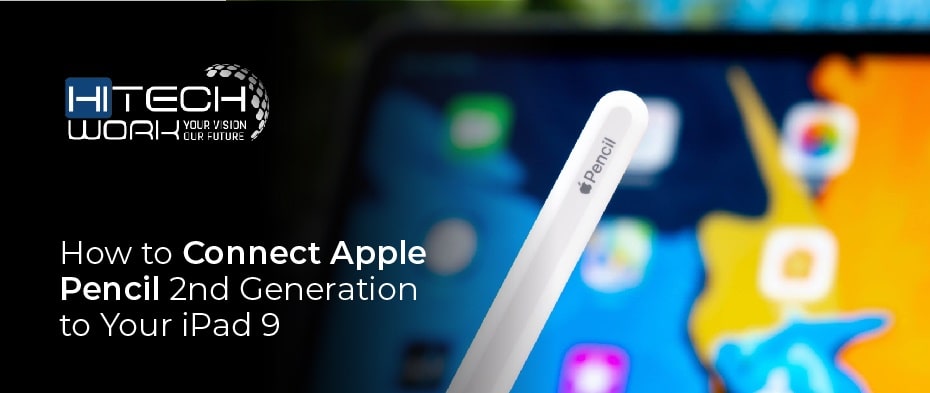 Apple Pencil (second generation) might be a new experience to connect for some users. This second-generation stylus is designed with strong magnets to hook onto the edge of compatible iPad models. Where it charges too. Magnetic connectors make it easier to join Apple Pencil's second-generation iPad
Moreover, before connecting your device to the iPad, make sure your Bluetooth is enabled. Here's how to do it.
Hold the iPad in portrait mode while attaching your Apple Pencil to the side with a magnetic connector
Press Pair if a dialogue titled 'Bluetooth Connection Request' pops up.
Now, you can set up your Apple Pencil.
However, it is a good idea to let the pencil charge for a while before first use. You can also check the battery level at the top of the iPad's display by simply pulling away the Apple Pencil and replacing it again.
Key Points To Do If Your Apple Pencil Won't Connect To Your iPad
If you are having trouble connecting the Apple Pencil with your iPad, here are a few things to do.
You need to restart your iPad, then try to pair it again.
Open Settings >Bluetooth and ensure that Bluetooth is toggled on.
You may find your Apple Pencil under My Devices in the Bluetooth settings. If you find it, tap the 'i' icon. Then click Forget this Device.
After a few seconds, tap the Pair button and connect your Apple Pencil to your iPad.
Make sure that the Apple Pencil is charged. If you plug the 1st generation pencil into your iPad and don't see the option to Pair, wait a few minutes for the pencil to charge. Then, try it again.
Ensure your 2nd generation Apple Pencil is centered on the magnetic connector. After that, try to connect your Apple Pencil again.
If the Pair button doesn't appear, visit their official page and contact Apple Support.
Conclusion
Hopefully, you may know how to connect Apple Pencil to your iPad. Sometimes even if you forgot an Apple Pencil on your iPad, it would automatically pair when connected via magnet or plug.
Apple Pencil 1 & 2 are great tools for both working and playing on your iPad, but as is the case with any professional tool, we recommend you iPad Pro and Apple Pencil 2 combination; you should go for it.
However, if you have an older iPad version, the Apple Pencil 1 would be great enough.
Which Apple Pencil& iPad model do you have? Let us know while commenting below.