If you might be searching for "how to create a Gantt chart in Excel" most probably you will be on your desktop; glued to your laptop screen; frantically searching the answers; as your Senior Head ordered you to redo the presentation on the Gantt chart in 5 minutes.
Now you are in a fix. With so little time you cannot find any relevant information which answers all your questions.
Don't fret!
We have got you covered, buddy!
How?
In this article, we will give you the step-by-step guide on "how to create a Gantt chart in Excel" which will help you to make the chart in less than 5 minutes—which will impress your Senior, too.
Start With the Basics — What is Gantt Chart?
If you already know what the chart is—skip to the next portion. And if you do not—keep reading on.
Gantt chart has two definitions a simple or a profession alone(as what office-goers like to call). Start with simple first: "To view scheduled tasks over time in a chart."
For officer-goers: A Project Management tool that is used to display tasks or events against time.
You don't get it, do you?
For newbies, it took more than a definition to grasp the Gantt chart. So, we are gonna simplify the Gantt chart for you: The chart has a horizontal and a vertical axis. This axis' represents different works. The horizontal axis shows the complete time of the project break down in the days, weeks, or months. While the vertical axis highlights the tasks of the project.
Now you got the Gantt chart. Good!
Because now we are diving straight into how to create a Gantt chart.
How To Create a Gantt Chart in Excel?
Just follow this Gantt chart in Excel 2007 and the above steps to create your chart without hassle.
Go to Excel
Create a data range in which tasks, start and end date included in Excel
Select that data range, you want to create a Gantt chart
Click on the insert from the menu present on the upper side of the navigation bar
You find there a chart group, go there and click on the 2D Bar group and double click on the option of Stacked bar.
Select data series from the part of the bar to format your stacked bar chart.
Now press the tab of Format to click Shape
To start the first task in the Gantt chart—reverse the task order. To do so press and then hold the Control key while clicking the Vertical Axis.
Later choose the Format Axis. Set the categories box in reverse order below the Axis position
Tine for the chart title. To add them, double click on the Chart Title present on the upper part of the chart.
For editing the lines and colors of the axis, double click on the axis which will open a popup box; where you can edit them.
If you want to do some customization further in the charts, you can do it with formatting tools in Excel, where you can customize from gridlines to bar colors, and labels too.
For the addition of elements in your chart, go to the chart area and from there on the Chart Design on the upper part of the navigation bar. Find Add Chart Element to add elements there on the left of the page side.
Say you want to change the layout of the chart rather quickly, so for that, go back to the Chart Design tab locate the Quick Layout and press it.
But what about changing colors that are in or within your chart. Simple, go back to the tab of Chart Design to select and press the Change Colors button.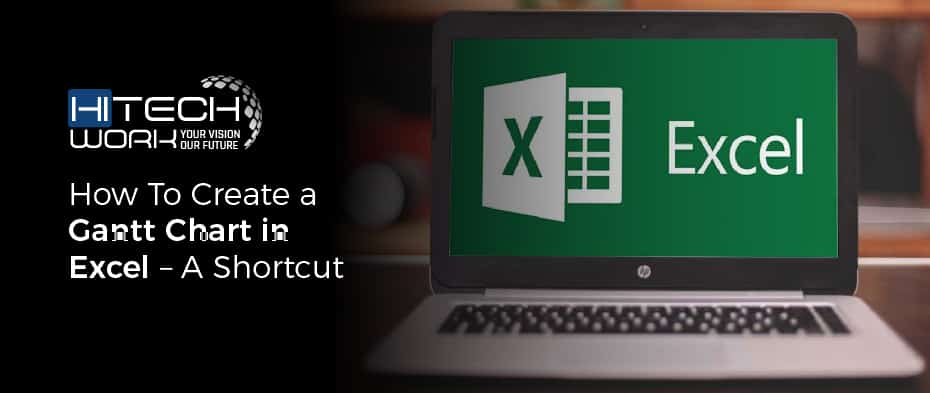 How To Create a Gantt Chart in Excel – A Shortcut
If you are in a hurry and do not want to follow the above-mentioned steps then we have a shortcut fo0r you that will cut your work and time in half.
Known as Gantt Chart template, where you can skip all these points to direct put your date to resume your work as soon as possible.
We have curated a list of Gantt chart templates because they cannot be easily found.
Excel Project: This type of Gantt chart template is used to keep records of several tasks like time estimates, status, priority, and whatnot.
Release Planning: For release, planning use this Gantt chart template to make your chart workable.
For Workforce Tracking: In this type of Gantt Chart Template, it helps you to better manage professional duties like sorting your team's workload, divide them equally while overall enhancing your coordination of the team.
Why Use Gantt Chart in Excel?
Complete a project is often a herculean task. With deadlines mounting, there are possibilities you can miss one. That means project delays, extra cost, and other worse things. But with a Gantt Chart in Excel where you can easily keep track of your work helps you better in managing your work while promoting productivity.
With the Gantt Chart, you can swiftly get your work done by distributing it to your team without any hassle. This will, in return boost team coordination and spurred the team to quickly achieve targets.
Pro-Tip: Want to Learn Hacks of MS Word Excel?
MS Word Excel can be found on every laptop where professional work is to be done. So, keeping that in mind, do you want to know a few hacks about MS Excel Word? Yes, you do. Check this exciting article out to know all the details.