If you are a huge influencer or an ordinary citizen, you should create a public or private story on Snapchat to keep grabbing the audience. Additionally, you can keep your following engaged with your selective choice's daily activities. It does not matter; if you are not an outgoing person, you can create a creative story at home by doing daily bombing activities. This means that whenever you want to share personal stories, you have the convenient option of selecting the people who could see your stories. Otherwise, anybody would see your adventure story easily whom you have not spoken to or seen before. The other section of the article will guide you on making private stories on Snapchat with other editing story features.
Introduction of Private Story on Snapchat App
Snapchat is one of the most useful apps in the digital world and is used by youth. This platform works as a private and social story in many other ways. If you publicly share any story, it is automatically viewed by all your friends and other people on Snapchat. While private stories only show up for specific people you have added before on your Snapchat.
The iPhone users can make private stories and custom stories that let anyone who can view the story add to it. On the other side, the only creator is allowed to contribute with private stories. However, these options are accessible throughout the new story button. And for the android users, the private story button is in the same place to tap it.
How to Create a Private Story on Snapchat App
If you see other types of stories on Snapchat, such as social and public stories, that do not let you select any person to share a story but the creation of the private story enables you to select the person who wants to view your content. Additionally, depending on your privacy setting, you can make your account private due to some kind of privacy concern. But you may share your stories with your friends who are close to you. Just simply follow the steps below on creating a Snapchat story.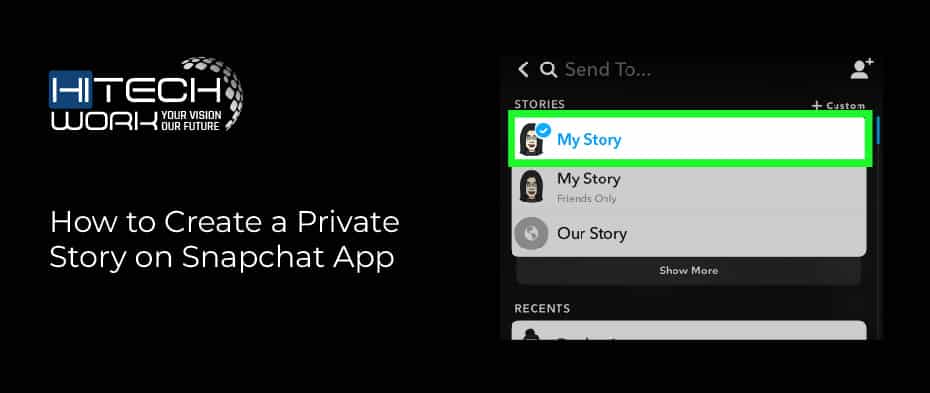 Open your mobile screen, go to your Snapchat app, and log in.
Click on your profile icon in the top left corner of the screen. (Bitmoji)
Then, choose the button – "+Private story" or "Custom story" in the story section. In the next step, Snapchat will ask that you want to make a private story or public story. Just click on the private story again.
Click each recipient you want to be able to see your story.
Now, take your snap or video, edit, and add snap features as desired.
Hit the send button as shown, like the airplane paper icon. Now nobody would see your story.
Your public and private stories will be able to be seen by the people you specify as part of the posting process. The Android user will see them separately, whereas the iPhone user will see them mixed.
How to Edit Your Private Story on Snapchat App
Except create a private story on Snapchat, people recommend that there should be an editing option available in every app when they upload a story on SC. And you might wish to add a picture to your private story, or you may allow yourself to view more people. Whichever the case, you can edit your private story all the time.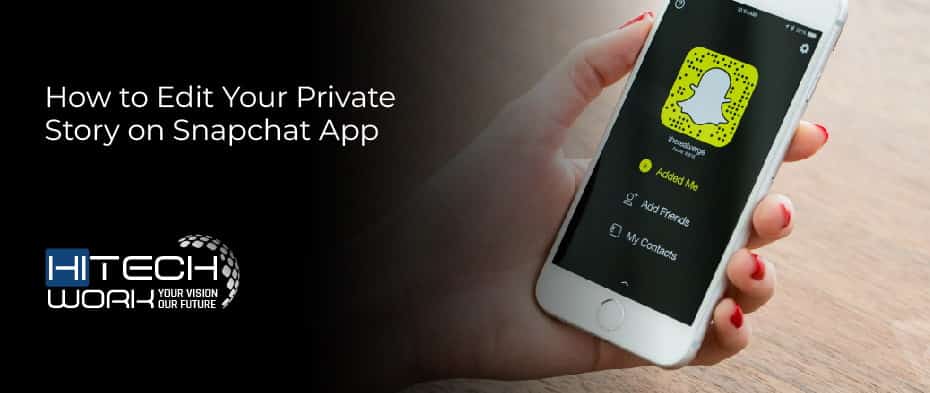 Go to your profile screen
Then, in the My Stories section, find your private story and then click on the three dots next to its name.
A list of options will pop up, including deleting the story or adding a story. You can add viewers from the same menu, rename the story, or save the story.
Tap on the done option once you have made your selections done.
NOTE: you can select to eliminate all your viewers from seeing your story so that it can be visible only to you.
FAQ's 
Is it possible for others to see my private Snapchat story?
Ans:

It is not possible because private stories can only be seen by those you have permission to see. However, viewers will know that they are seeing private content.
Is it possible to add more people to my existing private story?
Ans:

It is possible because to access your Private Story, simply tap on your profile icon in the upper left-hand corner and select the three dots next to it. The list of friends you have will appear, and you can select who you want to add, then click 'Save' at the bottom.
Thoughts Assumption
Snapchat is getting popular because many influencers and entrepreneurs use it to engage the public by creating private and public stories. It is effortless to create a private story on Snapchat, and editing them is the easiest method which I have already mentioned in the above section. I hope this guide will be helpful for you, but please let us know if your Snapchat is private or public.