How to delete a playlist on Spotify? If you don't know how to do it, this guide will help you on very short notice. Spotify is one of the most popular music streaming platforms used worldwide, with millions of users. It has an ever-green songs library with thousands of podcasts, songs, and videos created by different artists worldwide.
In addition, you can create your own Playlist and share them with your loved one by downloading the app from your mobile Play Store or App Store. But apart from adding hilarious and classical music, Spotify has another feature where you can remove any song or remove your entire Playlist by following a step-by-step guide of Spotify. However, you can also manage all your Playlist by tapping on unfollow green heart mark. Now enjoy your Spotify with your hilarious friends.
How to Delete a Playlist on Spotify on Multiple Devices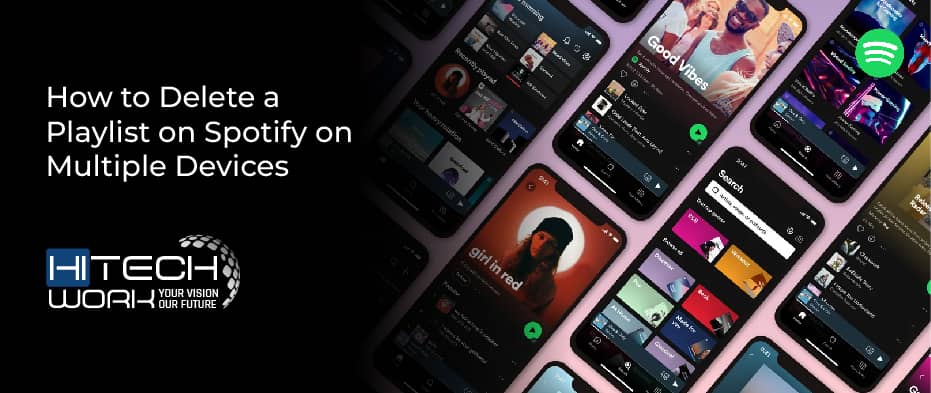 Spotify is one of the famous streaming platforms which is used in every country. It has millions of users around the world. But if you are tired of your Playlist and have transferred your device from android to iPhone. Then, the following method will answer your question about how you can remove your Spotify playlist across the android phone, iOS, and computer.
1.    Removing Spotify Playlist on Android Phone
The Spotify app works differently on each device, but the operating system and few features are the same; however, if you are faded up of any playlist and want to delete it from android. Here's how to delete a playlist.
Open the Spotify app.
Go to "Your Library" and select the Playlist you want to delete.
Now tap on the three vertical dots below the playlist title.
Now click on the Delete Playlist option that you want to delete from the options menu.
Tap on the "confirm" to delete it.
2.    Removing the Spotify Playlist on iOS
You can make new changes to your Spotify playlist by removing your unwanted one on your iPhone or iPad. Keep in mind that this step will apply to the latest version of the iPhone series. If anyone has a new version of iOS, use the below steps.
Log in to Spotify on your iPhone.
You can see a "Your Library" option in the bottom right corner of your screen and tap on it.
You will see three horizontal dots in the library section and click on them.
Now scroll down and select the delete Playlist from the options menu.
A confirmation message will appear on the screen, then click on the "delete" to confirm.
Your deleting Playlist on Spotify is removed now on your iPhone. And remember, this method only works for a new version of the iPhone. If you want an older version deleting the Spotify playlist method, let us know in the comment box. I will update you soon.
3.    Removing Spotify Playlist on a Computer
If you don't know how to delete the Play list on your Spotify app, use your computer and MacBook. Then, the following steps will help you cut off your Spotify Playlist.
Open your Spotify app on your PC or Mac.
Tap on the Playlist you want to delete
Now click on three dots underneath the Playlist's title to open its menu options.
Click on delete and tap it again to confirm.
Now you cannot see your unwanted playlists on your MacBook and computer. Enjoy your remaining songs list.
How to Delete a Song from the Spotify Playlist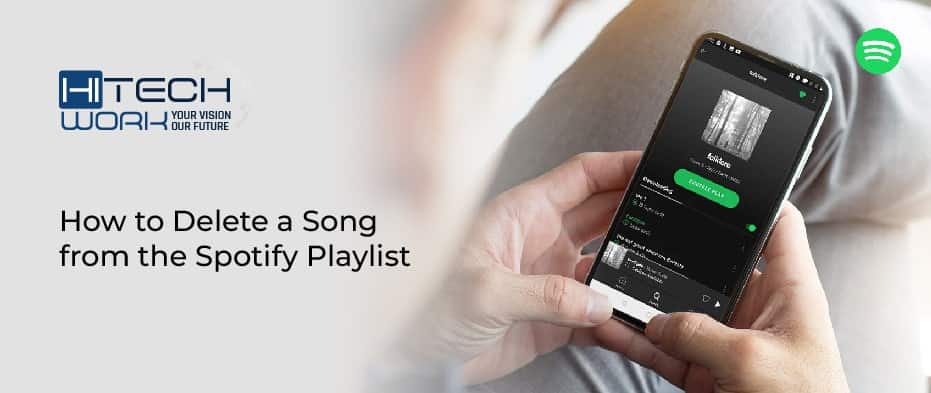 If you can download a single song to your Playlist. Like this, you can also delete an individual song from the Playlist from your multiple devices. But each has a different way to delete or remove a Spotify song. Follow the methods below to remove a song from your android or desktop technology.
1.    Removing a Song from the Playlist on the Mobile
Removing a song from your Spotify playlist is the same on both mobile versions like android and iOS.
Open your Spotify app and go to your song library.
Now, open a popup menu on the three dots next to the song you want to remove.
Then click on the "remove from this playlist."
The popup notification will close, and the song will have vanished from your Playlist.
2.    Removing a song from the Playlist On the PC
To keep aligning the Playlist on your Spotify, deleting your entire Playlist is not the only option. Here's another option, you can remove the song from your Playlist on the desktop by following the steps below. So, let's have a look.
Open the Spotify app on your PC and go ahead with your Playlist.
Now see the song list shown in front of your screen.
Tap on the three dots which are next to every song.
Click on the remove from this playlist option which appeared by clicking on the three dots.
At last, the song will be deleted immediately.
Note: This procedure will be the same on your MacBook.
How To Unfollow a Playlist on Spotify?
Unfollowing the Playlist created by other users is simpler than deleting your Playlist. You can follow the step to unfollow the Playlist on Spotify.
Log in to the Spotify app.
Open the library where you find all your following playlists.
Tap on the green heart (loses its color) on that Playlist that you want to unfollow.
You are not following the Playlist when the green heart loses its color.
Your Spotify Recover Playlist
Spotify has another amazing feature to restore the Playlist that you have deleted. Suppose you delete a playlist that you don't want to delete. These easy steps will help you fix the playlists again on your Spotify app.
Open the Spotify app.
You see a recover playlist option on the left side of the menu and tap on it.
A recently deleted playlist will appear.
Now, click on the list which you want to recover.
Now go back to the homepage and check the restored Playlist in the library of your Spotify account.
Note: You can restore your deleted Play list before passing 90 days because the Spotify server will remove all play lists in 90 days.
Conclusion
On the Spotify app, you can remove, unfollow and restore the Playlist from your account. Moreover, if you are just bored with a song you listen to on loop, this app also allows you to remove songs from your Playlist, so if you don't know how to access the Spotify app or cannot figure out to delete or restore the Playlist. This article has described all the features related to deleting, unfollowing, and restoring your Spotify account. So, let us know how many songs are in your playlists on your Spotify account in the comment section.